"Now Is the Pilgrim Year Fair Autumn's Charge" by John Liston Byam Shaw, RI AWRS 1872-1919. 33 1/2 x 47 inches, 85 x 119.5 centimetres. According to the entry for this picture at the Leicester Galleries when it was sold, "The title of the work is an enigma. It appears to be a poetic quotation, but is from none of Shaw's preferred writers, including Christina and Dante Gabriel Rossetti, Tennyson, and Shakespeare."
Exhibited: Royal Academy, 1904, no. 441; reproduced as a large color plate in Hutchinson's Magazine.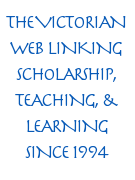 Related Material
References
Cole, Rex Vicat. The Art & Life of Byam Shaw. Seeley Service & Co, London & J B Lippincott Company, Philadelphia, 1932. Pp. 133, 210, 225.
Highly Important Victorian Paintings and Drawings. Catalogue of sale of 24 October 1978. London: Sotheby's Belgarvia, 1978. No. 14.
---
Last modified 20 November 2006