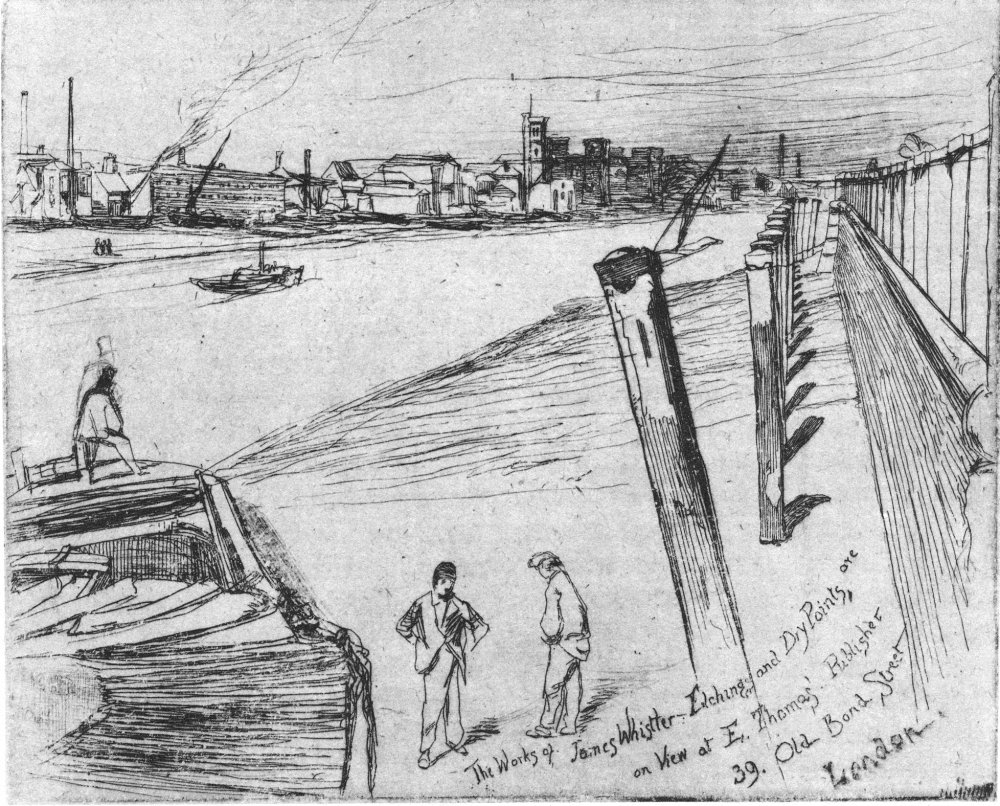 Millbank by James Abbot McNeill Whistler (1834–1903). c. 1875 Etching on laid paper, 101 x 124 mm. Library of Congress. Dated in the plate on the stem of the barge to the left: "[D]elight 1861; inscribed in the lower right fore- ground : The Works of James Whistler: Etchings and Dry Points, are / on View at E. Thomas' Publisher / 39 Old Bond Street / London." Published in the fifth state, with the inscription removed, as no. 14 of Sixteen Etchings of'... the Thames. [Click on image to enlarge it]
Commentary by Robert W. Getscher
Millbank is the present location of the Tate Gallery, which opened in 1897. It was originally the site of a large prison, Millbank Penitentiary, which was torn down in 1893. Across the river to the east are seen a row of warehouses and the towers of Lambeth Palace, the London residence of the Archbishops of Canterbury.
This print was used as a business card while Whistler's etchings were handled by Edmund Thomas, the brother of Percy Thoma. Since the inscription appears on the first state, this was its original purpose. But relations did not always go smoothly—Edmund was not a businessman — and in the fourth state the word "not" was added after "are," while the inscription was removed entirely in the fifth state so that Whistler could include it in the "Thames Set."
Whistler handled this plate in the cursory manner of the title to the "French Set", and it serves as an effective foil to the more finished etchings in the "Thames Set." The few details in the foreground are crudely drawn. Also its spatial arrangement is unusual. Instead of planes of recession parallel to the pic- ture plane, found in such earlier works as Black Lion Wharf, there are quickly receding guard-piles, which help create a strong geometric composition in space. [The Stamp of Whistler, p. 66].
References
Getscher, Robert W. The Stamp of Whistler. Exhibition catalogue. Oberlin, Ohio: Allen Memorial Art Museum, 1977. Catalogue number 36.
---
Last modified 11 January 2012