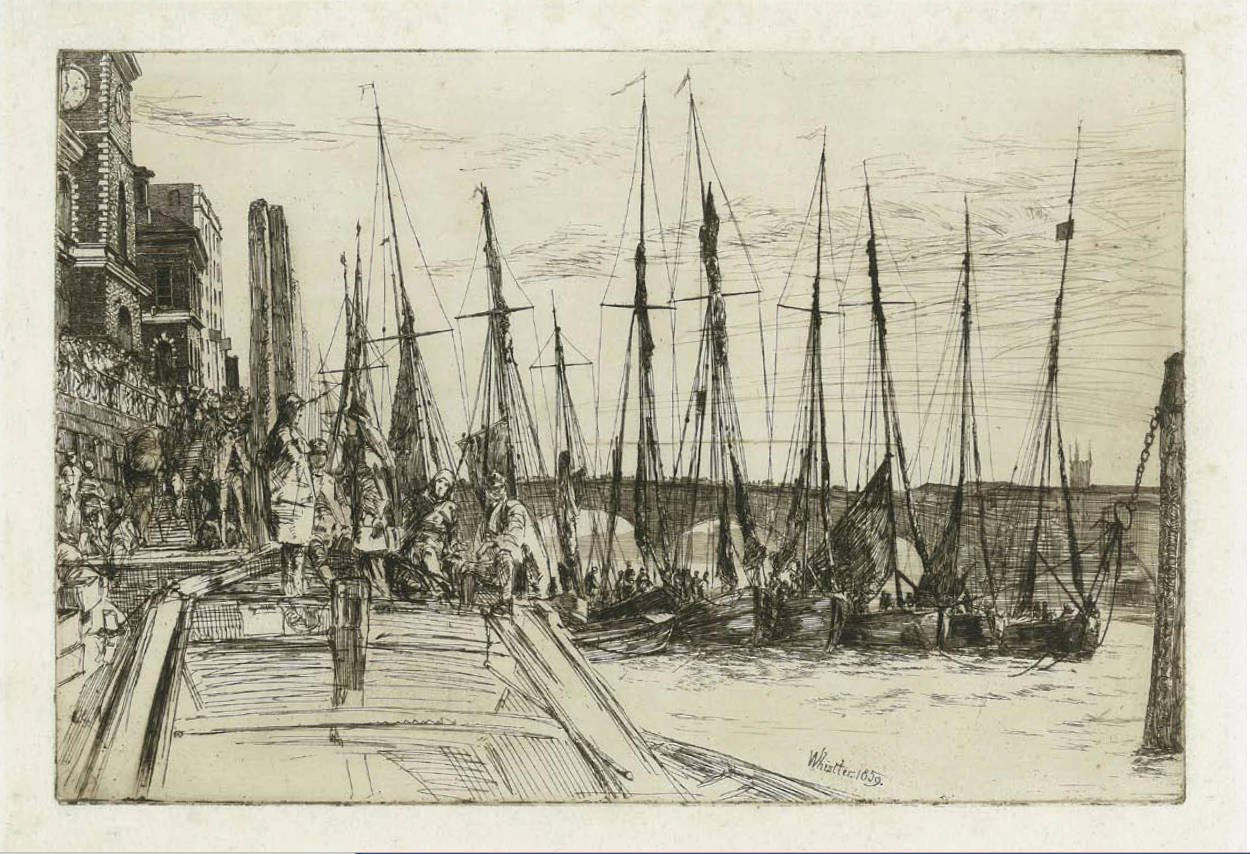 Billingsgate by James Abbot McNeill Whistler (1834–1903). 1859. Etching and drypoint, printed in warm black ink on wove paper, 6 x 9 inches (15.1 x 22.6 cm) sheet 7 1/8 x 10 inches (18.1 x 25.4 cm). This is a proof impression in the first state (of nine) before publication, the only one recorded in this state. Provenance: C.B. Eddy; M. Knoedler & Co., New York. Source: Whistler on the Thames. [Click on image to enlarge it.]
Commentary by Gordon Cooke
This is the earliest known proof of Billingsgate, the most common of all Whistler's etchings. E.G. Kennedy records and illustrates another first state of it as owned by F.L. Babbott in 1910. Whistler may have conceived Billingsgate and Limehouse as companion pieces. They are respectively the most westerly and easterly of the dock scenes and their compositions mirror one another. Billingsgate was probably etched from Customs House Stairs, with London Bridge and the tower of Southwark Cathedral in the distance. The scene was not reversed, so it appears the wrong way round.
Billingsgate was first exhibited at the Société Nationale des Beaux-Arts, Paris in 1862 and then in Whistler's own one-man exhibition in 1874 at the Flemish Gallery, Pall Mall, London. Billingsgate was not published in the Thames Set. Nearly twenty years later Whistler was approached by Ernest Brown about the possibility of publishing one of his prints in an issue of the Portfolio magazine. The plate of Billingsgate was duly sold to P.G. Hamerton and, after an edition of 100 was printed on thin japan paper, it was published in the Portfolio in January 1878. The association with Ernest Brown proved to be a fruitful one. It was he who introduced Whistler to The Fine Art Society, resulting in a series of publications which provided the artist with much needed funds as he slid towards bankruptcy. Most importantly this led to the commission to make twelve etchings in Venice, the pivotal event in the middle of the artist's career.
Billingsgate was also published in the third edition of Etching and Etchers in 1880 and in A Group of Etchers by S.G.W. Benjamin in 1882. The plate was later sold by the Albert Rouillier Art Galleries, Chicago to the Toledo Museum of Art in 1927.
The Fine Art Society, London, has most generously given its permission to use information, images, and text from its catalogues in the Victorian Web. This generosity has led to the creation of hundreds and hundreds of the site's most valuable documents on painting, drawing, sculpture, furniture, textiles, ceramics, glass, metalwork, and the people who created them. The copyright on text and images from their catalogues remains, of course, with the Fine Art Society. [GPL]
Bibliography
Kennedy, Edward G. The Etched Work of Whistler. New York: 1910. N. 47
MacDonald, Margaret F. Grischka Petri, Meg Hausberg, and Joanna Meacock. James McNeill Whistler: The Etchings, a catalogue raisonné. No. 51. University of Glasgow, 2011. Web.
Whistler on the Thames. London: The Fine Art Society, 2013. No. 4, pp. 22-23.
---
Last modified 22 May 2014