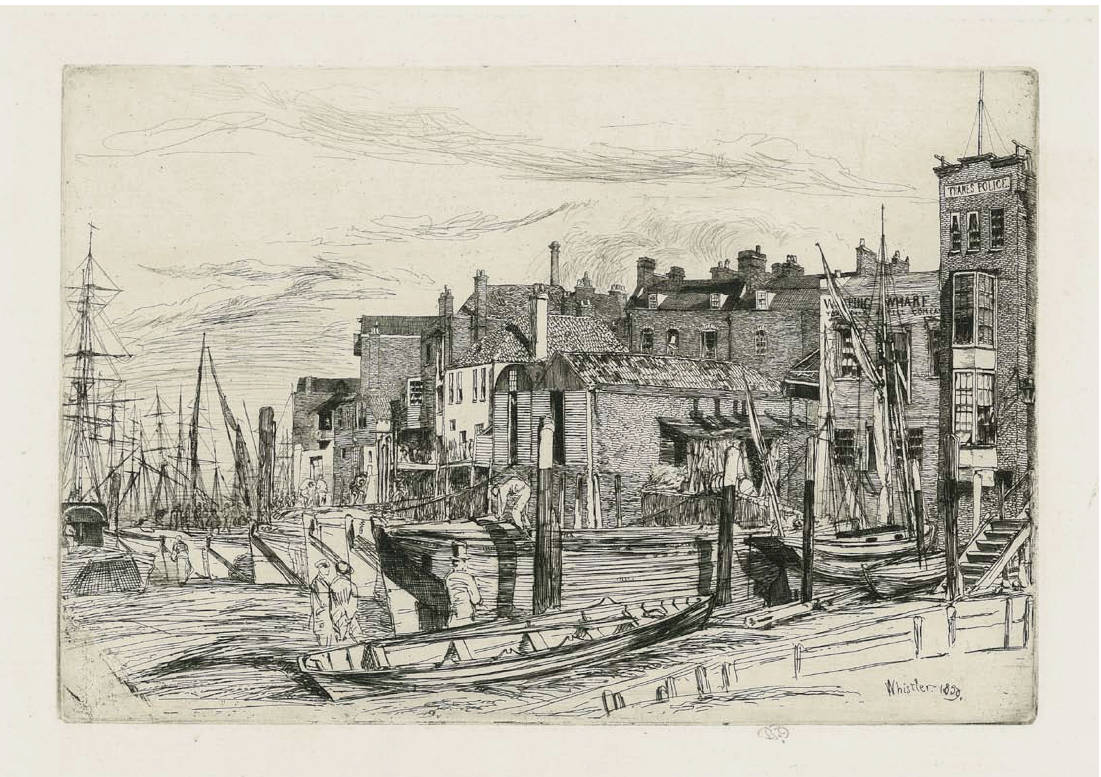 Thames Police by James Abbot McNeill Whistler (1834–1903). 1859. Etching and drypoint, signed in pencil with a butterfly, printed in black ink on laid paper, partial watermark, 6 x 8 3/4 inches (15.1 x 22.2 cm); sheet 8 1/8 x 11 1/4 inches (20.7 x 28.5 cm). This is a proof impression in the third state (of six) before publication A Series of Sixteen Etchings of Scenes on the Thames and Other Subjects, (the Thames Set) published by Ellis & Green in 1871. Source: Whistler on the Thames. [Click on image to enlarge it.]
Commentary by Gordon Cooke
The Thames Police Station was at 255 Wapping High Street, and the etching shows the area at low tide, with a boat beached in the foreground and a group of three men beyond, instead of the foreground figures which dominate other Thames subjects. Another man working on the deck of the barge is bent over. Behind this figure is a frieze of minutely observed and drawn architectural details; brickwork, planks, tiles and windows. This is the central motif of the etching.
Thames Police was first exhibited in The Works of James Whistler – Etchings and Dry Points at E. Thomas's print shop, 39 Old Bond Street in 1861, and then at the Société Nationale des Beaux- Arts, Paris, 1862. Thames Police was published in A Series of Sixteen Etchings of Scenes on the Thames and Other Subjects, (the Thames Set) as 'Wapping Wharf' (no. 2). The plate was sold by F. Keppel & Co. to Charles Lang Freer in 1896 and is now in the collection of the Freer Gallery of Art.
The Fine Art Society, London, has most generously given its permission to use information, images, and text from its catalogues in the Victorian Web. This generosity has led to the creation of hundreds and hundreds of the site's most valuable documents on painting, drawing, sculpture, furniture, textiles, ceramics, glass, metalwork, and the people who created them. The copyright on text and images from their catalogues remains, of course, with the Fine Art Society. [GPL]
Bibliography
Kennedy, Edward G. The Etched Work of Whistler. New York: 1910. No. 44.
MacDonald, Margaret F. Grischka Petri, Meg Hausberg, and Joanna Meacock. James McNeill Whistler: The Etchings, a catalogue raisonné. No. 53. University of Glasgow, 2011. Web.
Whistler on the Thames. London: The Fine Art Society, 2013. No. 6, pp. 26-27.
---
Last modified 22 May 2014