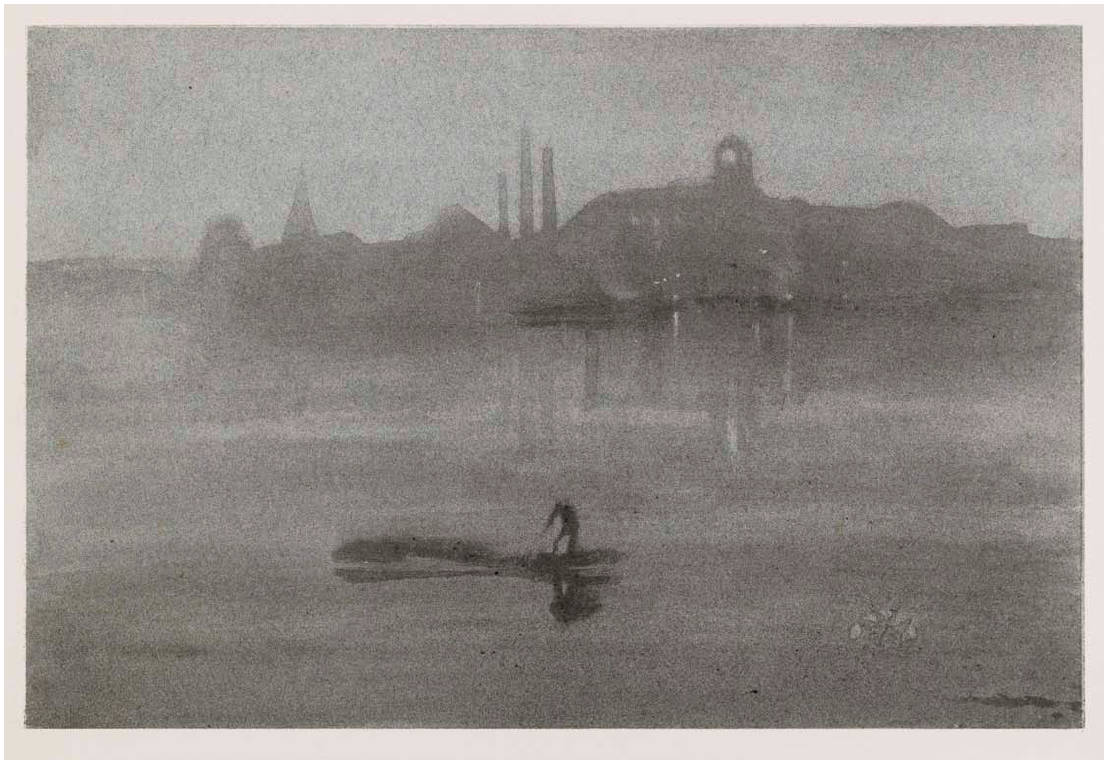 Nocturne by James Abbot McNeill Whistler (1834–1903). 1878. Lithotint, printed in black ink on pale blue laid paper mounted on a backing sheet, 6 3/4 x 10 1/8 inches (17.2 x 25.9 cm)sheet 13 1/2 x 18 1/4 inches (34.4 x 46.5 cm). This is in the second (final) state, one of the early impressions printed in 1879 by Thomas Way; it was later published by Boussod, Valadon and Co. in 1887 in an edition of 100, although it is not known whether this number was achieved. Provenance: Charles C Cunningham Jr, stamp verso. [Click on image to enlarge it.]
Commentary by Gordon Cooke
John Ruskin's derisive review of Whistler's paintings in 1877 and the artist's decision to sue the critic for libel were pivotal events in Whistler's life and career. As a printmaker whose etchings of the Thames had first established his reputation in London, it was natural for him to express himself with ink as well as paint. The opportunity to show his Nocturnes beyond the walls of the Grosvenor Gallery where his paintings had been hung was an obvious course of action, given the adverse publicity they had received.
His introduction to Thomas Way, who owned a lithographic printing company, provided a new medium with which to work. Lithography offered the possibility of creating tonal effects which etching or drypoint could not. Working with brushes on an area of half-tint prepared by Way, Whistler was in effect painting on the stone.
In the spring of 1878 he made this, his second lithotint of the Thames, Limehouse being the first. T. R. Way, Thomas's son and the first cataloguer of Whistler's lithographs, recalled in 1912 that Nocturne was drawn at one sitting from memory in the company's printing offices in Wellington Street, Covent Garden.
It was Way's idea to publish a series of Whistler's lithographs under the title Art Notes but the project attracted only a handful of subscribers. The idea was revived in 1887, and an edition published, but it appears that some, if not all, of the prints had been pulled in 1878, and the pencil signature 'Whistler', rather than the butterfly he adopted for his Venice etchings and thereafter, would suggest that this is an early printing. The view which Whistler recalled for this work was of course very familiar to him. The Battersea side of Chelsea Reach was opposite the windows of both the houses he occupied on Lindsey Row, and he had painted the subject repeatedly over a period of nearly twenty years. The peace which descended on the river at nightfall attracted the artist for many reasons, not least of which was the lack of boat traffic. But the mist, combined with the smoke from domestic and industrial chimneys, shrouded the spire of Battersea Church, the Morgan Crucible Company and the surrounding buildings in mystery and magic.
The Fine Art Society, London, has most generously given its permission to use information, images, and text from its catalogues in the Victorian Web. This generosity has led to the creation of hundreds and hundreds of the site's most valuable documents on painting, drawing, sculpture, furniture, textiles, ceramics, glass, metalwork, and the people who created them. The copyright on text and images from their catalogues remains, of course, with the Fine Art Society. [GPL]
Bibliography
Stratis, Harriet K., and Martha Tedeschi, Eds. The Lithographs of James McNeill Whistler. Chicago, 1998, pp.63–66, no.8.
Whistler on the Thames. London: The Fine Art Society, 2013. No. 11, pp. 36-37.
---
Last modified 22 May 2014