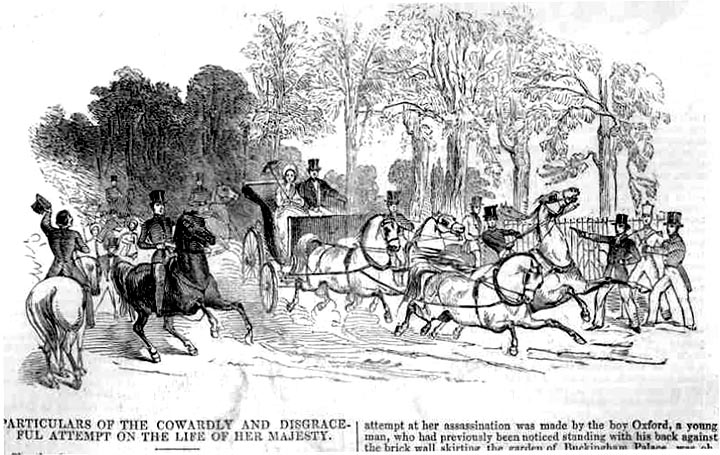 The Cowardly and Disgraceful Attempt on the Life of Her Majesty. The Illustrated London News (1842). Text and scan by Philip V. Allingham.
Shortly after the return of Prince Albert to Buckingham Palace on Monday afternoon [i. e., 30 May 1842], her Majesty, accompanied by his Royal Highness, proceeded in an open carriage and four horses, preceded by outriders, for her accustomed drive in Hyde Park, &c., the royal equerries, as usual, accompanying the cortege on horseback. On her Majesty's return about ten minutes or a quarter past six o'clock down Constitution-hill, when within a few yards of the spot at which the former attempt at her assassination was made by the boy Oxford, a young man, who had previously been noticed standing with his back against the brick wall skirting the garden of Buckingham Palace, was observed to advance towards the road along which the royal cortege was passing, and upon the carriage approaching the spot at which he stood, he was seen by police-constable Tounce, A 53, to advance within three yards of it, and at the same instant take from his waist-coat pocket a pistol. Tounce instantly rushed towards him for the purpose of knocking it out of his hand, seeing that it was aimed at her Majesty, but at the moment he seized him the pistol went off without injuring any person. [49-50]
Related Material involving Queen Victoria
References
"Particulars of the Cowardly and Disgraceful Attempt on the Life of Her Majesty." The Illustrated London News. 1 (4 June 1842): 49-50.
---
Last modified 15 September 2007