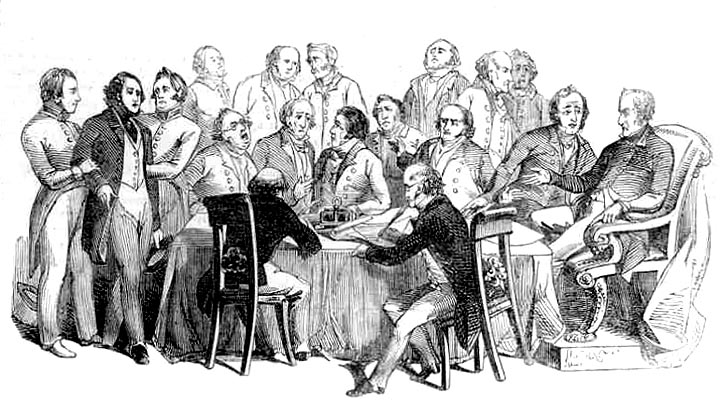 Examination of Francis before the Privy Council. The Illustrated London News. Text and scan by Philip V. Allingham.
The young suspect was thus easily overpowered by a soldier of the foot-guards and several policemen, who conveyed the young man to Gardiner's Lane Station House, where he was searched and interrogated by the inspector on duty, a Mr. Russell, who discovered a quantity of powder and shot upon the prisoner's person. Quite uncooperative, the youth was then transported in force to the Home Office for questioning by some of the principal members of the Privy Council, including Sir Robert Peel and the Duke of Wellington (shown at the head at the table, right, facing the prisoner, in custody of two "Peelers," extreme left), the Lord Chancellor, the Home Secretary, and the Chancellor of the Exchequer, in the presence of the Chief Magistrate of Bow Street, Mr. Hall. Another youth who had been at the scene identified the prisoner as John Francis of No. 100, Titchfield Street. That evening he was formally charged with the attempted shooting "at our Sovereign Lady Victoria the Queen, with a pistol loaded with powder and ball" (ILN, 1842, p. 50). Armed with a more modern weapon that would have enabled him to shoot from a distance from cover, John Francis, deluded son of a devoted subject, might well have influenced the course of British history. although the Duchess of Kent was apparently profoundly affected when she learned of the attempt on Queen Victoria's life, her Majesty herself conforted her mother, stating that she has sustained no hurt and that there was no cause for that elderly lady's alarming herself.
Related Material involving Queen Victoria
References
"Particulars of the Cowardly and Disgraceful Attempt on the Life of Her Majesty." The Illustrated London News. 1 (4 June 1842): 49-50.
---
Last modified 15 September 2007