Photograph by Bob Morgan; thank you as well to Eve Morgan, who provided a copy of the "Llandudno Hydropathic Establishment" leaflet. Historic image taken, also with thanks, from the Library of Congress Prints and Photographs Online Catalogue, reproduction number: LC-DIG-ppmsc-07439 (photomechanical print). Text by Jacqueline Banerjee. [You may use these images without prior permission for any scholarly or educational purpose as long as you (1) credit the photographer or source and (2) link your document to this URL. Click on the images to enlarge them.]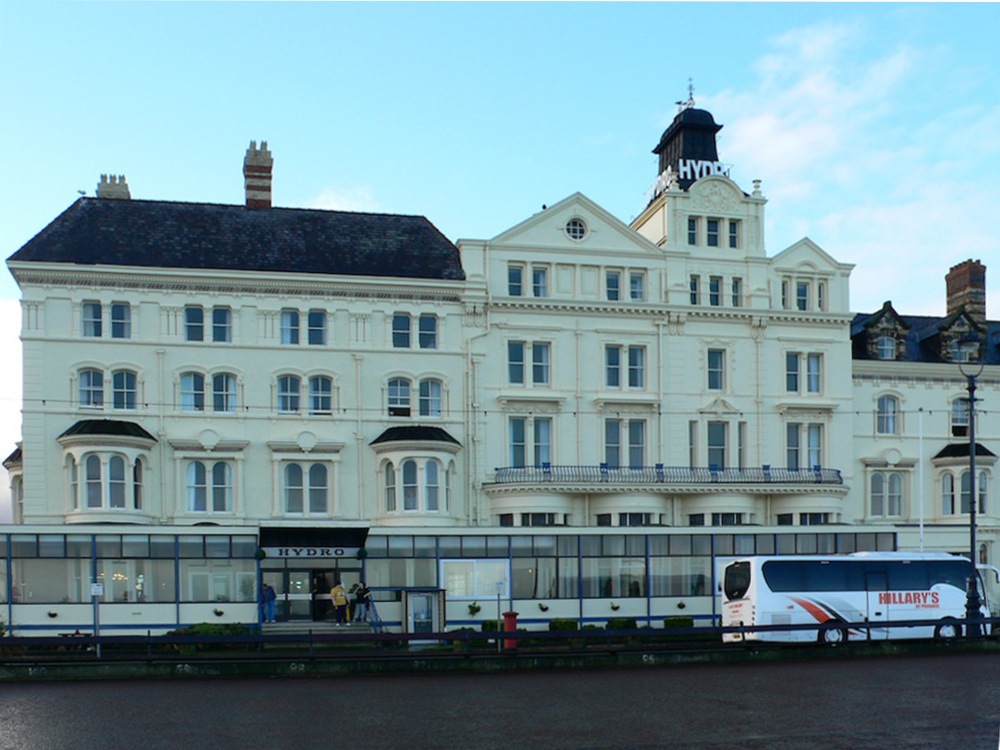 Hydro Hotel, Llandudno, North Wales. With adjacent 4-10 Neville Crescent, the Hydro is a listed building, designed by a Dr Norton and built in 1860, then extended in the late nineteenth/early twentieth century to include the neighbouring properties mentioned in the listing. The four-storey building on the left came first. With its elaborate and varied windows, groups of pilasters along the top storey, cornice and hipped roof, this has been seen as mildly Venetian. The roughcast façade continues along into the later, more obviously impressive and typically Edwardian addition with its assorted pediments and "exuberant" or at least eye-catching tower (see "Hydropathic Establishment").
The "Hydropathic Establishment" had facilities for the water cures fashionable in those decades. Taken over in the early 1870s by a Dr Henry Thomas, who had previously been articled to Dr Norton, and who had then graduated as a homeopathic practitioner in America, in 1873 it was advertising not only "the ordinary Homeopathic appliances" but the following facilities: "FOUR RUSSIAN VAPOUR and TWO COMMODIOUS and WELL-APPOINTED TURKISH BATHS, THE SEAWEED or OZONE bath." The latter was to help those with rheumatism. It also advertised "a Compressed Air Bath" for those suffering from asthma and other bronchial complaints. Rather like modern health spas, it offered exercise facilities as well, in this case hot from America — namely an "American Lifting Machine" for "Cumulative Exercise, the basis of the Health Lift or the 'Lifting Cure.'"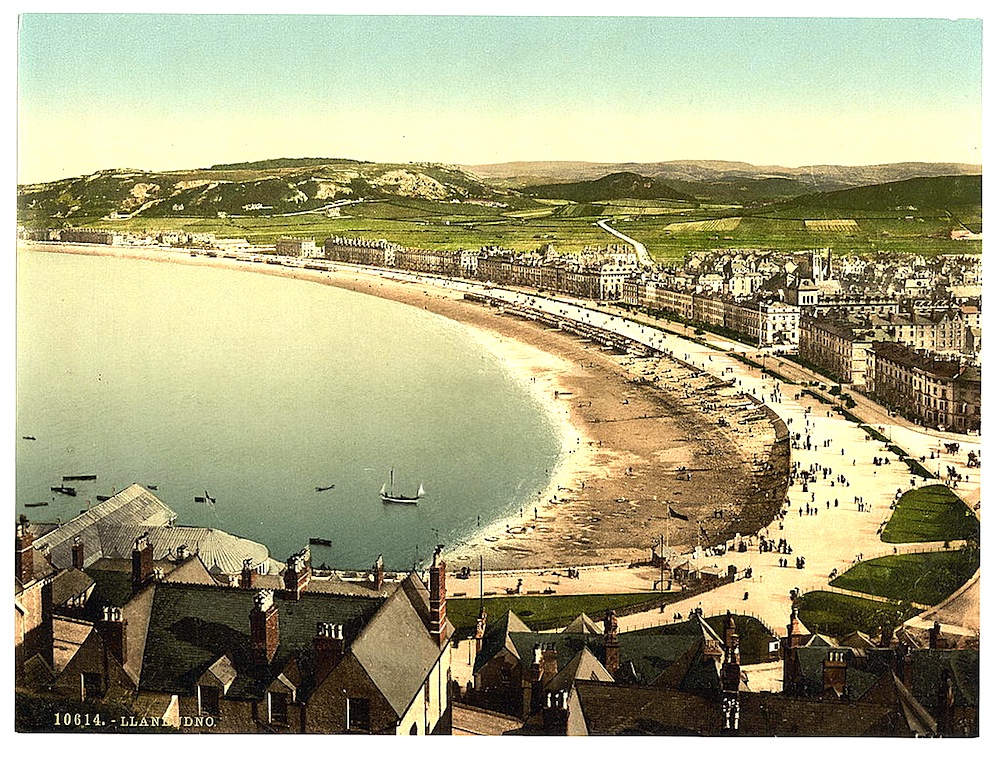 General view of Llandudno.
Llandudno is still a popular seaside resort, but these were its heydays. An 1889 guide to North Wales describes it as being "in size and importance at the head of the pleasure resorts of North Wales" (Baddeley and Ward 44).
Related Material
Sources
"1873: Llandudno Hydropathic Establishment and Winter Residence" (leaflet available at the present Hydro Hotel).
Baddeley, M. J. B., and C. S. Ward. North Wales: Part I. 3rd ed. London: Dulau & Co., 1889. Internet Archive. Web. 12 April 2014.
"Hydropathic Establishment; Hydro Hotel, Neville Crescent, LLandudno." Coflein (Royal Commission on the Ancient and Historic Monuments of Wales). Web. 12 April 2014.
"Nos 4-10 Neville Crescent, and Hydro Hotel, Llandudno." British Listed Buildings. Web. 12 April 2014.
"Papers of Dr Henry Thomas and His Daughter Miss Eva Thomas." Gwynedd Archives (Caernarfon Record Office). Web. 12 April 2014. (The papers reveal Dr Thomas's struggles to get his American qualifications recognised.)
---
Last modified 12 April 2014