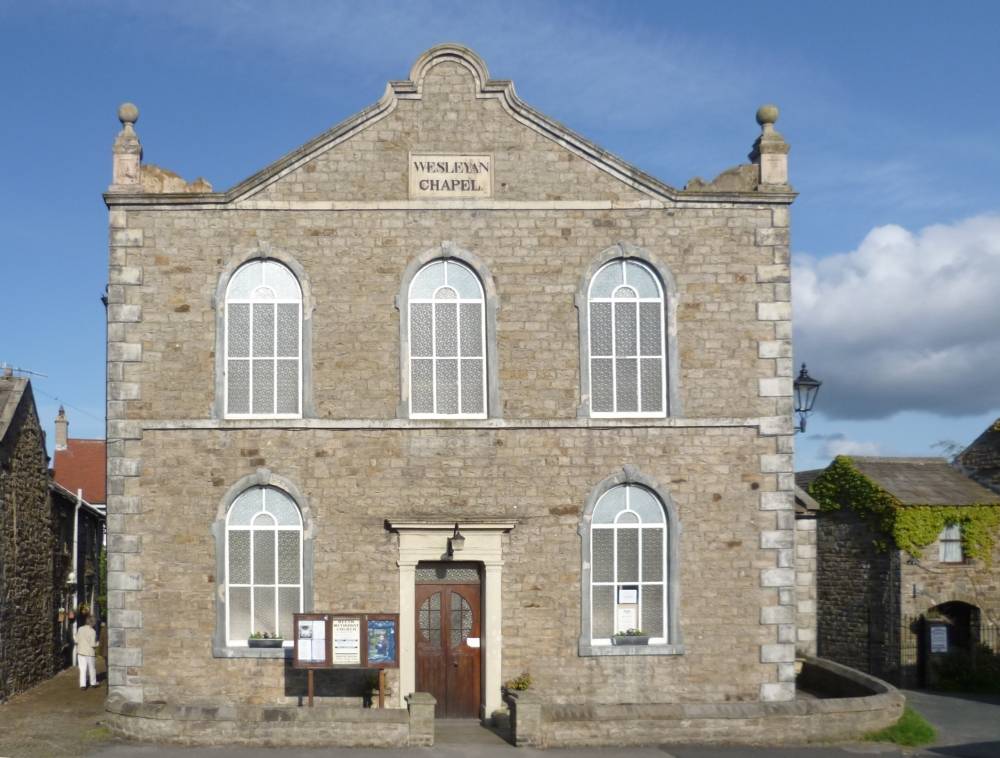 Wesleyan Chapel, Reeth, Swaledale, N. Yorkshire, on the north-east corner of the green. Built, like several other local Methodist chapels, "under the architectural management of the Rev. John Rawson" who "possessed a good knowledge of building and architecture" (Speight 264-65). Although there seems to have been an existing building, the listing text gives the completion year of the chapel as 1840, and explains that it had to be rebuilt after fire damage in 1887. The rebuilding was in two phases, and was followed by later additions, including the Jacobean-style ball finials (see also "Reeth, Swaledale"). According to the listing text, the materials used were a pleasantly light watershot stone, with stone slate for the roof.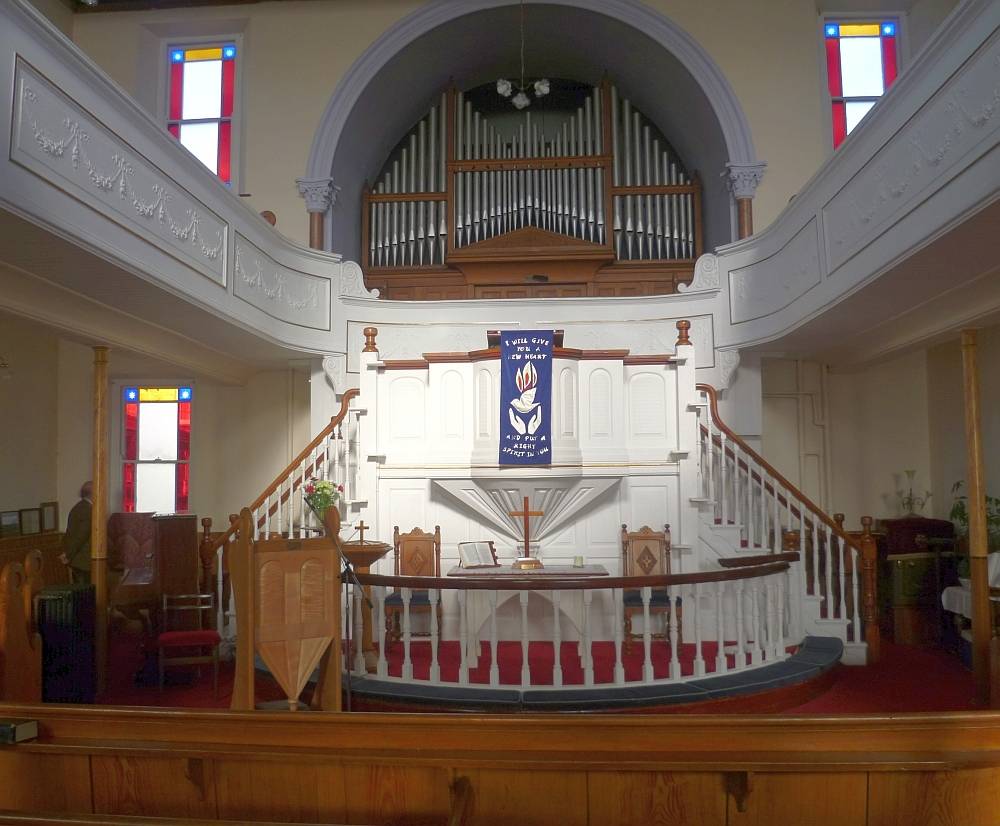 Interior of the chapel. Inside, the chapel is bright and attractive, with the focus on the large, raised central pulpit, with the organ as another focal point behind and above it. The position of the pulpit suggests the huge importance attached to the sermon, while allowing the preacher to be seen by the whole congregation, and to fix his eye on every individual. As for the organ, Methodist hymns made a vital contribution too. These, "in their ability to strike a creative balance between the devotional and dogmatic, have been singularly important to Methodist conversion, spiritual nurture, and theological development" (Cracknell and White 199). The arch over the organ is supported by Corinthian columns, and the white-painted semi-circular gallery is decorated with swags. For the role of the preacher, and of Methodism in the Dales in general, see "Related Material."
Related Material
References
Cracknell, Kenneth, and Susan J. White. An Introduction to the World of Methodism.. Cambridge: Cambridge University Press, 2005.
"Reeth, Swaledale: Conservation Area, Character Appraisal" Web. 1 September 2011.
Speight, Harry. Romantic Richmondshire: Being a Complete Account of the History, Antiquities and Scenery of the Picturesque Valleys of the Swale and Yore. London: E. Stock, 1897. Internet Archive. Web. 1 September 2011.
"Wesleyan Chapel, Reeth, Fremington and Healaugh, 1868-70." British Listed Buildings. Web. 1 September 2011.
---
Last modified 18 September 2011