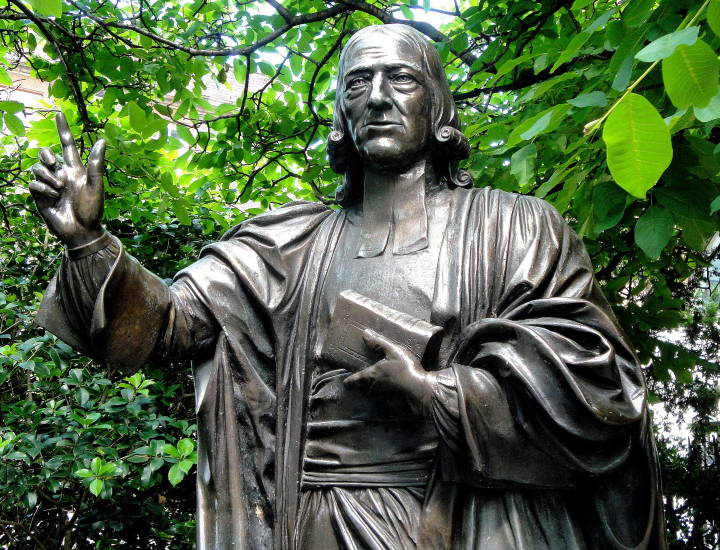 John Wesley by Samuel Manning the Younger. [Click on picture for larger image and
additional information about the statue and photographer.]
In leading this great reformation, Wesley did herculean work. His evangelistic tours, annually enlarging, soon extended into all parts of England, to Wales, to Scotland, and to Ireland. Ever on the wing, travelling some four thousand five hundred miles every year, he preached from twice to four times nearly every day. His audiences were generally large, sometimes vast, and in many places were disturbed by riotous mobs which, like hungry beasts, thirsted for his blood. He also met the societies, the classes, and the official boards whenever opportunity offered or necessity required. The erection of thousands of chapels, the collection of funds to pay their cost, and the choice of suitable trustees constantly required his attention. The care of all his preachers was upon him. His correspondence was immense. He had a heavy publishing business to manage. His journeys; mostly on horseback until the feebleness of advanced age compelled him to use a carriage, were long, tedious, tiresome, often perilous, and were pursued in sunshine and in storm, through the heat and rain of summer, and the frosts, winds, and snows of winter. Nol infrequently, especially during the beginning of his career, they involved many privations, severe hardships, and much physical suffering. He usually read while travelling, even when on horseback, and thus kept, himself thoroughly acquainted with the current literature of his times. He also wrote several original books and numerous pamphlets on passing events. He edited, wrote, translated, or abridged not less than two hundred miscellaneous publications, which he published and sold through his preachers for the benefit of his societies. Every public movement for the improvement of society, such as the Sunday-school, the abolition of slavery; the circulation of tracts, charitable associations, popular education, and the like, occupied his thoughts, moved his sympathies, called forth his co-operation, and exhausted his purse. His eyes were open to every detail, no matter how minute, that concerned the growth of his societies or the increase of the kingdom of God. He was always at work when awake, vet was never in a hurry. His industry and activity never were, never can be, exceeded. It is estimated that dining the fifty years of his itinerant ministry he travelled over a quarter of a million miles, and preached more than forty-two thousand sermons.
Under this unexampled leadership, continued through half a century, the organization which was begun with the feeble society at Fetter Lane, London, in 1739, had developed in 1790 into a powerful body consisting of five hundred and eleven preachers, laboring on two hundred and sixteen circuits, which covered vast territories in Great Britain and Ireland, in the West Indies, and in America; and numbering in its fellowship over one hundred and twenty thousand souls. Besides this enrolled membership, there were at least four times as many persons worshipping in Methodist congregations. These swelled the number of his adherents, at the time of his death. to at least half a million of souls. But outside of this army of avowed adherents there was "a multitude which no man could number," who had been spiritually and morally benefited by the movement which this truly marvellous man had inaugurated, and which, for half a century, he guided with almost unexampled .
---
Last modified 9 July 2011