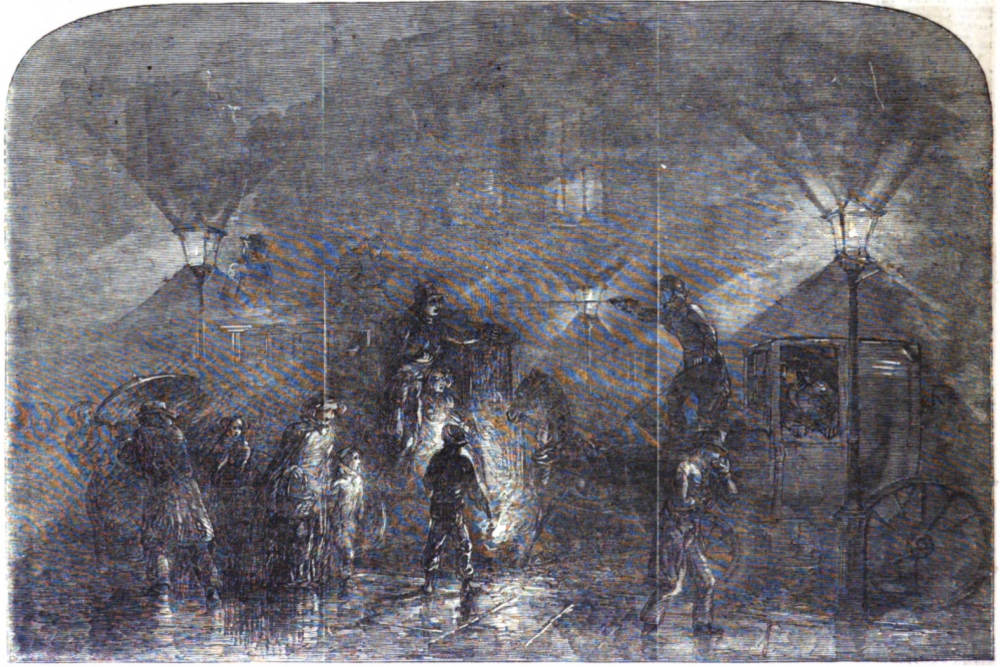 A London Fog. Source: Illustrated London News (23 December 1849): 389. [Click on image to enlarge it.]
You may use this image without prior permission for any scholarly or educational purpose as long as you (1) credit the Hathi Trust Digital Library and The University of Michigan Library and (2) link your document to this URL in a web document or cite the Victorian Web in a print one.
A London Fog
Such of our country readers as have never been in town about this season of the year, can scarcely imagine what it is to grope their way through a downright thorough London Fog. It is something like being imbedded in a dilation of yellow peas-pudding, just thick enough to get through it without being wholly choked or completely suffocated. You can just see through the yard of it which, at the next stride, you are doomed to swallow, and that is all. It is a kind of meat and drink, and very sorry sustenance for those who are asthmetical, as you may tell by hearing one old cough answering to another from opposite sides of the street, and which, although you cannot see the passengers, you can tell, from their grumbling, that they do not like the fare at alL You have the same soft-soapy atmosphere served up at breakfast, dinner, tea, and supper; every time you open your mouth you partake of it, and all day long you are compelled to burn lights, and, in addition to the fog, inhale the fumes from gas, candle, or lamp, which have no more chance of escape than you have, so burn on dim, yellow, and sulkily, as if the very lights needed all the warmth they could obtain, and thus confine themselves to illuminating the smallest possible space. The whole city seems covered with a crust, and all the light you can see beneath it appears as if struggling through the huge yellow basin it overspreads. You fancy that all the smoke whioh had ascended for years from the thousands of London chimneys, had fallen down all at once, after having rotted somewhere above the clouds; smelling as if it had been kept too long, and making you wheeze and sneeze, as if all the colds in the world were rushing into your head for warmth, and did not care a straw about killing a few thousands of people, so long as they could but lodge comfortably for a few hours anywhere. You blow like a grampus in a quicksand, with the keel of a seventy-four on his back, and get about as much fresh air as if you were in his situation: a pair of bellows with a hole in the side, through which you might cram your doable fist, would make perfect music, when blown, compared to the noise of your own breathing. You seem as if you had swallowed six broken-winded horses; that they were inside of you alive and kicking; and, for the soul of you, you cannot get rid of one.
You step gingerly along, feeling your way beside the walls, windows, and doors, whenever you can, until at last you tumble headlong into some cellar — perhaps on the shoulders of the little cobbler who is at work below, and who chances to have his sharp awl uplifted at the moment; or, perhaps, it is an underground coal-shed, and you alight on the back of the black-looking woman weighing coals, and double her up in her own scale — receiving, in return, a couple of black eyes from her husband. After a hearty drubbing, you escape once more into the street; and, as you cannot see a yard before you, break your shins over a milkman's can, and upset the contents on the greasy pavement; he tries to collar you, but your blood is now up, and you give him a "straight armer," which sends him into the area, upsetting the fat cook as he falls. You then run for it, and come full butt against the "bow-window" of a respectable old gentleman, with whom you have a roll or two in the gutter, thankful that you did not fall on the other side, and stave in the shop-front. You shake yourself, and are glad that you are as you are — for a foot beyond where you fell there yawns an open grating, beneath which runs the huge sewer that empties itself into the Thames — and you wonder how many have slipped in during the day. You tumble into a heap of unslacked lime; but that you think nothing of, too thankful to find it was not a fire. You turn up what seems to be a court, to give yourself a rub-down, and run your head against a pail of whitewash, which hangs suspended from a ladder: the whole contents flow over you; and, before you can see where you are, you fall over a sweep, who is tying up his blanket of soot, roll into the midst of it, and come out a pretty picture — something like the inside of an old chimney, and the outside of a rough-cast wall, just mortared.
A stranger to London, when the fog sets in at night, and he looks upon it for the first time, fancies his apartments filled with smoke, and begins by throwing open his doors and windows — thus making bad worse, by destroying all the warm air in the rooms. Even one well accustomed to the ins and outs of our far-stretching city is strangely deceived in distance, and by the size objects assume, as they loom in dim and gigantic dimensions through the heavy fog. The gas-lamps appear as if placed three-story high, unless you stand close beneath them, for what light they emit is nearly all thrown upward; while a cab comes heaving up (to appearance) as large as the huge caravan which Wombwell [see below] formerly used for the conveyance of his stupendous elephant. Once take a wrong turning, and you may consider yourself very fortunate if you ever discover the right road again within three hours; for the houses wear a different appearance, and the streets appear to be all at "sixes and sevens."
Although a real Londoner looks upon a dense December fog as a common occurrence, and lights up his premises with as little ceremony as he would do at the close of the day, yet, to one unused to such a scene, there is something startling in the appearance of a vast city wrapt in a kind of darkness which seems neither to belong to the day nor the night, at the mid-noon hour, while the gas is burning in the windows of long miles of streets. The greatest marvel, after all, is that so few accidents happen in this dim, unnatural light, in the midst of which business seems to go on as usual, and would do, we believe, were the whole of London buried in midnight darkness at noonday, which wou'd only be looked upon as a further deepening of the overhanging gloom. The number of lighted torches which are carried and waved at the corners and crossings of the streets add greatly to the wild and picturesque effect of the scene, as they flash redly upon the countenances of the passengers, and, in the distance, have the effect of a city enveloped in a dense mass of smoke, through which the smouldering names endeavour in vain to penetrate.
During a heavy fog many accidents occur on the river, through barges running foul of each other, or vessels coming athwart the bridges — for there is no seeing the opening arch from the rock-like buttress, as the whole river looks like one huge bed of dense stagnant smoke, through which no human eye can penetrate. If you lean over the balustrades of the bridge, you cannot see the vessel which may at that moment be passing beneath, so heavy is the cloudy curtain which covers the water. At such times the steam-boats cease running, and rest quietly at their moorings, for the man at the wheel would be unable to see half the length of his vessel. Sometimes a steamer, coming up the river, taken a fancy to a shorter cut, by trying to clear Blackwall Reach, and come overland through the Marshes below Greenwich, or by running her head into the Isle of Dogs, where she lies aground until the next tide.
Many lives have been lost through foot-passengers mistaking the steps at the foot of some of the bridges for the opening of the bridge itself, and, ere they were aware of it, rolling head-foremost into the river. Strong iron-railings have been erected during the last few years, and have put an end to such dreadful accidents: at the foot of Black-friars Bridge, many, we have heard, thus lost their lives.
At this time the pavement is greasy, and, though you keep lifting up your legs, you are hardly positive whether or not yon are making any progress. Yon seem to go as much backward as forward; and some old Cockneys do aver that the surest way of reaching Temple Bar from Charing Cross would be to start off with your face turned towards King Charles's statue, to walk away manfully without once turning your head, and that, by the end of three hours, you would be pretty sure of reaching the point aimed at, should you not be run over.
*George Wombwell (1778-1850) was a Soho shoemaker who collected exotic animals, many obtained on the London docks, and exhibited them in "Wombwell's Travelling Menagerie." Touring the fairs of Britain, the menagerie became among the largest and most impressive in the country by the early nineteenth century. As Jacqueline Banerjee points out in her comment on Wombell's tomb sculpture (a drowsy lion), "In 1846, Wombwell was reported to be the proprietor of thirty lions, five elephants, two rhinoceroses and whole herds of tigers, bears, and so forth (see "George Wombwell"). Menageries of this type continued to be popular right through the Victorian period, reaching the height of their popularity in its last three decades."
Links to Related Material
Biblography
Corton, Christine L. London Fog: The Biography. Cambridge: Harvard University Press, 2015.
Corton's extended monograph is at its most fascinating when it delineates the moral and logical contortions into which people of the city were forced to bend themselves in order to come to an accommodation with their soupy yellow-brown air. . . . Corton's eye for social history is superb. We are led with wit and intelligence through a London in which clerks in counting-houses are forbidden to leave their books lying open lest the soot blacken their pages; in which an inventor devises a "Fog Dispersing Cannon" that doubles as an attractive public monument; in which polar bears at London zoo turn grey . . . — Richard Smith, Times Literary Supplement (11 December 2015): 25.
Miller, Thomas. "A London Fog" (chapter 19) in Picturesque Sketches of London, Past and Present in Illustrated London News (23 December 1849): 419-20. Hathi Trust Digital Library version of a copy in the University of Michigan Library. Web. 4 December 2015. The text above was created from the web version with ABBYY FineReader.
"Wombwell, George (1778-1850)." The Dictionary of National Biography 62, edited by Leslie Stephen and Sidney Lee, 345-46. London: H. Milford, 1921-22. Hathi Trust Digital Library online version of a copy in the Princeton University Library. Web. Accessed 19 January 2019.
---
Last modified 19 January 2023