The Eleanor Cross. E. M. Barry, architect. Thomas Earp, stonecarver. 1863-65. Portland stone, Mansfield stone and Aberdeen granite. Charing Cross Station forecourt, London WC2 This monument is properly called the Queen Eleanor Memorial Cross: "Charing" comes from Old English cierran, to turn, denoting the turning here from the Strand towards Westminster. In other words, "Charing Cross" indicates the location, not the name, of the cross.
This Gothic Revival monument has been described as "a work of reproduction rather than restoration" (Burnet and Blisset), but it is really neither. It represents Barry's attempt to recreate from the "scanty evidence of two or three scarce and indistinct prints" (Thornbury) the last of twelve memorial crosses that marked the spots at which Queen Eleanor's bier rested, when her funeral cortège travelled from Nottinghamshire to Westminster Abbey in 1290. Originally sited nearby, the cross traditionally also marked the spot from which distances to and from London were measured. When the replica was erected in the forecourt of Charing Cross Station, at the cost of the South Eastern Railway Company, the master-mason Thomas Earp was entrusted with the stone-carving. Its restoration was completed in 2010, allowing us to appreciate both Barry's and Earp's skills again.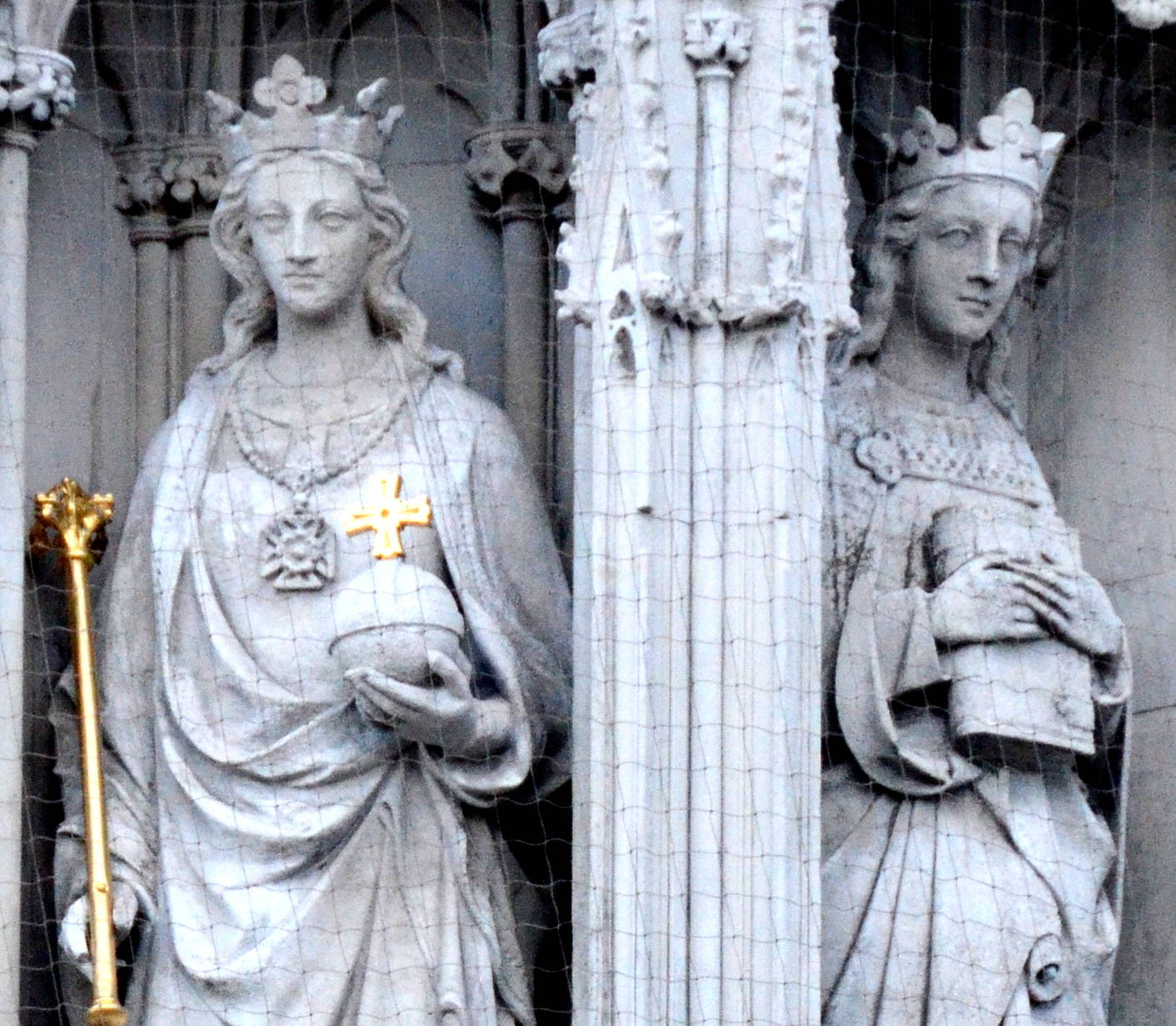 Related Material
Caption, commentary, and photographs at top right and bottom left by Jacqueline Banerjee. Other photographs by Robert Freidus and George P. Landow [You may use this image without prior permission for any scholarly or educational purpose as long as you (1) credit the photographer and (2) link your document to this URL or cite it in a print document.]
Sources
Burnet, G. W., rev. David G. Blissett. "Barry, Edward Middleton (1830-1880)" The Oxford Dictionary of National Biography. Online ed. Web. 1 January 2011.
Thornbury, Walter. Old and New London. British History Online. Web. 1 January 2011.
"The Eleanor Cross Restored at Charing-Cross." Illustrated London News. (6 December 1865): 560. Internet Archive version of a copy in the University of Michigan Library. Web. 22 January 2016.
Weinreb, Ben, et al., eds. The London Encyclopaedia. 3rd ed. London: Macmillan, rev. ed. 2008 (N.B. This has "A. S. Barry" as the designer; all other sources have "E. M.")
---
Last modified 22 January 2016