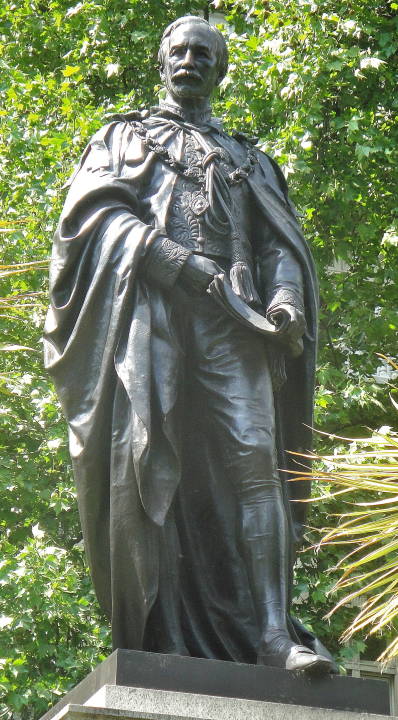 Sir Henry Bartle Frere (1815-84) by Sir Thomas Brock, K.C.B., R.A. 1847-1922. 1887. Bronze. Victoria Embankment, London [Click on these images for larger pictures.] Bartle Frere had a distinguished career in India, retiring as Governor of Bombay in 1867. He accompanied the Prince of Wales on a lengthy tour of India in 1876 and they became good friends. In 1877 he was appointed Governor of Cape Colony and High Commissioner for South Africa. There he was held responsible for a series of political and military disasters and was recalled in disgrace in 1880.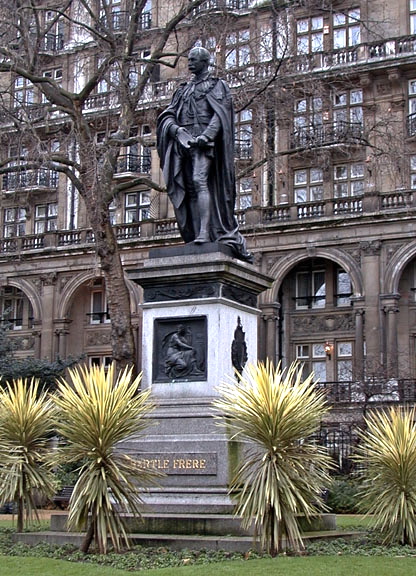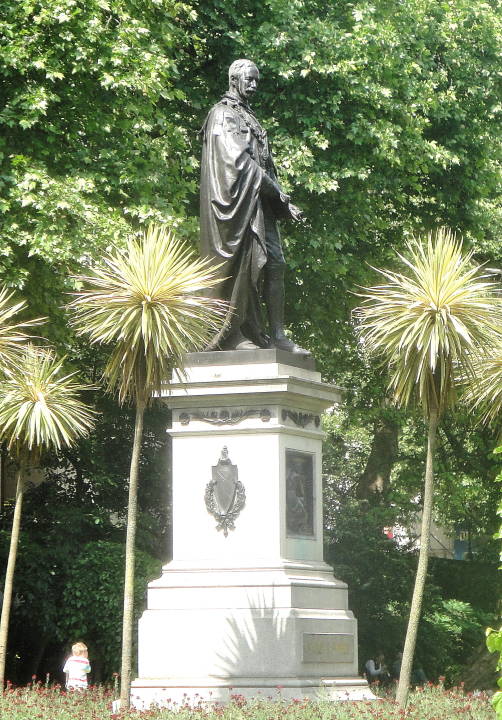 Public opinion in England was divided over Frere's recall. Some, like Anthony Trollope (see letter below) condemned him, but others, including the Prince of Wales, believed that he had been made a scapegoat for the failures of others. When he died in 1884, his supporters set up a committee, chaired" by Sir Richard Temple (also a former Governor of Bombay), with the Prince of Wales as honorary president, to raise funds for a suitable memorial. The committee quickly decided that a statue would be appropriate and Thomas Brock was selected as the sculptor. He had just completed a statue of Temple for Bombay, and the Prince of Wales had visited his studio to see his statue of the Maharajah of Nepal, so he was a natural choice. However, Thomas Woolner, who had sculpted a statue of Frere for Bombay in 1872 and had hoped to be selected, was furious and never forgave Brock for getting the commission.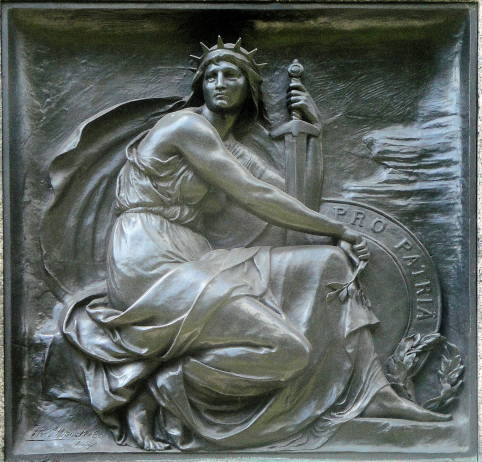 Pro Patria bas relief on base.
In January 1887, Brock's model was approved and the statue was exhibited at the Royal Academy in May 1888. It was unveiled by the Prince of Wales on 5 June 1888. Frere wears the uniform of a Privy Counsellor and the robes of a Knight Grand Commander of the Indian Empire (GCSI). He holds a scroll to demonstrate his role as a statesman. A bronze plaque on the pedestal shows a seated female figure symbolising Patriotism (see separate picture). The statue was cast" by Moore of Thames Ditton and Brock's fee was £3,000.
Frere was unveiled four months before Hamo Thornycroft's General Gordon. These two statues are among the first major public monuments of the New Sculpture movement in England.
Anthony Trollope on Bartle Frere
Anthony Trollope, who had dined at Frere's home when he visited South Africa in 1877, strongly condemned his actions in a letter of April 26, 1879 to G. W. Rusden:
I cannot tell you how much to blame I think we have been in attacking Cetywayo [King of Zululand]. Frere, for whom personally I have both respect and regard, is a man who thinks it is England's duty to carry English civilization and English christianity among all the Savages. Consequently, having the chance, he has waged war against these unfortunates, -- who having lived side" by side with us in Natal for 25 years without ever having raised a hand against us! The consequence is that we have already slaughtered 10000 of them, and rejoice in having done so. To me it seems like civilization gone mad! [Letters, II, 826]
Trollope made public these views in his book South Africa, to which Frere sent him a 105-page mansuscript response (II, 826n). —  George P. Landow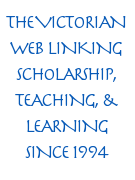 Photographs by Robert Freidus (2015) and George P. Landow (December 1999). Commentary by John Sankey. You may use these images without prior permission for any scholarly or educational purpose as long as you (1) credit the photographer and (2) link your document to this URL in a web document or cite the Victorian Web in a print one.]
Bibliography
Brock, Frederick. Thomas Brock: Forgotten Sculptor of the Victoria Memorial. Ed. John Sankey. Authorhouse Bloomington, IN, 2012
Read, Benedict. Victorian Sculpture. New Haven: Yale University Press, 1982.
Sankey, John. "Thomas Brock and the Critics - An Examination of Brock's Place in the New Sculpture Movement." PhD Thesis, University of Leeds, 2002.
Trollope, Anthony. The Letters. Ed. N. John Hall with Nina Burgis. 2 vols. Stanford: Stanford UP, 1983.
_____. South Africa. Ed. J. H. Davidson. Capetown, 1973.
Ward-Jackson, Philip. Public Sculpture of Historic Westminster, Volume 1. Liverpool University Press, Liverpool, 2011
---
Last modified 22 January 2020