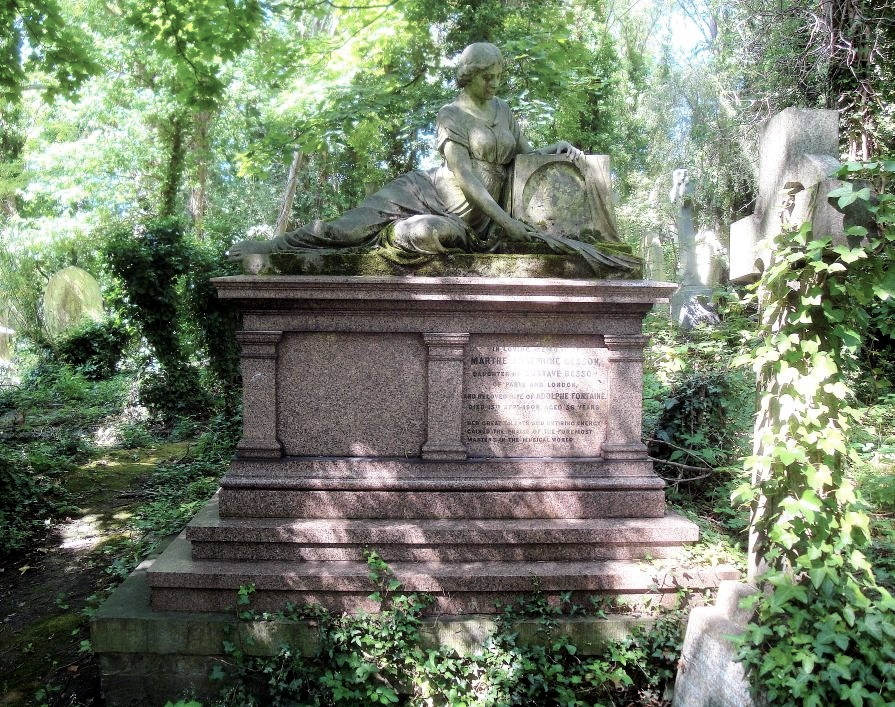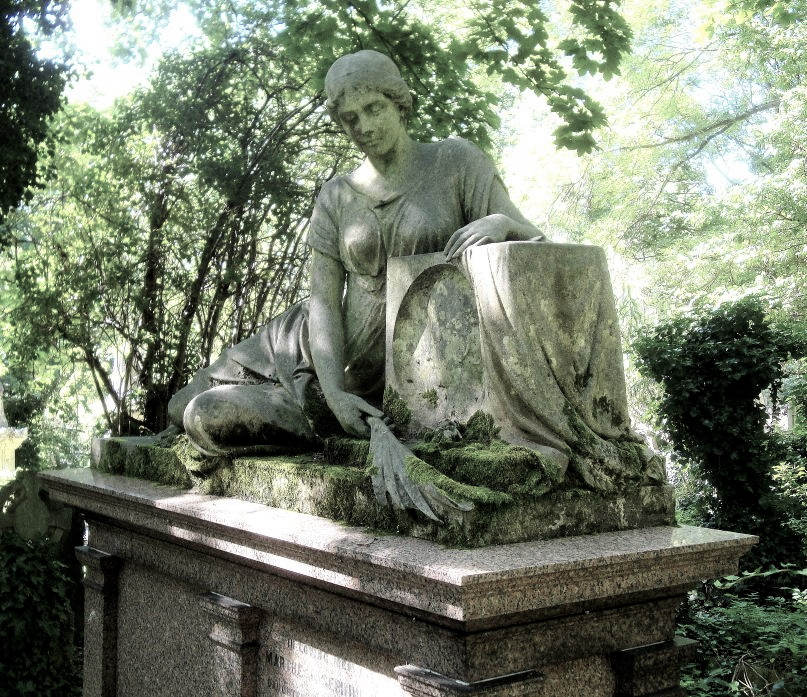 Tomb of Marthe Josephine Besson (c.1852-1907), Highgate East Cemetery, Swain's Lane, London N6. Maker (as inscribed on the base): "A. MacDonald & Co. Ltd., Euston Road, N.W." Impressive pink granite chest tomb with pilasters, raised on a base, with steps below the base, and a full-size neoclassical marble sculpture of a robed, half-reclining female mourner surmounting the tomb. The mourner leans on a draped monument with a bas-relief medallion on the front, showing Besson's face in profile; she holds a palm leaf in her other hand, as a symbol of victory over death (in Christianity, relating to the entrance of Jesus into Jerusalem on Palm Sunday). This elaborate monument by a local monumental sculpture firm is a Grade II listed structure, listed partly for the quality of the sculpture, and partly because of its historical interest.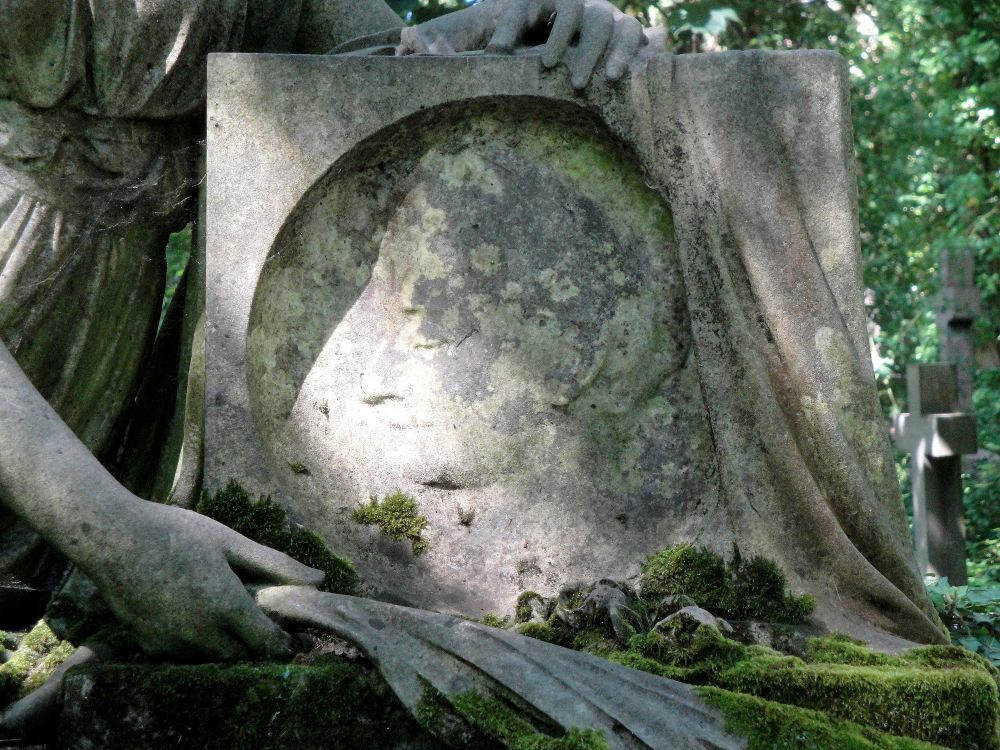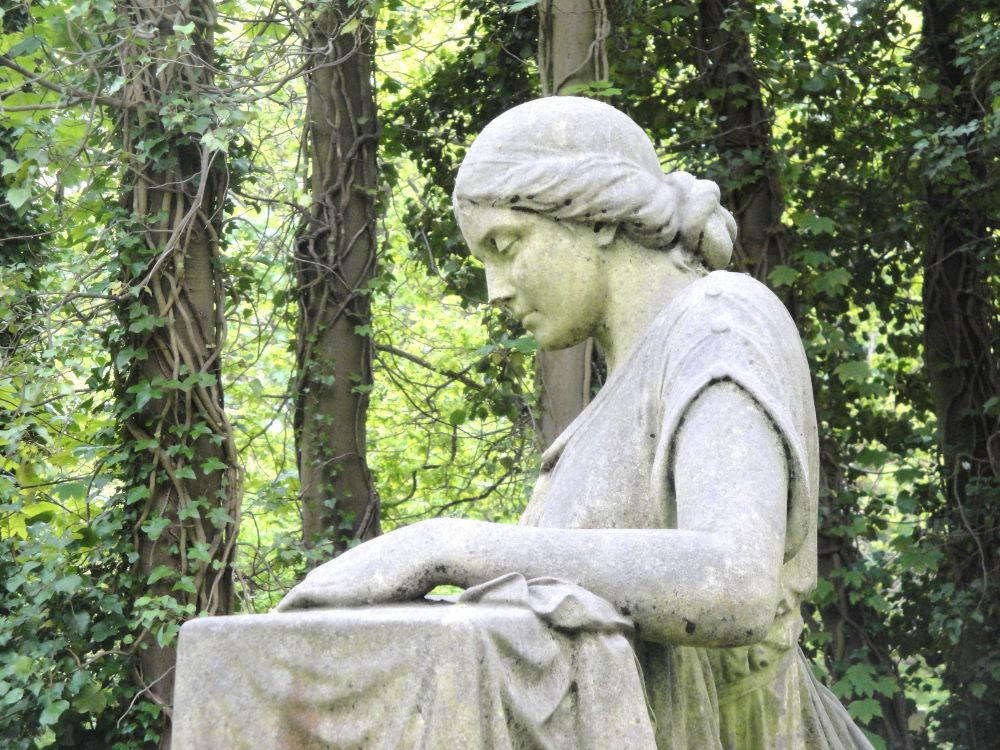 Two close-ups. Left: The secondary monument with the weathered profile on the medallion, and the mourner's hand holding the palm leaf. Right: The mourner's pensive face in profile.
Marthe Besson was an Anglo-French businesswoman who ran the Besson brass instrument manufactory in the later decades of the nineteenth-century, after her parents died, from 1877-1895. This was a family firm established at 198 Euston Road, London, in 1858, with a branch in Paris and later (from the mid-90s) repair branches in Manchester and Newcastle. It was "the largest supplier of brass band and other brass wind instruments in Britain" (Myers and Eldredge 51-52), with a considerable volume of exports to America as well. Besson managed both the main branches, and from 1888 was the "sole proprietress" (Myers and Eldredge 43). She married Adolphe Fontaine in Marylebone early in 1879 (FreeBMD) but still ran the firm under the family name.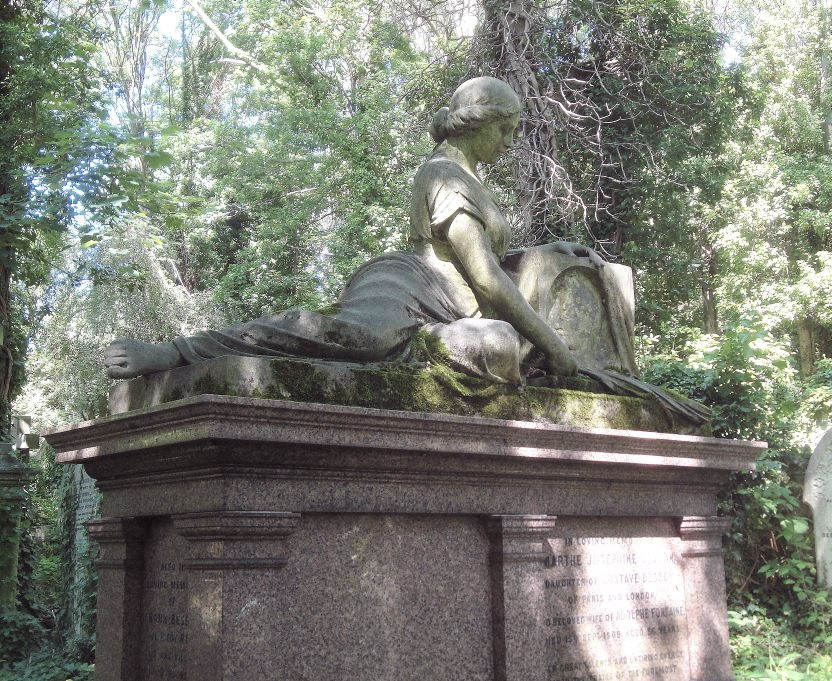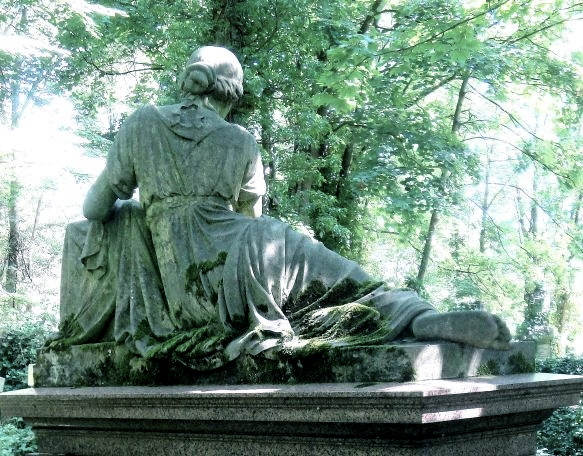 The inscription on the side of the tomb chest reads, "'In loving memory of Marthe Josephine Besson, daughter of Gustave Besson of Paris and London and beloved wife of Adolphe Fontaine. Died 15th Sept 1908, aged 56 years. Her great talents and untiring energy gained the praise of the foremost masters in the musical world." According to the listing text she was "noted for her close involvement in the trade," and "[a]lthough the firm was taken over" by Boosey & Hawkes in 1968, Besson cornets, horns, trombones, tubas and other instruments are still made today." So this is a memorial to an energetic and competent businesswoman whose business interests spanned several countries, and whose name is still known, as a mark of quality, in the music world today.
Photographs by Robert Freidus. Text and formatting by the author. [You may use these images without prior permission for any scholarly or educational purpose as long as you (1) credit the Victorian Web and (2) link your document to this URL in a web document or cite it in a print one. Click on the images to enlarge them.]
Bibliography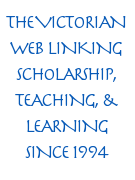 "Alex Macdonald and Co. Lim." Mapping the Practice and Profession of Sculpture in Britain and Ireland 1851-1951. University of Glasgow History of Art and HATII, online database 2011. Web. 23 July 2013.
FreeBMD. Web. 23 July 2013.
List Entry English Heritage. Web. 23 July 2013.
Myers, Arnold, and Niles Eldredge. The Brasswind Production of Marthe Besson's London Factory." The Galpin Society Journal. Vol. LIX: 43-75. Web. 23 July 2013. (Note: where sources differ, details from this source have been preferred because of its archival sources and pictorial documentation, except in the case of Besson's year of marriage, which the BMD records as having been in the first quarter of 1879, not 1880.)
---
Last modified 1 September 2015