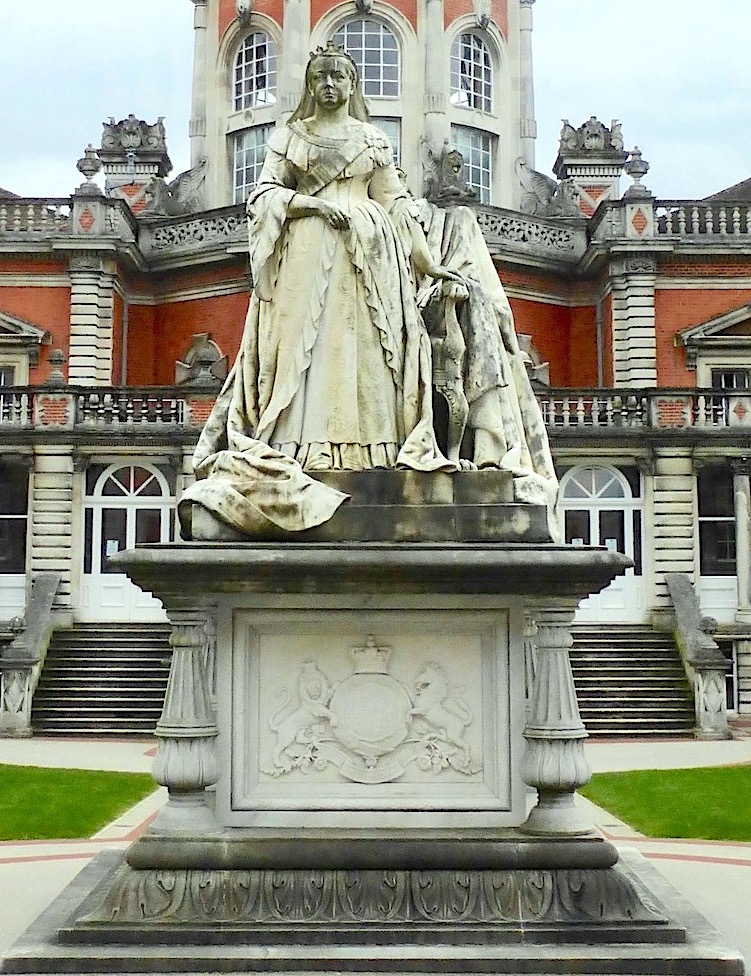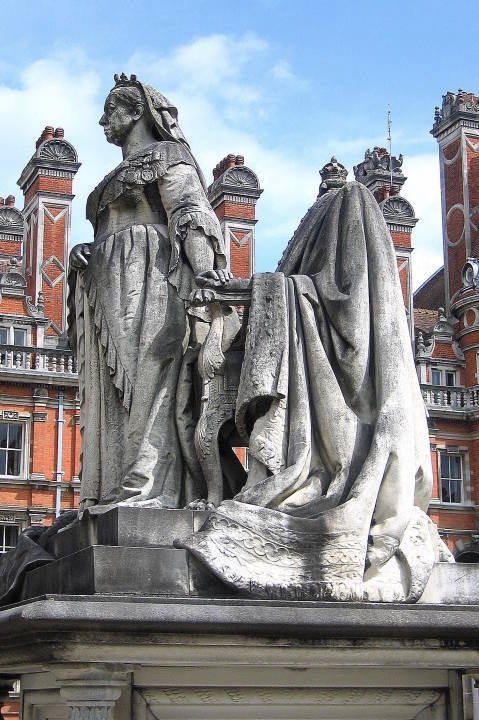 This Grade II listed statue of Queen Victoria at Royal Holloway, University of London, was the work of Count Gleichen, Prince Victor of Hohenlohe-Langenburg (1833-1891). Like the group statue of the institution's founder, Thomas Holloway, and his wife Jane, it occupies the centre of one of the Founder's Building's two large quadrangles. This is in the North Quadrangle, while the other one is in the South Quadrangle. Both were commissioned in 1883 by George Martin-Holloway, Thomas's brother-in-law. Carved from white Tyrolese marble, they were unveiled in December 1887, though in separate ceremonies on successive days — the Holloway piece on 15 December, and the Queen's statue on 16 December.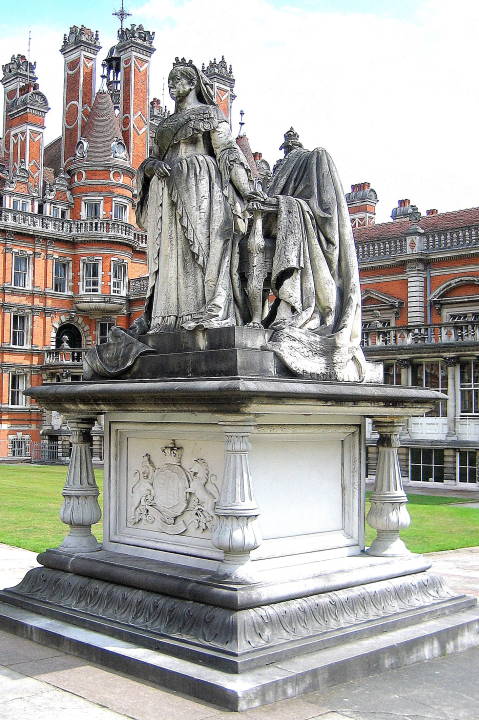 Queen Victoria herself had opened the college on Wednesday 30 June 1886, reporting in her journal on that day that a dais had been erected in the "upper Quadrangle" for the opening ceremony, where a crowd of people had gathered. So there could not be a more appropriate spot for a statue of her. It was unveiled by her third daughter, Princess Christian. The Queen is shown standing, with one hand on an elaborate state chair with a "richly-embroidered rug" draped on it (as described in the Morning Post). The base, which the listing text describes more prosaically as having "four bulbous columns" and an "ogee profile," is less complex than that of the other work, but according to Royal Holloway's own website: "Contemporary critics praised the sculpture for being 'a faithful portrait and a charming work of art.'"
The first photograph on the left, the photograph of the inscription on the base, and the profile view on the right here, were taken" by Jacqueline Banerjee, who also provided the commentary. The other two photographs are by Robert Freidus. They were taken over a period of several years, but, as of now (April 2019), the statue still awaits restoration. You may use these images without prior permission for any scholarly or educational purpose as long as you (1) credit the photographer and (2) link your document to this URL, or cite the Victorian Web in a print document. [Click on the images to enlarge them.]
Related material
Bibliography
Harrison-Barbet, Anthony. Thomas Holloway: Victorian Philanthropist: A Biographical Essay. St Austell, Cornwall: Lyfrow Trelispen, 1990.
"Queen Victoria." Royal Holloway, University of London. Web. 1 April 2019.
"Queen Victoria's Journals." Web. 1 April 2019.
"Royal Holloway College: Address" by the Princess Christian." The Morning Post. 17 December 1887: 5. Issue 36036. British Library Newspapers, Part II: 1800-1900. Web. 1 April 2019.
"Royal Holloway College Statue in North Quadrangle." Historic England. Web. 1 April 2019.
"Thomas and Jane Holloway." Royal Holloway, University of London. Web. 1 April 2019.
---
Last modified 1 April 2019