Frank Lynn Jenkins was born in Torquay, Devon, on the 14th April 1870, the son of Henry Jenkins, a marble merchant (information from birth certificate). Henry, later in partnership with a younger son, Walter developed a business of international standing, H.T. Jenkins and Son, involved in the execution of Thomas Brock's Queen Victoria Memorial in the Mall, the Whitehall Cenotaph and William Goscombe John's monument to the Marquis of Salisbury in Westminster Abbey, among many other prestigious commissions. According to an article on Lynn Jenkins and Gerald Moira in the 1896-97 The Magazine of Art, he first experienced carving in his father's marble workshops. After initial training in Western College, Weston-super-Mare he moved to the South London Technical Art School, Lambeth, 'where he won nearly all the sketching club prizes' ("Art Movement"), and subsequently entered the Royal Academy Schools in January 1893. He won two prizes along with the City of London Guilds medal in his first year, and a British Institution Scholarship of £100 in the second year ("Art Movement"). The influence of teaching that he would have received there from the sculpture Visitors, Alfred Gilbert and George Frampton, was clearly evident in his subsequent work. He also worked at some time in both Paris and Rome (McKay).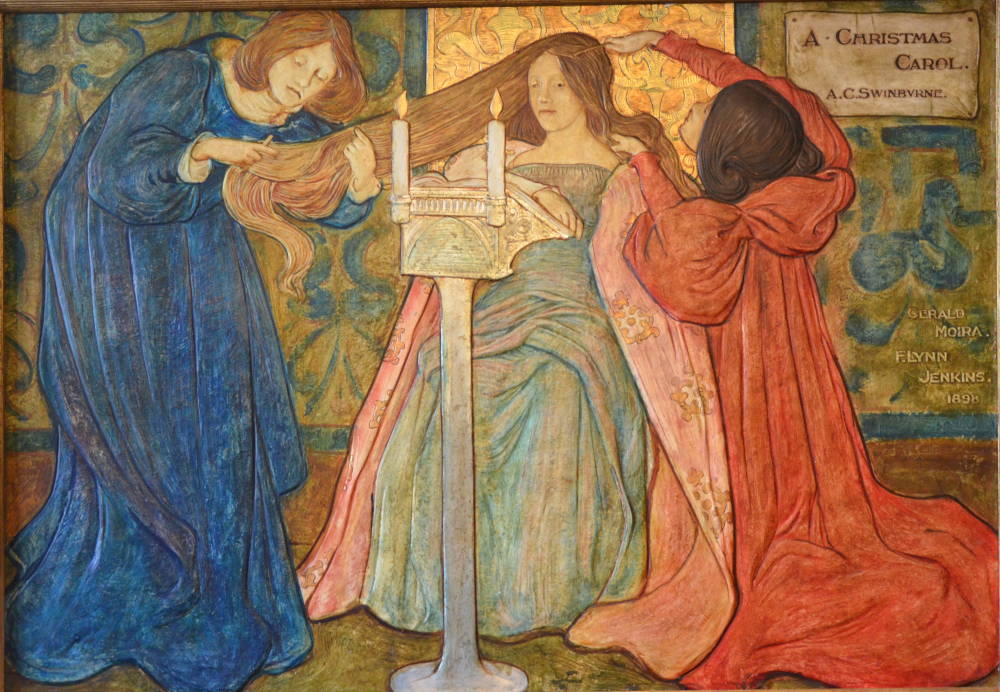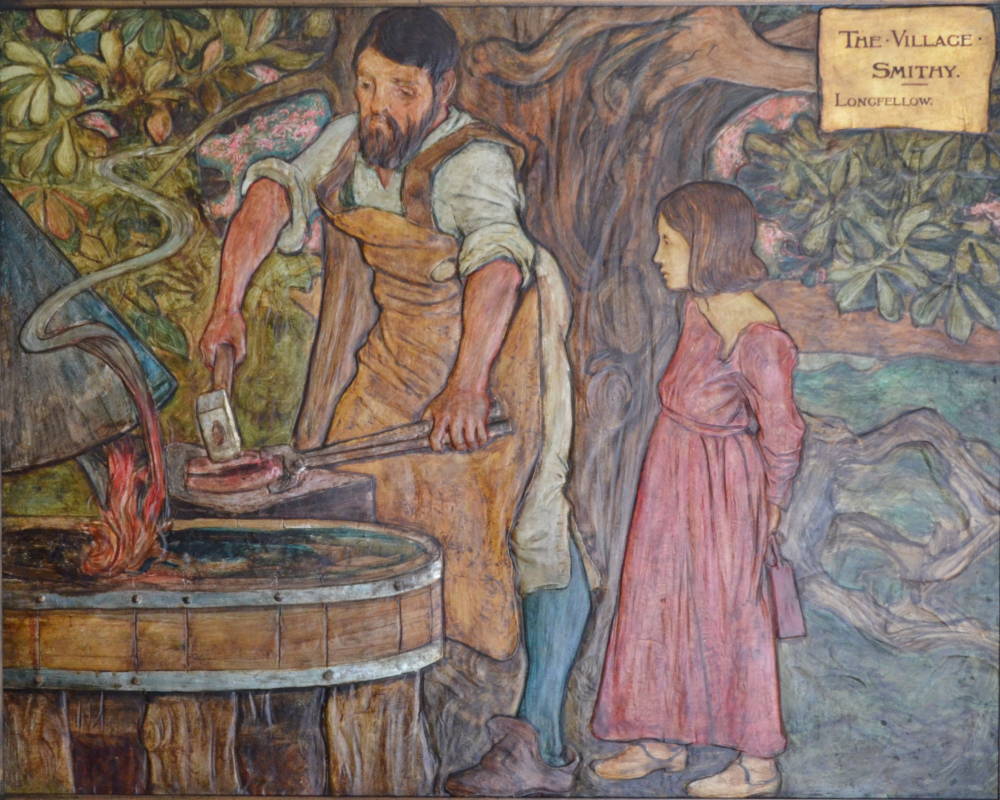 Two of seventeen panels" by Frank Lynn Jenkins and Gerald Moira from a Yorkshire dining room: Left: A Christmas Carol (Swinburne). Right: The Village Smithy (Longfellow).
With the painter and a fellow student, Gerald E. Moira (1867-1957), he developed an innovative style of painted, low relief, plaster panels employed in a commission they won from the restaurateur Joe Lyons to decorate the entrance to the Trocadero Restaurant, Shaftsbury Avenue. This was followed" by other similar schemes at the Throgmorton Restaurant, the Hotel Metropole, Folkestone, the Passmore Edwards Library, Shoreditch and library in a private house in Beverley, North Yorkshire.
In 1901 he married Phoebe Harriet Le Févre, the daughter of Charles ('gentleman') and Henriette Le Févre. Although nothing specific is known about her background the spelling of her maiden name suggests that she was of French extraction. It is possible that she herself possessed artistic skills: she stated in a meeting following her husband's death that she 'had often worked with her husband in the moulding and... to some extent with the designing'.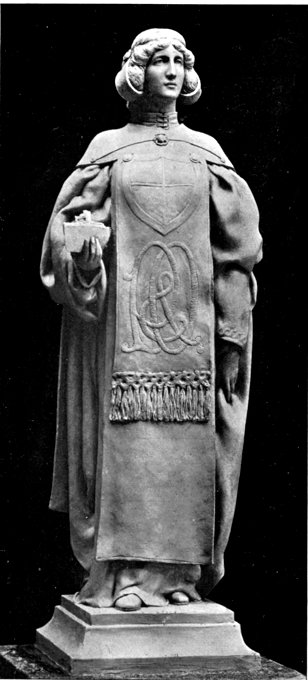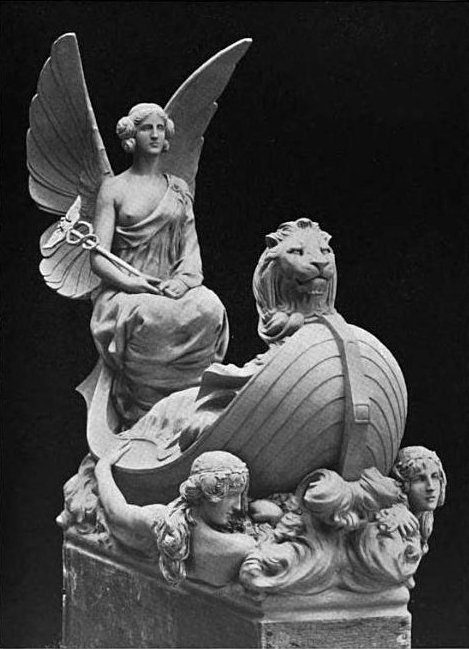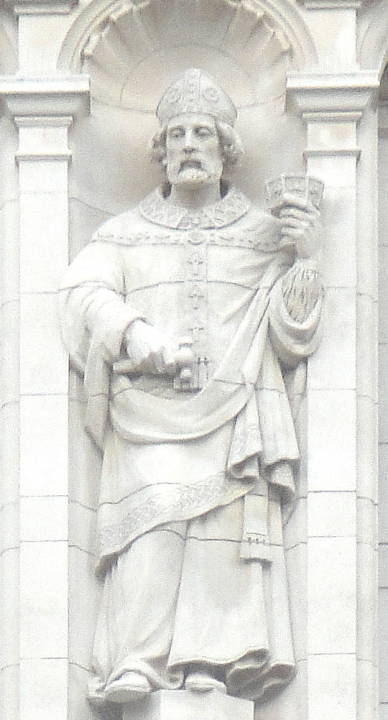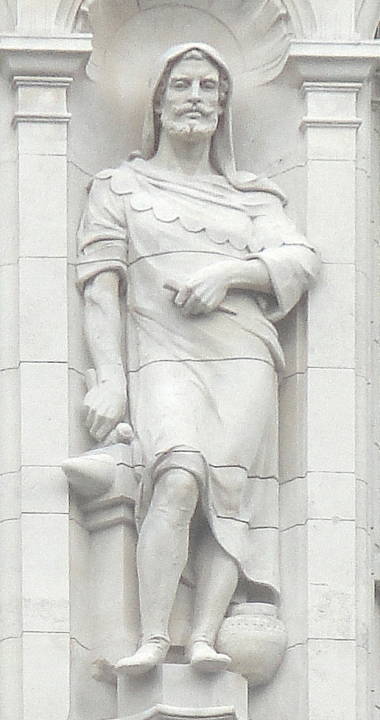 Four examples of Lynn Jenkins's architectural sculpture. Left to right: (a) The Spirit of Steam Navigation. (b) The Spirit of British Maritime Commerce. (c) St. Dunstan/ (d) William Torel [Click on these images for larger pictures.]
Throughout his career Lynn Jenkins executed and exhibited ideal sculptures, such as Psyche (1904), and portraits, but around the turn of the century he established a reputation as a decorative sculptor, executing commissions for several prominent architects of the period. For example, for Murray and Foster, exterior sculpture for Rotherhithe Town Hall (1897); for Nicholson and Corlett, the statues of St George and St Mary for St Matthews church, Chelston, Torquay (1898); for Thomas Collcutt, a frieze of low relief sculpture on the exterior of the P&O company's pavilion at the 1900 Paris International Exhibition (for which he was awarded a silver medal); for Collcutt, an elaborate 80-foot-long low relief frieze of electrotyped copper, inset with gold, silver, ivory, semi-precious stones and shell (1901), and a sumptuous bronze and ivory group, The Spirit of British Maritime Commerce (1904), for Lloyds Registry, Fenchurch Street; also for Collcutt a monumental, gilded bronze figure, Count Peter of Savoy, in above the entrance of the Savoy Hotel, Strand (1904); for Aston Webb, the niche figures of St Dunstan and William Torel for the exterior of the Victoria and Albert Museum, Kensington (1904); for Henry Hare, a frieze of bronze, low relief figures on a marble background for Ingram House, Strand; for Collcutt & Hamp a pair of allegorical figures for the exterior of Thames House, Southwark Bridge Road (1911); and for Romaine Walker and Jenkins (Lynn Jenkins' younger brother, Gilbert) sculpture for garden designs at Knowsley Hall and Luton Hoo. In the schemes for Rotherhithe Town Hall, Lloyds Registry, and Ingram House marble work was provided by H.T. Jenkins and Son. Romaine Walker & Jenkins designed the extensions to the Tate Gallery of 1910 and 1928, and the Duveen Sculpture Gallery, 1937.
Lynn Jenkins propounded his ideas about sculpture and architecture in lectures read at the Royal Institute of British Architects (1899), the Art Workers Guild (1905) and the Architectural Association (1906). He also published a pair of articles in the Magazine of Art about the work of his colleague Gerald Moira (1904). He was H.M. Examiner at the Board of Education, and later, in the USA, taught in the Beaux Arts Institute of Design in New York.
Lynn Jenkins played an active part in a number of key artistic organisations. He was elected a member of the Art Workers Guild in 1900. He joined the Chelsea Arts Club in 1897 and became the chairman in 1901, promoting a move to the premises that it still occupies to this day. He was one of the first two directors of the Chelsea Arts Club Ball Company formed in 1913. He was a founder member of the Royal Society of British Sculptors (1904) and twice served as chairman of its Council. He became a mason in 1901 in the Arts Lodge for which he acted as organist for some years and became Worshipful Master in 1913.
In 1916 he moved to New York where he remained for the rest of his life. He was elected to associate membership of the National Sculpture Society in 1921 and to full membership in 1923. He was also a member of the Architectural League of New York (1920).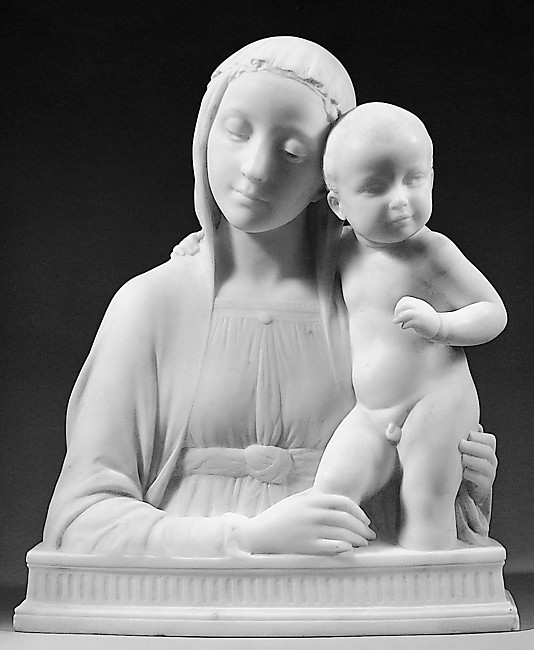 Madonna and Child
From 1895 throughout his life Lynn Jenkins exhibited widely in Great Britain and internationally. Exhibited frequently at the Royal Academy between 1895 and 1915, and in many of the other leading British exhibitions of the same period - the International Society for Sculptors, Painters and Gravers, the Arts and Crafts Exhibition Society, the Walker Art Gallery, Liverpool, the Royal Birmingham Society of Artists, Glasgow Institute of Fine Arts, and the Royal Institute of Painters in Watercolours. He exhibited at the Paris Salon and in the International Exhibitions of St Louis, USA (1904), Dublin (1907), Franco British (1908), Venice (1910), and Rome (1911). After his move to the USA in 1916 he had a solo exhibition at the Reinhardt Gallery, New York (1918), and his work was shown in Fearon (1921) and Duveen galleries, and in the exhibitions of the Architectural League of New York (1921) and the National Sculpture Society (1923). Two of his works, marble group, Madonna and Child (1921), and bronze statuette, Diana (1921), were acquired" by the Metropolitan Museum of New York.
In spite of securing a succession of lucrative commissions in America in the 1920s Lynn Jenkins was apparently insolvent at the time of his sudden death at the age of 57 in Sept 1927.
Bibliography
"The Art Movement: Novelty in Decoration at the Trocadero" by Mr G. E. Moira and Mr F. Lynn Jenkins." Magazine of Art. 1896-97.
Baldry, A. L. Modern Mural Decoration. London: George Newnes, 1902.
Beattie, Susan. The New Sculpture. New Haven: Yale University Press, 1983.
Spielmann, M.H. "F Lynn-Jenkins: His decorative sculpture, his methods", Magazine of Art. (1901-1902).
Spielmann, M.H. British Sculpture and Sculptors of Today. London: Cassell & Co., 1901.
"A note on some new decorations" by Gerald Moira and F. Lynn Jenkins." The Studio14 (1896): 21-27.
Jenkins, F.L. "A Great Decorator: Professor Gerald Moira." Magazine of Art (1903) 524-33 and (1904): 131-137.
Jenkins, F.L., and H.V. Lanchester & F.Lynn Jenkins, "The Application of Colour to Interior Ornament in Relief." Architectural Review (1899) p.329.
Jenkins, M. C., "Out of His Time? A critical study of the practice of Frank Lynn-Jenkins, sculptor (1870-1927) at the turn of the century." Unpublished MA dissertation, Bradford School of Art, 2009.
Jenkins, M. C., "Expanded Horizons: an account of the interrelated achievements in the fields of architecture, sculpture and decorative arts of members of the family of the Torquay marble mason Henry Tozer Jenkins." Torquay Museum Society Transactions and Procedings 36.1 (2010-11).
Mackay, J.A. Dictionary of Sculptors in Bronze. Woodbridge, Suffolk: Antique Collectors' Club, 1992.
Physick, J. Victoria & Albert Museum: Decorative Sculpture. Oxford: Phaidon, 1982.
"Some Decorations for a library" by Gerald Moira and F. Lynn Jenkins." The Studio 14 (1896): 186-91.
Ward-Jackson, Philip. Public Sculpture of the City of London. Liverpool: Liverpool University Press, 2003.
---
Last modified 28 April 2013