Biography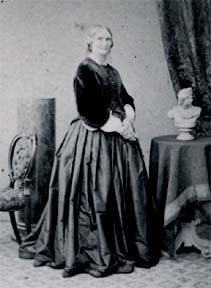 "[Photograph]: Carte-de-visite, albumen print" by Maull & Co., London, c. 1864. The photographer thought it appropriate to position a bust of Apollo close to the sculptress. Maas collection.
According to Jeremy Mass, Mary Thornycroft was "the daughter of the sculptor John Francis. In 1840 she married another sculptor, Thomas Thornycroft. She was much patronized by the royal family. A statue by her of Prince Alfred caused much offence to a teetotaller who objected strongly to his holding a bunch of grapes.
"'The sculptress whose handsome, cultured, and highly intelligent features, gentle, yet with latent courage in righteousness....' F G. Stephens in the Magazine of Art (1895)."
Works illustrated on this site
Works (with no images on this site)
Prince Albert

(see Maas)
"busts of the three children (princesses) daughters of Princess Alexandra, for Osborne" (see Domett)
Bibliography
British Sculpture 1850-1914. A loan exhibition of sculpture and medals sponsored by The Victorian Society. London: Fine Art Society, 1968.
"The Cradle from the sculpture" by Mrs Thornycroft." Art-Journal. (1860): 370.
The Diary of Alfred Domett, 1872-1885. Ed. E. A. Horsman. London: Geoffrey Cumberledge/Oxford University Peress, 1953.
Mass, Jeremy. The Victorian Art World in Photographs. London: Barrie & Jenkins, 1984. P. 212.
---
Last modified 16 February 2020