Part 3 of Benedict Read's Introduction to Gibson to Gilbert: British Sculpture 1840-1914, the catalogue of the 1992 exhibition at the The Fine Art Society, London. The Fine Art Society has most generously given its permission to use information, images, and text from its catalogues in the Victorian Web. This generosity has led to the creation of hundreds and hundreds of the site's most valuable documents on painting, drawing, sculpture, furniture, textiles, ceramics, glass, metalwork, and the people who created them. The copyright on text and images from their catalogues remains, of course, with the Fine Art Society. [GPL]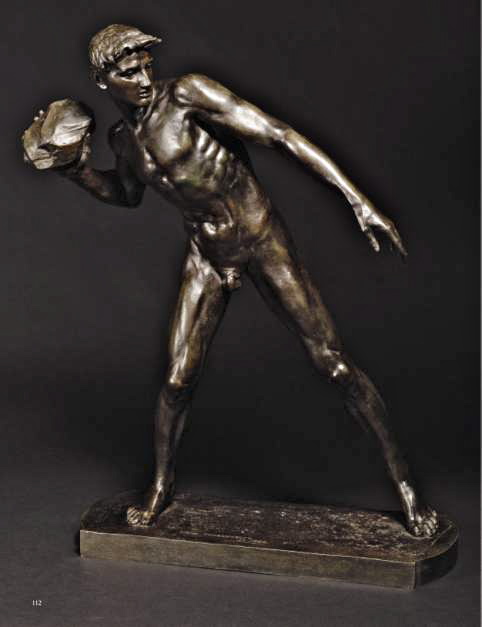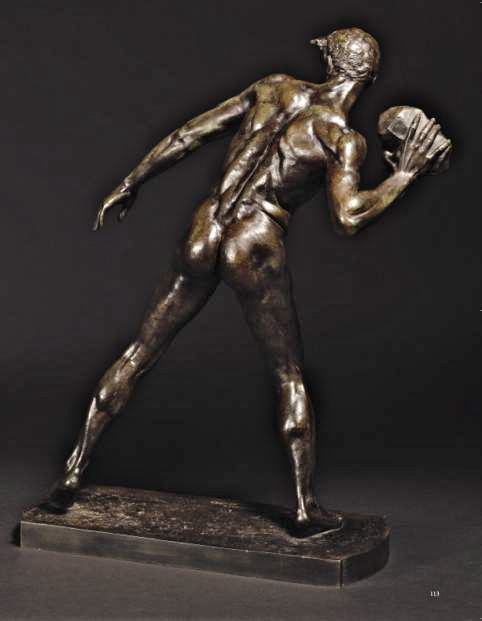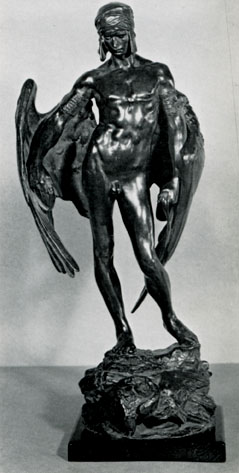 Four works by Gilbert — left to right: (a) and (b) Athlete Putting the Stone or The Stone thrower. (c) Icarus. (d) John Howard. [Click on images for larger pictures.]
Realistic treatment characterized the New Sculpture irrespective of subject matter or conceptual reference, When Hamo Thornycroft exhibited his Athlete Putting the Stone in 1880, the first of an intended series of small statues illustrating English games that never materialized, Gosse described how critics were bewildered at the naturalism of the surface and the modeling of the thin but muscular legs of the youth; they saw the figure as harshly realistic and wanting in classic reserve (200). Gilbert's classical Icarus of 1884 is even more punctilious in the full rendering of every detail: not just the laced thongs and serrated feathers of the wings, whose crisp casting was discussed by critics, but every undulant muscle of the body and, in the original full-scale version, even the veins on the back of the subject's right hand. Both sculptors were to maintain this attitude to rendering naturalistic detail in bronze. In Gilbert's statue of John Howard in Bedford of 1890-94, every bulge, fold, wrinkle of body or material is rendered, and the same is true in principle in Thornycroft's Gladstone in the Strand of 1899-1905.
New casting techniques and Sculptural Multimedia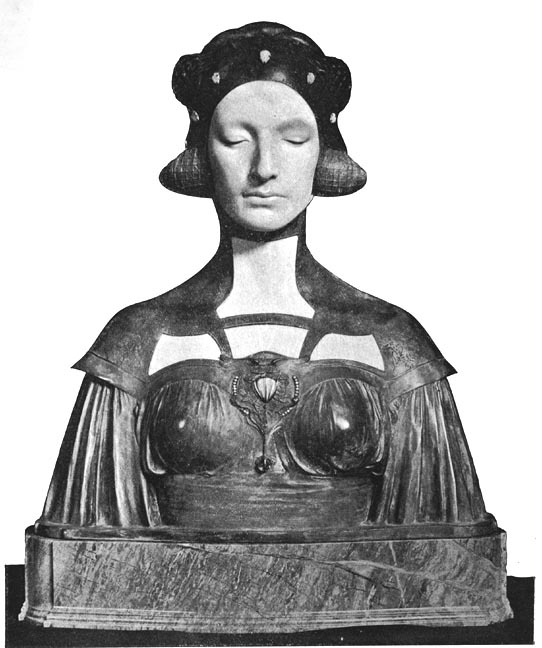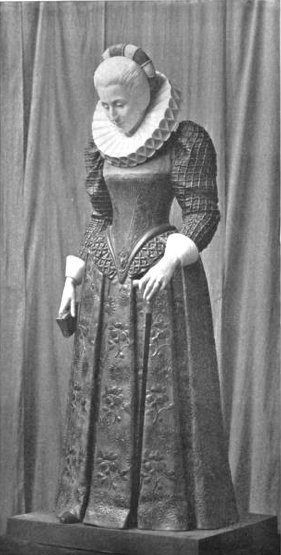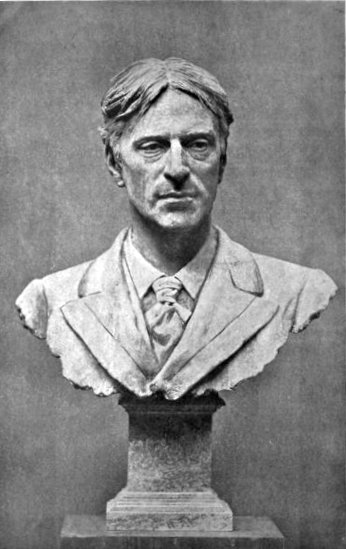 Left to right: (a) Bates's Mors Janua Vitae. (b) Frampton's Lamia and (c) Dame Alice Owen. (d) Ford's Professor H. Herkomer, RA.
But to achieve the desired effect in bronze, especially at a smaller scale, a different technique of casting was required. From his years in Italy Gilbert had experience of the lost-wax process which enables the finest touches of surface articulation in wax to be translated exactly into bronze. The Icarus was cast by this method, and Gilbert, with his sculptor friends and colleagues Stirling Lee and Onslow Ford, had set up his own foundry by 1885. But Gilbert was not interested simply in a change of casting technique, he also developed a passion for varying materials and material usage. His Fawcett Memorial of 1887 in Westminster Abbey incorporated varied-hued bronze, silver, gold and inset turquoise and garnets (Dorment, 67).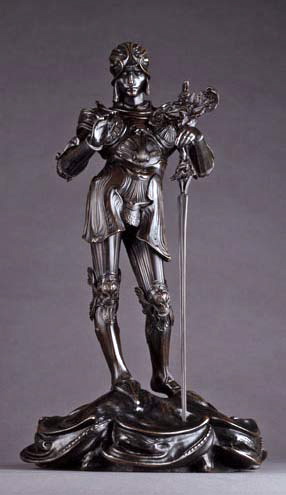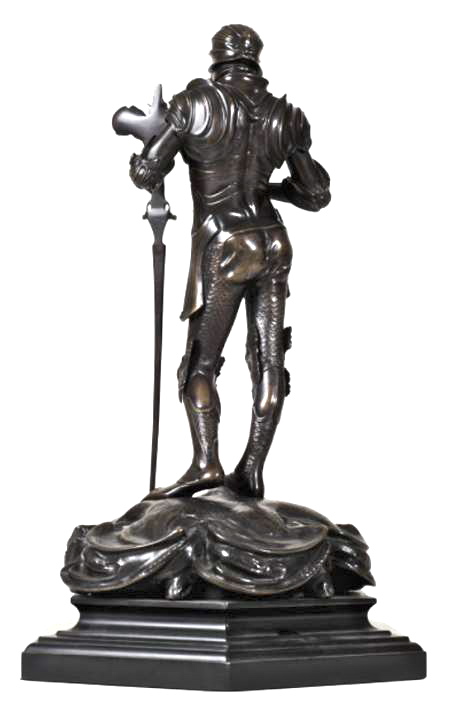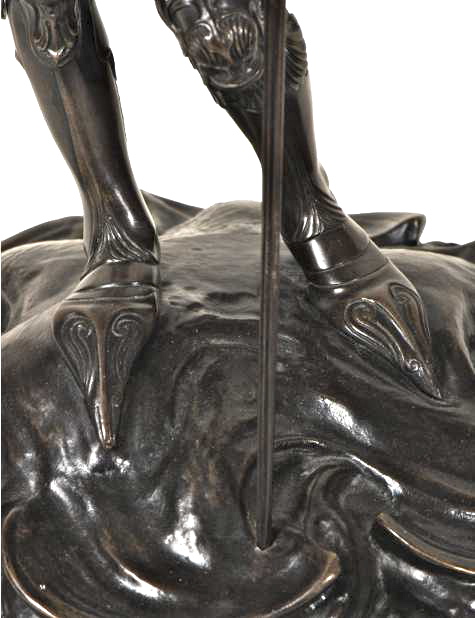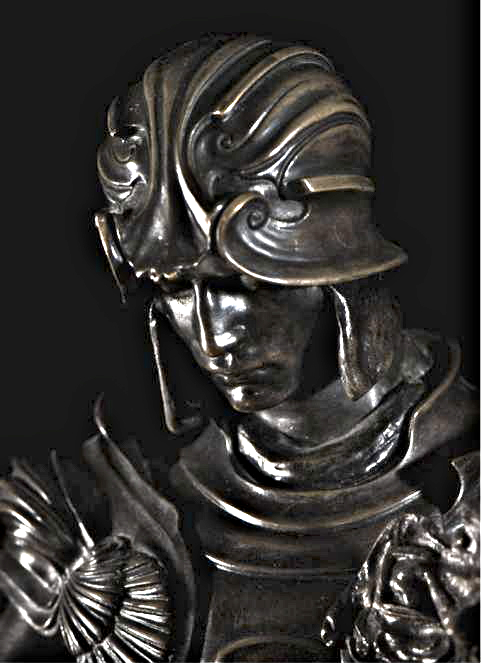 Four views of Gilbert's St. George.
The original St. George on the Clarence Memorial at Windsor (1892-99; 1928) was of aluminium and ivory, and produced other versions in white metal, aluminium and bronze. Other members of the movement were to develop the principles of polychromy still further in major works — Harry Bates' Mors Janua Vitae of 1899 incorporates bronze, ivory and mother of pearl; Frampton's Dame Alice Owen (1897) is of variegated bronze, ivory, marble and gold, and his Lamia (1899-1900) of bronze, ivory and opals. Still younger associates like Reynolds Stephens and Gilbert Bayes produced a dazzling series of multi-coloured, multi-media works reflecting the final liberation of sculpture from material convention.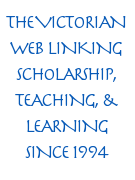 Realism and the New Sculpture
Bibliography
Dorment, Richard. Afred Gilbert. New Haven and London: 1985.
Gosse, Edmund. Art Journal (1894).
---
Created 2 January 2005
Last modified 21 February 2020