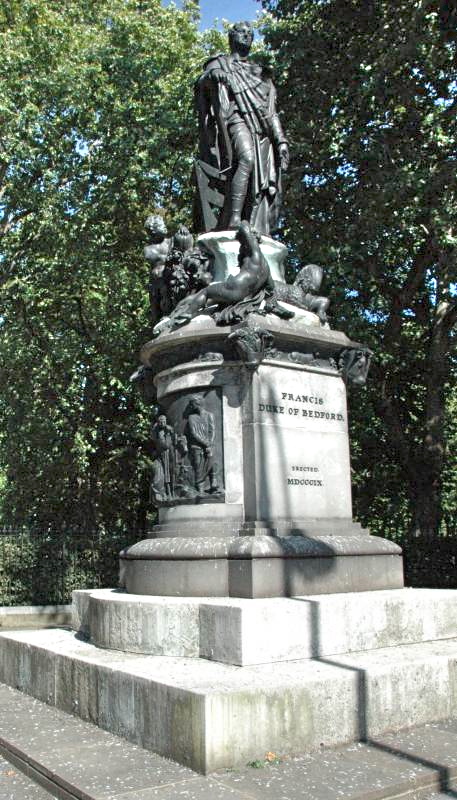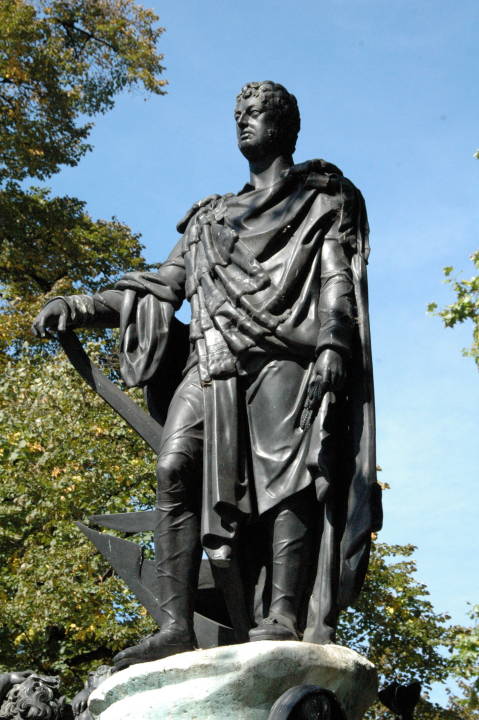 Francis Russell, Duke of Bedford by Sir Richard Westmacott. 1809. Bronze. Russell Square, London WC1 [Click on these images and those below to enlarge them.]
Both the location of this Wesmacott memorial and its agricultural imagery seem especially appropriate to the Duke of Bedford, a man who both shaped this part of London and pioneered scientific farming. The monument resides in Russell Square, which he created. According to to the first edition of The Dictionary of National Biography,
Bedford directed many changes and alterations on his property at Woburn and in London. At Woburn the great stables, which were originally part of the cloisters of the abbey, were replaced" by a suite of rooms. In London, Bedford House, Bloomsbury, built" by Inigo Jones, with its gardens, was demolished. The pictures and statues were sold on the spot" by Christie on 7 May 1800, and Russell Square (one of the largest in London) and Tavistock Square were erected on the site.
In a monument to Francis Russell that resides in a major urban space, Westmacott depicted the him with his hand on a plow because
'the principal employment of the duke's later years was agriculture' ([Charles James] Fox). He was nominated a member of the original board of agriculture in 1793, and was first president of the Smithfield Club (17 Dec. 1798). He established a model farm at Woburn, with 'every convenience that could be desired for the breeding of cattle and experiments in farming.' He himself made some valuable experiments, which are recorded" by Arthur Young (Annals of Agriculture, 1795), upon the respective merits of the various breeds of sheep.
Russell (1765-1802), the fifth Duke of Bedford, succeeded to his title at age 6, his father have died in a fall from his horse when Russell was two years old and his mother having died of consumption a year later. He attended Westminster School and Trinity College, Cambridge (image), spending 1784-85 on the Grand Tour, but only attained any sort of learning after beginning his political career. "Bedford, although he showed much character, owed little to his education. At the age of twenty-four he had scarcely ever opened a book. He told Lord Holland (Memoirs of the Whig Party, i. 78) in 1793 that he hesitated to address the House of Lords from a fear of exposing himself" by speaking incorrect English" (DNB). A whig in political allegiance, he became a devoted friend and follower of Charles James Fox, to whom he left a substantial legacy at his early death "after an operation for strangulated hernia." Fittingly, the statues of the Duke Bedford and and his friend Charles James Fox, who wrote a memoir of him, face each other at the opposite ends of Bedford Place.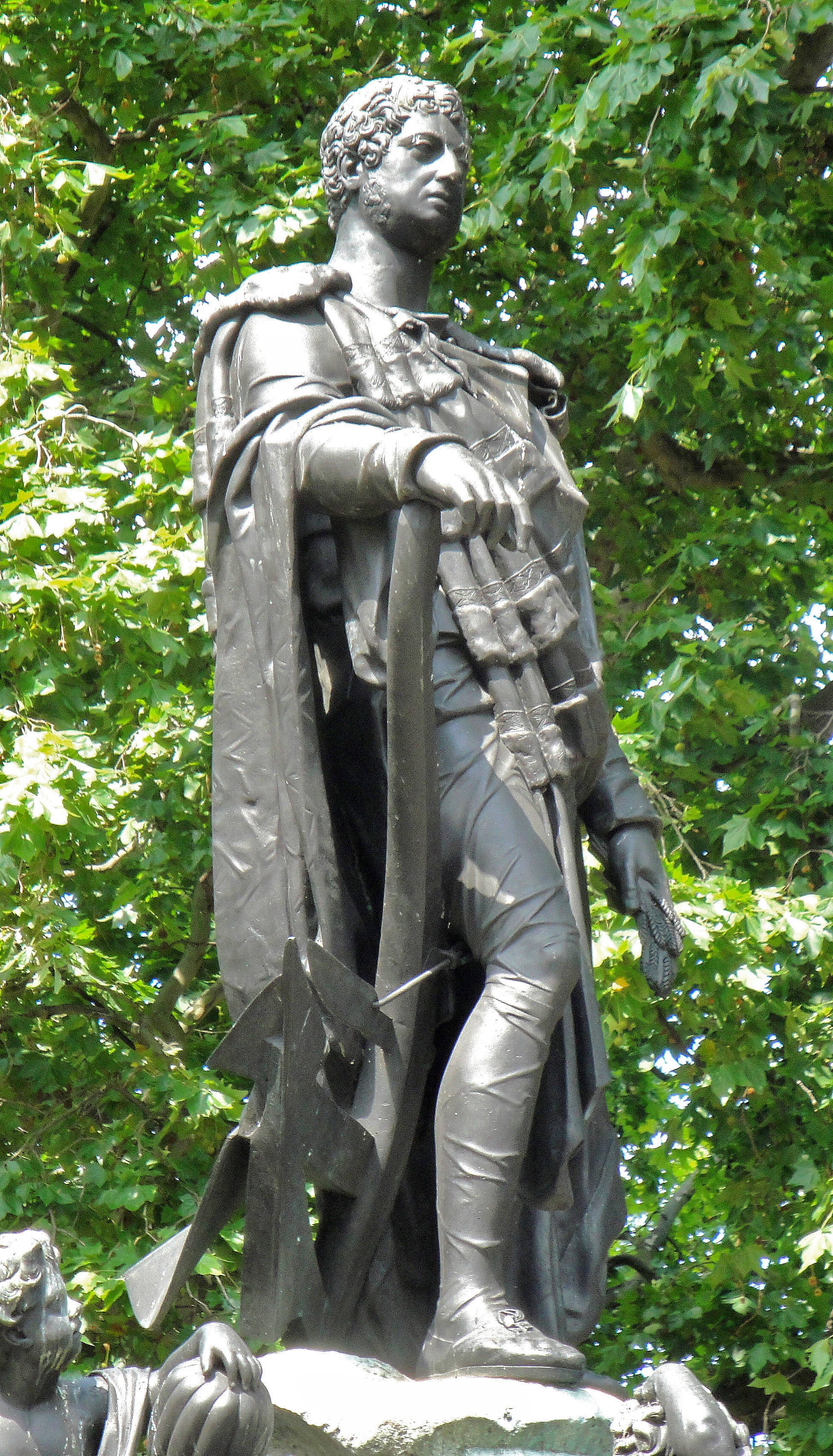 Putti on the upper base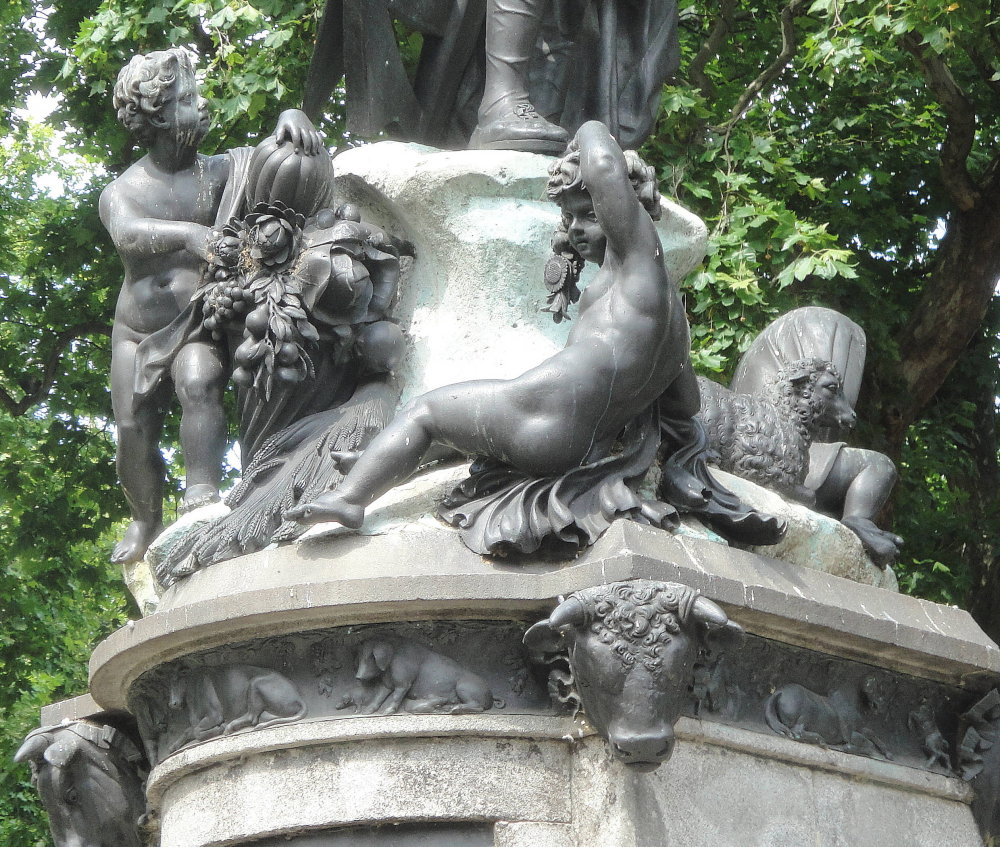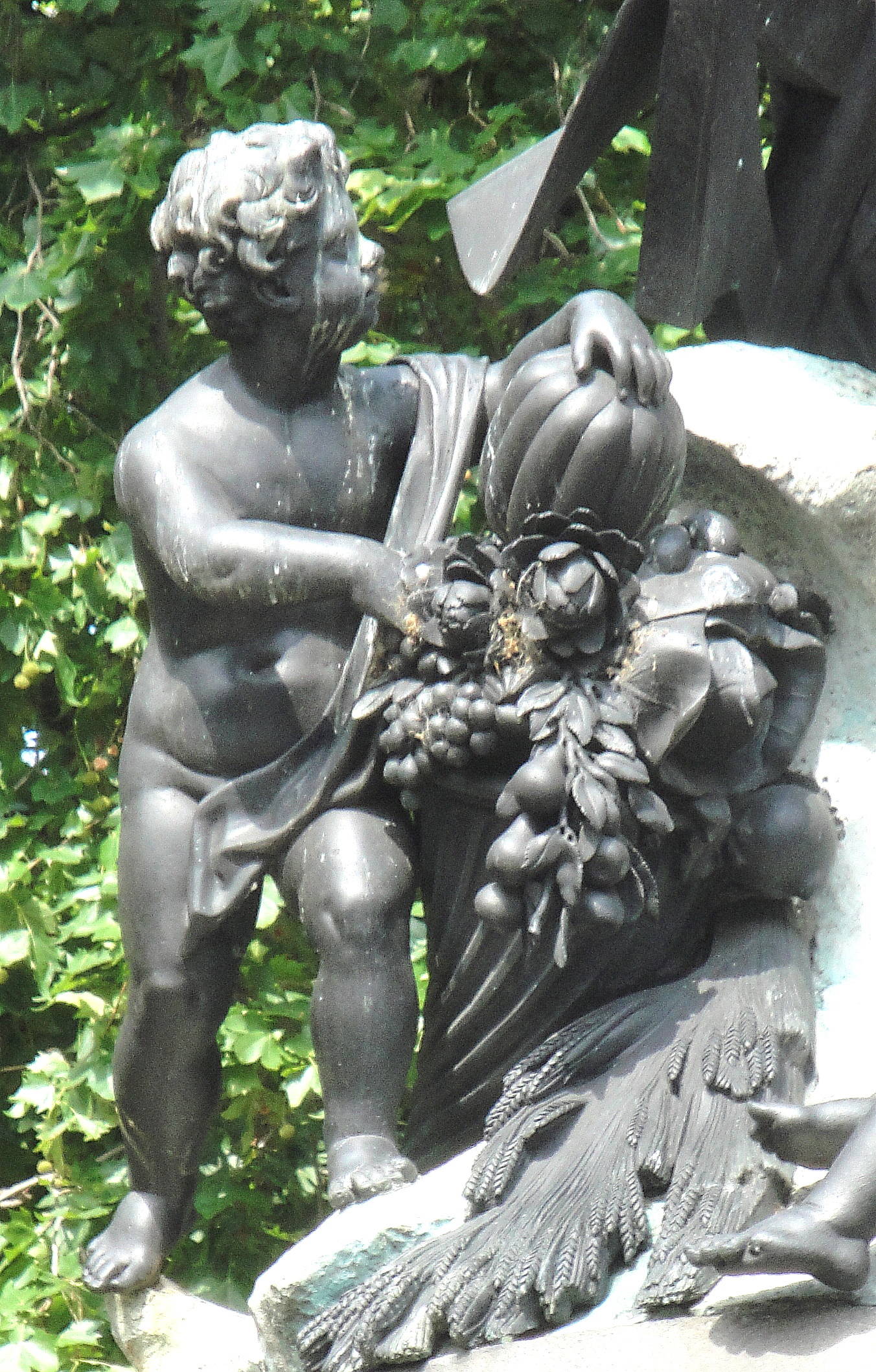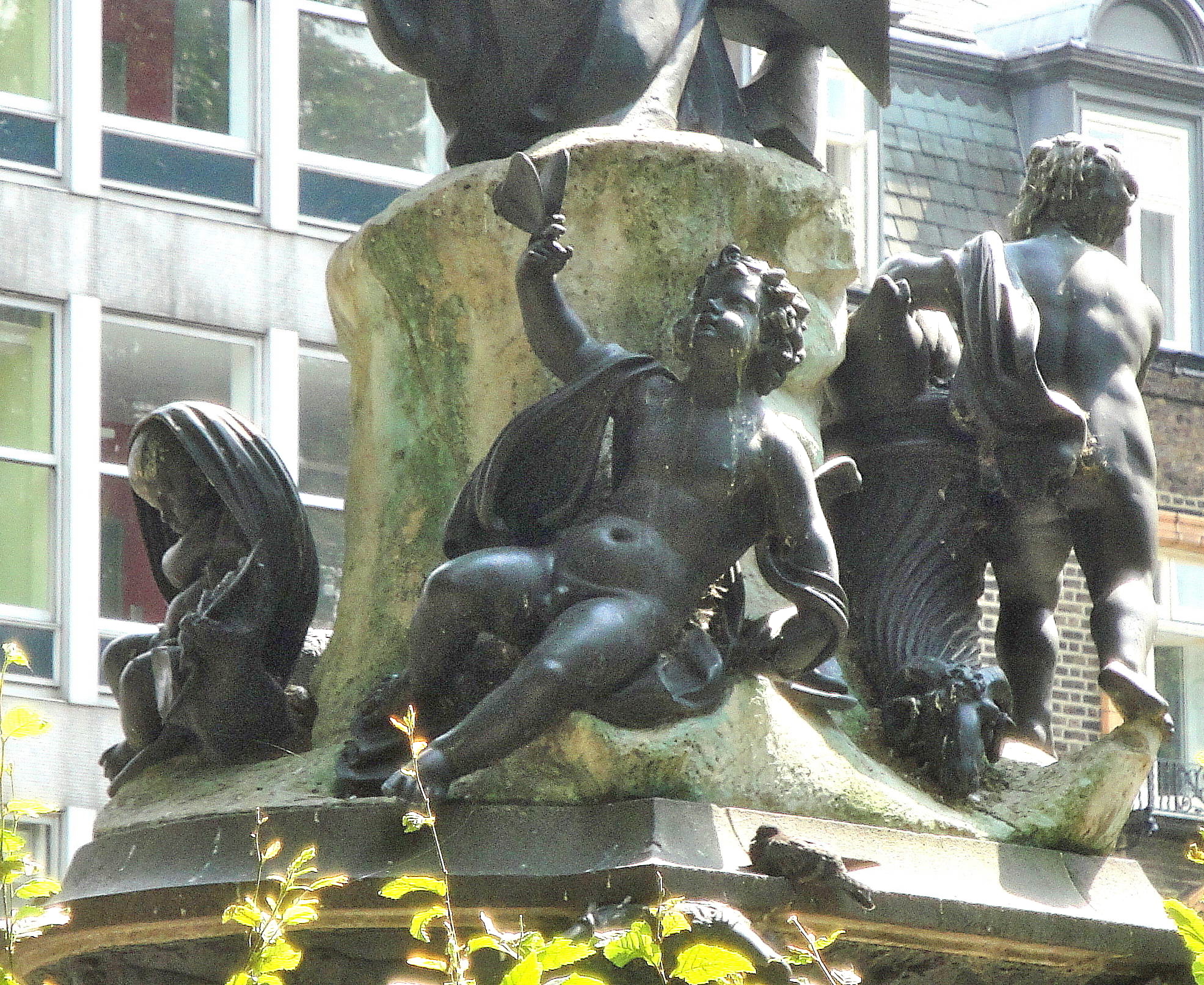 Reliefs on the lower base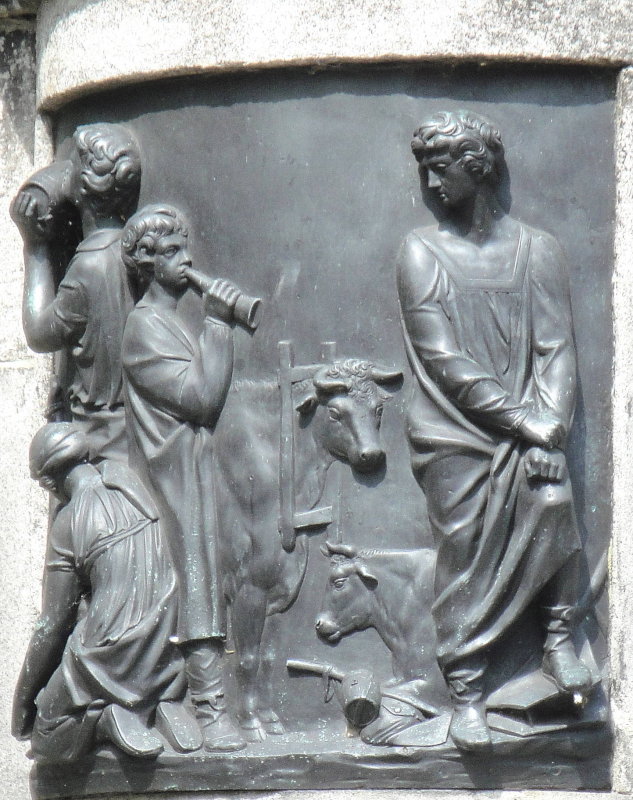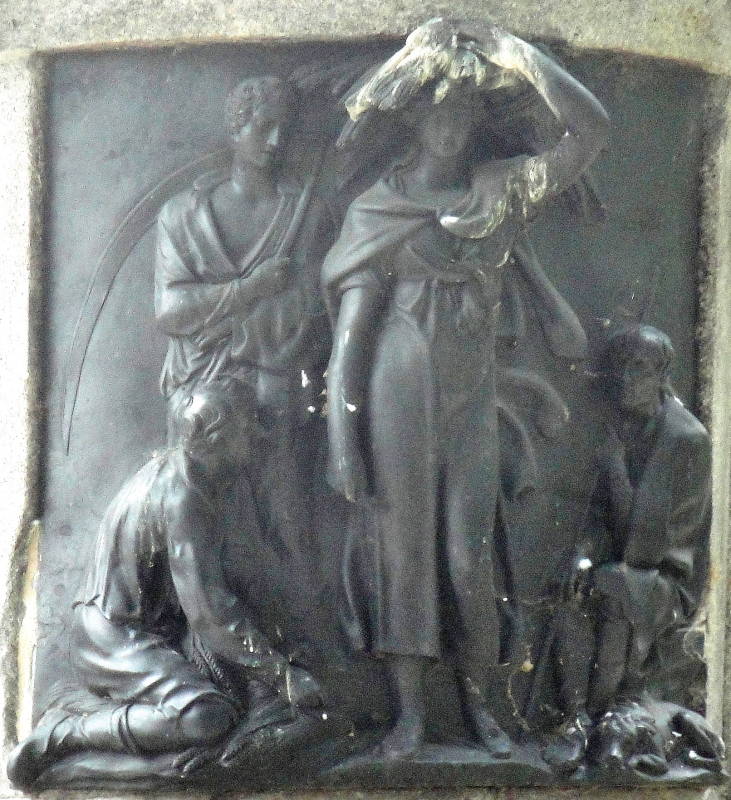 Photographs in the top row, formatting, and image correction by the author. Bottom seven photographs Robert Freidus. You may use these images without prior permission for any scholarly or educational purpose as long as you (1) credit the photographer and (2) link your document to this URL in a web document or cite the Victorian Web in a print one.]
Bibliography
Baker, Margaret. London Statues and Monuments. Princes Risborough: Shire, 1995.
Bullus, Claire, and Ronald Asprey. The Statues of London. London & New York: Merrell, 2009.
Weinreb, Ben, Christopher Hibbert, Julia Keay and John Keay. The London Encyclopaedia. London: Macmillan, 2008.
---
Last modified 19 August 2011