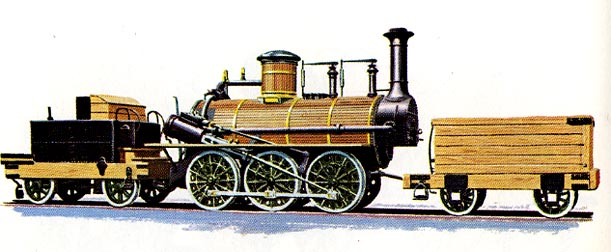 The "Derwent," 1839: Stockton and Darlington Railway.
"Hackworth had been associated with the Stephensons, father and son, from the very inception of the Stockton and Darlington Railway; but after its opening to the public circumstances arose to leave him very much on his own, and he was faced with the poor steaming qualities of the Locomotion and other engines working on the line. It was Hackworth who conceived the idea of putting a return bend in the flue, running it the length of the boiler twice, and so lengthening the time that the hot gases of combustion were in proximity to the water. After some experiments this idea was incorporated in a new engine, the Royal George, built in 1827, and in so doing Hackworth incorporated what we should now regard as a very quaint idea. The use of the return flue meant that the firebox had to be at the same end of the engine as the chimney. So Hackworth provided two tenders -- one propelled in front of the engine carrying the coal and the fireman, and the second at the rear, carrying the water tank, or barrel, and the driver. A beautiful example of this type of engine has been preserved at Darlington, The Derwent, which was built by Alfred Pitching and Company, in 1833. Engines of this type were built down to the year 1846, and some were still in regular service on the Stockton and Darlington line in 1875." [Nock, p. 114]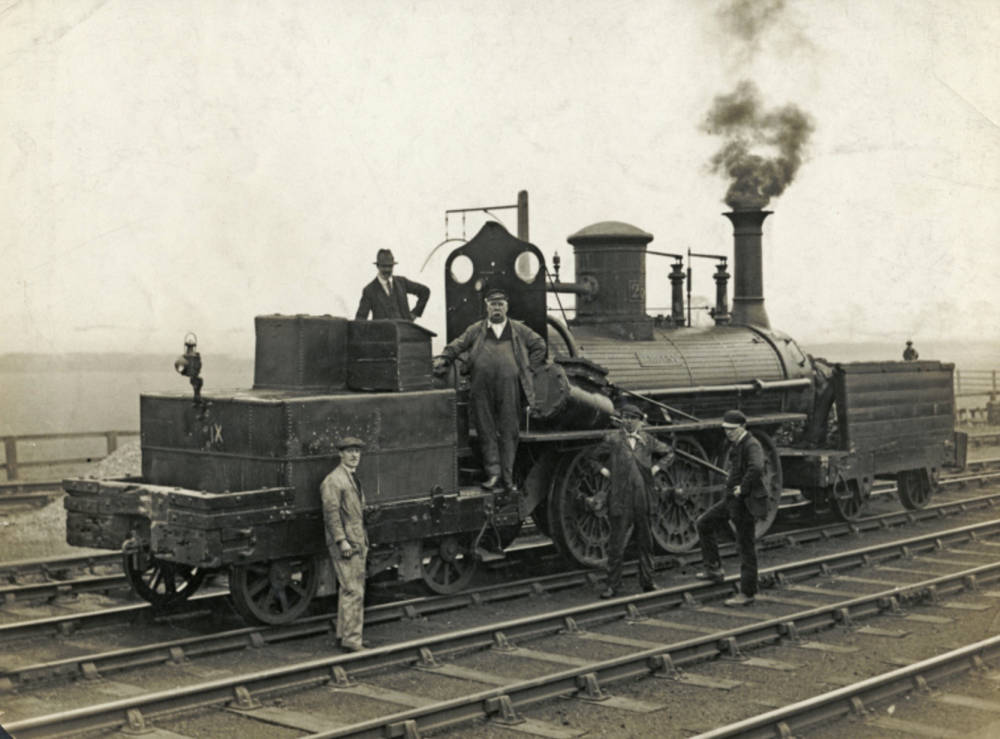 "Derwent," Stockton and Darlington Railway no. 25. 1845. Photograph and text courtesy of the National Railway Museum (1975-7026). [Click on image to enlarge it.]
[You may use this image without prior permission for any scholarly or educational purpose as long as you (1) credit the © National Railway Museum and SSP and (2) link to its webpage. It would be nice to cite the Victorian Web, too.
Bibliography
Nock, O. S. The Pocket Encylopaedia of British Steam Locomotives. Illustrations by Clifford and Wendy Meadway. Poole: Blandford Press, 1964.
---
Last modified 16 October 2016