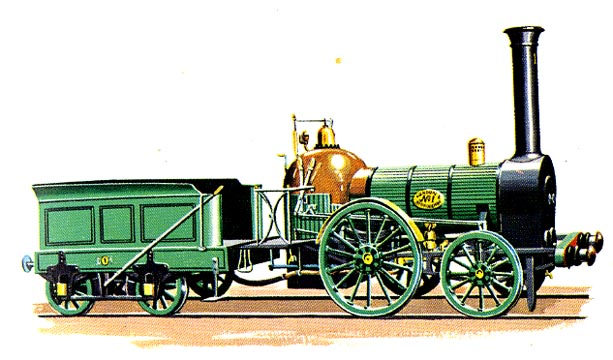 Edward Bury's 2-2-0 Passenger Engine, 1837: London and Birmingham Railway.
"Edward Bury was once described as a man strongly endowed with the commercial instinct. He certainly contrived to play, very successfully, the role of Locomotive Superintendent of the London and Birmingham Railway and contractor for the supply of locomotives at one and the same time. His engines were light, ingeniously constructed, and so very cheap; and in his role as user of them he saw to it that they were not overworked. The distinguishing feature of all his engines was the use of bar frames, which gave them a light, spidery appearance. They had circular fireboxes, with a steam dome and safety valve on the top. The passenger engines on the London and Birmingham were of the 2-2-0 type, while the goods, otherwise similar, were 0-4-0. If one engine were not enough to do the job he put on two, three, and sometimes even four on one train! It was all good for the locomotive trade. Like many engines of those early days the Bury's rode badly, partly because of the very short wheelbase, and the lightness of the tenders. The London and Birmingham nevertheless remained a home of these light four-wheeled engines long after all other main lines had abandoned them for longer and larger engines, and in view of the heavy traffic on the line, and the multitudes of engines necessary to work it, the four-wheeled Bury's, whether of the 2-2-0 or 0-4-0 type, have a special place in railway history." [Nock, pp.114-15]
Bibliography
Nock, O. S. The Pocket Encylopaedia of British Steam Locomotives. Illustrations by Clifford and Wendy Meadway. Poole: Blandford Press, 1964.
---
Last modified 10 September 2004