Photographs unless otherwise indicated by Robert Freidus. Text by Jacqueline Banerjee. Perspective corrections and formatting by George P. Landow. Click on images to enlarge them. You may use these images without prior permission for any scholarly or educational purpose as long as you (1) credit the photographer and (2) link your document to this URL in a web document or cite the Victorian Web in a print one. ]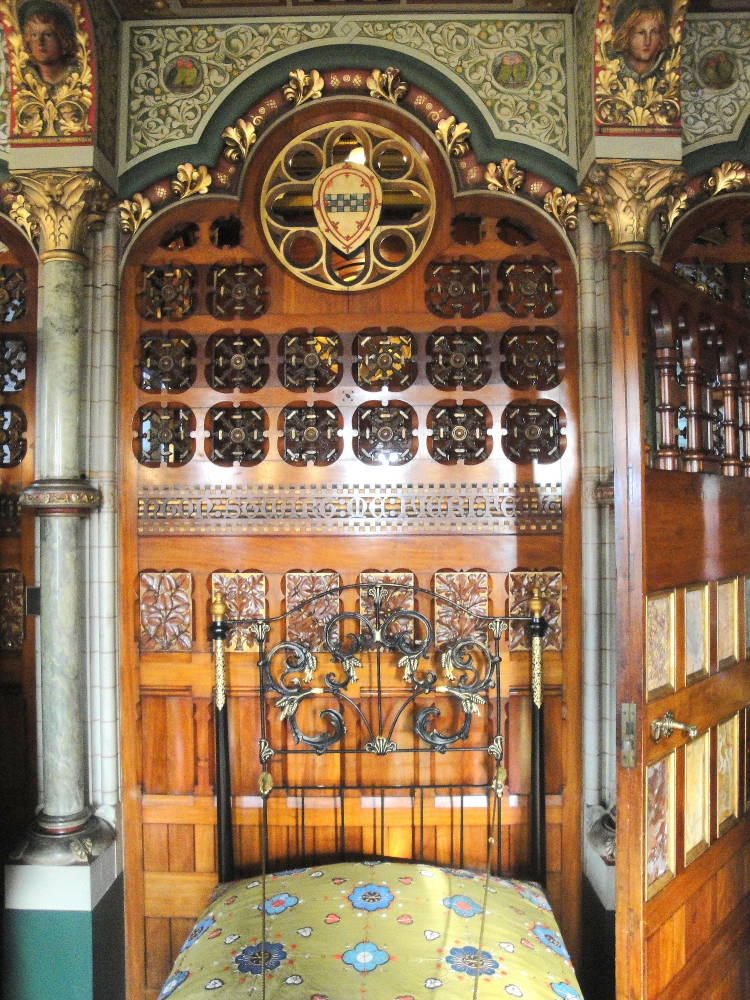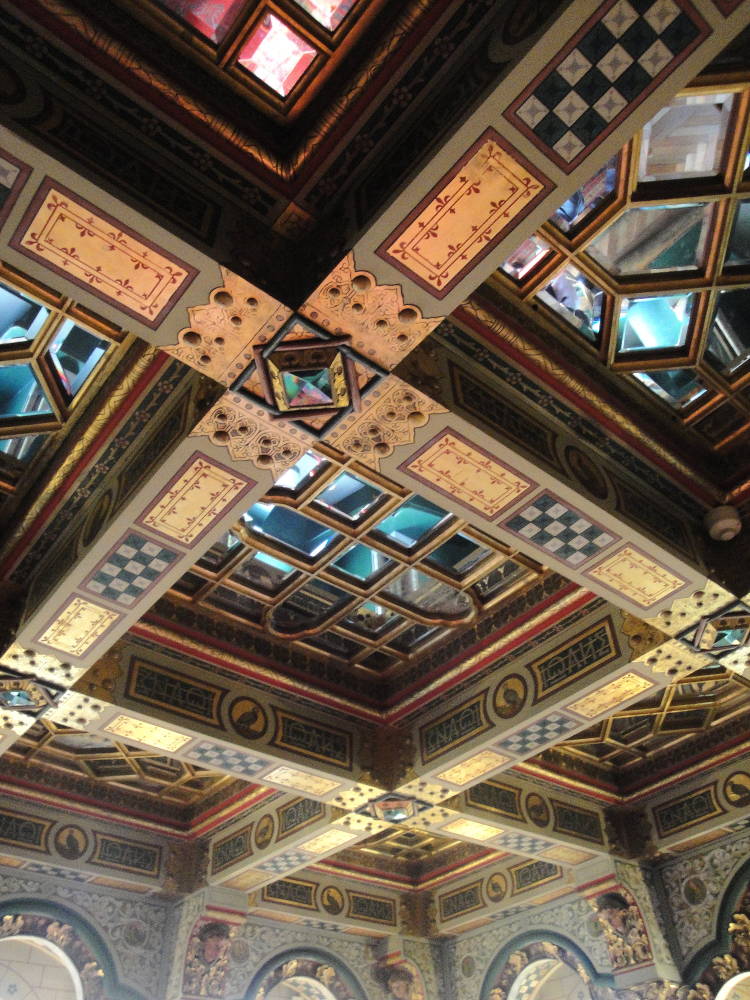 Left: Lord Bute's bed, with a replica of the original cover. The bedroom is in Bute Tower, Cardiff Castle. Designed by William Burges. 1873 (date when this tower was extended). Right: Section of the painted and mirrored ceiling.
Burges extended this part of the castle, adding two storeys to it in 1873 (see Snyder 7). This gave him space and scope for an even more lavishly decorated bedroom suite than the bachelor suite in the Clock Tower, which had served for the Marquess's occasional visits before his marriage in 1872. The earlier suite had shown off the precious stones and different types of metals that paid tribute to the source of his wealth — the mining industry. Thus for example, there, the arms on the chimneypiece "contain specimens of minerals found on the Bute estate" (Snyder 5), and the walls were decorated with classical legends relevant to the theme of precious stones and metals. Here, however, the theme is Biblical.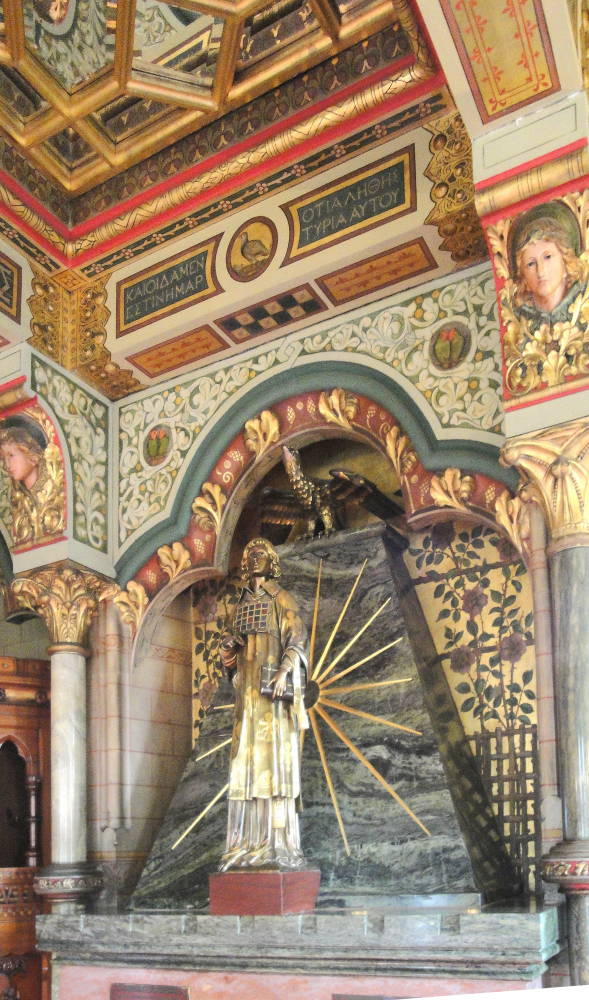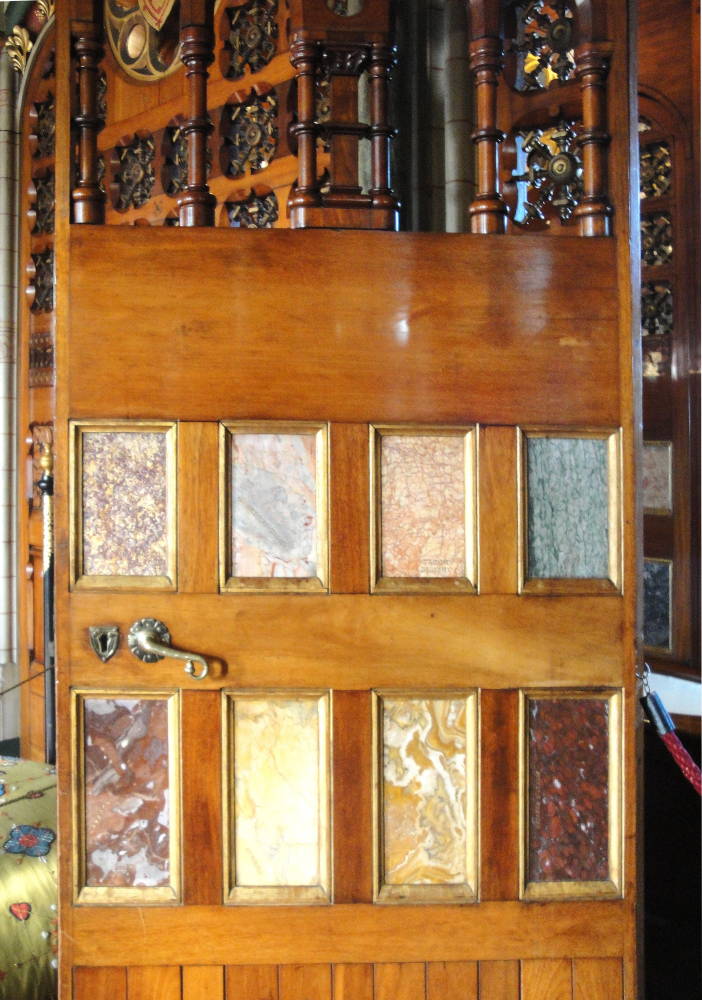 Left to right: (a) Armoire. (b) Fireplace with bronze figure of John the Baptist, showing mantelpiece, columns, and painted wall and ceiling decorations. (a) Door adjacent to Lord Bute's bed. The most spectacular item in the room is the bronze of John the Baptist, "partly gilded, partly oxidised and partly silvered ... the eyes set with onyx, the robe with copper inlays" (Crook, Strange Genius, 41). Photographs showing relation of door to bed and metalwork on door.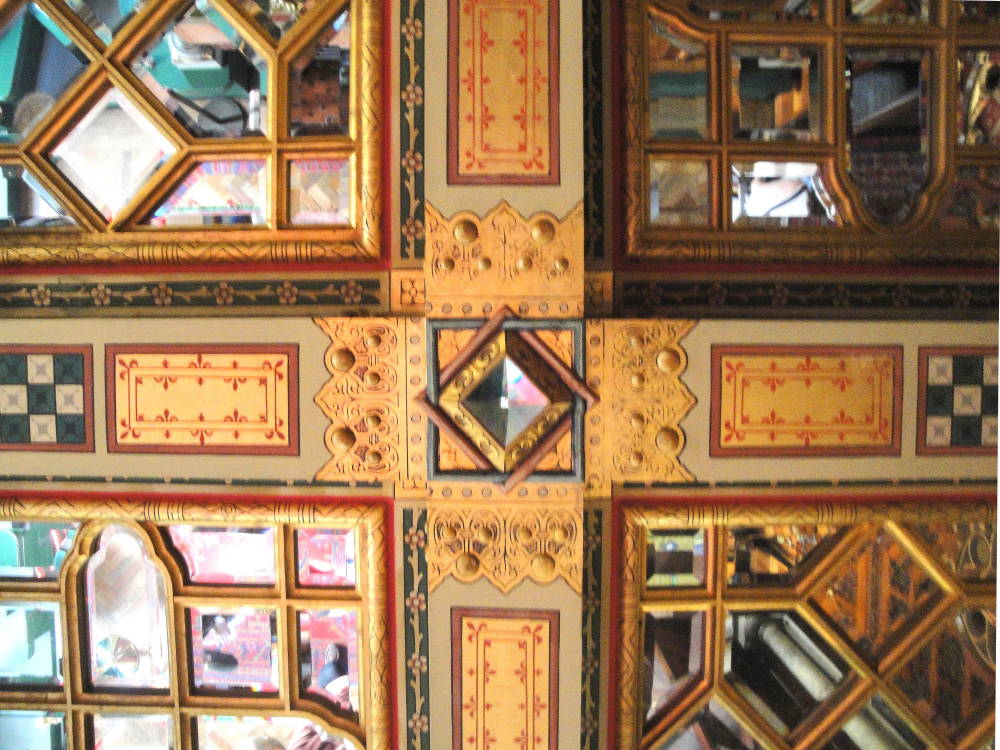 Bedroom ceiling. The most important and ingenious feature of the ceiling is that it contains "189 bevelled glass mirrors ... designed to reflect Bute's first name (John) in Greek in both true and mirror images" (Synder 7). Photograph showing the positioning of the Greek letters, which of course, refer not just to the Marquess himself but also, and more significantly, to John the Baptist.
Bathroom, Water Closet, and Sink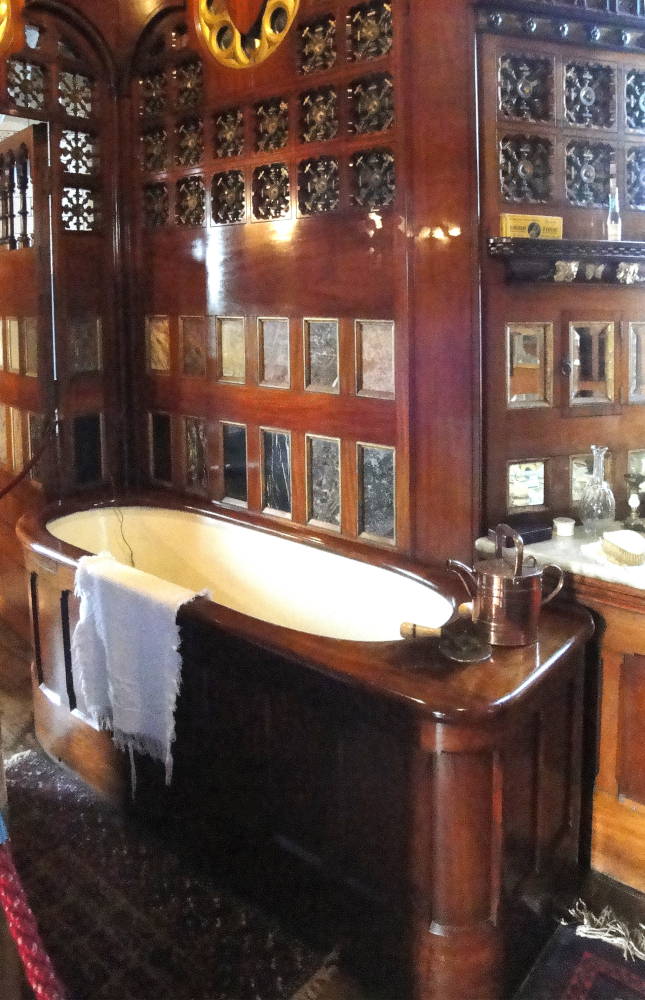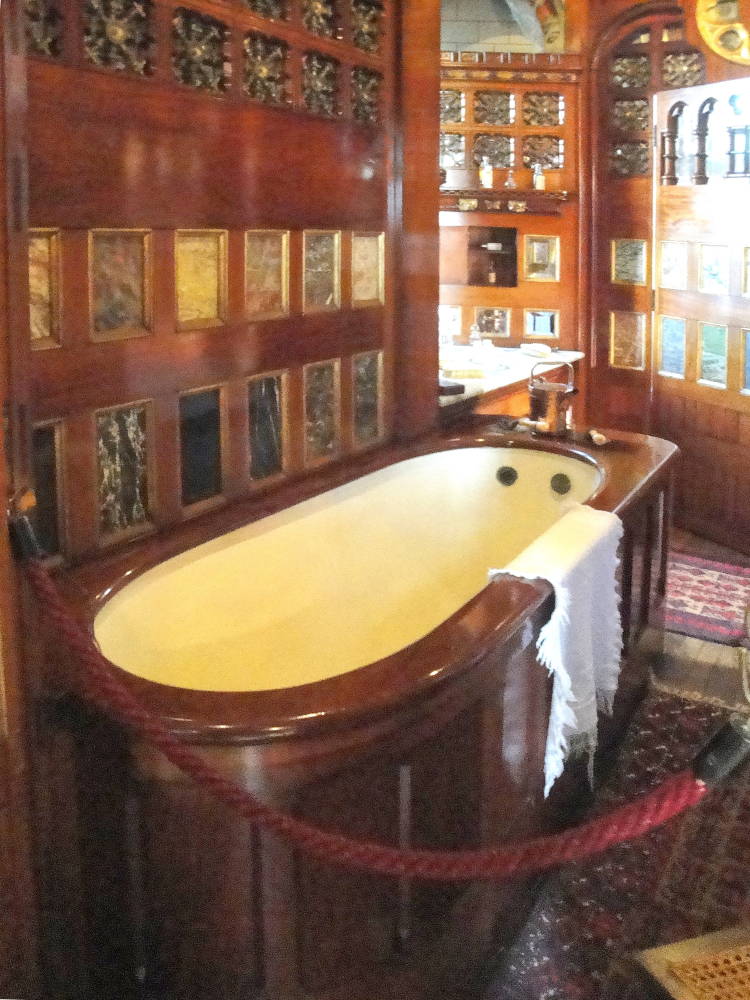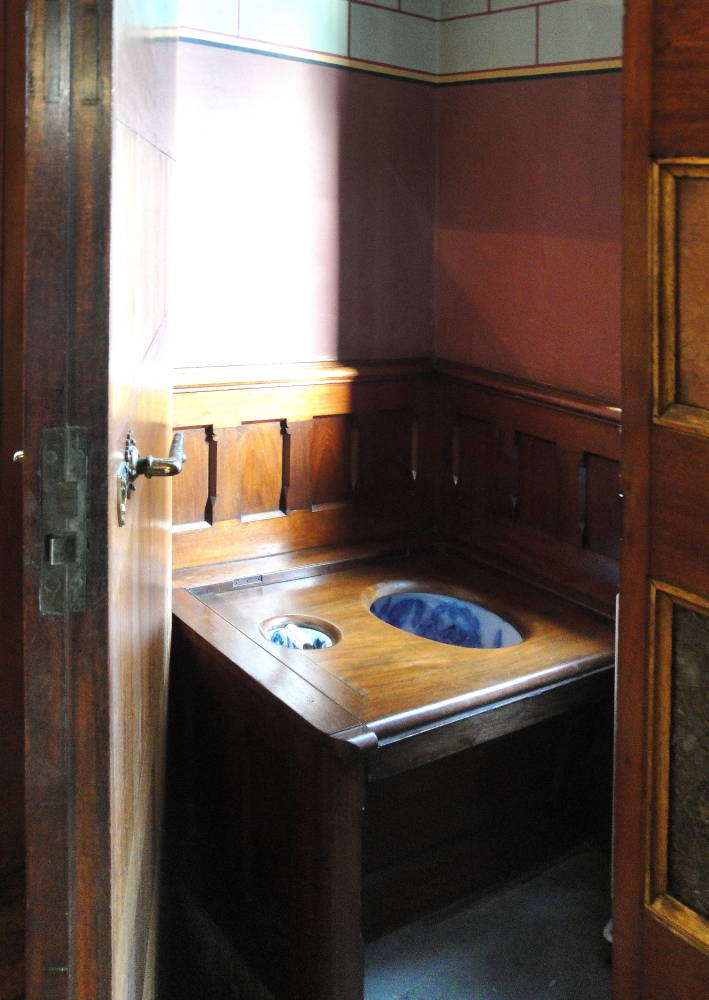 Left: Two views of the walnut enclosed bathtub. Right: Flush water closet. The sanitary engineer George Jennings supplied the walter closet that adjoins the bathroom.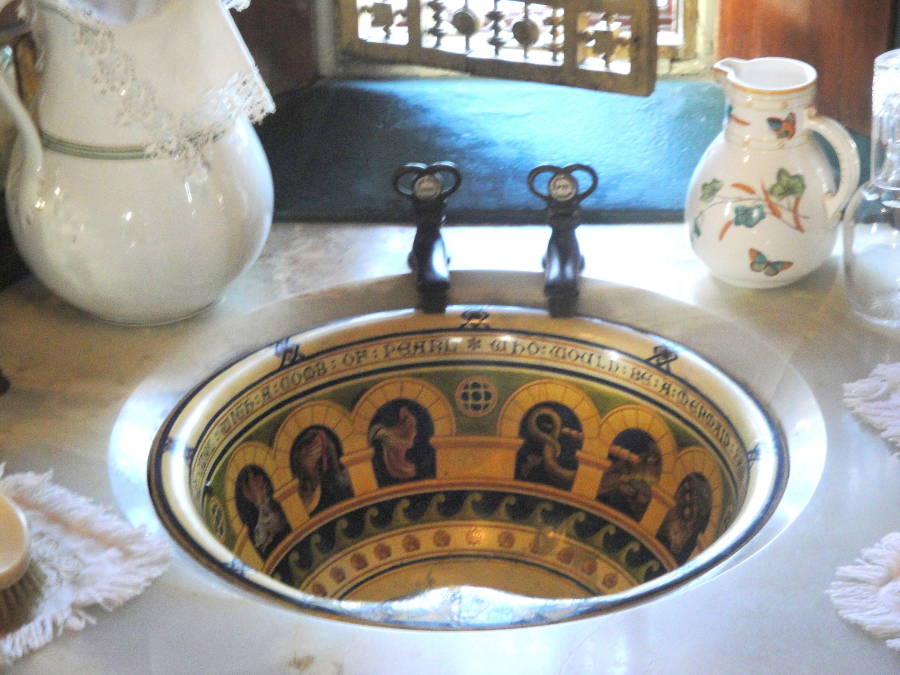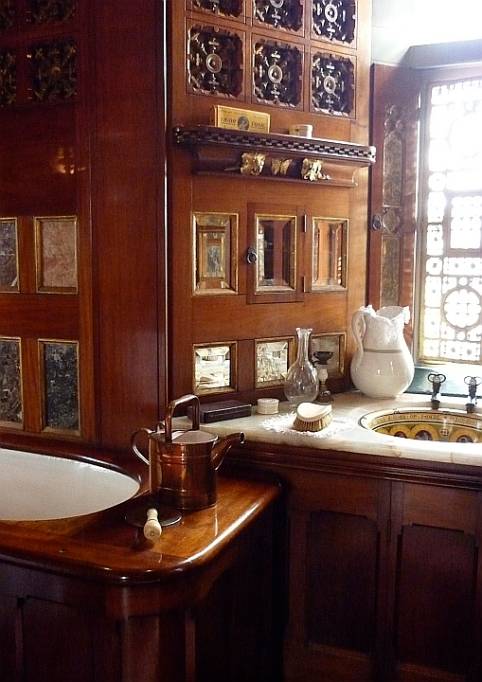 This walnut-panelled bathroom with 36 different types of marble insets and highly decorated hand-basin is unique, the only one that Burges is known to have designed (see "Cardiff Castle"). The hand-basin, which is set into a marble slab, is particularly splendid: "A mermaid combs her hair in the bottom of the bowl and monsters swim above her under an arcade of stone arches" (Crook Strange Genius, 41). Mermaids were another of Burges's favourite motifs. [Photograph at right by Banerjee.]
Other Views of Cardiff Castle and Related Material
A Select Bibliography
Crook, J. Mordaunt. "Burges, William (1827-1881)." Oxford Dictionary of National Biography. Online ed. Viewed August 2009.
Crook, J. Mordaunt.The Dilemma of Style: Architectural Ideas from the Picturesque to the Post-Modern. Chicago: University of Chicago Press, 1987.
Crook, J. Mordaunt, ed. The Strange Genius of William Burges, "Art-Architect," 1827-1881. Cardiff: National Museum of Wales, 1982.
Crook, J. Mordaunt.William Burgess and the High Victorian Dream. London: Murray, 1981.
Long, Helen. The Edwardian House: The Middle-Class Home in Britain, 1880-1914. Manchester: Manchester University Press, 1993.
McLees, David. Castell Coch. Cardiff: Cadw (Crown Copyright), rev. ed. 2005.
Marsh, Jan. William Morris & Red House: A Collaboration between Architect and Owner. London: Anova Books, 2005.
Muthesius, Stefan. The High Victorian Movement in Architecture, 1850-1870. London: Routledge, 1972.>
Newman, John, et al. Glamorgan (Buildings of Wales, Vol. 3). New Haven: Yale University Press, 1995.
Norwich, John Julius, ed. Treasures of Britain: The Architectural, Cultural, Historical and Natural Heritage of Britain. Windsor: AA/Everyman, 2002.
Snyder, Thomas. "The Cultural Landscape of Cardiff Castle.". medievalists.net. Web. 9 January 2012.
Williams, Matthew. William Burges, 1827-81. Andover, Hants: Jarrold Publishing (Pitkin Guide), 2007.
Web Resource
(Offsite) Roberts, Brian. Historic Building Engineering Systems and Equipment: Heating and Ventilation. English Heritage, 2008. Viewed 5 November 2009. (Cf. the pioneering ventilation and heating systems at other key buildings, such as St George's Hall and Cragside.)
---
Last modified 9 January 2012