Photographs unless otherwise indicated by Robert Freidus. Text by Jacqueline Banerjee. Perspective corrections and formatting by George P. Landow. Click on images to enlarge them. You may use these images without prior permission for any scholarly or educational purpose as long as you (1) credit the photographer and (2) link your document to this URL in a web document or cite the Victorian Web in a print one. ]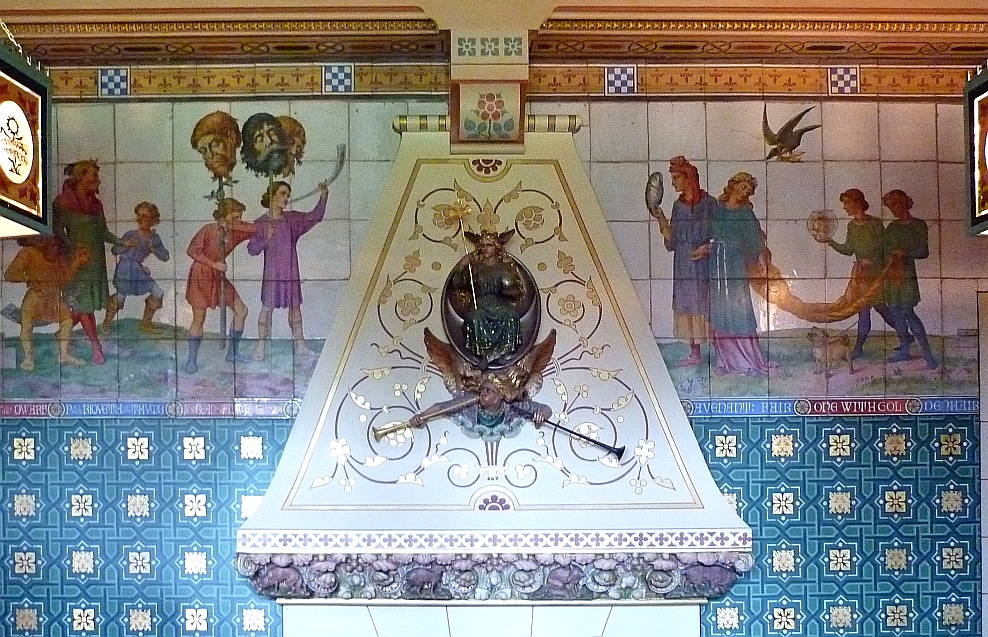 Fireplace with figure of Fame surrounded by painted tile murals of fairy and adventure stories. Day Nursery, Cardiff Castle, Cardiff, Wales. Designed by William Burges. Photograph by the author.
The 3rd Marquess of Bute and his wife Gwendolen had four children, Lady Margaret (whose bedroom can be seen at Castell Coch), his first son John, who would inherit his title, and John's younger brothers Lord Ninian and Lord Colum. The nursery at Cardiff Castle, in the Guest Tower, is perhaps the brightest and most welcoming of the castle's smaller rooms, certainly the prettiest. It has some of the usual appurtenances of the Victorian nursery, including a rocking horse and a table for lessons and meals, but is splendidly decorated.
Stencilling abounds, while a broad frieze of tiles hand-painted by H. W. Lonsdale runs round the wall (see Herbert and Huggins 230). This depicts fairytale episodes from such stories as "The Invisible Prince" (just showing some trees with a bird in one of them, and thus labelled underneath), Robinson Crusoe, "Jack and the Beanstalk," "Aladdin," and "Ali Baba and the Forty Thieves." On the chimneypiece is a representation of Fame, inspired by Chaucer's House of Fame — Lady Gwendolen's sitting room in the Octagon Tower is decorated in a Chaucerian theme. Here in the nursery, a kingly figure sits enthroned above an angel with puffed cheeks, who is blowing vigorously on a golden trumpet for good repute, but also has another black one ready to blow, for notoriety. This must have served both as encouragement and warning to the children. Note that the lamp-shades visible at the outer edges of the photograph above, like paper-lanterns in style, have nursery-rhyme themes, though these were added later. By the turn of the century, much more interest was being taken in how nurseries should be decorated: "It is the children's realm, and deserves a good deal more artistic consideration than is generally shown to it," wrote H. J. Jennings, author of Our Homes and How to Beautify Them (240), in 1902.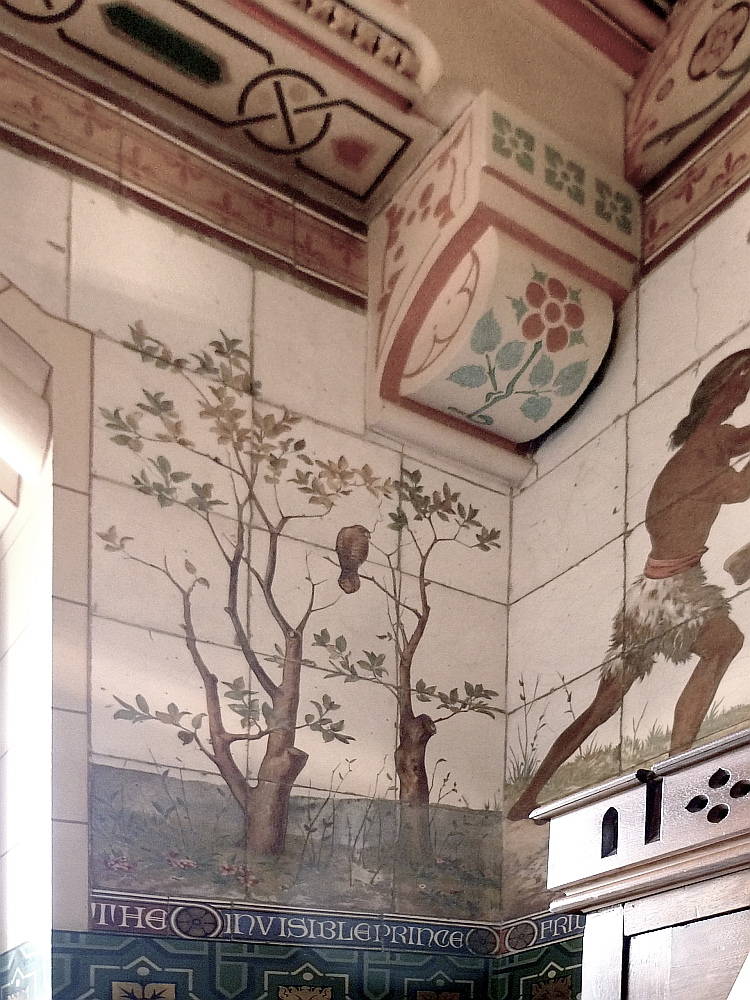 Illustrations of fairy and other tales — left to right: (a) Robinson Crusoe. (b) Little Red Riding Hood. (c) The Invisible Prince. Photograph at right by the author.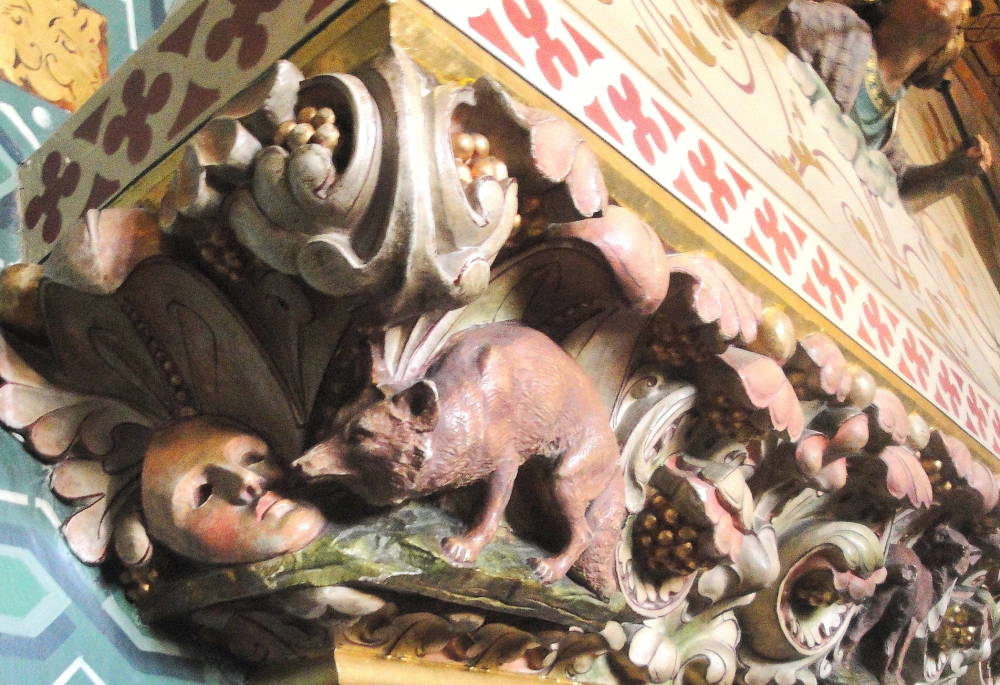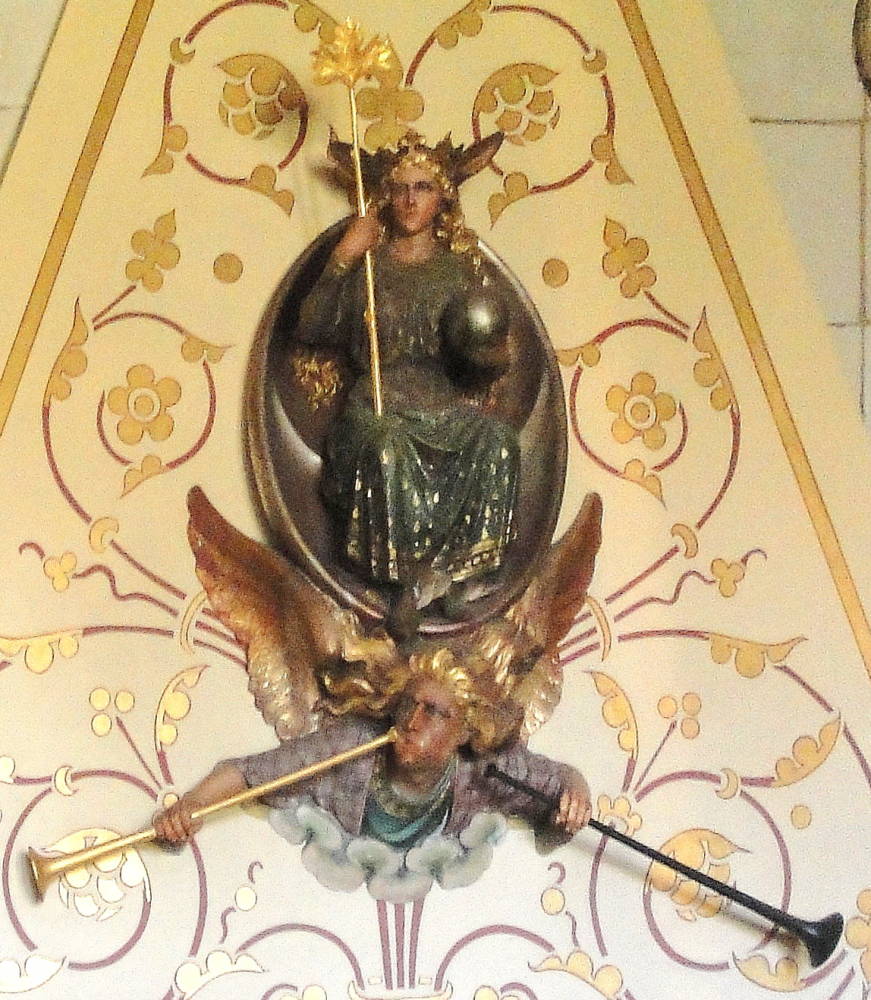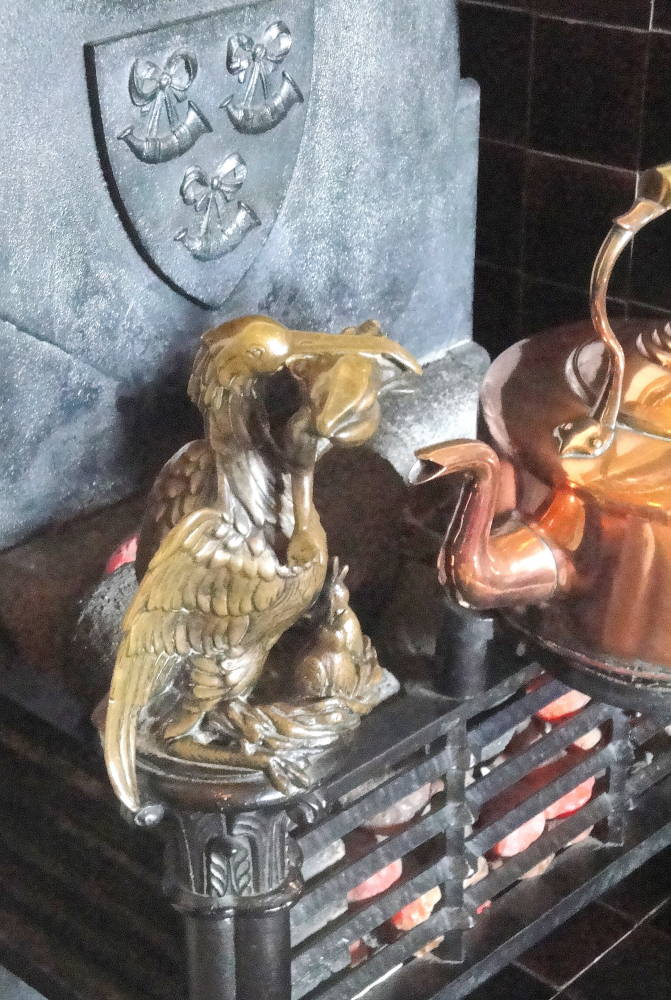 Left to right: (a) Fireplace detail. (b) Fame. (c) Nursery fireplace Note the coat of arms, kettle, and pelican holding a fish in its beak. DetailPelican.
Other Views of Cardiff Castle and Related Material
Sources
Herbert, Tony, and Kathryn Huggins. The Decorative Tile in Architecture and Interiors. London: Phaidon, 1995.
Jennings, H. J. Our Homes and How to Beautify Them. London: Phaidon, 1902. Internet Archive. Web. 8 January 2012.
Person Page 2387 (for the Marquess's family). thePeerage.com.. Web. 8 January 2012.
---
Last modified 9 January 2012