First photograph by Jacqueline Banerjee. Text by Banerjee and George P. Landow, who did the formatting. All other photographs by Robert Freidus. [Click on thumbnails for larger images. You may use these images without prior permission for any scholarly or educational purpose as long as you (1) credit the photographer and (2) link your document to this URL.]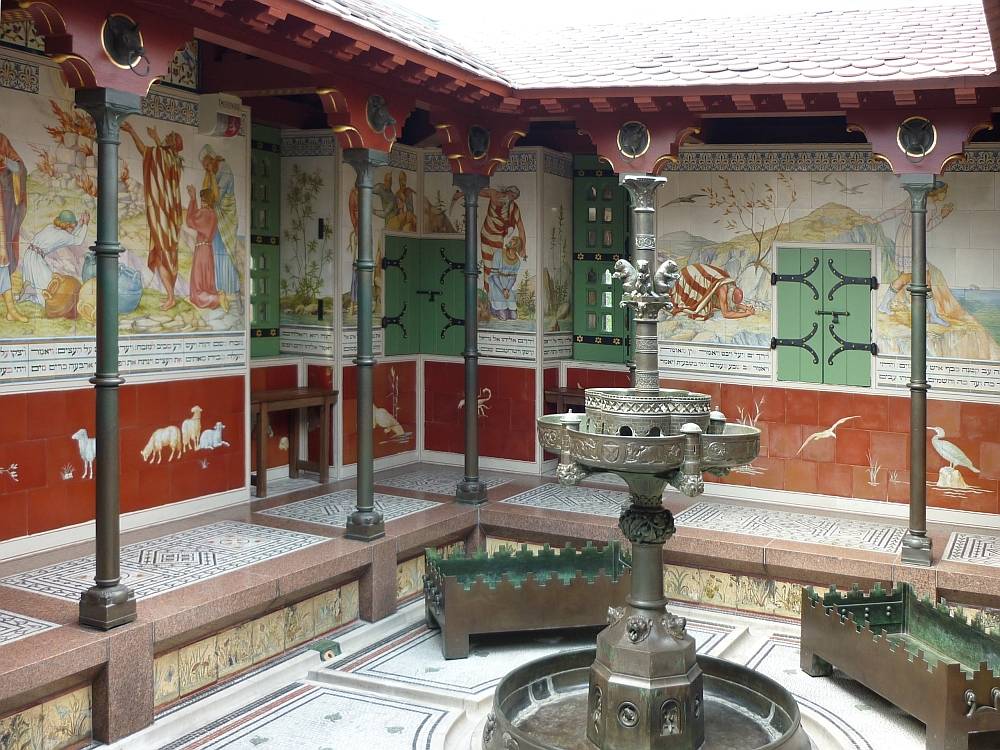 A good example of Burges's eclecticism is the Roof Garden, constructed and decorated 1873-6 in the Bute Tower. It takes the form of a classical peristyle, with a colonnade surrounding a sunken, tiled courtyard with a fountain in the middle. The tiles were cartooned by H. W. Lonsdale and executed by W. B. Simpson & Sons (see Crook, William Burges, fig. 147). The walls depict the Old Testament story of Elijah, and his dispute with the prophets of Baal in the Book of Kings I, 18, when two bullocks are sacrificed, only Elijah's being successfully consumed by fire. The sequence is punctuated by medieval shutters similar to those on the main castle wall, except that here they are painted green.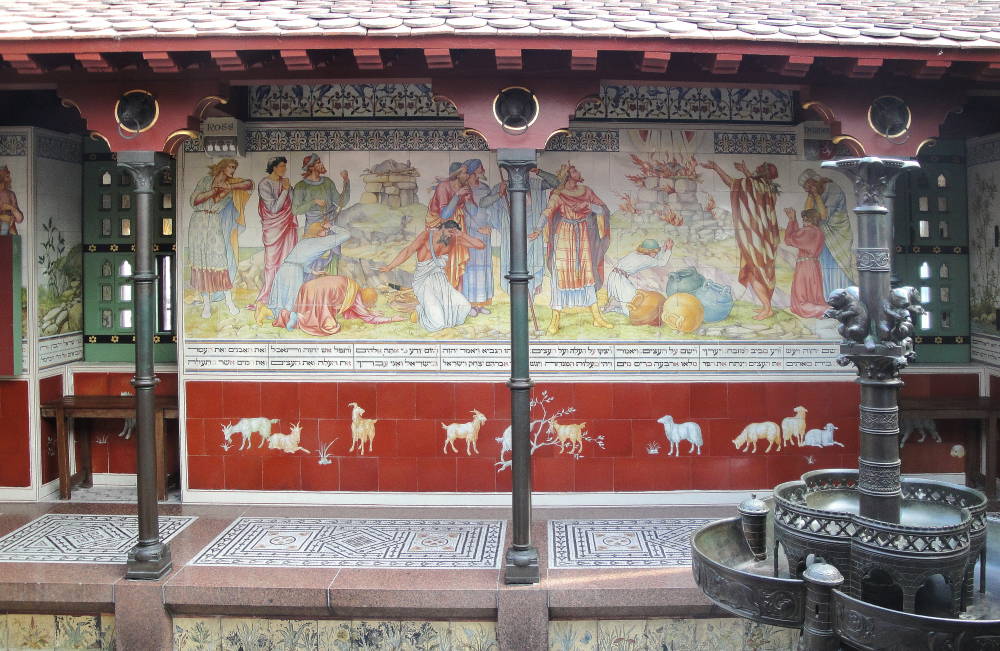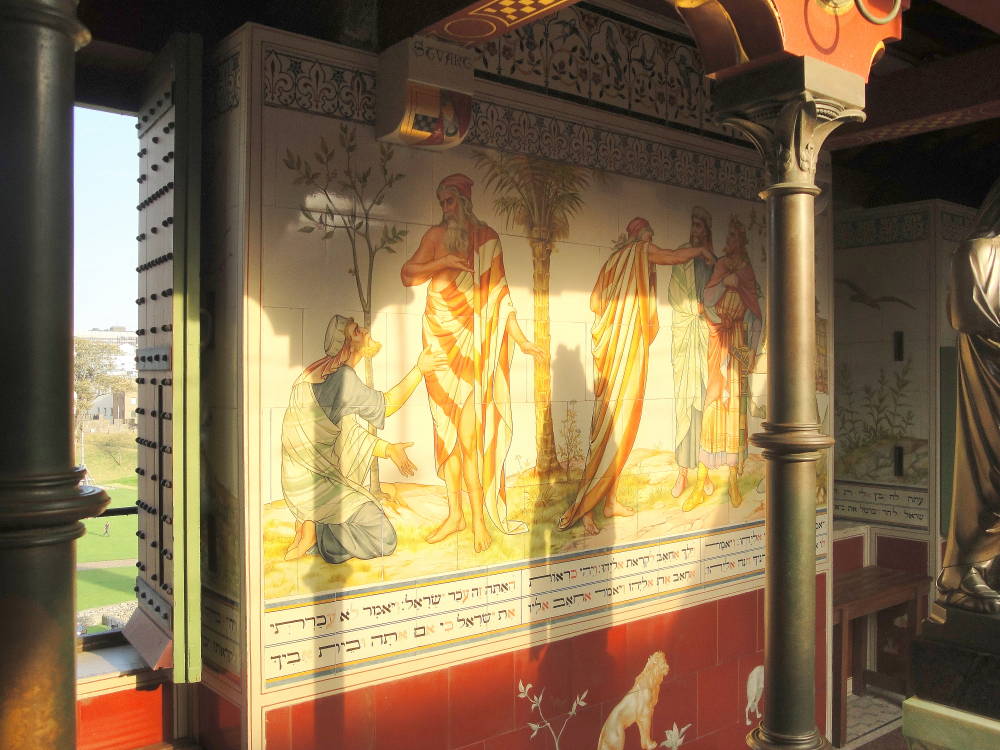 Left to right: (a) The painted tile mural of Elijah appears behind the fountain and iron columns. (b) Part of the mural in late-afternoon light. Note the window through which one can see the surroundings at left.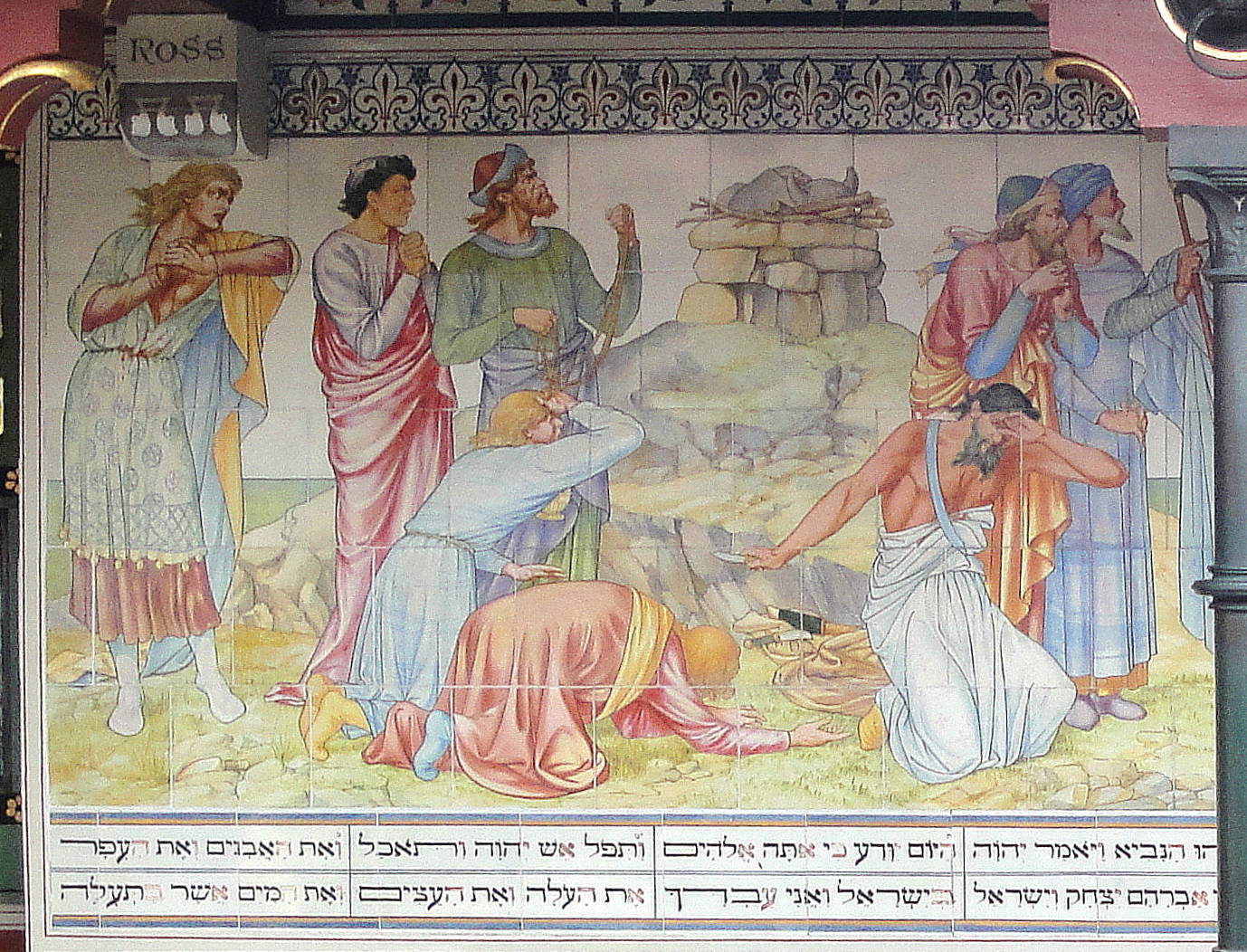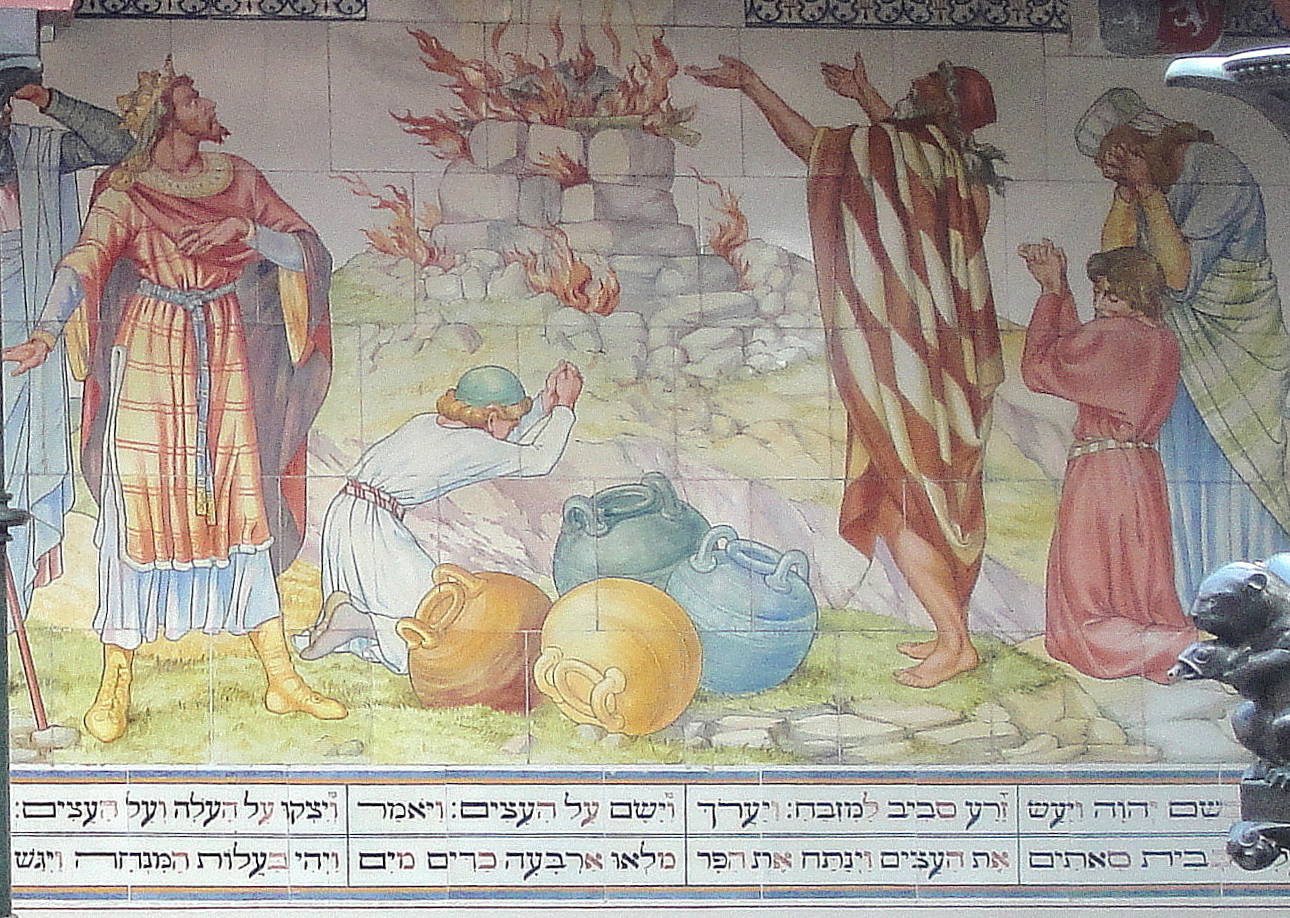 The left and right halves of the Elijah tile mural. Interesting that the biblical text appears in Hebrew rather than English.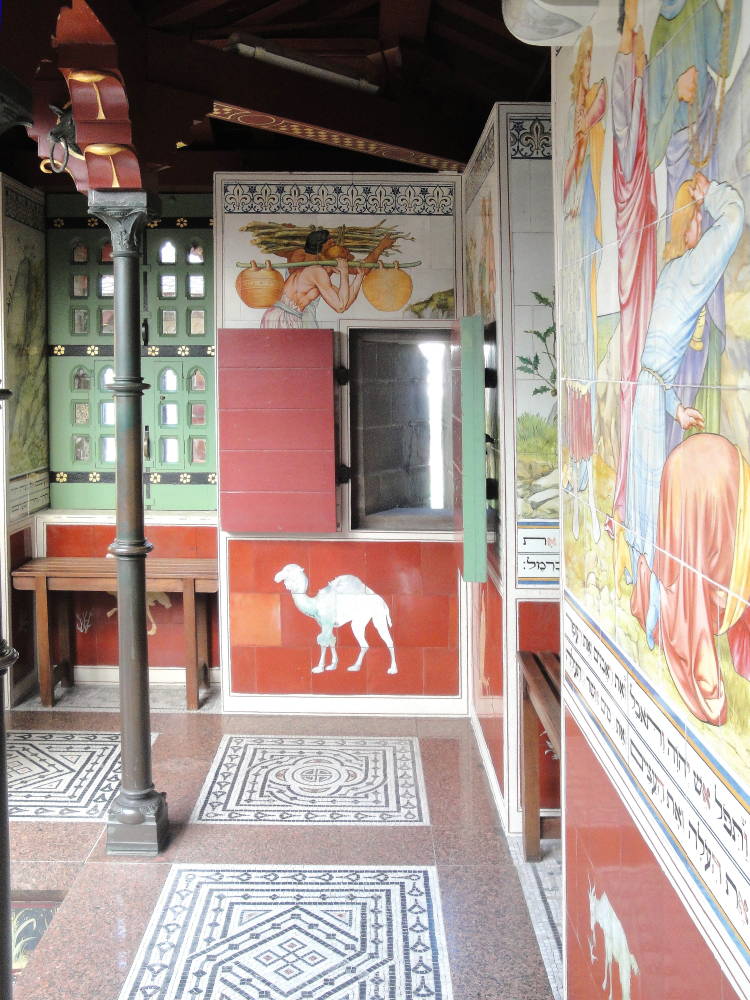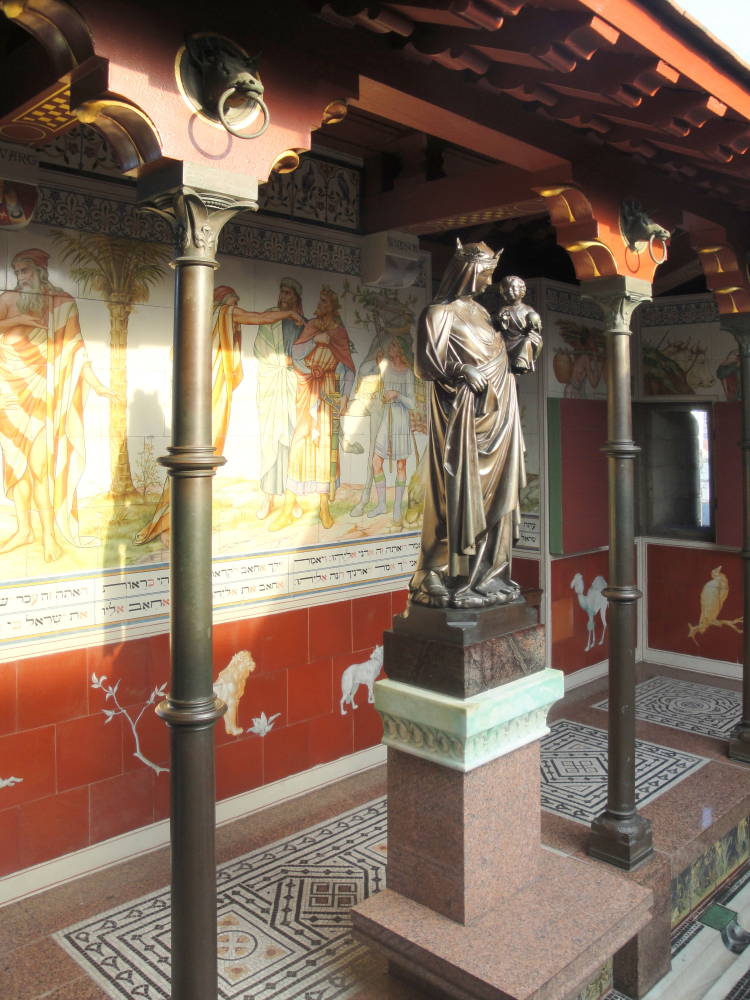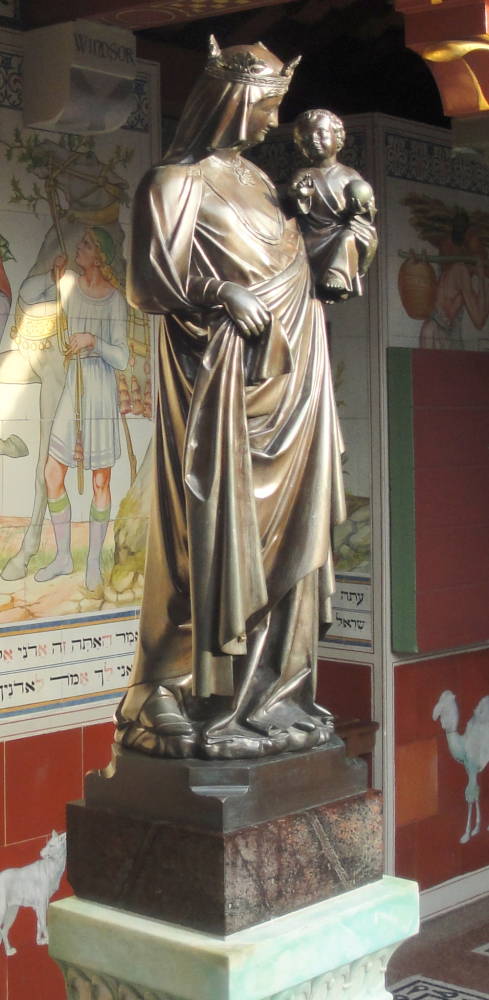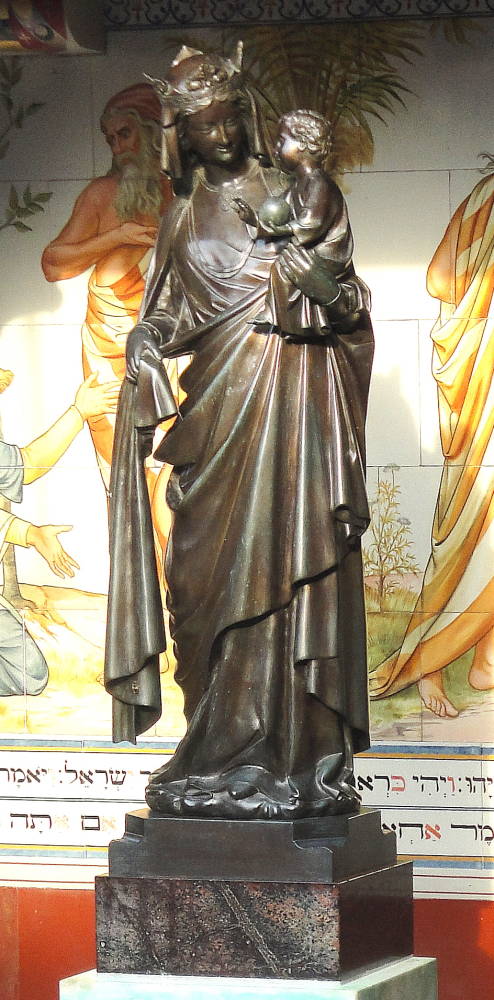 Left: A riot of materials — iron columns, wooden shutters, stone construction, mosaic floors, and a painted-tile mural. Right: Three views of a bronze statue of Virgin and Child in the Court style of the late-thirteenth and early fourteenth centuries between iron columns with wood capitals against the tile mural depicting a scene from the Old Testament.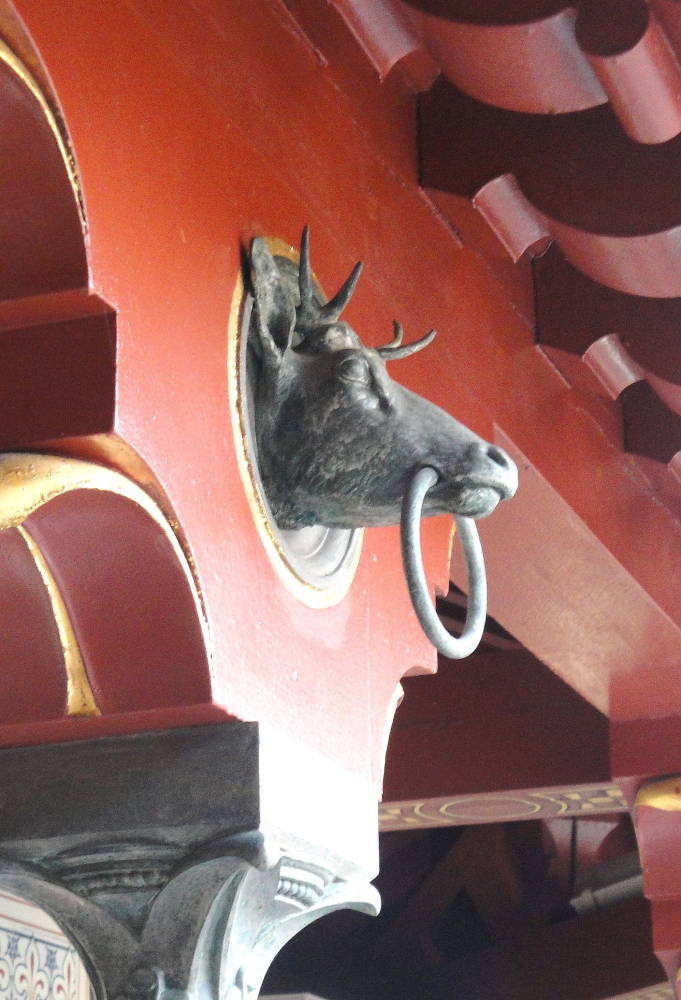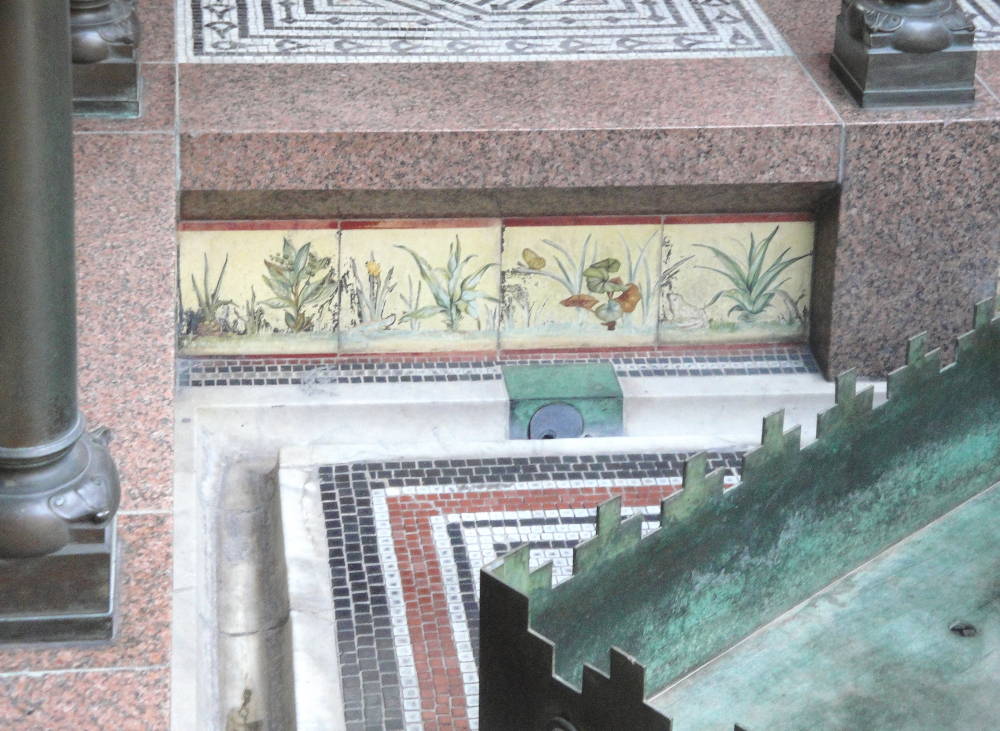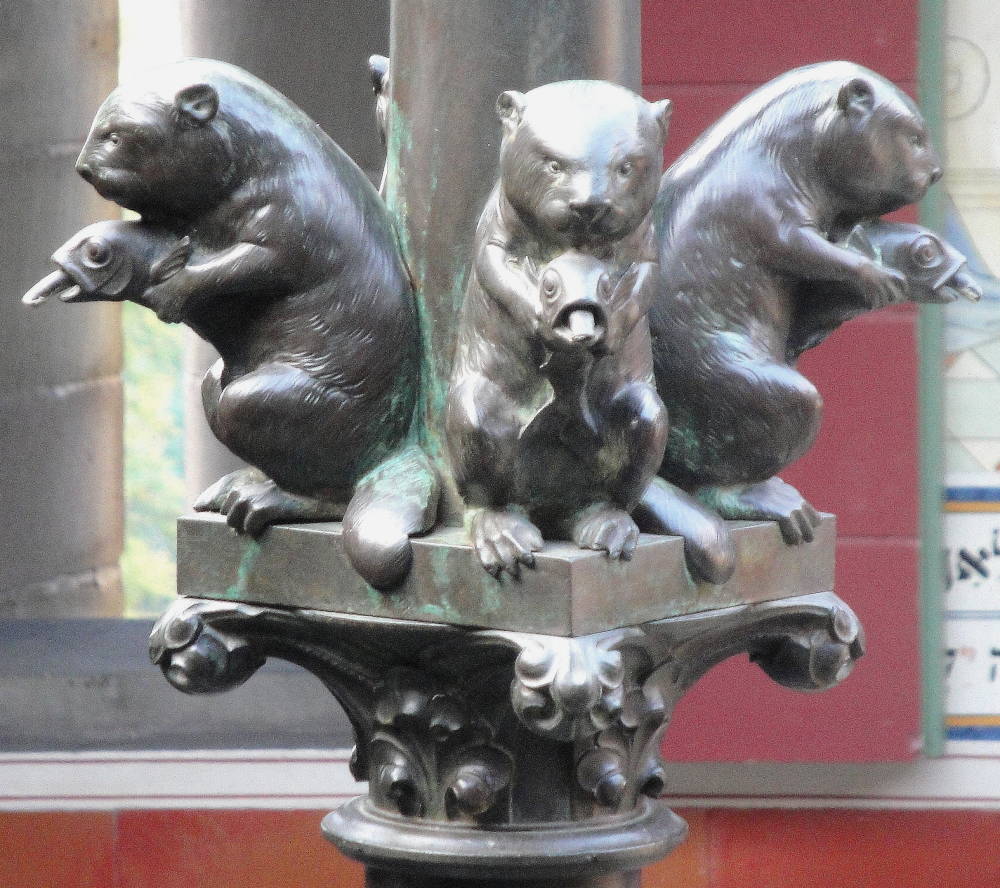 More whimsical touches. Left to right: (a) A stag with a ring through its nose. (b) Tiles with vegetation. Note the iron column and brass planter. (c) Fountain composed of four beavers (three of which appear in the photograph) holding fish whose mouths contain water spouts.
Other Views and Related Material
A Select Bibliography
Crook, J. Mordaunt. "Burges, William (1827-1881)." Oxford Dictionary of National Biography. Online ed. Viewed August 2009.
Crook, J. Mordaunt.The Dilemma of Style: Architectural Ideas from the Picturesque to the Post-Modern. Chicago: University of Chicago Press, 1987.
Crook, J. Mordaunt.William Burgess and the High Victorian Dream. London: Murray, 1981.
Long, Helen. The Edwardian House: The Middle-Class Home in Britain, 1880-1914. Manchester: Manchester University Press, 1993.
McLees, David. Castell Coch. Cardiff: Cadw (Crown Copyright), rev. ed. 2005.
Marsh, Jan. William Morris & Red House: A Collaboration between Architect and Owner. London: Anova Books, 2005.
Muthesius, Stefan. The High Victorian Movement in Architecture, 1850-1870. London: Routledge, 1972.>
Newman, John, et al. Glamorgan (Buildings of Wales, Vol. 3). New Haven: Yale University Press, 1995.
Norwich, John Julius, ed. Treasures of Britain: The Architectural, Cultural, Historical and Natural Heritage of Britain. Windsor: AA/Everyman, 2002.
Williams, Matthew. William Burges, 1827-81. Andover, Hants: Jarrold Publishing (Pitkin Guide), 2007.
---
Last modified 13 March 2023