Photographs by John Salmon, Contributing Photographer, the Victorian Web. You may use these images without prior permission for any scholarly or educational purpose as long as you (1) credit John Salmon and (2) link your document to this URL in a web document or cite the Victorian Web in a print one. Click on all the images to enlarge them.
The Reredos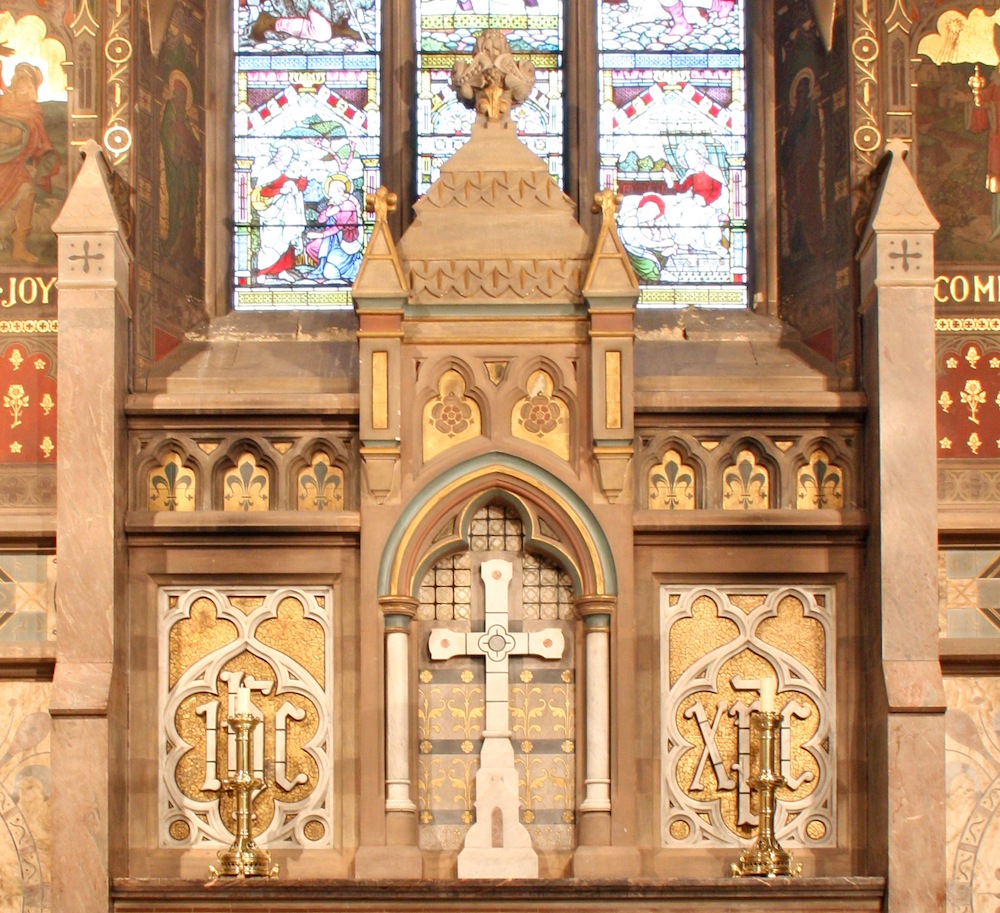 The finely carved stone reredos in the Church of St Mary Magdalene, Windmill Hill, Enfield, by William Butterfield (1814-1900). 1883 (see Cherry and Pevsner 438). In the tradition of other Gothic Revival architects from A. W. N. Pugin onwards, Butterfield put much thought into the design of church fittings. This architectural piece represents in miniature the whole concept of church worship, structured around belief in the divine nature of Christ and the central act of sacrifice — Christian monograms flanking the cross, the very "seal of faith on the furniture of the altar," as Pugin himself once put it (3). Around this mystic content, Butterfield focuses on the structure of the church, manifested physically by architectural symbolism: pinnacled buttresses and turrets that echo those flanking the south porch and at the west end of the clerestory outside, and a high central gable like that at the east end of St Mary Magdalene, reaching up to the heavens. Despite its lack of figurative carving, the reredos is elaborate, ingeniously designed with miniature arcading and Gothic forms, polychromy and gilding.
Two Altar Frontals

Designed by Butterfield as well, using early religious emblems, are these two precious embroidered altar frontals dating from about 1889 (Lepine). Too fragile now for use, they are still superbly rich in workmanship — though "workmanship" is not a good word for what was undoubtedly the "work" of an individual needlewoman, or needlewomen. Such embroiderers might have been connected with the individual church. But they might also have been Anglican sisters from the Society of St Margaret which produced ecclesiastical embroidery, or women at the Royal School of Needlework, which had been founded in 1872 and was active in promoting ecclesiastical embroidery by this time too (see Lepine; Walker 126). In fact, there were various possibilities. Altar frontals would be changed according to the church calendar or occasion, so there would perhaps have been more of these, but these two at least have survived as testimony to this form of women's increased involvement in church decoration.
The Pulpit and Lectern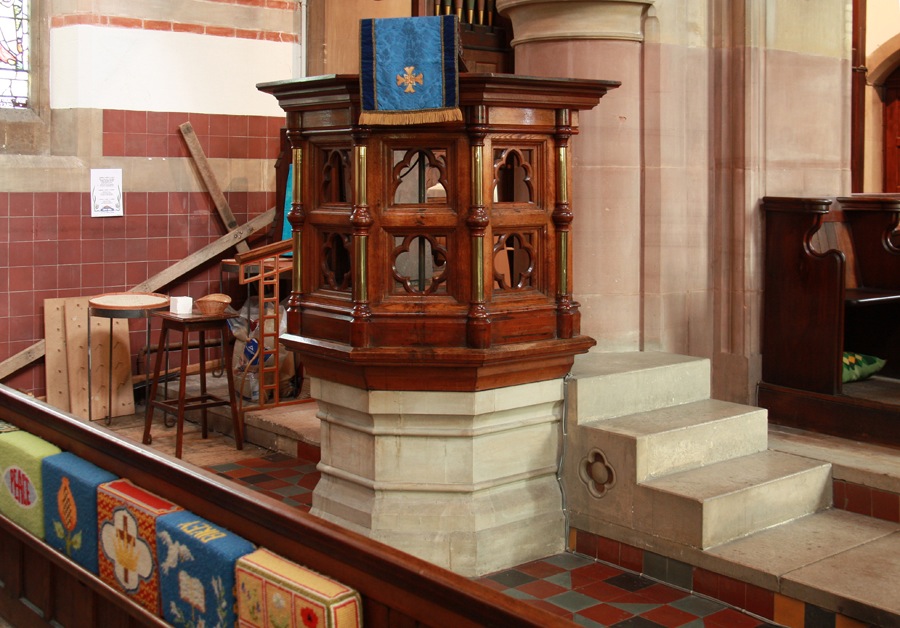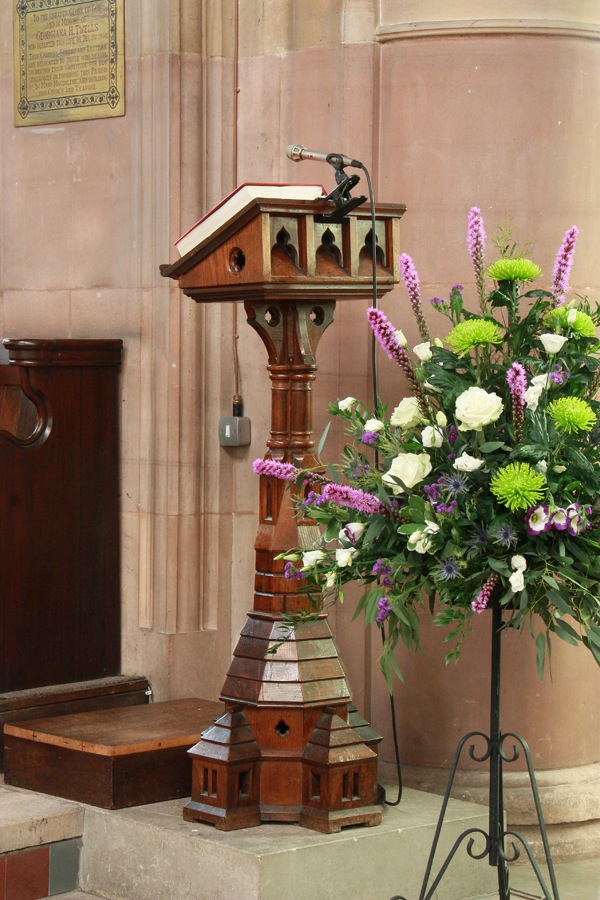 Left: The pulpit. Right: The Lectern.
The wooden pulpit was also designed by Butterfield. It rests on an elegantly stepped stone base and has two tiers, both with pierced tracery. Notice the quatrefoil design in the steps themselves. Not otherwise highly decorated, it is very much in keeping with the nave generally. According to the church's own website, the wooden lectern with its matching piercing was designed by Butterfield too (see "Interior Photos"), as indeed were the choir stalls and pews. Butterfield gave much thought to the smallest details of church furnishing, even including the best provision for sitting and kneeling: the seats, for example, should not encourage lounging and proper provision should be made for kneeling (see his pamphlet on kneeling boards, pp. 4-5).
The Screen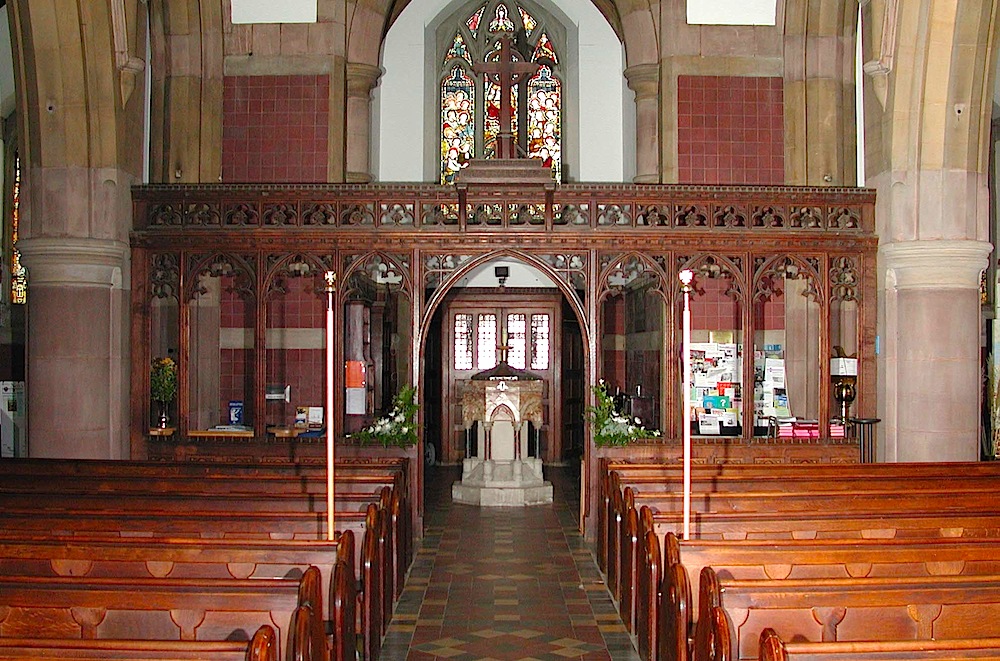 Butterfield's wooden chancel screen of 1898 has been moved to the west end of the church, where it frames the font and (in the words of the listing text) "screens off the N-S alleyway." While it harmonises well with the pulpit and lectern [see close-up of wood-carving, it would indeed have been a shame to "screen off" the chancel in any way, after its enrichment.
West End: Stained Glass Windows and Font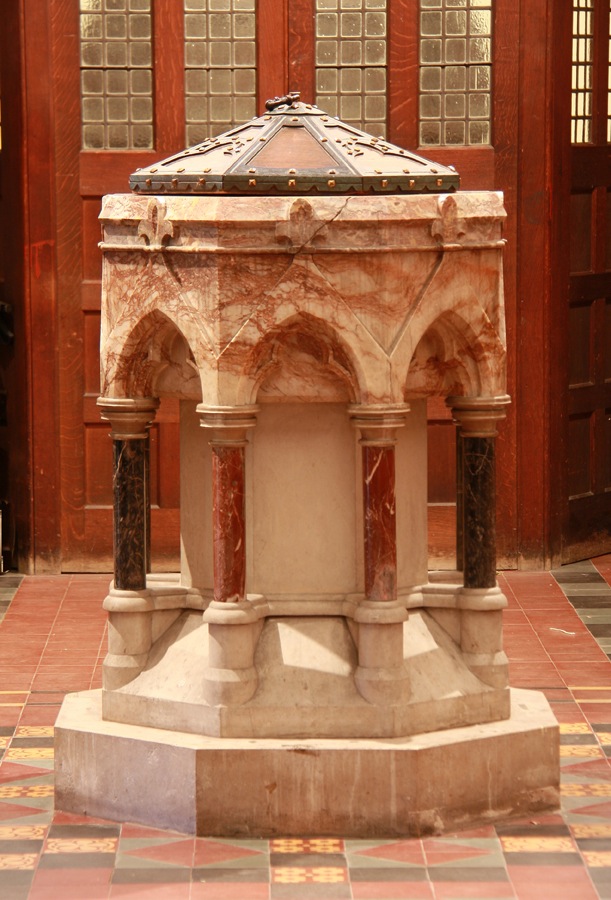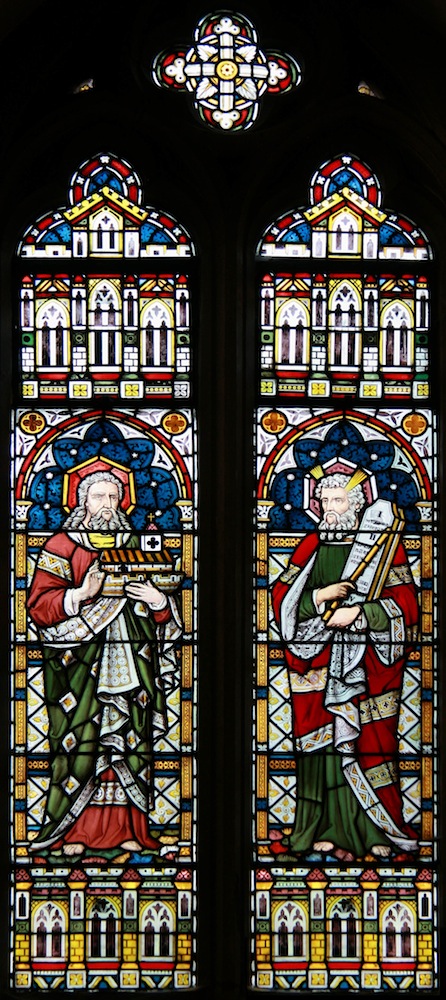 Left to right: (a) South-west window: The Baptism of Christ, and "Suffer Little Children." (b) The font. (c) North-west window: Noah and Moses.
Most of the original stained glass in the church, for which Butterfield himself would have made the designs, was executed by the firm of Heaton, Butler and Bayne, and is dealt with separately. But two slightly later ones, dating from about 1890 and executed by the firm of Bell and Beckham, were also to his design. These are the pair of two-light windows either side of the west window (see Eberhard, and "The Nave Stained-Glass"). Very appealing they are too, their architectural panels top and bottom showing gabling, Gothic windows, and pinnacled buttresses in brilliant colours, all in the same kind of intricate detail as the reredos. The south-west one shows two scenes: John the Baptist baptising Jesus, with the Holy Ghost in the form of a dove, and an angel in attendance; and Jesus with children, blessing the one being held, and surrounded by others, including a babe in arms. These scenes are highly appropriate here, close to the font. The font itself is described in the listing text as "characteristic of Butterfield, with an octagonal marble bowl with sides with gabled, trefoiled arches carried on dark marble shafts," and a "central octagonal drum." To the north west, the other stained glass window introduces two of the major foundational figures of the Old Testament, Noah holding a very ecclesiastical-looking ark, and Moses holding a pointer to draw our attention to the stone tablet listing the Ten Commandments.
Butterfield put an immense amount of thought into materials, design, colour and embellishments, and especially into what was being expressed through them. Overseeing them like other Gothic Revival architects, from Pugin through to the Arts and Crafts exponents of his own day, he remained fully in charge of the final effect. Indeed, he seems to have been as hard to please as Pugin himself: "He maintained close control over every aspect of his buildings," says Rosemary Hill. "Despite his interest in Ruskin, he firmly discouraged individual expression in his craftsmen." All these fixtures and fittings, therefore, combine to make the later, more moderately designed St Mary Magdalene still very distinctively a "Butterfield church."
Related Material
Sources
"Butterfield Altar Frontals." St Mary Magdalene. Web. 2 July 2015.
Butterfield, William. Church Seats and Kneeling Boards. London: Rivingtons, 1886. Internet Archive. Contributed by the University of Illinois Urbana-Champaign. Web. 2 July 2015.
Cherry, Bridget, and Nikolaus Pevsner. London 4: North. New Haven and London: Yale University Press, 2002.
Eberhard, Robert. "Stained Glass Windows at St Mary Magdalene." Church Stained Glass Windows. Web. 2 July 2015.
Hill, Rosemary. "Butterfield, William (1814-1900), architect and designer." Oxford Dictionary of National Biography. Online ed. Web. 2 July 2015.
"Interior Photos." St Mary Magdalene. Web. 2 July 2015.
Lepine, Ayla. Video clip at Butterfield Altar Frontals." St Mary Magdalene. Web. 2 July 2015.
List Entry for St Mary Magdalene. Historic England. Web. 2 July 2015.
"The Nave Stained-Glass." St Mary Magdalene. Web. 2 July 2015.
Pugin, A. W. N. Contrasts. Edinburgh: Grant, 1898. Internet Archive. Contributed by the Getty Research Institute. Web. 2 July 2015.
Walker, Lynne. "Women and Church Art." In Churches 1870-1919, the Victorian Society's journal, Studies in Victorian Architecture & Design. 3 (2011): 121-43.
---
Created 2 July 2015; last modified 14 July 2015