Photographs by John Salmon, Contributing Photographer, the Victorian Web. You may use these images without prior permission for any scholarly or educational purpose as long as you (1) credit John Salmon and (2) link your document to this URL in a web document or cite the Victorian Web in a print one. Click on all the images to enlarge them.
Adam and Abel, Noah, and Abraham and Isaac
Left to right: (a) Adam and Abel. (b) Noah. (c) Abraham and Isaac.
These are examples of paintings on the north and south walls of the chancel at St Mary Magdalene, Enfield, Middlesex (now London), added by Nathaniel Westlake in 1897-99. The work was carried out when Georgiana Twells, the original benefactor of the church, gave the chancel enrichment as a further gift to the church in celebration of Queen Victoria's Diamond Jubilee (see "Jubilee Link"). Possibly through a clerical connection, the commission went to Edward Turner, of Bowling Green Street, Leicester, who seems to have been most active in Shropshire, where, for example, he had previously added a chancel to the Grade II listed church of St Paul's, Knowbury, and had recently restored St Cuthbert, Clungunford, adding "fanciful" east window tracery (Newman and Pevsner 226). At St Mary Magdalene two London church decorators were involved in the enrichment too: Charles Edgar Buckeridge (1864-98), who painted the ranks of the angelic host on the ceiling, and Nathaniel Westlake, well known for his stained-glass designs, who painted the figures on the walls, probably following Buckeridge's untimely death. These latter were characters from the Old Testament, saints from the Bible, and later saints and pillars of the church.
Most are immediately recognisable from their attributes. The paintings start next to the organ on the north wall with Adam and Abel. Adam, dressed roughly in leafy garb, holds the spade with which he is compelled to labour, and some produce of this labour; Abel carries one of the "firstlings of his flock," the offering which so pleases God in Genesis 4, 4. Noah, of course, carries his ark, while a very elderly Abraham looks tortured as he carries the knife with which he expects to have to sacrifice his son Isaac. Isaac, a young, hopeful, upward-looking figure, having been spared this doom, carries a full sheaf of corn, of which, we are told, he reaped "an hundredfold" (Genesis 26,12). The faces of both father and son are very expressive.
Melchizedek, Jesse and David and St Peter and St Paul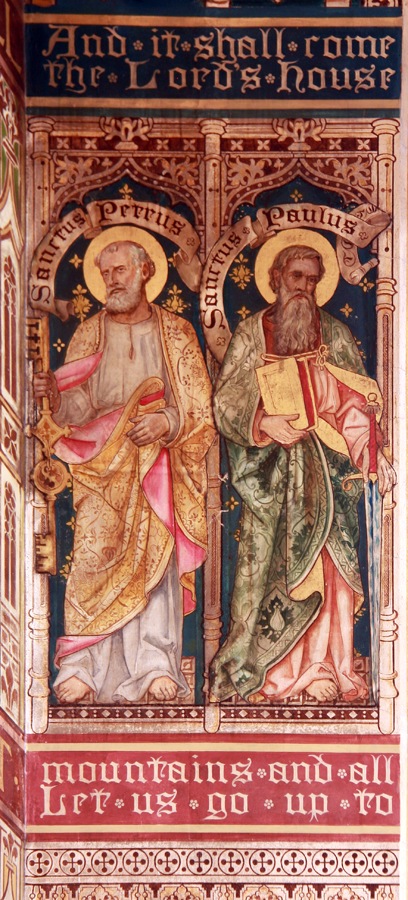 Left to right: (a) Melchizedek. (b) Jesse and David. (c) St. Peter and St Paul.
Melchizedek (spelled Melchisadech here) regularly appears in such an assemblage as the first priest, who offered bread and wine to Abraham: "And Melchizedek king of Salem brought forth bread and wine: and he was the priest of the most high God" (Genesis 14, 18). He wears a mitre-cum-crown and carries a golden chalice with devout care. Jesse is here too, with his tree of huge spiritual promise: "And there shall come forth a rod out of the stem of Jesse, and a Branch shall grow out of his roots" (Isaiah, 11, 1). Beside him is his son, King David the Psalmist, with his harp. Jesse and David are the last figures to be featured on the north wall, at its east end. On the south wall, the New Testament comes in with the haloed St Peter and St Paul, the former with an enormous golden key for the gates of Heaven, and the latter with the scriptures, with the help of which, it is hoped, entry to heaven can be attained.
St Athanesius and St Germanus, St Columba and St Augustine, St Patrick and St David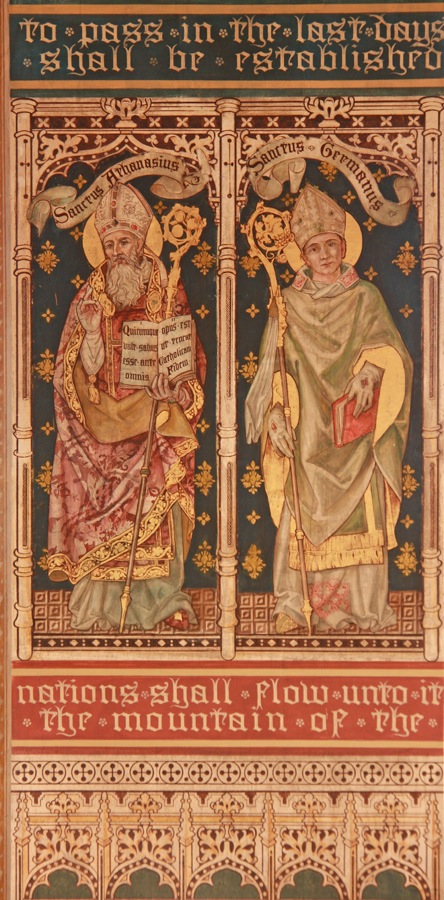 Left to right: (a) St Athanesius and St Germanus. (b) St Patrick. (c) St Columba and St Augustine.
These later saints are among the other figures found on the south wall. Wearing bishop's mitres, they are stalwarts of the church: St Athanesius, the fourth-century Bishop of Alexandria who held out against heresy, and the martyred St Germanus, Bishop of Auxerre, who visited England early in the fifth century, and was said to have taught St Patrick. St Germanus looks gentle and serene as he exhibits his stigmata. Following him is St Patrick himself, with his green robe decorated with darker green shamrocks, his crozier driven through a coiling snake — he is reputed to have cleared Ireland of snakes, and of course the snake is associated with the devil as well. Next to St Patrick (after a stained glass window) is the sixth-century St Columba, who crossed over from Ireland and founded the abbey at Iona off the west coast of Scotland: he carries a model of it here. Then comes St Augustine, who at the end of the sixth century became the first Archbishop of Canterbury.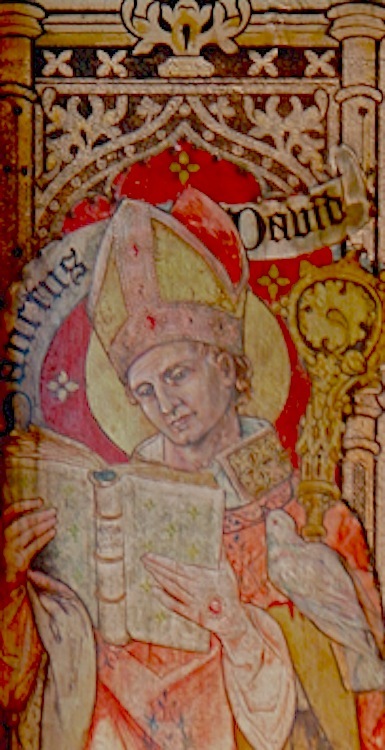 Others not shown here, such as St. Alban in English church history, also appear in Westlake's marvellous gallery, which was painstakingly returned to its original brilliance during the massive chancel restoration of 2012. Here on the right, for example, is the popular patron saint of Wales, St David, perusing the scriptures with a dove on his arm, an emblem of the Holy Spirit and also, in legend, associated with his efficacy as a preacher. The saint looks absorbed, moved by what he reads, and oblivious to the outside world. According to the church website, the ceiling angels' faces are "fine-featured and emotionless" ("The Chancel"). The faces of the human figures painted by Westlake on the north and south walls are anything but emotionless, and that is a great part of their charm.
Related Material
Sources
"The Chancel." St Mary Magdalene. Web. 4 July 2015.
"Plan of the Church" (work by Edward Turner). Shropshire Archives. Web. 4 July 2015.
"Jubilee Link." St Mary Magdalene. Web. 4 July 2015.
Newman, John, and Nikolaus Pevsner. Shropshire. Buildings of England series. New Haven and London: Yale University Press, 2006.
Saint, Andrew. "Charles Buckeridge and His Family." Oxoniensia 38 (1973): 357-72, plus plates. Plate XXIX gives a good example of Buckeridge's recent and most celebrated decorative work, a beautifully painted reredos of 1892-93 at All Saints Church, Richards Castle, Shropshire. Web. 4 July 2015.
---
Created 4 July 2015