Benjamin Dean Wyatt (bap.1775, d.1852) was the eldest son of James Wyatt, of the important Wyatt dynasty of architects and artists. Much of his career was predicated on the powerful Wellesleys. After leaving Christ Church, Oxford in 1795, he set of to India in the hope of repaying his debts and establishing himself financially. There he had a role in the East India Company's Secrets Department in Calcutta (present-day Kolkata). Richard Wellesley, Marquess of Wellington , was the Governor-General of Calcutta at the time. Returning after several years, not much better off, he first acted as an assistant to his father, then became private secretary to the Marquess's younger brother, Sir Arthur Wellesley (later the Duke of Wellington), before embarking on his career as an architect.
Wyatt designed the Theatre Royal in Drury Lane (1812), and remodelled Apsley House for the Duke (1828), infuriating his patron by going three times over budget (Allinson 131; Robinson, The Wyatts, 101). He also designed and decorated what is now called Lancaster House (a long process, from 1825-1840), near St James's Palace. A "superb house" of its kind (Mee 183), this Grade 1 listed building has an imposing Bath stone neo-classical façade, and the kind of lavish Louis XIV interior for which Wyatt and his younger brothers Philip and Matthew Cotes Wyatt were particularly known. There was some input here too from Sir Charles Barry and Sir Robert Smirke. It is probably the grandest town house in the whole of London, and is now used by the government for entertaining foreign dignitaries.
Amongst Wyatt's other works was a rather different London landmark — the column for the Duke of York in Waterloo Place (1831-34). At 124' high, the column is an impressive and highly visible one. It needed concrete foundations of 53 square feet, and has 169 steps inside it. Another remarkable feature was the expense involved: it cost £30,000 to build, even in those days (Mee 192).
As well as working with his brother Philip, Benjamin Dean Wyatt was also helped by an able pupil, the Lancastrian John Harper (1807-1880). But he was difficult to get along with as well as bad with money. Finally dragged down by his brother Philip's bankruptcy, he himself seems to have "ended in failure" (Robinson, "Wyatt"). He has been dismissed by one of his critics as "a safe, uninspired architect of the Smirke school" (Turnor 24). Yet London's cityscape would have been the poorer without him. — Jacqueline Banerjee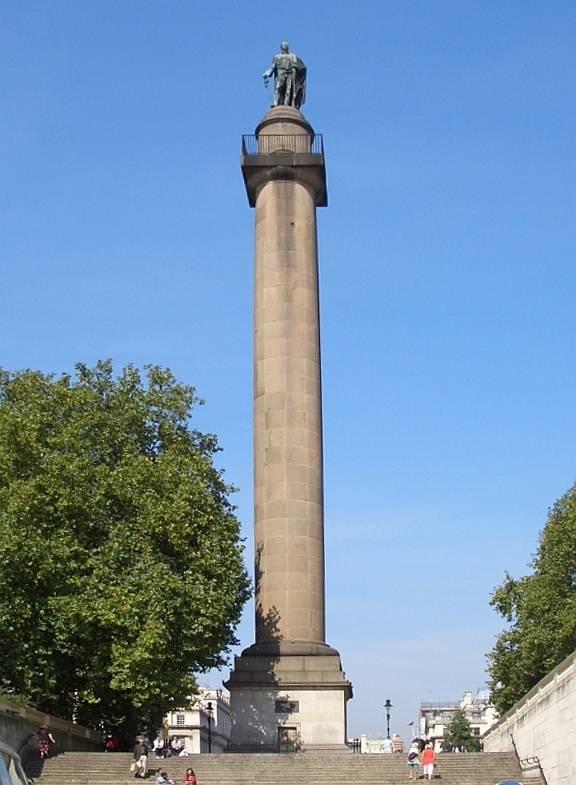 The Duke of York's column, Waterloo Place, from the Mall. [Photograph by JB. You may use this image without prior permission for any scholarly or educational purpose as long as you (1) credit the photographer and (2) link your document to this URL. Click on the image for a larger picture. ]
Works
Sources
Allinson, Kenneth. Architecture and Architects of London. London: Architectural Press, 2008. Print.
Mee, Arthur. The Book of London. The King's England series. London: Hodder and Stoughton, 1937. Print.
Robinson, John Martin. The Wyatts: An Architectural Dynasty. Oxford: Oxford University Press, 1979. Print.
_____. "Wyatt, Benjamin Dean (bap.1775, d. 1855)." Oxford Dictionary of National Biography. Online ed. Web. 8 February 2013.
Turnor, Reginald. Nineteenth Century Architecture in Britain. London: Batsford, 1950. Print.
---
Last modified 8 February 2013