The images are all of the church exterior or interior, and all come from our website. The black-and-white images were scanned by George Landow, and the colour photographs were taken by John Salmon. Click on them to get larger pictures, and to find out bibliographic, reuse and other information about them.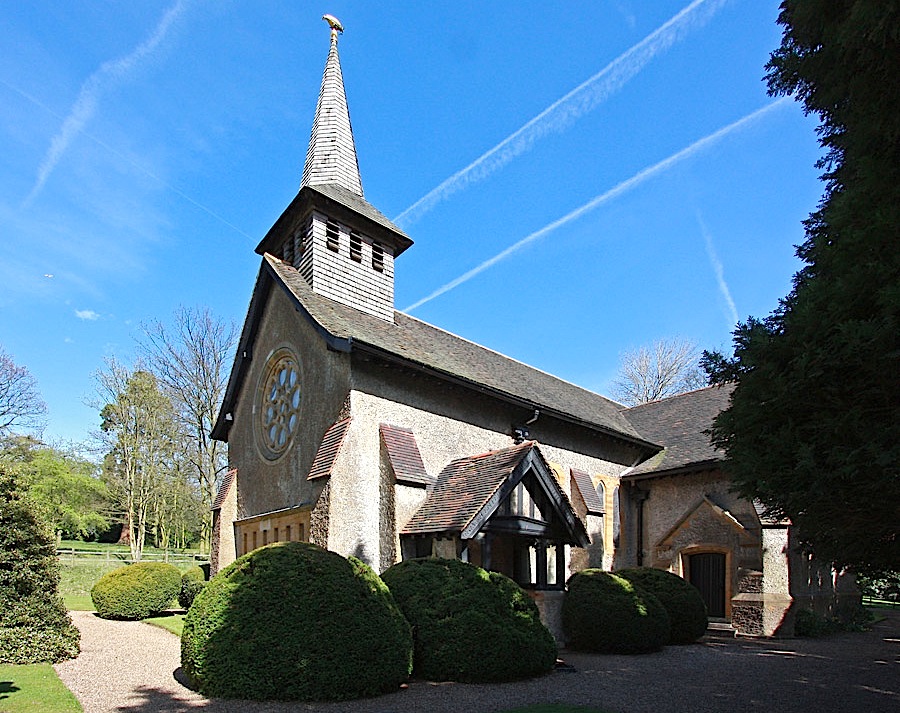 The Grade I listed church of St Mary the Virgin, Great Warley in Essex was built in 1902-04 as a collaborative project. Unusually, the first person to be commissioned for it was the one selected for its interior design, William Reynolds-Stephens, who chose the architect himself — fellow Arts and Crafts enthusiast Charles Harrison Townsend (see Hitchmough 100). These two were of like mind and worked together to stunning effect. The church's interior is widely considered to be an important and (for this country) rare excursion into Art Nouveau. The church's own website claims this distinction for it, and even the listing text states, "interior decoration and fittings by W Reynolds Stephens in Art Nouveau style." How far is this categorisation justified?
St Mary's as a Turn-of-the-Century Church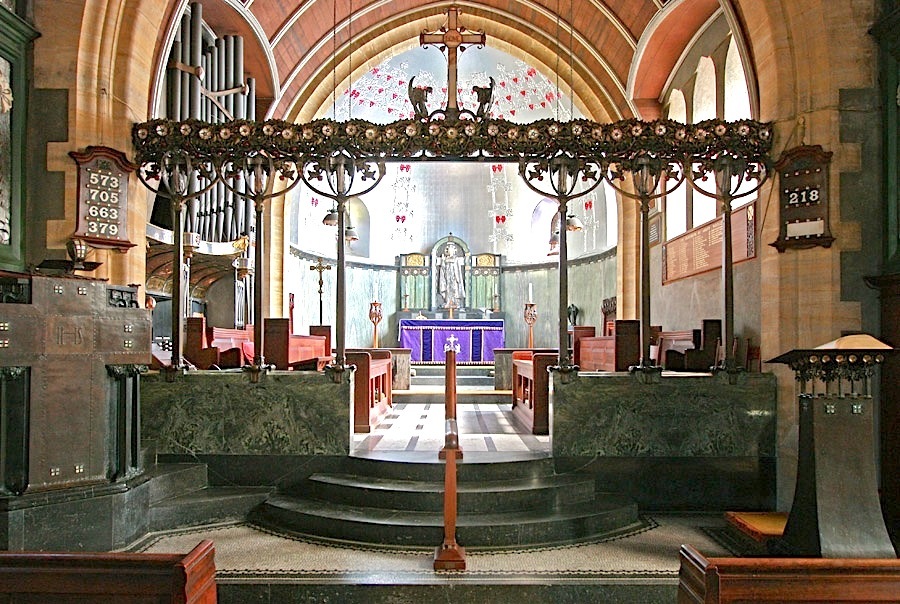 Only a very few other churches built around this time invite such a description. One is the Compton Cemetery Chapel in Surrey, with its mystic symbolism. A handful of other churches are admired for having in some ways similar Byzantine features. An example here is Sidney Barnsley's Church of Jesus Christ and the Wisdom of God, Lower Kingswood, also in Surrey, with its gold and rose-patterned mosaic apse. This was the age for these experiments in ecclesiastical architecture, as elsewhere — especially for enriching chancels. Elements of both styles have been picked out in Reynolds-Stephens's work in St Mary's, for example in (respectively) the parclose screen with its entwining poppy leaves, and the aluminium-lined and richly decorated apse. As for the latter, "metalwork set with semi-precious stones," and the use of mother-of-pearl, are both markers of this exotic trend (see Sladen 85).
St Mary's as an Arts and Crafts Church
It is perfectly possible to see St Mary's simply in terms of the Arts and Crafts movement, particularly in the way it employs the natural imagery which, as Alan Crawford has pointed out, is "dear to both Christianity and the Arts and Crafts" (73). As noted above, both collaborators were heavily involved with this movement. Reynolds-Stephens had been elected to the Art Workers' Guild in 1888, and in 1903 Townsend became its President. Both were utterly committed to its aim of breaking down the boundaries between artist and craftsman, with Reynolds-Stephens in particular proving a versatile practitioner in many different branches of the arts. He was able not only to design the interior of this church, but to execute most of its fixtures and fittings himself.
With his deeply thought-out schemes and symbolic meanings, Reynolds-Stephens had been commissioned for this project precisely because he would be able to give the church, built in memory of its benefactor's bother who had died in the prime of life, a suitable "narrative message" (Hitchmough 101). The "message," as might be expected, was about the hope of resurrection. On the subject of the seriousness and profundity of his work, his contemporary A. L. Baldry wrote, "His designs become, as it were, arguments, didactic in their purpose, and with a sort of literary undercurrent that gives them an almost dramatic meaning. Each one provides food for thought and appeals as definitely to the intellectual faculties of the people who examine them as to their aesthetic instincts" (85).
All this sets Reynolds-Smith firmly apart from Art Nouveau insofar as it derived from the later Victorian take on Art for Art's Sake, which underlay the turn-of-the-century art movements, Aestheticism and Decadence. There seems to have been something in his character, and perhaps more generally in the English character, that tended to recoil from this mantra in its present use, and its manifestations. Peter Davey, a much more recent historian of the Arts and Crafts movement, is annoyed that St Mary's should so often be considered a "triumph of the Art Nouveau" (119), insisting that it is "a triumph of the Arts and Crafts spirit" instead (117), and that both Townsend and Reynolds-Stephens kept their distance from European developments, neither of them wishing to "embrace the risqué 'squirm' of Continental Art Nouveau" any more than they could "compromise with the advancing wave of Neo-Classicism" (119).
In this connection, it is notable that there was no centre for Art Nouveau here like those that developed abroad. The nearest Klaus-Jürgen Senbach gets to England in his standard book on the subject is Glasgow, where, he points out, Charles Rennie Mackintosh, and those few associated with him, were quite isolated. Artists here who "were intent on sharing the development of the new style" found themselves on the periphery, he suggests: "The centres of art were elsewhere, in Vienna, Turin, Munich, Dermstadt, even Dresden" (177).
The Art Nouveau Connection
Nevertheless, art historians agree that the Arts and Crafts movement, rooted in the anti-industrialism of Ruskin and Morris, was one of the most important sources of international Art Nouveau: "Morris was a trailblazer for Art Nouveau," says Senbach (17). Might Nikolaus Pevsner be right, then, when describing the interior of St Mary's, in the earlier editions of his Buildings of England book on Essex, as "an orgy of the English Arts-and-Crafts variety of the International Art-Nouveau" (213; emphasis added)? The word "orgy" seems unfortunate in the ecclesiastical context — indeed, though often quoted in discussions of St Mary's, Pevsner's description disappeared from later revisions of this book. But was there, in fact, an English Arts-and-Crafts variety of Art Nouveau? Specifically, did the practice, if not the ethos, of the Arts and Crafts movement approach it, in its later phase?
Something to bear in mind here, when dealing with Reynolds-Stephens at least, is that one of his many artistic proficiencies was in sculpture. Indeed, as his war memorial in the church's south chapel demonstrates, he was a very distinguished sculptor. The New Sculpture of his period does have unmistakable Art Nouveau features. For example, art historian Mark Stocker points out that he "inherited Alfred Gilbert's and George Frampton's interests in experimentation with metal and precious stones," something very close to the decorative extravagance of much Art Nouveau work. This is not in evidence in his sombre chapel relief, but it is fully in play elsewhere in St Mary's.
Probably then we can say that the church expresses an Arts of Crafts philosophy, highlighted with elements of Art Nouveau design and materials. Without being quite so specific, the most recent edition of Pevsner's Essex does, in fact, say something very like this, calling it "the supreme exemplar or Arts and Crafts workmanship, overlaid with that most un-English of styles, Art Nouveau" (Bettley and Pevsner 430). Such a description gives Art Nouveau more prominence than Crawford and Davy allow it, but preserves the distinction between the two movements more clearly than Pevsner did originally.
Accuracy does matter, at least to the extent that categorisation is an aid to understanding as well as a way of imposing order. Yet, however we attempt to pigeon-hole their work, we can all agree on the brilliant effects that Townsend and Reynolds-Stephens produced between them. As Baldry says, St Mary's "ranks emphatically as a notable achievement, and as one which in all respects deserves to be taken as a model for future attempts to unite architecture and decoration in the right relationship" (15).
Related Material
References
Baldry, A. L. "A Notable Decorative Achievement by W. Reynolds-Stephens." The Studio. 34 (1905): 1-15. Internet Archive. Web. 22 June 2015. [Whole text on the Victorian Web.]
Bettley, James, and Nikolaus Pevsner. Essex. New Haven and London: Yale University Press, 2007.
"Church History." St Mary the Virgin, Great Warley. Web. 22 June 2015.
Crawford, Alan. "Arts and Crafts Churches." In Churches 1870-1914, the Victorian Society's journal, Studies in Victorian Architecture & Design. 3 (2011): 63-79.
Davey, Peter. Arts and Crafts Architecture. London: Phaidon, 1995.
Hitchmough, Wendy. "Great Warley Church: Architecture and Sculpture — body and soul." In Architecture 1900. Ed. Peter Burman. Lower Coombe, Dorset: Donhead, 1998. 99-108. [This is the version on Google Books, but it was also published by Routledge.]
List Entry for St Mary the Virgin. Historic England. Web. 22 June 2015.
Pevsner, Nikolaus, rev. Enid Radcliffe. Essex. 2nd ed. London: Penguin, 1965.
Sladen, Teresa. "Byzantium in the Chancel: Surface Decoration and the Church Interior." In Churches 1870-1914. Studies in Victorian Architecture & Design (the Victorian Society's journal). Vol. III (2011): 81-99.
Stocker, Mark. "Stephens, Sir William Ernest Reynolds- (1862–1943), artist." Oxford Dictionary of National Biography. Online ed. Web. 22 June 2015.
---
Created 22 June 2015