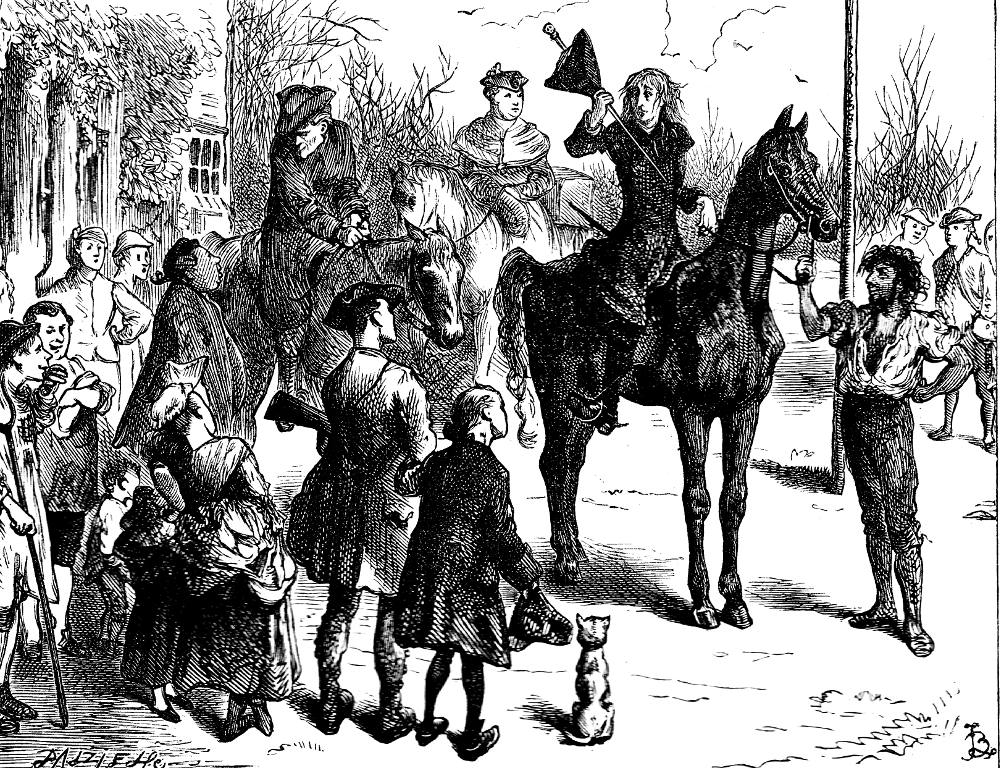 Lord George Gordon leaving the Maypole by Fred Barnard. 1874. 4 ¼ x 5 7⁄16 inches (10.7 cm by 13.7 cm), framed. Dickens's Barnaby Rudge: A Tale of the Riots of 'Eighty, Chapter XXXVII, 141. [Click on the images to enlarge them.]
Context of the Illustration: The Epic Riots Introduced
At length he came downstairs, wiping his greasy mouth, and having paid John Willet's bill, climbed into his saddle. Lord George, who had been walking up and down before the house talking to himself with earnest gestures, mounted his horse; and returning old John Willet's stately bow, as well as the parting salutation of a dozen idlers whom the rumour of a live lord being about to leave the Maypole had gathered round the porch, they rode away, with stout John Grueby in the rear.
If Lord George Gordon had appeared in the eyes of Mr. Willet, overnight, a nobleman of somewhat quaint and odd exterior, the impression was confirmed this morning, and increased a hundredfold. Sitting bolt upright upon his bony steed, with his long, straight hair, dangling about his face and fluttering in the wind; his limbs all angular and rigid, his elbows stuck out on either side ungracefully, and his whole frame jogged and shaken at every motion of his horse's feet; a more grotesque or more ungainly figure can hardly be conceived. In lieu of whip, he carried in his hand a great gold-headed cane, as large as any footman carries in these days, and his various modes of holding this unwieldy weapon — now upright before his face like the sabre of a horse-soldier, now over his shoulder like a musket, now between his finger and thumb, but always in some uncouth and awkward fashion — contributed in no small degree to the absurdity of his appearance. Stiff, lank, and solemn, dressed in an unusual manner, and ostentatiously exhibiting — whether by design or accident — all his peculiarities of carriage, gesture, and conduct, all the qualities, natural and artificial, in which he differed from other men; he might have moved the sternest looker-on to laughter, and fully provoked the smiles and whispered jests which greeted his departure from the Maypole inn. [Chapter XXXVII, 143]
Commentary
Barnard now introduces the historical element of the novel that Dickens patterned on the Waverly Novels of Sir Walter Scott. Whereas Phiz inn the original serial had them arrive as private travellers in the night, Barnard illustrates the scene of Gordon's triumphant departure. Lord Gordon and his party leave the Maypole as the mixed group of villagers gather, partly out of curiosity and partly out of approval of his cause. In the eighteenth illustration (that is, just over a third of the way through his series), Barnard introduces three historical or quasi-historical figures on horseback: Hugh holds the bridle of the lean black stallion that Lord Gordon, instigator of the anti-Catholic London riots of 1780, rides; his secretary, Gashford (based loosely on the Scottish adventurer Robert Watson) is in the background, and Lord Gordon's dogged but fiercely loyal servant, John Grueby (who has shown his mettle the night before in putting Hugh in his place), is beside him.
Whereas Barnard depicts Gordon leaving the inn-yard triumphantly, Furniss shows him already on his way, and that throng behind him. But according to the text, his departure was not attended by a supportive throng, but just a few - he receives only "the parting salutation of a dozen idlers whom the rumour of a live lord being about to leave the Maypole had gathered round the porch" (143). A number of these in the Barnard illustration are mere children.
Related Material on Lord Gordon and his Protestant Movement
Related Illustrations from Other Editions: 1867 and 1910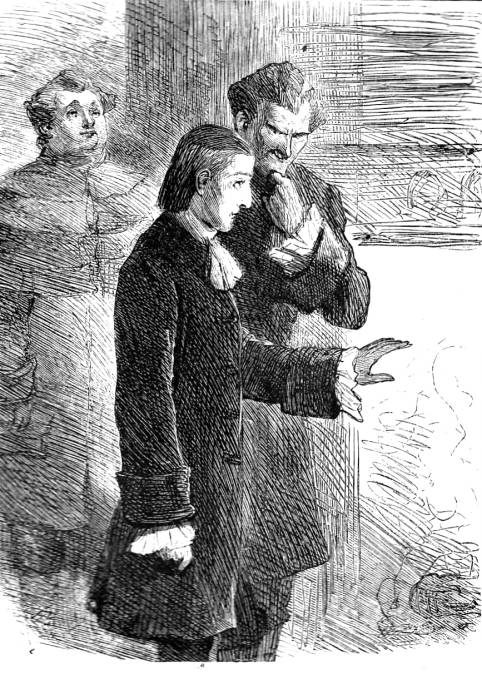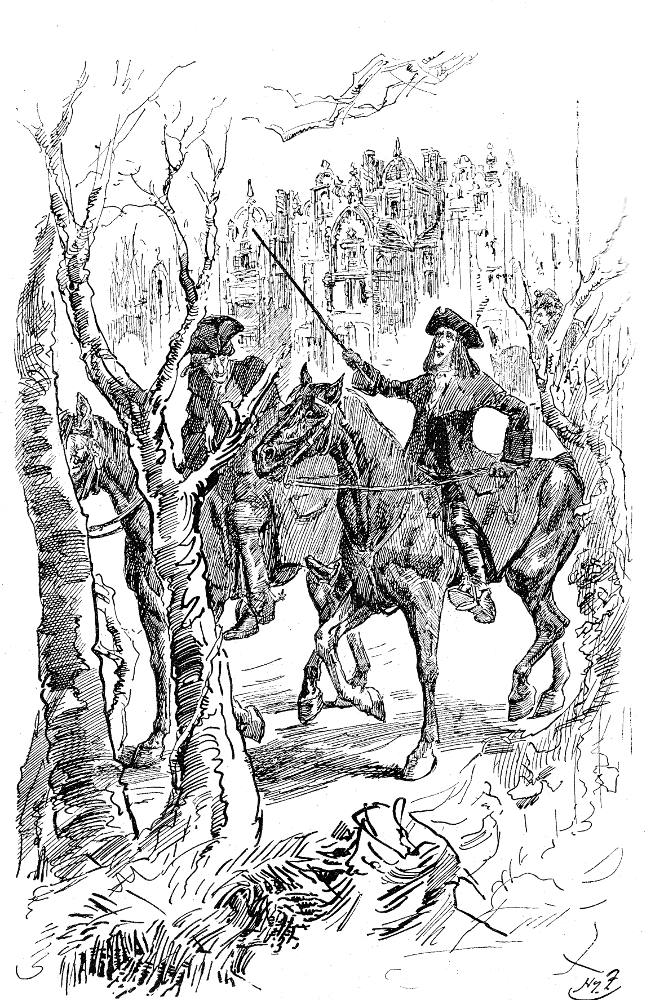 Left: Sol Eytinge, Jr.'s study of the three historical outsiders: Lord George Gordon, leader of an ultra-Protestant movement, his cunning secretary, and his stalwart bodyguard: Lord Gordon, Gashford, and Grueby (1867). Centre: Phiz's more amusing and less epic illustration involving Lord Gordon and his party at the inn: Distinguished Guests cat The Maypole (19 June 1841). Right: Harry Furniss's study of the three rebel leaders leaving the village for the capital: Lord George Gordon leaving the Maypole (1910).
The upshot of the rebellion was that the government hanged the twenty-five ringleaders, but found Lord George Gordon was found "Not Guilty" of treason. Ironically in Dickens's quasi-historical account, Gordon was freed without further charge, but his henchmen Hugh and Dennis were executed. Barnard's figures are much more realistic and far less cartoon-like than those of Phiz in Distinguished Guests at The Maypole, which captures the moment in which an extremely rotund Willet ushers Gashford, Gordon, and Grueby into the wooden panelled State Apartment. As in a later depiction of him in the original series (Cattermole's Lord George Gordon in the Tower, Ch. LXXIII), Gordon looks much like Barnard's figure: a tall, angular, frail-looking, elderly aristocrat. However, Barnard individualizes rather than merely caricatures him, suggesting a lack of mental capacity by his slightly dazed look and his characteristic gesture of raising his hat whenever addressed.
Related Material including Other Illustrated Editions of
Barnaby Rudge
Scanned image, colour correction, sizing, caption, and commentary by Philip V. Allingham. [You may use this image without prior permission for any scholarly or educational purpose, as long as you (1) credit the person who scanned the image, and (2) link your document to this URL in a web document or cite the Victorian Web in a print one.]
Bibliography
Dickens, Charles. Barnaby Rudge in Master Humphrey's Clock. Illustrated by Phiz and George Cattermole. 3 vols. London: Chapman and Hall, 1841; rpt., Bradbury and Evans, 1849.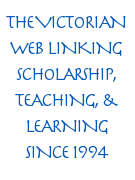 _______. Barnaby Rudge. Illustrated by Sol Eytinge, Jr. The Diamond Edition. 16 vols. Boston: Ticknor and Fields, 1867.
________. Barnaby Rudge — A Tale of the Riots of 'Eighty. Illustrated by Fred Barnard. The Household Edition. 22 vols. London: Chapman and Hall, 1874. VII.
________. The Dickens Souvenir Book. London: Chapman & Hall, 1912.
Hammerton, J. A. "Ch. XIV. Barnaby Rudge." The Dickens Picture-Book. The Charles Dickens Library Edition, illustrated by Harry Furniss. London: Educational Book Co., 1910. 213-55.
---
Created 20 August 2020

Last modified 18 December 2020