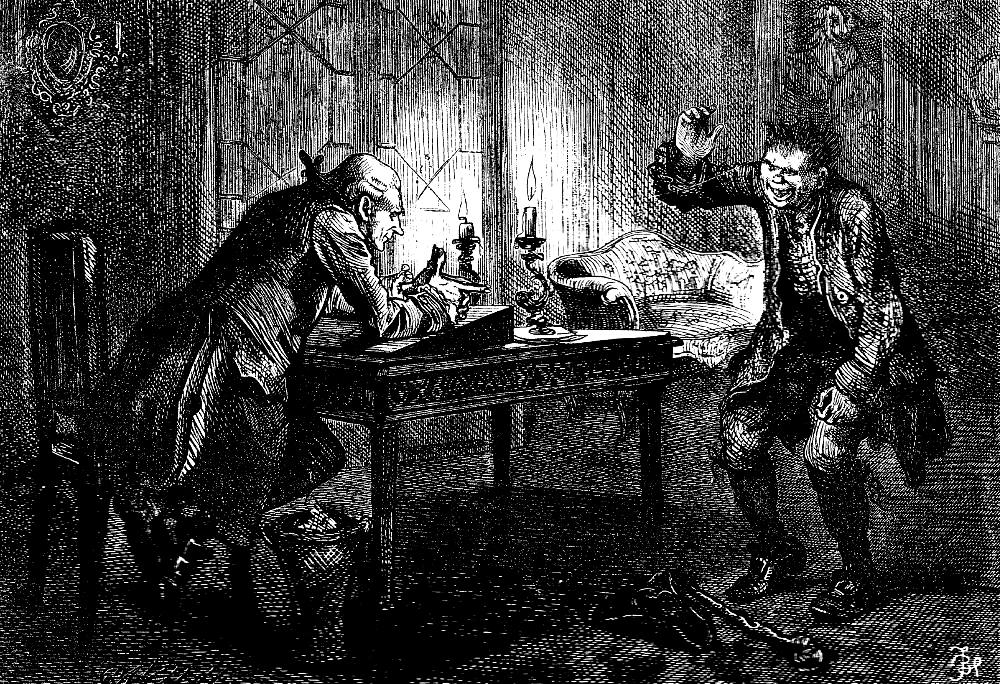 "Ha, ha!" roared the fellow, smiting his leg; "for a gentleman as 'ull say a pleasant thing in a pleasant way, give me Muster Gashford agin' all London and Westminster!" by Fred Barnard. 1874. 3 ¾ x 5 7⁄16 inches (9.4 cm by 13.7 cm), framed. Dickens's Barnaby Rudge: A Tale of the Riots of 'Eighty, Chapter XXXVII, 145. [Click on the images to enlarge them.]/p>
Context of the Illustration: Gordon's Secretary interviews Dennis, the Hangman
"Ah! Dennis!' cried the secretary. "Sit down."
"I see my lord down yonder —" cried the man, with a jerk of his thumb towards the quarter that he spoke of, "and he says to me, says my lord, 'If you've nothing to do, Dennis, go up to my house and talk with Muster Gashford.' Of course I'd nothing to do, you know. These an't my working hours. Ha ha! I was a-taking the air when I see my lord, that's what I was doing. I takes the air by night, as the howls does, Muster Gashford."
And sometimes in the day-time, eh?" said the secretary—"when you go out in state, you know."
"IHa ha!' roared the fellow, smiting his leg; "for a gentleman as 'ull say a pleasant thing in a pleasant way, give me Muster Gashford agin' all London and Westminster! My lord an't a bad 'un at that, but he's a fool to you. Ah to be sure,—when I go out in state."
"IAnd have your carriage," said the secretary; "and your chaplain, eh? and all the rest of it?"
"IYou'll be the death of me," cried Dennis, with another roar, "you will. But what's in the wind now, Muster Gashford," he asked hoarsely, "Eh? Are we to be under orders to pull down one of them Popish chapels — or what?"
"Hush!" said the secretary, suffering the faintest smile to play upon his face. "Hush! God bless me, Dennis! We associate, you know, for strictly peaceable and lawful purposes." [Chapter XXXVII, 144]
Commentary: A study in Social Contrasts — Gordon's Secretary and Dennis, the Hangman
The picture, with suggestions of a dark plate, is almost a split-frame: despite the common background for both figures, Gashford's office, the left-hand is dominated by a realistically drawn, middle-aged man  in fashionable eighteenth century clothing. The right hand side, however, has a young gargoyle vigorously slapping his knee with one hand and gesticulating with the other. Consequently, Barnard has made the illustration at once realistic and caricatural to emphasize how the zealously anti-Catholic aristocratic party led by Gordon and Gashford is allying itself expediently with the vulgus mobile whose vigorous and sordid representative, Dennis, treats the Secretary in a coarse and familiar manner, as if he were one of the public hangman's cronies at The Boot rather than a highly placed Westminster executive.
Relevant Illustration from the 1841 Edition: Gashford and Hugh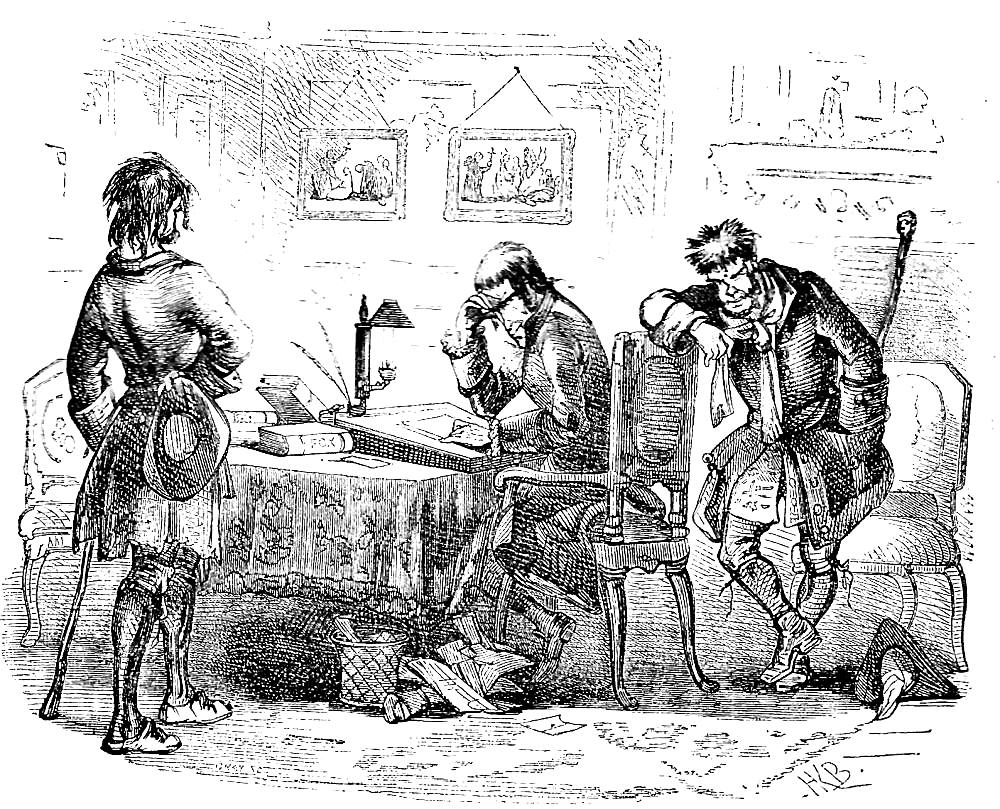 Above: Phiz depicts Gashford's interviewing a prospective mob leader, Hugh of the Maypole: Another Protestant, Ch. XXXVII, Vol. III, 152 (3 July 1841).
Related Material including Other Illustrated Editions of
Barnaby Rudge
Scanned image, colour correction, sizing, caption, and commentary by Philip V. Allingham. [You may use this image without prior permission for any scholarly or educational purpose, as long as you (1) credit the person who scanned the image, and (2) link your document to this URL in a web document or cite the Victorian Web in a print one.]
Bibliography
Dickens, Charles. Barnaby Rudge in Master Humphrey's Clock. Illustrated by Phiz and George Cattermole. 3 vols. London: Chapman and Hall, 1841; rpt., Bradbury and Evans, 1849.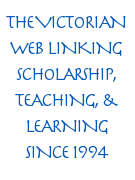 _______. Barnaby Rudge. Illustrated by Sol Eytinge, Jr. The Diamond Edition. 16 vols. Boston: Ticknor and Fields, 1867.
________. Barnaby Rudge — A Tale of the Riots of 'Eighty. Illustrated by Fred Barnard. The Household Edition. 22 vols. London: Chapman and Hall, 1874. VII.
________. The Dickens Souvenir Book. London: Chapman & Hall, 1912.
Hammerton, J. A. "Ch. XIV. Barnaby Rudge." The Dickens Picture-Book. The Charles Dickens Library Edition, illustrated by Harry Furniss. London: Educational Book Co., 1910. 213-55.
---
Created 20 August 2020

Last modified 17 December 2020