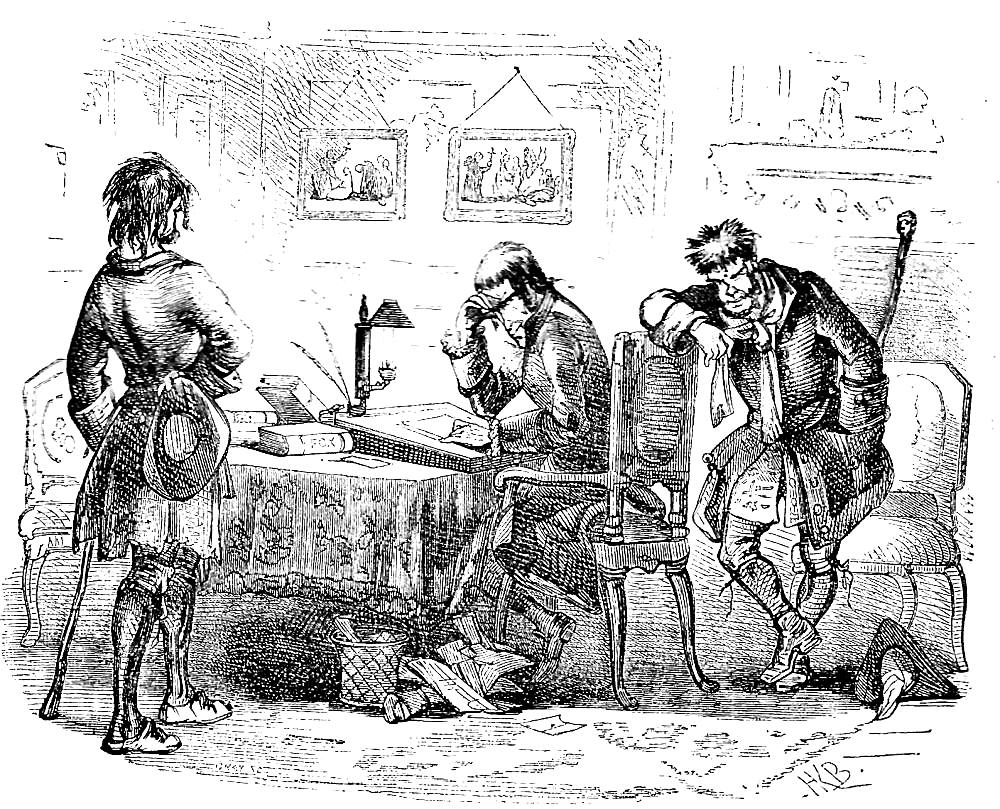 Another Protestant — Phiz's twenty-seventh regular contribution, the thirty-third illustration in the series, tailpiece for Chap. XXXVII (26 June 1841, Part 20). 3 ¼ by 4 ½ inches (8.3 cm high by 11.1 cm wide), vignetted. Volume Three, Part 63 of Master Humphrey's Clock, in which Dickens's Barnaby Rudge originally appeared. The 1849 Bradbury and Evans two-volume edition: bottom of 152 in Vol. III. Running Head: "Master Humphrey's Clock" (152). [Click on the images in order to enlarge them.]
Context of the Illustration: Secretary Gashford interviews the Hangman, Ned Dennis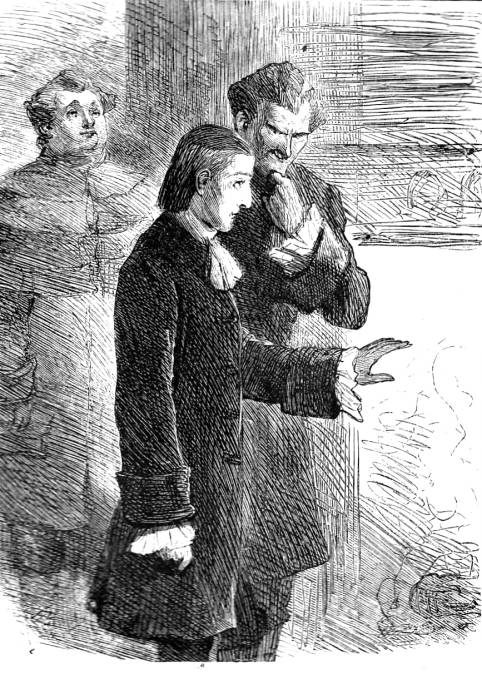 Left: Sol Eytinge, Jr.'s study of the three historical outsiders: Lord George Gordon, leader of an ultra-Protestant movement, his cunning secretary, and his stalwart bodyguard: Lord Gordon, Gashford, and Grueby (1867).
"I am sure I shall not," said the secretary in the same mild tone, and with the same emphasis. 'We shall have, we think, about next month, or May, when this Papist relief bill comes before the house, to convene our whole body for the first time. My lord has thoughts of our walking in procession through the streets — just as an innocent display of strength — and accompanying our petition down to the door of the House of Commons."
"The sooner the better," said Dennis, with another oath.
"We shall have to draw up in divisions, our numbers being so large; and, I believe I may venture to say," resumed Gashford, affecting not to hear the interruption, "though I have no direct instructions to that effect — that Lord George has thought of you as an excellent leader for one of these parties. I have no doubt you would be an admirable one."
"Try me," said the fellow, with an ugly wink.
"You would be cool, I know," pursued the secretary, still smiling, and still managing his eyes so that he could watch him closely, and really not be seen in turn, "obedient to orders, and perfectly temperate. You would lead your party into no danger, I am certain."
"I'd lead them, Muster Gashford," — the hangman was beginning in a reckless way, when Gashford started forward, laid his finger on his lips, and feigned to write, just as the door was opened by John Grueby.
"Oh!" said John, looking in; "here's another Protestant."
"Some other room, John," cried Gashford in his blandest voice. "I am engaged just now."
But John had brought this new visitor to the door, and he walked in unbidden, as the words were uttered; giving to view the form and features, rough attire, and reckless air, of Hugh. [Chapter the Thirty-seventh, 136-37]
Phiz's Editorial Comment: Pictures from Foxe's
Martyrs

Left: Phiz's background detail of the two pictures in Gashford's study: Scenes of Protestant Martyrdom from Foxe (141).
In order to make an editorial comment on Gashford's interview with the hangman, Ned Dennis, about leading a protest against repealing ant-Catholic legislation, Phiz has embedded two pictures in the background. Although the reader may have difficulty in discerning the subject, in both instances the historical subject is Bloody Mary's persecution of Protestant leaders in her short-lived Counter Reformation. The picture to the right commemorates her having ordered the executions of the Archbishop of Canterbury, Robert Cranmer, along with Bishops Latimer and Ridley. Phiz has incorporated these paintings as an extension of Gordon's previous rants about Bloody Mary on the night of his arrival at The Maypole. The extra-judicial murders of some two hundred Protestant leaders during Mary's brief reign were immortalised in Foxe's Book of Martyrs (1563). Nicholas Ridley and Hugh Latimer, two of the leading Oxford Martyrs, were burned at the stake on 16 October, 1555. The third, Thomas Cranmer, was similarly executed five months later, on 21 March 21, 1556.
A Portrait of the Mob's Leader, Ned Dennis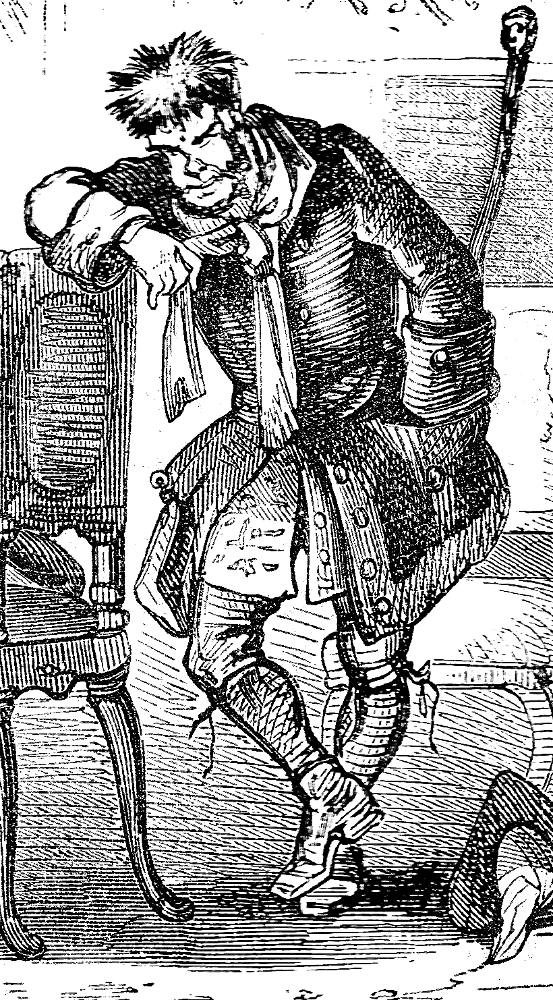 Left: Detail of Phiz's illustration showcasing his portrait of the brutal, debauched hangman who becomes Gashford's henchman, a thorough grotesque in the manner of George Cruikshank: Ned Dennis (152).
We have already met Gordon's unscrupulous secretary, Gashford, and the ostler of The Maypole, Hugh. Now Phiz introduces a significant figure in the historical Gordon Riots, the public hangman, Ned Dennis, a decidedly neanderthal type:
The man who now confronted Gashford, was a squat, thickset personage, with a low, retreating forehead, a coarse shock head of hair, and eyes so small and near together, that his broken nose alone seemed to prevent their meeting and fusing into one of the usual size. A dingy handkerchief twisted like a cord about his neck, left its great veins exposed to view, and they were swollen and starting, as though with gulping down strong passions, malice, and ill-will. His dress was of threadbare velveteen — a faded, rusty, whitened black, like the ashes of a pipe or a coal fire after a day's extinction; discoloured with the soils of many a stale debauch, and reeking yet with pot-house odours. In lieu of buckles at his knees, he wore unequal loops of packthread; and in his grimy hands he held a knotted stick, the knob of which was carved into a rough likeness of his own vile face. Such was the visitor who doffed his three-cornered hat in Gashford's presence, and waited, leering, for his notice. [149]
The actual hangman, convicted of the same offence, was reprieved, presumably in acknowledgement for his services to the state, "taking off" hundreds of prisoners under the eighteenth century's repressive laws against even petty theft.
Related Material on Lord Gordon and his Protestant Movement
These characters in the Household Edition (1874)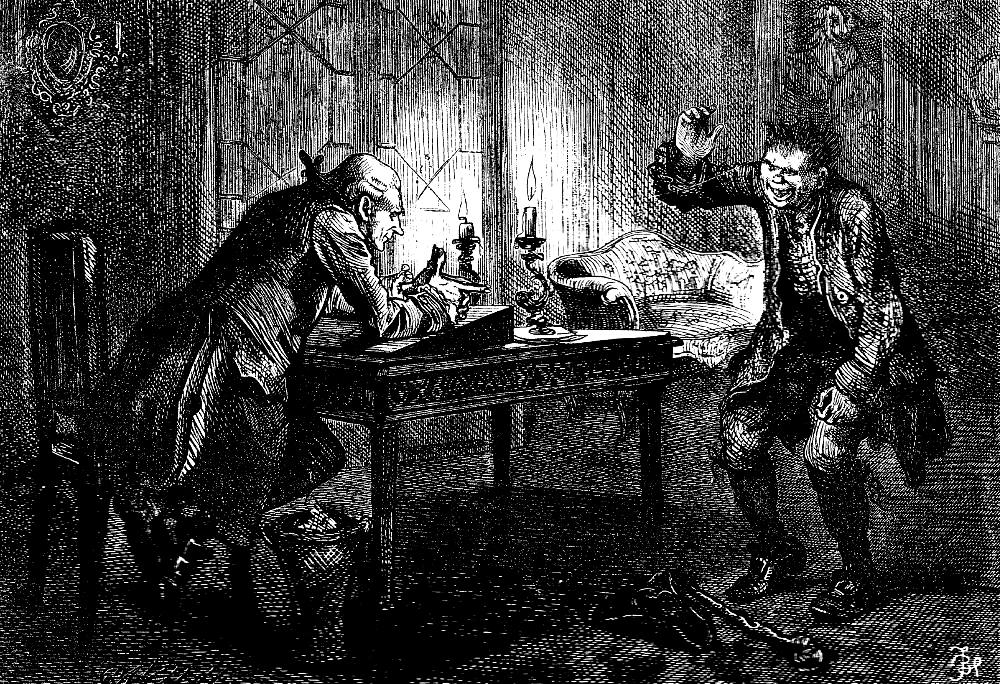 Fred Barnard's panoramic treatment of the epic departure of the ultra-Protestant party: Lord George Gordon leaving the Maypole (1874).
Related Material including Other Illustrated Editions of
Barnaby Rudge
Scanned image and text by Philip V. Allingham. [You may use this image without prior permission for any scholarly or educational purpose as long as you (1) credit the person who scanned the image and (2) link your document to this URL in a web document or cite the Victorian Web in a print one.]
Bibliography
Dickens, Charles. Barnaby Rudge. Illustrated by Hablot K. Browne ('Phiz') and George Cattermole. London: Chapman and Hall, 1841; rpt., Bradbury & Evans, 1849.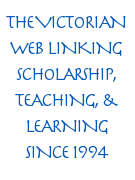 ________. Barnaby Rudge. Ed. Kathleen Tillotson. Illustrated by Hablot K. Browne ('Phiz') and George Cattermole. The New Oxford Illustrated Dickens. London: Oxford University Press. 1954, rpt. 1987.
________. Barnaby Rudge and Hard Times. Illustrated by Sol Eytinge, Jr. The Diamond Edition. 16 vols. Boston: Ticknor & Fields, 1867. IX.
________. Barnaby Rudge — A Tale of the Riots of 'Eighty. Illustrated by Fred Barnard. The Household Edition. 22 vols. London: Chapman and Hall, 1874. VII.
________. Barnaby Rudge. Illustrated by Harry Furniss. The Charles Dickens Library Edition. London: Educational Book Company, 1910. VI.
Hammerton, J. A. "Ch. XIV. Barnaby Rudge." The Dickens Picture-Book. The Charles Dickens Library Edition, illustrated by Harry Furniss. London: Educational Book Co., 1910. 213-55.
Vann, J. Don. "Charles Dickens. Barnaby Rudge in Master Humphrey's Clock, 13 February-27 November 1841." New York: MLA, 1985. 65-66.
---
Created 9 November 2007

Last modified 17 December 2020