Distinguished Guests at The Maypole — Phiz's twenty-sixth regular contribution, the thirty-second illustration in the series, Chap. XXXV (19 June 1841, Part 19). 3 ¼ by 4 ½ inches (8.3 cm high by 11.1 cm wide), vignetted. Volume Three, Part 62 of Master Humphrey's Clock, in which Dickens's Barnaby Rudge originally appeared. The 1849 Bradbury and Evans two-volume edition: top of 137 in Vol. III. Running Head: "Master Humphrey's Clock" (138). [Click on the images in order to enlarge them.]
Context of the Illustration: Lord George Gordon enters the Story
Gashford, the secretary, was taller, angularly made, high-shouldered, bony, and ungraceful. His dress, in imitation of his superior, was demure and staid in the extreme; his manner, formal and constrained. This gentleman had an overhanging brow, great hands and feet and ears, and a pair of eyes that seemed to have made an unnatural retreat into his head, and to have dug themselves a cave to hide in. His manner was smooth and humble, but very sly and slinking. He wore the aspect of a man who was always lying in wait for something that wouldn't come to pass; but he looked patient — very patient — and fawned like a spaniel dog. Even now, while he warmed and rubbed his hands before the blaze, he had the air of one who only presumed to enjoy it in his degree as a commoner; and though he knew his lord was not regarding him, he looked into his face from time to time, and with a meek and deferential manner, smiled as if for practice.
Such were the guests whom old John Willet, with a fixed and leaden eye, surveyed a hundred times, and to whom he now advanced with a state candlestick in each hand, beseeching them to follow him into a worthier chamber. "For my lord," said John — it is odd enough, but certain people seem to have as great a pleasure in pronouncing titles as their owners have in wearing them—'this room, my lord, isn't at all the sort of place for  your lordship, and I have to beg your lordship's pardon for keeping you here, my lord, one minute."
With this address, John ushered them upstairs into the state apartment, which, like  many other things of state, was cold and comfortless. Their own footsteps, reverberating  through the spacious room, struck upon their hearing with a hollow sound; and its damp  and chilly atmosphere was rendered doubly cheerless by contrast with the homely warmth  they had deserted.
It was of no use, however, to propose a return to the place they had quitted, for the  preparations went on so briskly that there was no time to stop them. John, with the tall  candlesticks in his hands, bowed them up to the fireplace; Hugh, striding in with a lighted brand and pile of firewood, cast it down upon the hearth, and set it in a blaze. . . . [Chapter the Thirty-fifth, 136-37]
Related Material on Lord Gordon and his Protestant Movement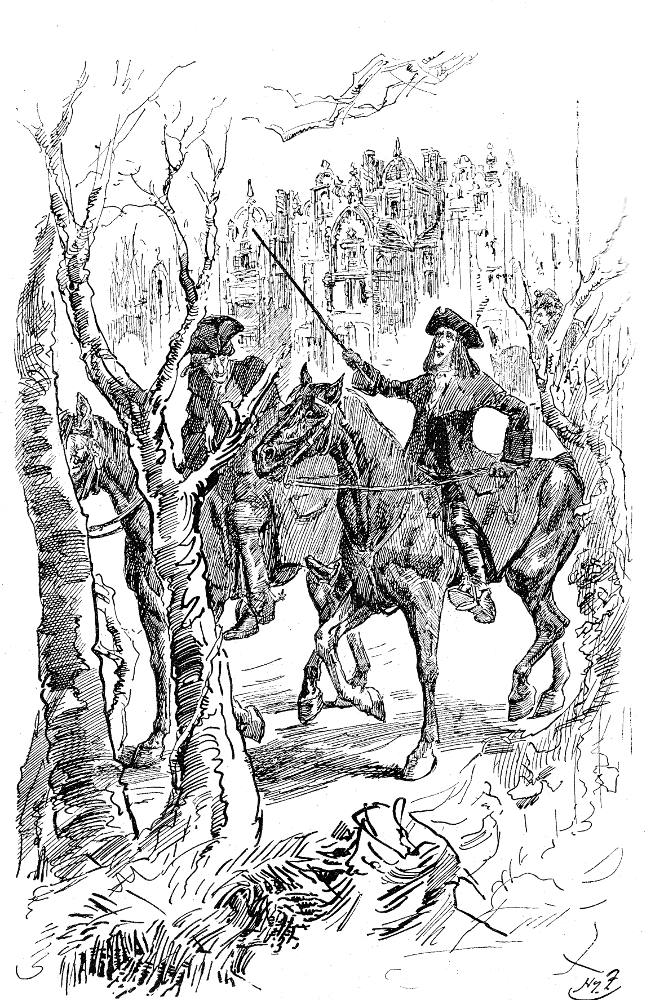 Harry Furniss's study of the three historical outsiders leaving the village for the capital: Lord George Gordon leaving the Maypole (1910).
The upshot of the rebellion was that the government hanged twenty-five ringleaders, but found the aristocratic, misguided leader "Not Guilty" of treason. Ironically in Dickens's quasi-historical account, Gordon was freed without further charge, but his henchmen Hugh and Dennis were executed. Barnard's figures are much more realistic and far less cartoon-like than those of Phiz in Distinguished Guests at The Maypole, which captures the moment in which an extremely rotund Willet, a long candlestick in either hand, ushers Gashford, Gordon, and Grueby into the Maypole's wooden panelled State Apartment on the second storey. As in a later depiction of him in the original series (Cattermole's Lord George Gordon in the Tower, Ch. LXXIII), the deluded anti-Papist looks much like Phiz's gangly figure: a tall, angular, frail-looking aristocrat. The image, however, is at variance with Dickens's description of Gordon as a severely-dressed Puritan in his early thirties:
The lord, the great personage who did the Maypole so much honour, was about the middle height, of a slender make, and sallow complexion, with an aquiline nose, and long hair of a reddish brown, combed perfectly straight and smooth about his ears, and slightly powdered, but without the faintest vestige of a curl. He was attired, under his greatcoat, in a full suit of black, quite free from any ornament, and of the most precise and sober cut. The gravity of his dress, together with a certain lankness of cheek and stiffness of deportment, added nearly ten years to his age, but his figure was that of one not yet past thirty. As he stood musing in the red glow of the fire, it was striking to observe his very bright large eye, which betrayed a restlessness of thought and purpose, singularly at variance with the studied composure and sobriety of his mien, and with his quaint and sad apparel. It had nothing harsh or cruel in its expression; neither had his face, which was thin and mild, and wore an air of melancholy; but it was suggestive of an indefinable uneasiness; which infected those who looked upon him, and filled them with a kind of pity for the man: though why it did so, they would have had some trouble to explain. [136]
Although Furniss's figure in the 1910 Charles Dickens Library Edition somewhat resembles Barnard's rather than Phiz's version of the religious zealot in this introductory illustration, all three artists have made the demagogue look far older and far less physically robust than the text, perhaps to reinforce Dickens's suggestion that he is somewhat lacking in mental competency.
These characters in the Diamond (1867) and Household Edition (1874)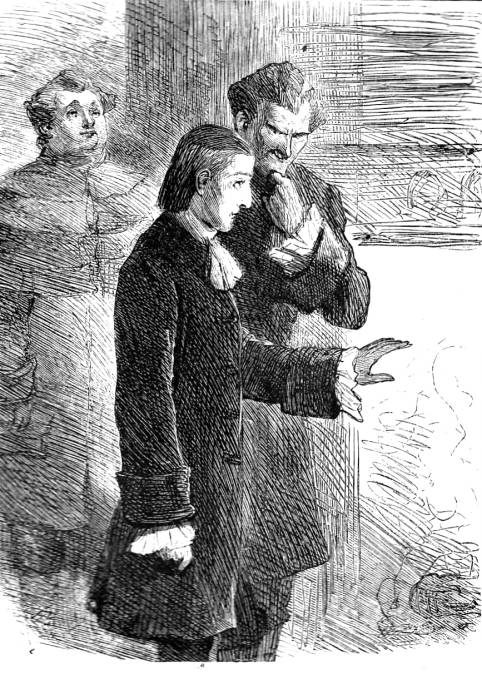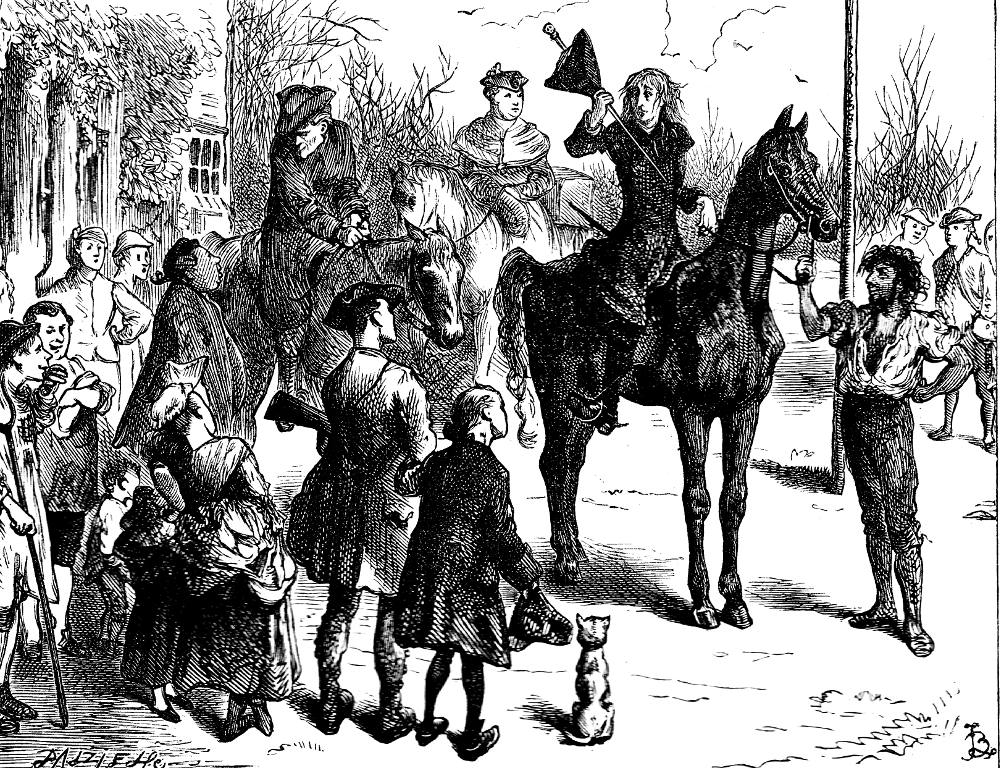 Left: Sol Eytinge, Jr.'s study of the three historical outsiders: Lord George Gordon, leader of an ultra-Protestant movement, his cunning secretary, and his stalwart bodyguard: Lord Gordon, Gashford, and Grueby (1867). Right: Fred Barnard's panoramic treatment of the epic departure of the ultra-Protestant party: Lord George Gordon leaving the Maypole (1874).
Related Material including Other Illustrated Editions of
Barnaby Rudge
Scanned image and text by Philip V. Allingham. [You may use this image without prior permission for any scholarly or educational purpose as long as you (1) credit the person who scanned the image and (2) link your document to this URL in a web document or cite the Victorian Web in a print one.]
Bibliography
Dickens, Charles. Barnaby Rudge. Illustrated by Hablot K. Browne ('Phiz') and George Cattermole. London: Chapman and Hall, 1841; rpt., Bradbury & Evans, 1849.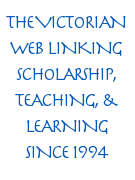 ________. Barnaby Rudge. Ed. Kathleen Tillotson. Illustrated by Hablot K. Browne ('Phiz') and George Cattermole. The New Oxford Illustrated Dickens. London: Oxford University Press. 1954, rpt. 1987.
________. Barnaby Rudge and Hard Times. Illustrated by Sol Eytinge, Jr. The Diamond Edition. 16 vols. Boston: Ticknor & Fields, 1867. IX.
________. Barnaby Rudge — A Tale of the Riots of 'Eighty. Illustrated by Fred Barnard. The Household Edition. 22 vols. London: Chapman and Hall, 1874. VII.
________. Barnaby Rudge. Illustrated by Harry Furniss. The Charles Dickens Library Edition. London: Educational Book Company, 1910. VI.
Hammerton, J. A. "Ch. XIV. Barnaby Rudge." The Dickens Picture-Book. The Charles Dickens Library Edition, illustrated by Harry Furniss. London: Educational Book Co., 1910. 213-55.
Vann, J. Don. "Charles Dickens. Barnaby Rudge in Master Humphrey's Clock, 13 February-27 November 1841." New York: MLA, 1985. 65-66.
---
Created 9 November 2007

Last modified 26 December 2020