"He wos wery good to me, he wos!", twelfth illustration by Fred Barnard in the Household Edition (1873). 10.8 cm high by 13.8 cm wide (4 ¼ by 5 ½ inches), framed, p. 69. Chapter 11. Running head: "A Depraved Witness" (75). [Click on the images to enlarge them.]
Passage Illustrated: As the Coroner's Jury shuffles out
While the coroner buttons his great-coat, Mr. Tulkinghorn and he give private audience to the rejected witness in a corner.
That graceless creature only knows that the dead man (whom he recognized just now by his yellow face and black hair) was sometimes hooted and pursued about the streets. That one cold winter night when he, the boy, was shivering in a doorway near his crossing, the man turned to look at him, and came back, and having questioned him and found that he had not a friend in the world, said, "Neither have I. Not one!" and gave him the price of a supper and a night's lodging. That the man had often spoken to him since and asked him whether he slept sound at night, and how he bore cold and hunger, and whether he ever wished to die, and similar strange questions. That when the man had no money, he would say in passing, "I am as poor as you to-day, Jo," but that when he had any, he had always (as the boy most heartily believes) been glad to give him some.
"He was wery good to me," says the boy, wiping his eyes with his wretched sleeve. "Wen I see him a-layin' so stritched out just now, I wished he could have heerd me tell  him so. He wos wery good to me, he wos!"
As he shuffles downstairs, Mr. Snagsby, lying in wait for him, puts a half-crown in his hand. "If you ever see me coming past your crossing with my little woman — I mean a lady —" says Mr. Snagsby with his finger on his nose, "don't allude to it!" [Chapter XI, "Our Dear Brother," 75-76]
Tulkinghorn and the Coroner with Jo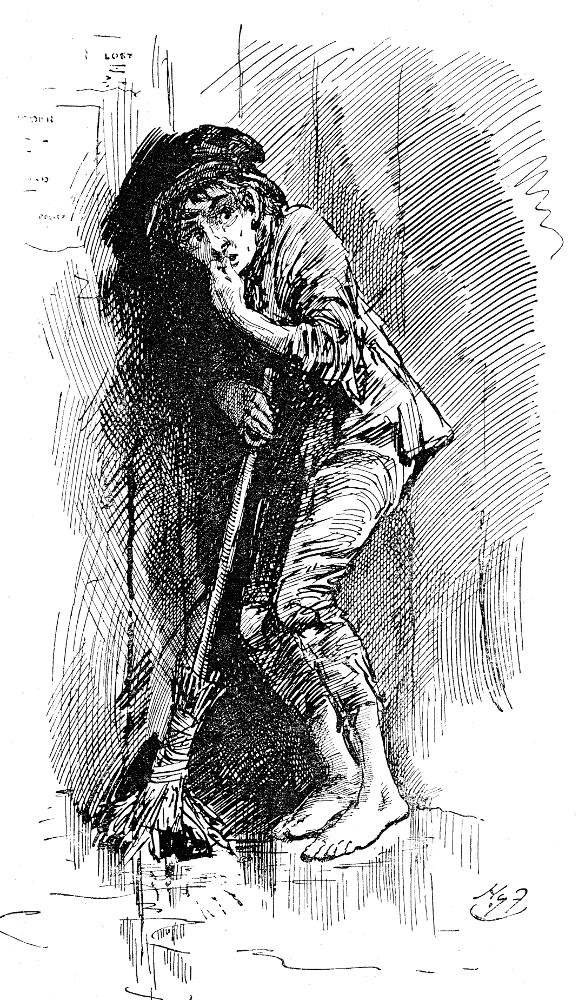 Mr. Tulkinghorn has heard the evidence (such as it is), but does not directly pass judgment. For the moment, the Coroner's finding of "death by accidental overdose" of opium seems plausible, and certainly the death of the law-scrivener does not seem suspicious. Although the Coroner's jury has refused to admit Jo's testimony about the mental state of the deceased, both that official and the experienced attorney express some sympathy for the street-urchin whose only friend and human contact has passed away. In Barnard's group scene he arrays the figures so that the group on which he wishes us to focus is in the foreground as the jurors in the background depart. The prominent poster immediately establishes the physical setting as the music-and-entertainment room ("The Harmonic Room") at the Sol's Arms in the neighbourhood of Krook's rag-and-bone shop and Snagsby's office. Barnard distinguishes Tulkinghorn from the Coroner by their very different modes of dress, as the elderly lawyer wears Regency-style breeches. Although the name just above Jo in the poster, "Little Wills," may seem to apply to the crossing-sweeper, in fact it denotes the music-hall comedian who regularly performs in this back-room for the working-class audience.
Illustrations of Joe the Crossing-Sweeper from the Original and Diamond Editions
​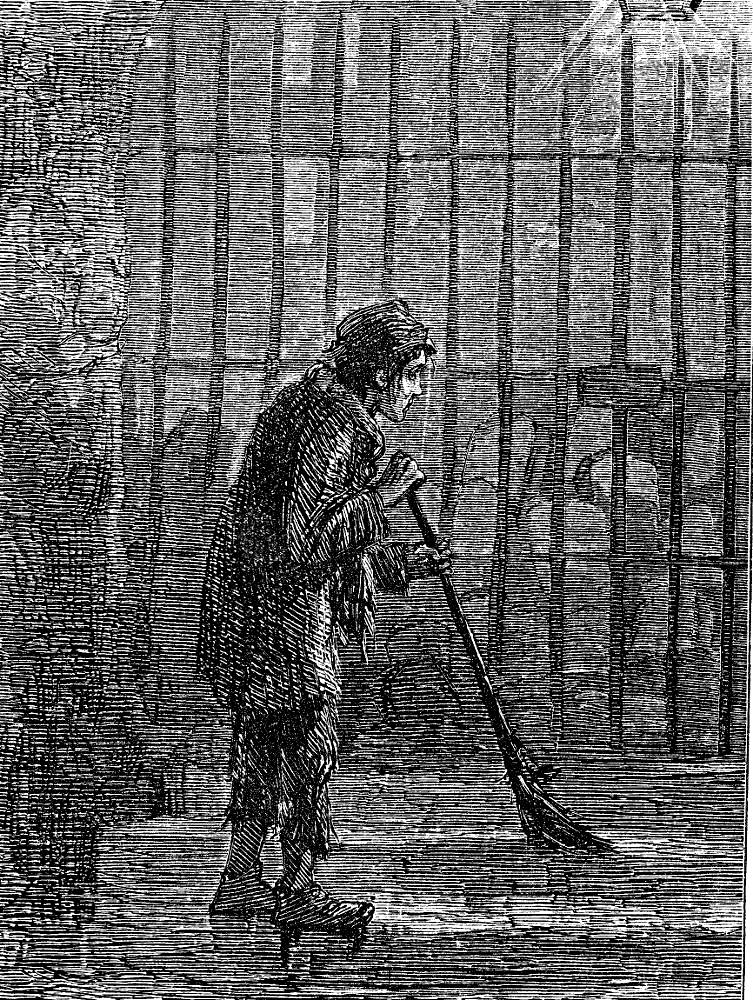 ​
Left: Kyd's Player's Cigarette Card No. 50, Jo the Crossing-Sweeper (1910). Centre: Phiz's September 1853 engraving serves as the title-page vignette for the volume edition: Jo, The Crossing-sweeper. Centre: Sol Eytinge, Jr.'s 1867 Diamond Edition of Joe at work outside Tom-all-Alone's: Jo.
Above: Harry Furniss's revision of the same scene, Joe before the Coroner, with the enormous parish Beadle representing officialdom in the Charles Dickens Library Edition.
Related Material, including Other Illustrated Editions of
Bleak House
Scanned image, colour correction, sizing, caption, and commentary by Philip V. Allingham. [You may use this image without prior permission for any scholarly or educational purpose, as long as you (1) credit the person who scanned the image, and (2) link your document to this URL in a web document or cite the Victorian Web in a print one.]
Bibliography
"Bleak House — Sixty-one Illustrations by Fred Barnard." Scenes and Characters from the Works of Charles Dickens, Being Eight Hundred and Sixty-six Drawings by Fred Barnard, Gordon Thomson, Hablot Knight Browne (Phiz), J. McL. Ralston, J. Mahoney, H. French, Charles Green, E. G. Dalziel, A. B. Frost, F. A. Fraser, and Sir Luke Fildes. London: Chapman and Hall, 1907.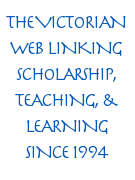 Davis, Paul. Charles Dickens A to Z: The Essential Reference to His Life and Work. New York: Facts On File, 1998.
Dickens, Charles. Bleak House. Illustrated by F. O. C. Darley and John Gilbert. The Works of Charles Dickens. The Household Edition. New York: Sheldon and Company, 1863. Vols. 1-4.
_______. Bleak House. Illustrated by Sol Eytinge, Jr, and engraved by A. V. S. Anthony. 14 vols. Boston: Ticknor & Fields, 1867. VI.
_______. Bleak House, with 61 illustrations by Fred Barnard. Household Edition. London: Chapman and Hall, 1873. IV.
_______. Bleak House. Illustrated by Harry Furniss [28 original lithographs]. The Charles Dickens Library Edition. Vol. 11.​ London: Educational Book, 1910.
_______. Bleak House, ed. Norman Page. Harmondsworth: Penguin, 1971.
Hammerton, J. A. "Chapter 18: Bleak House." The Dickens Picture-Book. The Charles Dickens Library Edition. London: Educational Book, 1910. XVII, 366-97.
Vann, J. Don. "Bleak House, twenty parts in nineteen monthly instalments, October 1846—April 1848." Victorian Novels in Serial. New York: The Modern Language Association, 1985. 69-70.
---
Created 1 March 2021