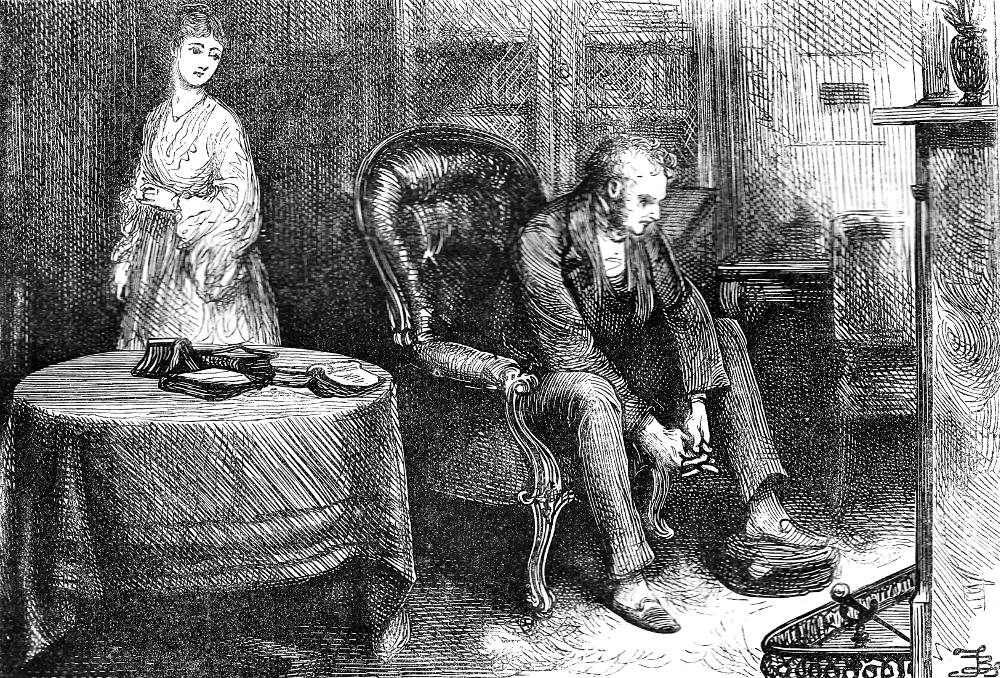 To my great surprise, on going in, I found my guardian still there, and sitting looking at the ashes — seventeenth illustration by Fred Barnard in the Household Edition (1873). 9.4 cm high by 13.8 cm wide (3 ½ by 5 ½ inches), framed, p. 109. Chapter 17. Running head: "The Virtues of Mothers" (119). [Click on the image to enlarge it.]
Passage Illustrated: Lady Dedlock's Clandestine Expedition to Bell Yard
If I could have made myself go to sleep, I would have done it directly, but not being able to do that, I took out of my basket some ornamental work for our house (I mean Bleak House) that I was busy with at that time and sat down to it with great determination. It was necessary to count all the stitches in that work, and I resolved to go on with it until I couldn't keep my eyes open, and then to go to bed.
I soon found myself very busy. But I had left some silk downstairs in a work-table drawer in the temporary growlery, and coming to a stop for want of it, I took my candle and went softly down to get it. To my great surprise, on going in I found my guardian still there, and sitting looking at the ashes. He was lost in thought, his book lay unheeded by his side, his silvered iron-grey hair was scattered confusedly upon his forehead as though his hand had been wandering among it while his thoughts were elsewhere, and his face looked worn. Almost frightened by coming upon him so unexpectedly, I stood still for a moment and should have retired without speaking had he not, in again passing his hand abstractedly through his hair, seen me and started.
"Esther!" [Chapter XVII, Esther's Narrative," 119]
Commentary: Richard proves a cause for Despondency
Earlier that evening, Jarndyce had apparently acquiesced in the news of Richard Carstone's deciding against a medical profession and having determined that law would be more suitable. In fact, as Esther discovers later when she discovers that he has not gone to bed but is ruminating in The Growlery, her guardian is despondent. The cause is Richard Carstone's lack of diligence. The guardian is upset by Richard's lack of decisiveness because he suspects that Richard expects the Chancery suit to fall out in his favour, and thereby relieve him of the obligation of having to work for a living after all. At this point, Jarndyce confides to Esther what little he knows of her origins.
Related Material, including Other Illustrated Editions of
Bleak House
Scanned image, colour correction, sizing, caption, and commentary by Philip V. Allingham. [You may use this image without prior permission for any scholarly or educational purpose, as long as you (1) credit the person who scanned the image, and (2) link your document to this URL in a web document or cite the Victorian Web in a print one.]
Bibliography
"Bleak House — Sixty-one Illustrations by Fred Barnard." Scenes and Characters from the Works of Charles Dickens, Being Eight Hundred and Sixty-six Drawings by Fred Barnard, Gordon Thomson, Hablot Knight Browne (Phiz), J. McL. Ralston, J. Mahoney, H. French, Charles Green, E. G. Dalziel, A. B. Frost, F. A. Fraser, and Sir Luke Fildes. London: Chapman and Hall, 1907.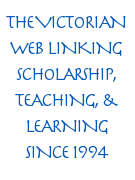 Davis, Paul. Charles Dickens A to Z: The Essential Reference to His Life and Work. New York: Facts On File, 1998.
Dickens, Charles. Bleak House. Illustrated by F. O. C. Darley and John Gilbert. The Works of Charles Dickens. The Household Edition. New York: Sheldon and Company, 1863. Vols. 1-4.
_______. Bleak House. Illustrated by Sol Eytinge, Jr, and engraved by A. V. S. Anthony. 14 vols. Boston: Ticknor & Fields, 1867. VI.
_______. Bleak House, with 61 illustrations by Fred Barnard. Household Edition. London: Chapman and Hall, 1873. IV.
_______. Bleak House. Illustrated by Harry Furniss [28 original lithographs]. The Charles Dickens Library Edition. Vol. 11.​ London: Educational Book, 1910.
_______. Bleak House, ed. Norman Page. Harmondsworth: Penguin, 1971.
Hammerton, J. A. "Chapter 18: Bleak House." The Dickens Picture-Book. The Charles Dickens Library Edition. London: Educational Book, 1910. XVII, 366-97.
Vann, J. Don. "Bleak House, twenty parts in nineteen monthly instalments, October 1846—April 1848." Victorian Novels in Serial. New York: The Modern Language Association, 1985. 69-70.
---
Created 5 March 2021