"Who ud go and let a nice innocent lodging to such a reg'lar one as me!" — twentieth illustration by Fred Barnard in the Household Edition (1873). 10.8 cm high by 13.8 cm wide (4 ¼ by 5 ½ inches), framed, p. 133. Chapter 20. Running head: "A Slap-bang Dinner" (139). [Click on the images to enlarge them.]
Passage Illustrated: Guppy hosts a Convivial Dinner for Jobling and Smallweed
Order given; with the sarcastic addition (from Mr. Smallweed) of "Without slugs, Polly!" And cabbage produced.
"I am growing up, Guppy," says Mr. Jobling, plying his knife and fork with a relishing steadiness.
"Glad to hear it."
"In fact, I have just turned into my teens," says Mr. Jobling.
He says no more until he has performed his task, which he achieves as Messrs. Guppy and Smallweed finish theirs, thus getting over the ground in excellent style and beating those two gentlemen easily by a veal and ham and a cabbage.
"Now, Small," says Mr. Guppy, "what would you recommend about pastry?"
"Marrow puddings," says Mr. Smallweed instantly.
"Aye, aye!" cries Mr. Jobling with an arch look. "You're there, are you? Thank you, Mr. Guppy, I don't know but what I WILL take a marrow pudding."
Three marrow puddings being produced, Mr. Jobling adds in a pleasant humour that he is coming of age fast. To these succeed, by command of Mr. Smallweed, "three Cheshires," and to those "three small rums." This apex of the entertainment happily reached, Mr. Jobling puts up his legs on the carpeted seat (having his own side of the box to himself), leans against the wall, and says, "I am grown up now, Guppy. I have arrived at maturity."
"What do you think, now," says Mr. Guppy, "about — you don't mind Smallweed?"
"Not the least in the world. I have the pleasure of drinking his good health."
"Sir, to you!" says Mr. Smallweed.
"I was saying, what do you think NOW," pursues Mr. Guppy, "of enlisting?" [Chapter XX, "A New Lodger," 139-140]
Commentary: A Scene Worthy of
Sketches by Boz
The attentive reader could be pardoned for construing the scene as something that Dickens self-plagiarised from his earlier sketches of lower-middle class urban life in Sketches by Boz, Illustrative of Every-day Life and Every-Day People<./span> (1833-36). Young clerks like Guppy and Jobling appear again and again in these early observations of young middle-class clerks in the metropolis.  However, Guppy's ingratiating himself with Tony Jobking does in fact advance the plot of solving the mystery of Nemo's deatrh and his connection to the mysterious lady whom Jo guided around Tom-all-Alone's. Guppy plans to install Jobling in Nemo's rooms at Krook's in order to discover his truie identity. His activity will lead to Tulkinghorn's becoming involved in the investigation.
Other​ Illustrations​ of Guppy's Dinner, 1867 and 1873
​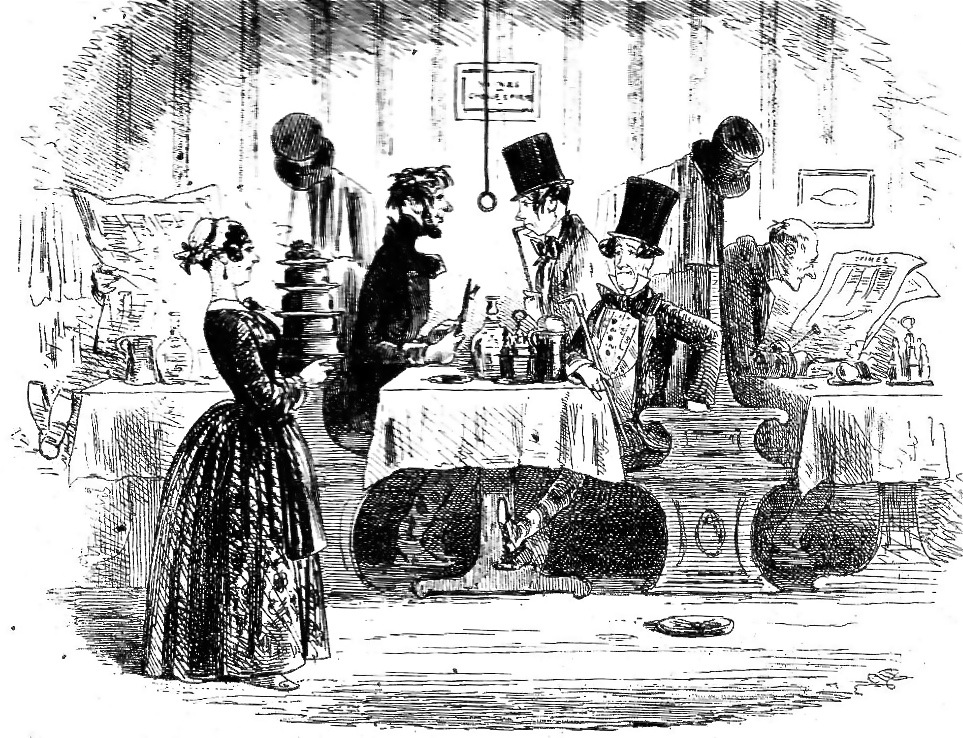 ​
​
Left: Phiz's original serial steel-engraving of Guppy's dinner: Mr. Guppy's Entertainment (September 1852). Right: Sol Eytinge, Jr.'s 1867 Diamond Edition of the bachelors on their way to dinner: Mr. Guppy and his Guests.
Related Material, including Other Illustrated Editions of
Bleak House
Scanned image, colour correction, sizing, caption, and commentary by Philip V. Allingham. [You may use this image without prior permission for any scholarly or educational purpose, as long as you (1) credit the person who scanned the image, and (2) link your document to this URL in a web document or cite the Victorian Web in a print one.]
Bibliography
"Bleak House — Sixty-one Illustrations by Fred Barnard." Scenes and Characters from the Works of Charles Dickens, Being Eight Hundred and Sixty-six Drawings by Fred Barnard, Gordon Thomson, Hablot Knight Browne (Phiz), J. McL. Ralston, J. Mahoney, H. French, Charles Green, E. G. Dalziel, A. B. Frost, F. A. Fraser, and Sir Luke Fildes. London: Chapman and Hall, 1907.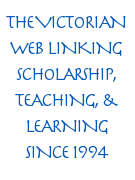 Davis, Paul. Charles Dickens A to Z: The Essential Reference to His Life and Work. New York: Facts On File, 1998.
Dickens, Charles. Bleak House. Illustrated by F. O. C. Darley and John Gilbert. The Works of Charles Dickens. The Household Edition. New York: Sheldon and Company, 1863. Vols. 1-4.
_______. Bleak House. Illustrated by Sol Eytinge, Jr, and engraved by A. V. S. Anthony. 14 vols. Boston: Ticknor & Fields, 1867. VI.
_______. Bleak House, with 61 illustrations by Fred Barnard. Household Edition. London: Chapman and Hall, 1873. IV.
_______. Bleak House. Illustrated by Harry Furniss [28 original lithographs]. The Charles Dickens Library Edition. Vol. 11.​ London: Educational Book, 1910.
_______. Bleak House, ed. Norman Page. Harmondsworth: Penguin, 1971.
Hammerton, J. A. "Chapter 18: Bleak House." The Dickens Picture-Book. The Charles Dickens Library Edition. London: Educational Book, 1910. XVII, 366-97.
Vann, J. Don. "Bleak House, twenty parts in nineteen monthly instalments, October 1846—April 1848." Victorian Novels in Serial. New York: The Modern Language Association, 1985. 69-70.
---
Created 5 March 2021