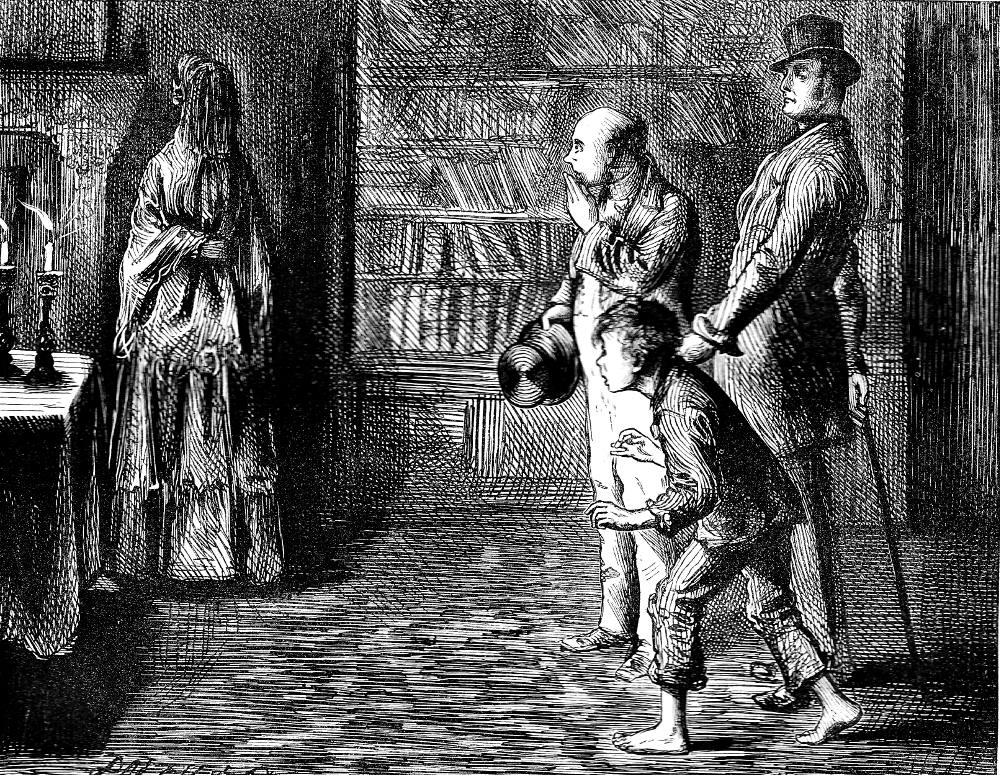 "There she is!" cries Jo. — twenty-second illustration by Fred Barnard in the Household Edition (1873). 10.5 cm high by 13.7 cm wide (4 ¼ by 5 ½ inches), framed, p. 149. Chapter 22. Running head: "Mademoiselle Hortense" (159). [Click on the images to enlarge them.]
Passage Illustrated: Bucket tests the validity of Jo's story about the Lady
Howbeit, they come at last into the hall, where a lamp is burning, and so into Mr. Tulkinghorn's usual room — the room where he drank his old wine to-night. He is not there, but his two old-fashioned candlesticks are, and the room is tolerably light.
Mr. Bucket, still having his professional hold of Jo and appearing to Mr. Snagsby to possess an unlimited number of eyes, makes a little way into this room, when Jo starts and stops.
"What's the matter?" says Bucket in a whisper.
"There she is!" cries Jo.
"Who!"
"The lady!"
A female figure, closely veiled, stands in the middle of the room, where the light falls upon it. It is quite still and silent. The front of the figure is towards them, but it takes no notice of their entrance and remains like a statue.
"Now, tell me," says Bucket aloud, "how you know that to be the lady."
"I know the wale," replies Jo, staring, "and the bonnet, and the gownd."
"Be quite sure of what you say, Tough," returns Bucket, narrowly observant of him. "Look again."
"I am a-looking as hard as ever I can look," says Jo with starting eyes, "and that there's the wale, the bonnet, and the gownd." [Chapter XXII, "Mr. Bucket," 158-159]
Commentary: Bucket, Joe, and the Mysterious Lady (or not)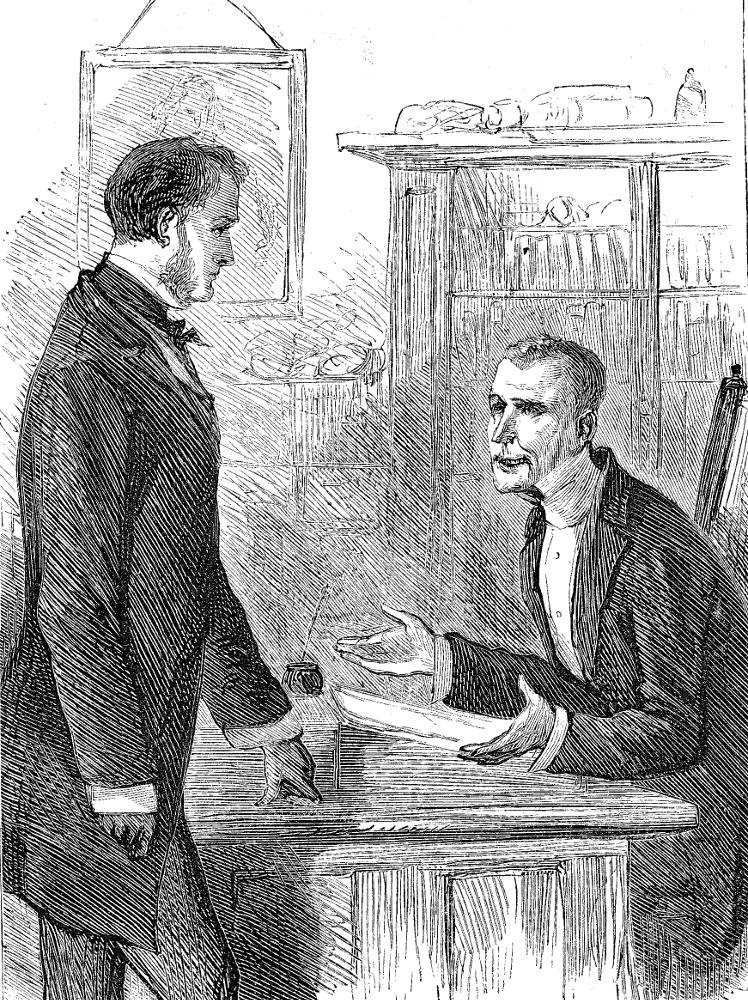 Eytinge's final illustration for the 1867 Diamond Edition: Inspector Bucket (Chapter 53).
Mr. Snagsby is dismayed to see, standing with an attentive face between himself and the lawyer at a little distance from the table, a person with a hat and stick in his hand who was not there when he himself came in and has not since entered by the door or by either of the windows. There is a press in the room, but its hinges have not creaked, nor has a step been audible upon the floor. Yet this third person stands there with his attentive face, and his hat and stick in his hands, and his hands behind him, a composed and quiet listener. He is a stoutly built, steady-looking, sharp-eyed man in black, of about the middle-age. Except that he looks at Mr. Snagsby as if he were going to take his portrait, there is nothing remarkable about him at first sight but his ghostly manner of appearing."Don't mind this gentleman," says Mr. Tulkinghorn in his quiet way. "This is only Mr. Bucket." [Chapter XXII, 154-155]
The figures who dominate the scene in Tulkinghorn's study are disguised maid, Hortense (left), and the brilliant plainclothes Scotland Yard detective Mr. Bucket. All nineteenth-century programs of illustration for Bleak House prominently feature Dickens's dogged criminal investigator, Inspector Bucket, a detective in London's Metropolitan Police charged with investigating the murder of the attorney Tulkinghorn. He is as important as Edgar Allen Poe's Surete detective C. Auguste Dupin, the forerunner of Conan Doyle's Sherlock Holmes, as he shares honours as the first professional criminal investigator in literature written in English. Dickens seems to have based the character of Detective Bucket on the real-life Scotland Yard investigator Charles Frederick Field (1805-74). The two became associates through Dickens's nocturnal tours of areas of London  known to be hotbeds of criminal activity. In Household Words in its initial year of publication Dickens described his adventures with an "Inspector Wield," a thinly-disguised version of Field, in "A Detective Party" (see Philip Collins, Dickens and Crime (204-207). Dickens may also have based the character of Inspector Bucket on Jack Whicher, one of the 'original' eight detectives set up in the Detective Branch, founded at Scotland Yard in 1842.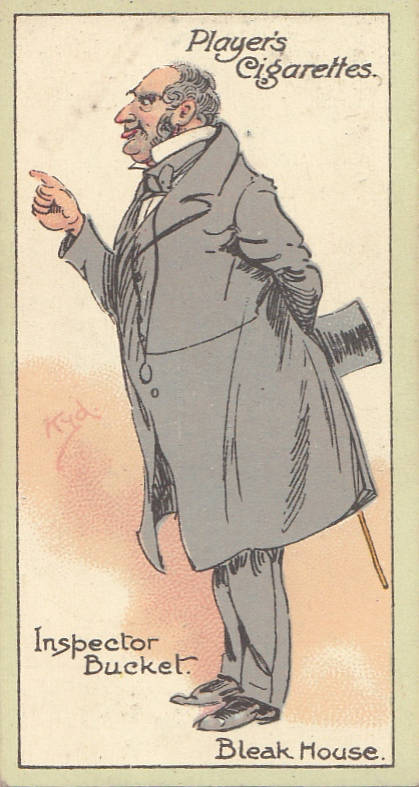 Kyd's version of the police detective in the Player's Cigarette Card series, Card No. 49: Detective Bucket (1910).
After Snagsby and Bucket have located Jo (alias "Toughy") in the unhealthy neighbourhood of Tom-all-Alone's, they bring Jo to Mr. Tulkinghorn's residence at Lincoln's Inn Fields. Although the lawyer does not appear to be present, a woman dressed exactly like the woman whom Jo guided to Nemo's resting-place is waiting in the study. This, however, by virtue of her very different hands and a lack of rings, is not the same woman, according to a confused crossing-sweeper. In fact, the lady in the veil proves to be Madamoiselle Hortense, the French maid whom Lady Dedlock has replaced with the beautiful village girl Rosa. Jo initially identifies the French maid as the woman from whom he had received the sovereigns, but upon seeing her hand Jo withdraws his assertion because the lady's hand was "deal whiter, a deal delicater, and deal smaller." All has gone exactly as Tulkinghorn and Bucket had expected.
Related Material, including Other Illustrated Editions of
Bleak House
Scanned image, colour correction, sizing, caption, and commentary by Philip V. Allingham. [You may use this image without prior permission for any scholarly or educational purpose, as long as you (1) credit the person who scanned the image, and (2) link your document to this URL in a web document or cite the Victorian Web in a print one.]
Bibliography
"Bleak House — Sixty-one Illustrations by Fred Barnard." Scenes and Characters from the Works of Charles Dickens, Being Eight Hundred and Sixty-six Drawings by Fred Barnard, Gordon Thomson, Hablot Knight Browne (Phiz), J. McL. Ralston, J. Mahoney, H. French, Charles Green, E. G. Dalziel, A. B. Frost, F. A. Fraser, and Sir Luke Fildes. London: Chapman and Hall, 1907.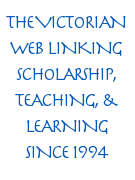 Collins, Philip. Dickens and Crime. London: Macmillan, 1964.
Davis, Paul. Charles Dickens A to Z: The Essential Reference to His Life and Work. New York: Facts On File, 1998.
Dickens, Charles. Bleak House. Illustrated by F. O. C. Darley and John Gilbert. The Works of Charles Dickens. The Household Edition. New York: Sheldon and Company, 1863. Vols. 1-4.
_______. Bleak House. Illustrated by Sol Eytinge, Jr, and engraved by A. V. S. Anthony. 14 vols. Boston: Ticknor & Fields, 1867. VI.
_______. Bleak House, with 61 illustrations by Fred Barnard. Household Edition. London: Chapman and Hall, 1873. IV.
_______. Bleak House. Illustrated by Harry Furniss [28 original lithographs]. The Charles Dickens Library Edition. Vol. 11.​ London: Educational Book, 1910.
_______. Bleak House, ed. Norman Page. Harmondsworth: Penguin, 1971.
Hammerton, J. A. "Chapter 18: Bleak House." The Dickens Picture-Book. The Charles Dickens Library Edition. London: Educational Book, 1910. XVII, 366-97.
Vann, J. Don. "Bleak House, twenty parts in nineteen monthly instalments, October 1846—April 1848." Victorian Novels in Serial. New York: The Modern Language Association, 1985. 69-70.
---
Created 7 March 2021