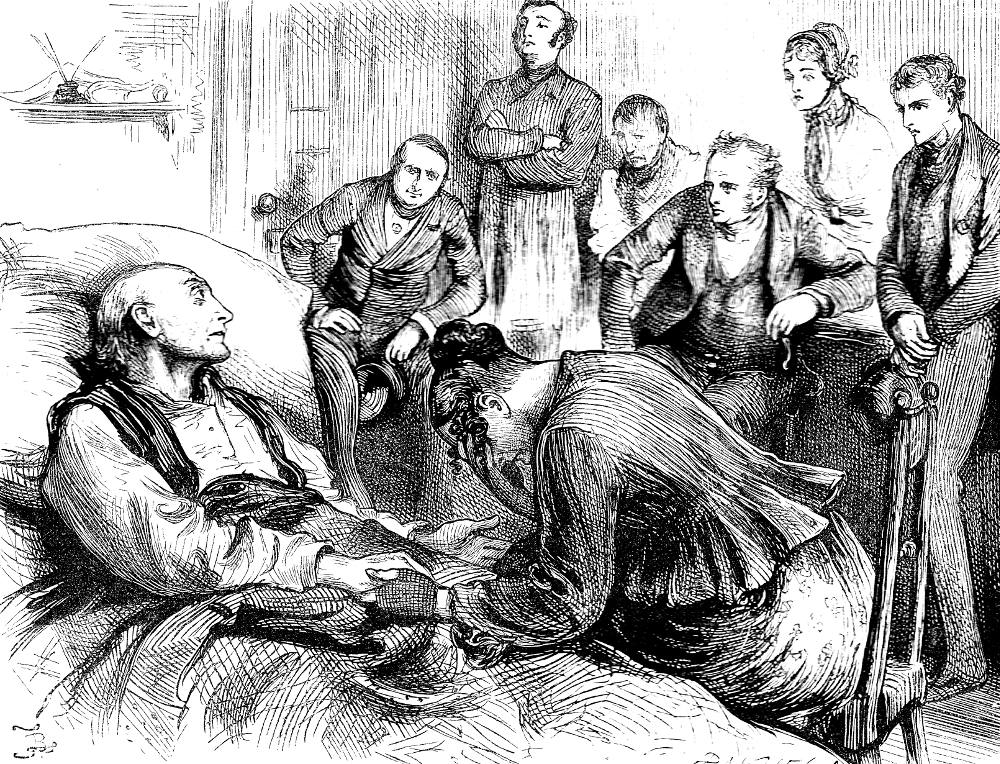 "Of all my old associations, of all my old pursuits and hopes, of all the living and the dead world, this one poor soul alone comes natural to me, and I am fit for." — twenty-fourth illustration by Fred Barnard in the Household Edition (1873). 10.7 cm high by 13.7 cm wide (4 ⅛ by 5 ½ inches), framed, p. 165. Chapter 23. Running head: "Gridley's Retreat" (177). [Click on the images to enlarge them.]
Passage Illustrated: "The Man from Shropshire" — Mr. Gridley's Dangerous Obsession
"You have been courageous with them many and many a time," returned my guardian.
"Sir, I have been," with a faint smile. "I told you what would come of it when I ceased to be so, and see here! Look at us — look at us!" He drew the hand Miss Flite held through her arm and brought her something nearer to him."
"This ends it. Of all my old associations, of all my old pursuits and hopes, of all the living and the dead world, this one poor soul alone comes natural to me, and I am fit for. There is a tie of many suffering years between us two, and it is the only tie I ever had on earth that Chancery has not broken."
"Accept my blessing, Gridley," said Miss Flite in tears. "Accept my blessing!"
"I thought, boastfully, that they never could break my heart, Mr. Jarndyce. I was resolved that they should not. I did believe that I could, and would, charge them with being the mockery they were until I died of some bodily disorder. But I am worn out. How long I have been wearing out, I don't know; I seemed to break down in an hour. I hope they may never come to hear of it. I hope everybody here will lead them to believe that I died defying them, consistently and perseveringly, as I did through so many years.
"Here Mr. Bucket, who was sitting in a corner by the door, good-naturedly offered such consolation as he could administer. [Chapter XXIV, "An Appeal Case," 177]
Commentary: A Fictional Character based on an Actual Chancery Suitor
Gridley, suffering delusions of success in Chancery like Miss Flite, suffers a fate that foreshadows Richard Carstone's mania, as all three have become obsessed with winning his Chancery suit. Unlike the others, Gridley has been found in contempt of court for his violent outbursts, and is now the subject of an arrest warrant. However, as the fugitive Gridley approaches death, he sees with stunning clarity that he has allowed the case to consume and destroy him. He dies a fugitive, hiding in the shooting gallery, and holding Miss Flite's hand. Dickens therefore implies Richard's fate through this melancholy scene.
Gridley had come as a young man from the north of England to pursue his case in Chancery. Gridley's father had left him some property, but none of it is left as Gridley has allowed his obsession with the suit to drag it out for years, bankrupting him as he has to discharge ever-mounting legal fees. His disruptions to the court's proceedings are the direct result of his frustration with the legal system. Gridley has become so embittered and out of control his anger that fears he may buy a weapon in order to murder the lawyer who opposes his case.
Gridley had spent his days attending court with Miss Flite. Otherwise, he cares for his landlord Neckett's three children, Charley, Emma, and Tom, after Neckett's death. He has been forced to go into hiding at the shooting gallery because he has threatened Mr. Tulkinghorn. The strain of his having to hide from the law his lifestyle destroys him, heaving Miss Flite heartbroken and alone.
Apparently, Dickens based Gridley on actual Chancery suitor mentioned by legal commentator William Challenger in his pamphlet entitled The Court of Chancery: its Inherent Defects as Exhibitedin its System of Procedure and Fees ( 1849).
But as it is wholesome that the parsimonious public should know what has been doing, and still is doing, in this connexion, I mention here that everything set forth in these pages concerning the Court of Chancery is substantially true, and within the truth. The case of Gridley is in no essential altered from one of actual occurrence, made public by a disinterested person who was professionally acquainted with the whole of the monstrous wrong from beginning to end. At the present moment (August, 1853) there is a suit before the court which was commenced nearly twenty years ago, in which from thirty to forty counsel have been known to appear at one time, in which costs have been incurred to the amount of seventy thousand pounds, which is a friendly suit, and which is (I am assured) no nearer to its termination now than when it was begun. There is another well-known suit in Chancery, not yet decided, which was commenced before the close of the last century and in which more than double the amount of seventy thousand pounds has been swallowed up in costs. If I wanted other authorities for JARNDYCE and JARNDYCE, I could rain them on these pages, to the shame of — a parsimonious public ["Preface," (1853) viii; (1873) v]
Related Material, including Other Illustrated Editions of
Bleak House
Scanned image, colour correction, sizing, caption, and commentary by Philip V. Allingham. [You may use this image without prior permission for any scholarly or educational purpose, as long as you (1) credit the person who scanned the image, and (2) link your document to this URL in a web document or cite the Victorian Web in a print one.]
Bibliography
"Bleak House — Sixty-one Illustrations by Fred Barnard." Scenes and Characters from the Works of Charles Dickens, Being Eight Hundred and Sixty-six Drawings by Fred Barnard, Gordon Thomson, Hablot Knight Browne (Phiz), J. McL. Ralston, J. Mahoney, H. French, Charles Green, E. G. Dalziel, A. B. Frost, F. A. Fraser, and Sir Luke Fildes. London: Chapman and Hall, 1907.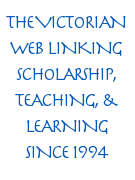 Collins, Philip. Dickens and Crime. London: Macmillan, 1964.
Davis, Paul. Charles Dickens A to Z: The Essential Reference to His Life and Work. New York: Facts On File, 1998.
Dickens, Charles. Bleak House. Illustrated by F. O. C. Darley and John Gilbert. The Works of Charles Dickens. The Household Edition. New York: Sheldon and Company, 1863. Vols. 1-4.
_______. Bleak House. Illustrated by Sol Eytinge, Jr, and engraved by A. V. S. Anthony. 14 vols. Boston: Ticknor & Fields, 1867. VI.
_______. Bleak House, with 61 illustrations by Fred Barnard. Household Edition. London: Chapman and Hall, 1873. IV.
_______. Bleak House. Illustrated by Harry Furniss [28 original lithographs]. The Charles Dickens Library Edition. Vol. 11.​ London: Educational Book, 1910.
_______. Bleak House, ed. Norman Page. Harmondsworth: Penguin, 1971.
Hammerton, J. A. "Chapter 18: Bleak House." The Dickens Picture-Book. The Charles Dickens Library Edition. London: Educational Book, 1910. XVII, 366-97.
Vann, J. Don. "Bleak House, twenty parts in nineteen monthly instalments, October 1846—April 1848." Victorian Novels in Serial. New York: The Modern Language Association, 1985. 69-70.
---
Created 8 March 2021