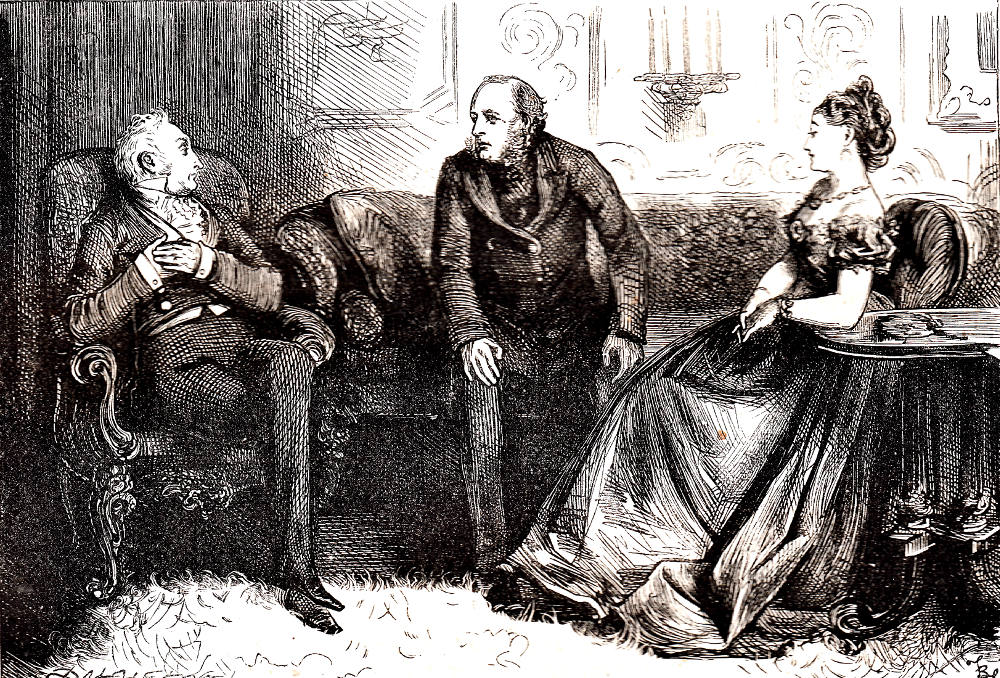 The Ironmaster — twenty-seventh illustration by Fred Barnard in the Household Edition (1873). 9.4 cm high by 13.7 cm wide (3 ¾ by 5 ½ inches), framed, p. 189. Chapter 28. Running head: "The Right Ironmaster in the Wrong Place" (199). [Click on the image to enlarge it.]
Passage Illustrated: Introducing Mrs. Rouncewell's Other Son
"She has no daughter of her own, has she?"
"Mrs. Rouncewell? No, Volumnia. She has a son. Indeed, she had two."
My Lady, whose chronic malady of boredom has been sadly aggravated by Volumnia this evening, glances wearily towards the candlesticks and heaves a noiseless sigh.
"And it is a remarkable example of the confusion into which the present age has fallen; of the obliteration of landmarks, the opening of floodgates, and the uprooting of distinctions," says Sir Leicester with stately gloom, "that I have been informed by Mr. Tulkinghorn that Mrs. Rouncewell's son has been invited to go into Parliament."
Miss Volumnia utters a little sharp scream.
"Yes, indeed," repeats Sir Leicester. "Into Parliament."
"I never heard of such a thing! Good gracious, what is the man?" exclaims Volumnia.
"He is called, I believe — an — ironmaster." Sir Leicester says it slowly and with gravity and doubt, as not being sure but that he is called a lead-mistress or that the right word may be some other word expressive of some other relationship to some other metal.
Volumnia utters another little scream. . . . .
Miss Volumnia with a third little scream takes flight, wishing her hosts — O Lud! — well rid of the — what is it? — ironmaster!
The other cousins soon disperse, to the last cousin there. Sir Leicester rings the bell, "Make my compliments to Mr. Rouncewell, in the housekeeper's apartments, and say I can receive him now."
My Lady, who has heard all this with slight attention outwardly, looks towards Mr. Rouncewell as he comes in. He is a little over fifty perhaps, of a good figure, like his mother, and has a clear voice, a broad forehead from which his dark hair has retired, and a shrewd though open face. He is a responsible-looking gentleman dressed in black, portly enough, but strong and active. Has a perfectly natural and easy air and is not in the least embarrassed by the great presence into which he comes.
"Sir Leicester and Lady Dedlock, as I have already apologized for intruding on you, I cannot do better than be very brief. I thank you, Sir Leicester." [Chapter XXVIII, "The Ironmaster," 197-198]
Commentary: Mrs. Rouncewell's son invited to go into Parliament
Barnard makes his illustration applicable to a number of passages, all of them involving the housekeeper's other son, an enterprising engineer who has achieved some considerable commercial and social success in the north of England. The family attorney Tulkinghorn (centre), Sir Leicester (right), Volumnia Dedlock, a poor, distant relation who eventually becomes Sir Leicester's sole companion in the great house after Lady Dedlock's death, discuss the fact that this new man of the Industrial Revolution has been invited by his fellow industrialists to take the riding nomination for a seat in The House of Commons, cementing his success with political office, much to the dismay of the class-conscious Volumnia.
In Chapter 28, the Ironmaster himself confronts the Dedlocks about the relationship between his son, Watt, and Lady Dedlock's maid, Rosa, from the village nearby. The Ironmaster expresses his determination to remove Rosa from Chesney Wold in order to educate her to be a fit wife for his son. Sir Leicester is shocked that Rouncewell does not value Rosa's training as a servant or her connection to the Dedlock estate. As far as the aristocrat is concerned, such radical sentiments reflect how the whole fabric of society and the distinctions between the classes are deteriorating as a mere industrialist from a factory town in the north of England will take a seat in the Commons.
Related Material, including Other Illustrated Editions of
Bleak House
Scanned image, colour correction, sizing, caption, and commentary by Philip V. Allingham. [You may use this image without prior permission for any scholarly or educational purpose, as long as you (1) credit the person who scanned the image, and (2) link your document to this URL in a web document or cite the Victorian Web in a print one.]
Bibliography
"Bleak House — Sixty-one Illustrations by Fred Barnard." Scenes and Characters from the Works of Charles Dickens, Being Eight Hundred and Sixty-six Drawings by Fred Barnard, Gordon Thomson, Hablot Knight Browne (Phiz), J. McL. Ralston, J. Mahoney, H. French, Charles Green, E. G. Dalziel, A. B. Frost, F. A. Fraser, and Sir Luke Fildes. London: Chapman and Hall, 1907.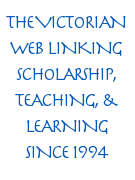 Collins, Philip. Dickens and Crime. London: Macmillan, 1964.
Davis, Paul. Charles Dickens A to Z: The Essential Reference to His Life and Work. New York: Facts On File, 1998.
Dickens, Charles. Bleak House. Illustrated by F. O. C. Darley and John Gilbert. The Works of Charles Dickens. The Household Edition. New York: Sheldon and Company, 1863. Vols. 1-4.
_______. Bleak House. Illustrated by Sol Eytinge, Jr, and engraved by A. V. S. Anthony. 14 vols. Boston: Ticknor & Fields, 1867. VI.
_______. Bleak House, with 61 illustrations by Fred Barnard. Household Edition. London: Chapman and Hall, 1873. IV.
_______. Bleak House. Illustrated by Harry Furniss [28 original lithographs]. The Charles Dickens Library Edition. Vol. 11.​ London: Educational Book, 1910.
_______. Bleak House, ed. Norman Page. Harmondsworth: Penguin, 1971.
Hammerton, J. A. "Chapter 18: Bleak House." The Dickens Picture-Book. The Charles Dickens Library Edition. London: Educational Book, 1910. XVII, 366-97.
Vann, J. Don. "Bleak House, twenty parts in nineteen monthly instalments, October 1846—April 1848." Victorian Novels in Serial. New York: The Modern Language Association, 1985. 69-70.
---
Created 10 March 2021