And he shivered in the window-seat with Charley standing by him, like some wounded animal that had been found in a ditch — thirty-first illustration by Fred Barnard in the Household Edition (1873). 10.7 cm high by 13.8 cm wide (4 ¼ by 5 ⅜ inches), framed, p. 213. Chapter 31. Running head: "Two of Them, or Three of Them!" (217). [Click on the image to enlarge it.]
Passage Illustrated: Jo unwittingly spreads the Contagion to Bleak House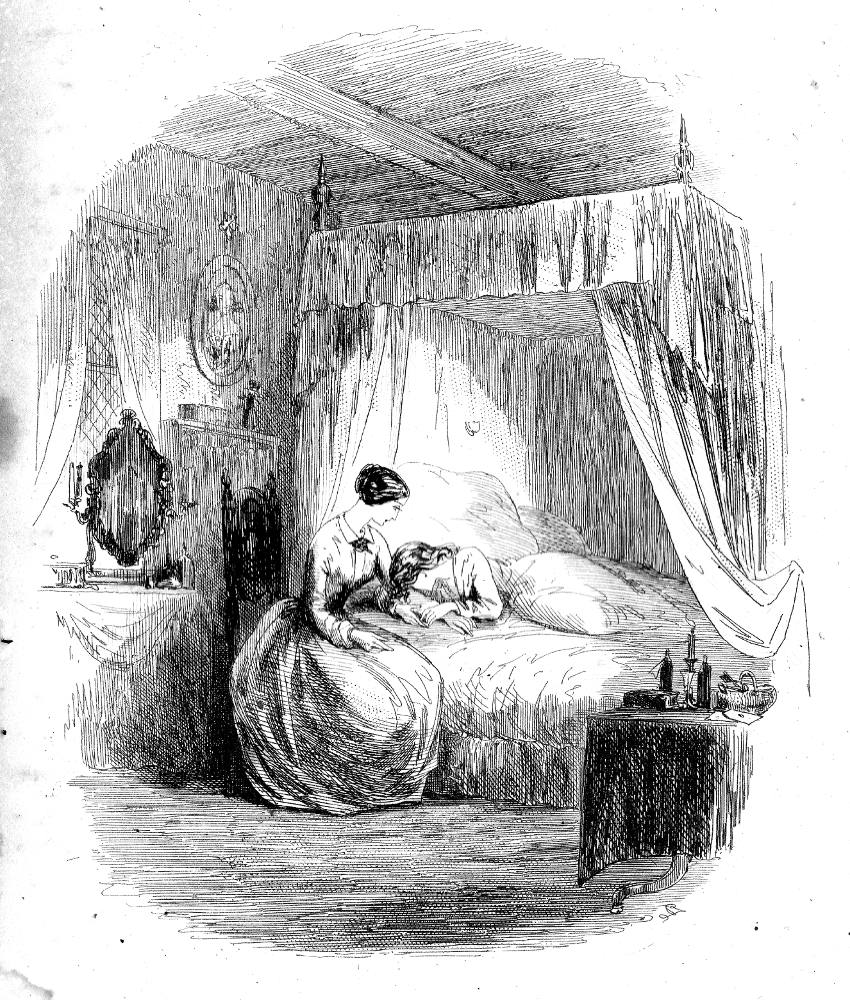 Phiz's original serial illustration for chapter 31: Nurse and Patient (Deceember 1852), showing the consequences of Jo's visiting Bleak House.
Leaving him in the hall for a moment, shrunk into the corner of the  window-seat and staring with an indifference that scarcely could be called wonder at the comfort and brightness about him, I went into the drawing-room to speak to my guardian. There I found Mr. Skimpole, who had come down by the coach, as he frequently did without notice, and never bringing any clothes with him, but always borrowing everything he wanted.
They came out with me directly to look at the boy. The servants had gathered in the hall too, and he shivered in the window-seat with Charley standing by him, like some wounded animal that had been found in a ditch.
"This is a sorrowful case," said my guardian after asking him a question or two and touching him and examining his eyes. "What do you say, Harold?"
"You had better turn him out," said Mr. Skimpole.
"What do you mean?" inquired my guardian, almost sternly.
"My dear Jarndyce," said Mr. Skimpole, "you know what I am: I am a child. Be cross to me if I deserve it. But I have a constitutional objection to this sort of thing. I always had, when I was a medical man. He's not safe, you know. There's a very bad sort of fever about him."
Mr. Skimpole had retreated from the hall to the drawing-room again and said this in his airy way, seated on the music-stool as we stood by.
"You'll say it's childish," observed Mr. Skimpole, looking gaily at us. "Well, I dare say it may be; but I AM a child, and I never pretend to be anything else. If you put him out in the road, you only put him where he was before. He will be no worse off than he was, you know. Even make him better off, if you like. Give him sixpence, or five shillings, or five pound ten — you are arithmeticians, and I am not — and get rid of him!"
"And what is he to do then?" asked my guardian.
"Upon my life," said Mr. Skimpole, shrugging his shoulders with his engaging smile, "I have not the least idea what he is to do then. But I have no doubt he'll do it."
"Now, is it not a horrible reflection," said my guardian, to whom I had hastily  explained the unavailing efforts of the two women, "is it not a horrible reflection,"  walking up and down and rumpling his hair, "that if this wretched creature were a  convicted prisoner, his hospital would be wide open to him, and he would be as well taken care of as any sick boy in the kingdom?"
"My dear Jarndyce," returned Mr. Skimpole, "you'll pardon the simplicity of the  question, coming as it does from a creature who is perfectly simple in worldly matters, but why isn't he a prisoner then?"
My guardian stopped and looked at him with a whimsical mixture of amusement and indignation in his face.
"Our young friend is not to be suspected of any delicacy, I should imagine," said Mr. Skimpole, unabashed and candid. "It seems to me that it would be wiser, as well as in a certain kind of way more respectable, if he showed some misdirected energy that got him into prison. There would be more of an adventurous spirit in it, and consequently more of a certain sort of poetry." [Chapter XXXI, "Nurse and Patient," 217-218]
Commentary: Jo enters Bleak House, much to Skimpole's Dismay
Ironically Esther's sense of compassion leads to her coming down with  smallpox, which her servant Charley contracts from tending Jo, the crossing-sweeper. The dialogue in the scene prepares readers for the revelation that Esther Summerson is, in fact, Esther Hawdon, Honoria Dedlock's child out of wedlock, for Jo here in his delirium  notes the physical similarity between Esther and the lady whom he guided through  Tom-all-Alone's to Nemo's grave.
Other​ Illustrations involving Jo, 1852-1910
​
​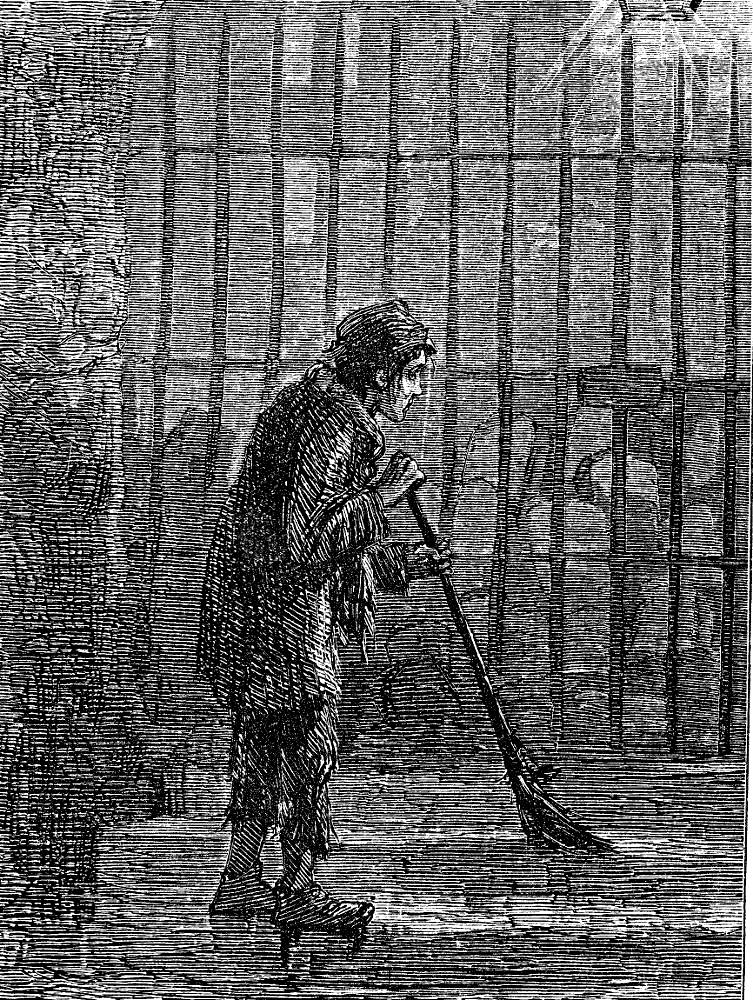 ​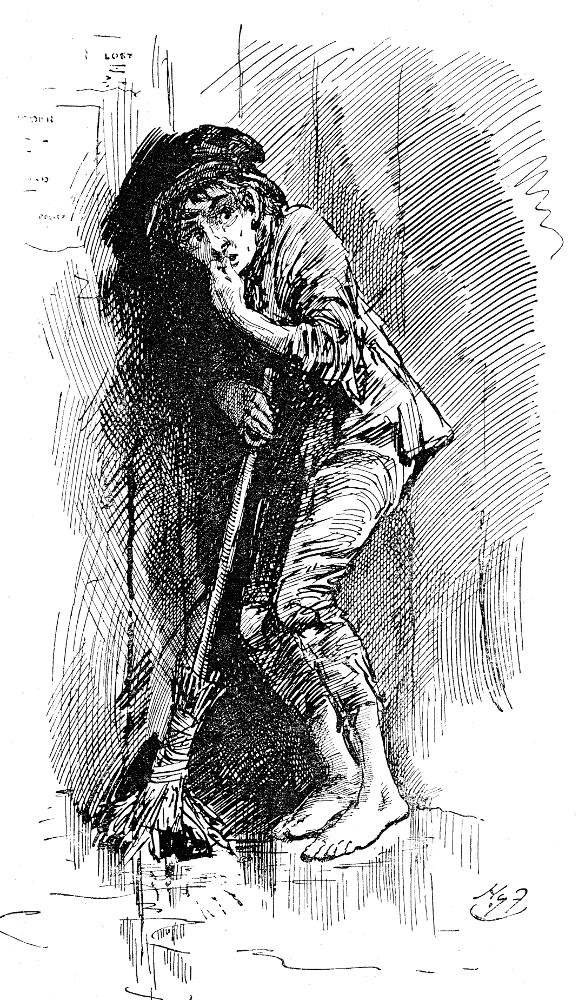 Left: Barnard's study of Jo on London Bridge serves as the frontispiece for the 1873 Household Edition volume. Centre: Sol Eytinge, Jr.'s 1867 Diamond Edition of Joe at work outside Tom-all-Alone's: Jo. Right: Harry Furniss's 1910 Charles Dickens Library Edition full-page lithograph of the urchin as a crossing-sweeper: Jo.
Left: Kyd's Player's Cigarette Card No. 50, Jo the Crossing-Sweeper (1910). Centre and right: Phiz's original illustration involving Jo: Engraved Title-page (September 1853). Centre, for the engraved title-page, Phiz's Joe, the Crossing-sweeper (September 1953). Right, for the original serial, Phiz provided this portrait of Lady Dedlock, disguised, being guided through Tom-all-Alone's to Nemo's resting-place in Consecrated Ground (July 1852).
Related Material, including Other Illustrated Editions of
Bleak House
Scanned image, colour correction, sizing, caption, and commentary by Philip V. Allingham. [You may use this image without prior permission for any scholarly or educational purpose, as long as you (1) credit the person who scanned the image, and (2) link your document to this URL in a web document or cite the Victorian Web in a print one.]
Bibliography
"Bleak House — Sixty-one Illustrations by Fred Barnard." Scenes and Characters from the Works of Charles Dickens, Being Eight Hundred and Sixty-six Drawings by Fred Barnard, Gordon Thomson, Hablot Knight Browne (Phiz), J. McL. Ralston, J. Mahoney, H. French, Charles Green, E. G. Dalziel, A. B. Frost, F. A. Fraser, and Sir Luke Fildes. London: Chapman and Hall, 1907.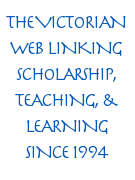 Collins, Philip. Dickens and Crime. London: Macmillan, 1964.
Davis, Paul. Charles Dickens A to Z: The Essential Reference to His Life and Work. New York: Facts On File, 1998.
Dickens, Charles. Bleak House. Illustrated by F. O. C. Darley and John Gilbert. The Works of Charles Dickens. The Household Edition. New York: Sheldon and Company, 1863. Vols. 1-4.
_______. Bleak House. Illustrated by Sol Eytinge, Jr, and engraved by A. V. S. Anthony. 14 vols. Boston: Ticknor & Fields, 1867. VI.
_______. Bleak House, with 61 illustrations by Fred Barnard. Household Edition. London: Chapman and Hall, 1873. IV.
_______. Bleak House. Illustrated by Harry Furniss [28 original lithographs]. The Charles Dickens Library Edition. Vol. 11.​ London: Educational Book, 1910.
_______. Bleak House, ed. Norman Page. Harmondsworth: Penguin, 1971.
Hammerton, J. A. "Chapter 18: Bleak House." The Dickens Picture-Book. The Charles Dickens Library Edition. London: Educational Book, 1910. XVII, 366-97.
Vann, J. Don. "Bleak House, twenty parts in nineteen monthly instalments, October 1846—April 1848." Victorian Novels in Serial. New York: The Modern Language Association, 1985. 69-70.
---
Created 13 March 2021