"Esther, dear," she said very quietly, "I am not going home again." — forty-eighth illustration by Fred Barnard in the Household Edition (1873). 10.7 cm high by 13.6 cm wide (3 3/16 by 5 ⅜ inches), framed, p. 341. Chapter 51. Running head: "Richard and Ada Married" (349). [Click on the image to enlarge it.]
Passage Illustrated: Ada and Richard have married
"Sometimes I hope, my dear,and sometimes I — don't quite despair, but nearly. I get," said Richard, relinquishing my hand gently and walking across the room, "so tired!"
He took a few turns up and down and sunk upon the sofa. "I get," he repeated gloomily, "so tired. It is such weary, weary work!"
He was leaning on his arm saying these words in a meditative voice and looking at the ground when my darling rose, put off her bonnet, kneeled down beside him with her golden hair falling like sunlight on his head, clasped her two arms round his neck, and turned her face to me. Oh, what a loving and devoted face I saw!
"Esther, dear," she said very quietly, "I am not going home again."
A light shone in upon me all at once.
"Never any more. I am going to stay with my dear husband. We have been married above two months. Go home without me, my own Esther;I shall never go home any more!" With those words my darling drew his head down on her breast and held it there. And if ever in my life I saw a love that nothing but death could change, I saw it then before me. [Chapter LI, "Enlightened," 349]
Other​ Illustrations​ of Ada and Richard revealing their secret, 1873 and 1910
​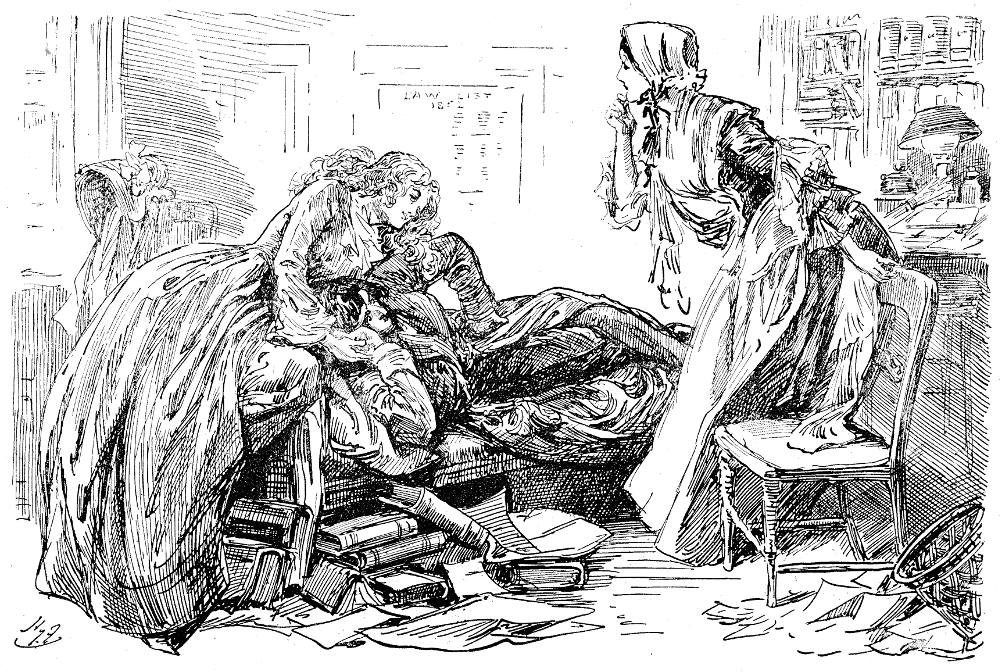 ​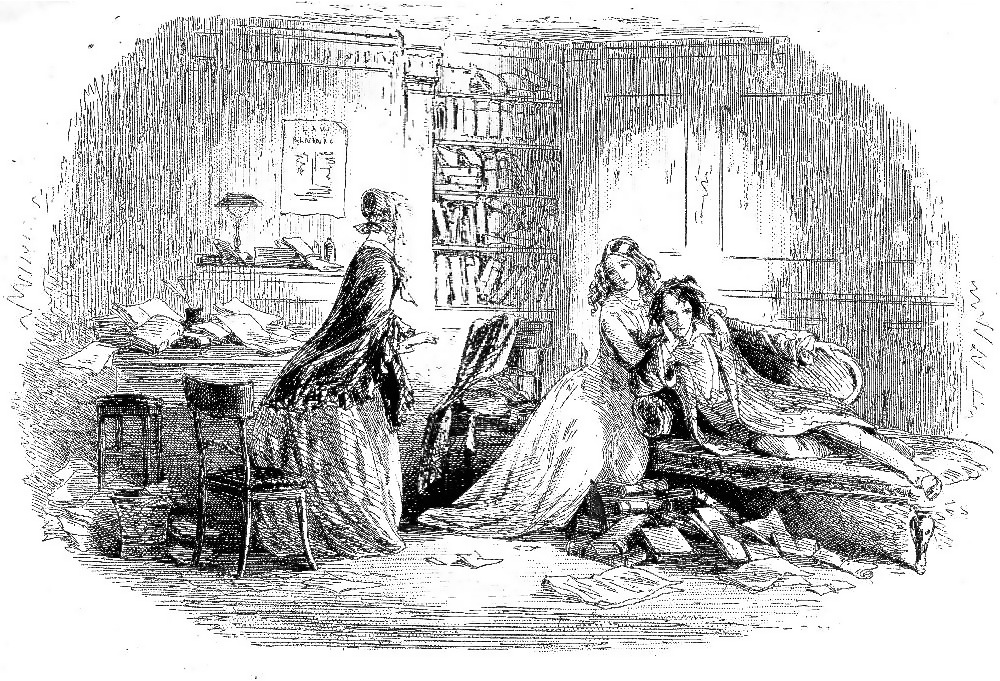 Left: Harry Furniss's study of the three friends shows Richard much contorted: Richard and Ada Married (1910). Right: Phiz's original serial engraving features a dissolute Richard: Light (June 1853).
Related Material, including Other Illustrated Editions of
Bleak House
Scanned image, colour correction, sizing, caption, and commentary by Philip V. Allingham. [You may use this image without prior permission for any scholarly or educational purpose, as long as you (1) credit the person who scanned the image, and (2) link your document to this URL in a web document or cite the Victorian Web in a print one.]
Bibliography
"Bleak House — Sixty-one Illustrations by Fred Barnard." Scenes and Characters from the Works of Charles Dickens, Being Eight Hundred and Sixty-six Drawings by Fred Barnard, Gordon Thomson, Hablot Knight Browne (Phiz), J. McL. Ralston, J. Mahoney, H. French, Charles Green, E. G. Dalziel, A. B. Frost, F. A. Fraser, and Sir Luke Fildes. London: Chapman and Hall, 1907.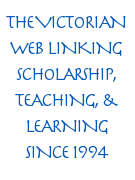 Collins, Philip. Dickens and Crime. London: Macmillan, 1964.
Davis, Paul. Charles Dickens A to Z: The Essential Reference to His Life and Work. New York: Facts On File, 1998.
Dickens, Charles. Bleak House. Illustrated by F. O. C. Darley and John Gilbert. The Works of Charles Dickens. The Household Edition. New York: Sheldon and Company, 1863. Vols. 1-4.
_______. Bleak House. Illustrated by Sol Eytinge, Jr, and engraved by A. V. S. Anthony. 14 vols. Boston: Ticknor & Fields, 1867. VI.
_______. Bleak House, with 61 illustrations by Fred Barnard. Household Edition. London: Chapman and Hall, 1873. IV.
_______. Bleak House. Illustrated by Harry Furniss [28 original lithographs]. The Charles Dickens Library Edition. Vol. 11.​ London: Educational Book, 1910.
_______. Bleak House, ed. Norman Page. Harmondsworth: Penguin, 1971.
Hammerton, J. A. "Chapter 18: Bleak House." The Dickens Picture-Book. The Charles Dickens Library Edition. London: Educational Book, 1910. XVII, 366-97.
Vann, J. Don. "Bleak House, twenty parts in nineteen monthly instalments, October 1846—April 1848." Victorian Novels in Serial. New York: The Modern Language Association, 1985. 69-70.
---
Created 19 March 2021