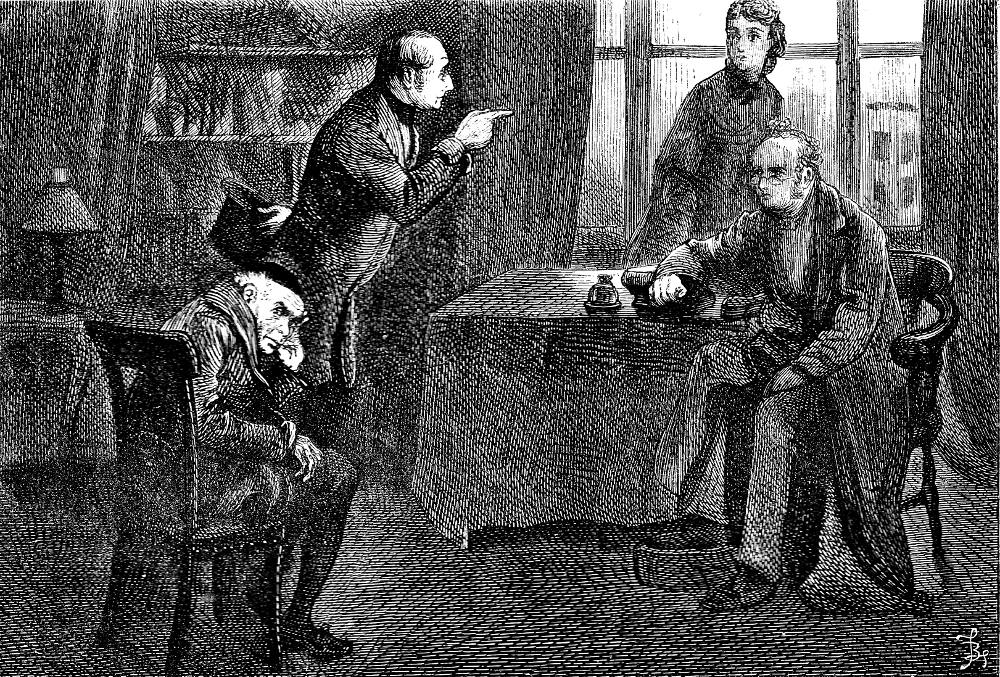 "To which? Say that again," said Mr. Smallweed, in a shrill, sharp voice." — fifty-seventh illustration by Fred Barnard in the Household Edition (1873). 10.7 cm high by 13.9 cm wide (4 ¼ by 5 ½ inches), framed, p. 420. Chapter 62. Running head: "Mr. Smallweed Produces a Paper" (421). [Click on the image to enlarge it.]
Passage Illustrated: Another Discovery
The cunning of Mr. Bucket's eye and the masterly manner in which he contrived, without a look or a word against which his watchful auditor could protest, to let us know that he stated the case according to previous agreement and could say much more of Mr. Smallweed if he thought it advisable, deprived us of any merit in quite understanding him. His difficulty was increased by Mr. Smallweed's being deaf as well as suspicious and watching his face with the closest attention.
"Among them odd heaps of old papers, this gentleman, when he comes into the property, naturally begins to rummage, don't you see?" said Mr. Bucket.
"To which? Say that again," cried Mr. Smallweed in a shrill, sharp voice.
"To rummage," repeated Mr. Bucket. "Being a prudent man and accustomed to take care of your own affairs, you begin to rummage among the papers as you have come into; don't you?"
"Of course I do," cried Mr. Smallweed.
"Of course you do," said Mr. Bucket conversationally, "and much to blame you would be if you didn't. And so you chance to find, you know," Mr. Bucket went on, stooping over him with an air of cheerful raillery which Mr. Smallweed by no means reciprocated, "and so you chance to find, you know, a paper with the signature of Jarndyce to it. Don't you?"
Mr. Smallweed glanced with a troubled eye at us and grudgingly nodded assent. [Chapter LXII, "Another Discovery," 420]
Commentary: Another Will Discovered
Scouring Krook's stock of legal papers, Grandfather Smallweed (instantly recognizable by virtue of his skullcap) has discovered a more recent will that reduces John Jarndyce's share of the estate, and seems to give more to Richard and Ada Carstone. If the will proves legitimate and supersedes previous wills on file in Chancery, Smallweed believes it bears great value, and of course will attempt to exploit the its monetary potential by approaching the principals in the Jarndyce v. Jarndyce Chancery suit. This find appears to be a "game-changer" for Richard Carstone, but again appearances are deceptive.
This latest will, singed on the outside, bears witness to its once having been thrown on a fire and then hastily retrieved. When Jarndyce takes it to his attorney, Kenge, at Lincoln's Inn Fields, he learns that this document will prove pivotal when the case finally goes to Chancery in the next month, and that it will advance the claims of Richard Carstone and Ada Clare. Summoned to Kenge's offices,Summoned to Kenge's chambers, Carstone's predatory attorney, Vholes, confirms his colleague's interpretation:
At first [Kenge] had not seemed to attach much importance to the paper, but when he saw it he appeared more interested, and when he had opened and read a little of it through his eye-glass, he became amazed. "Mr. Jarndyce," he said, looking off it, "you have perused this?"
"Not I!" returned my guardian.
"But, my dear sir," said Mr. Kenge, "it is a will of later date than any in the suit. It appears to be all in the testator's handwriting. It is duly executed and attested. And even if intended to be cancelled, as might possibly be supposed to be denoted by these marks of fire, it is not cancelled. Here it is, a perfect instrument!" [Chapter LXII, "Another Discovery," 422]
Related Material, including Other Illustrated Editions of
Bleak House
Scanned image, colour correction, sizing, caption, and commentary by Philip V. Allingham. [You may use this image without prior permission for any scholarly or educational purpose, as long as you (1) credit the person who scanned the image, and (2) link your document to this URL in a web document or cite the Victorian Web in a print one.]
Bibliography
"Bleak House — Sixty-one Illustrations by Fred Barnard." Scenes and Characters from the Works of Charles Dickens, Being Eight Hundred and Sixty-six Drawings by Fred Barnard, Gordon Thomson, Hablot Knight Browne (Phiz), J. McL. Ralston, J. Mahoney, H. French, Charles Green, E. G. Dalziel, A. B. Frost, F. A. Fraser, and Sir Luke Fildes. London: Chapman and Hall, 1907.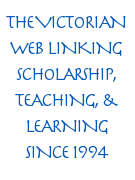 Collins, Philip. Dickens and Crime. London: Macmillan, 1964.
Davis, Paul. Charles Dickens A to Z: The Essential Reference to His Life and Work. New York: Facts On File, 1998.
Dickens, Charles. Bleak House. Illustrated by F. O. C. Darley and John Gilbert. The Works of Charles Dickens. The Household Edition. New York: Sheldon and Company, 1863. Vols. 1-4.
_______. Bleak House. Illustrated by Sol Eytinge, Jr, and engraved by A. V. S. Anthony. 14 vols. Boston: Ticknor & Fields, 1867. VI.
_______. Bleak House, with 61 illustrations by Fred Barnard. Household Edition. London: Chapman and Hall, 1873. IV.
_______. Bleak House. Illustrated by Harry Furniss [28 original lithographs]. The Charles Dickens Library Edition. Vol. 11.​ London: Educational Book, 1910.
_______. Bleak House, ed. Norman Page. Harmondsworth: Penguin, 1971.
Hammerton, J. A. "Chapter 18: Bleak House." The Dickens Picture-Book. The Charles Dickens Library Edition. London: Educational Book, 1910. XVII, 366-97.
Vann, J. Don. "Bleak House, twenty parts in nineteen monthly instalments, October 1846—April 1848." Victorian Novels in Serial. New York: The Modern Language Association, 1985. 69-70.
---
Created 28 March 2021