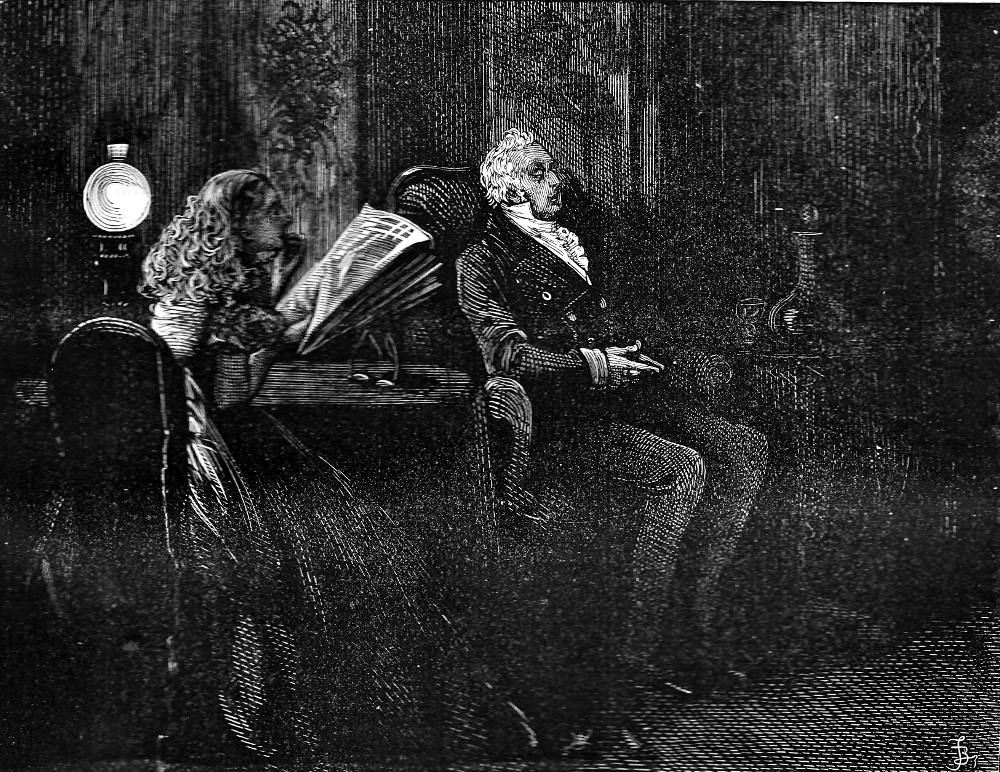 Volumnia's Devotion to Sir Leicester — sixty-first illustration by Fred Barnard in the Household Edition (1873). 10.6 cm high by 13.9 cm wide (4 ¼ by 5 ½ inches), framed, p. 436. Chapter 66. Running head: "The Old Girl" (193). [Click on the image to enlarge it.]
Passage Illustrated: Sir Leicester's Final Days
The greater part of the house is shut up, and it is a show-house no longer; yet Sir Leicester holds his shrunken state in the long drawing-room for all that, and reposes in his old place before my Lady's picture. Closed in by night with broad screens, and illumined only in that part, the light of the drawing-room seems gradually contracting and dwindling until it shall be no more. A little more, in truth, and it will be all extinguished for Sir Leicester; and the damp door in the mausoleum which shuts so tight, and looks so obdurate, will have opened and received him.
Volumnia, growing with the flight of time pinker as to the red in her face, and yellower as to the white, reads to Sir Leicester in the long evenings and is driven to various artifices to conceal her yawns, of which the chief and most efficacious is the insertion of the pearl necklace between her rosy lips. Long-winded treatises on the Buffy and Boodle question, showing how Buffy is immaculate and Boodle villainous, and how the country is lost by being all Boodle and no Buffy, or saved by being all Buffy and no Boodle (it must be one of the two, and cannot be anything else), are the staple of her reading. Sir Leicester is not particular what it is and does not appear to follow it very closely, further than that he always comes broad awake the moment Volumnia ventures to leave off, and sonorously repeating her last words, begs with some displeasure to know if she finds herself fatigued. However, Volumnia, in the course of her bird-like hopping about and pecking at papers, has alighted on a memorandum concerning herself in the event of "anything happening" to her kinsman, which is handsome compensation for an extensive course of reading and holds even the dragon Boredom at bay. [Chapter LXVI, "Down in Lincolnshire," 437]
Commentary: The Dark House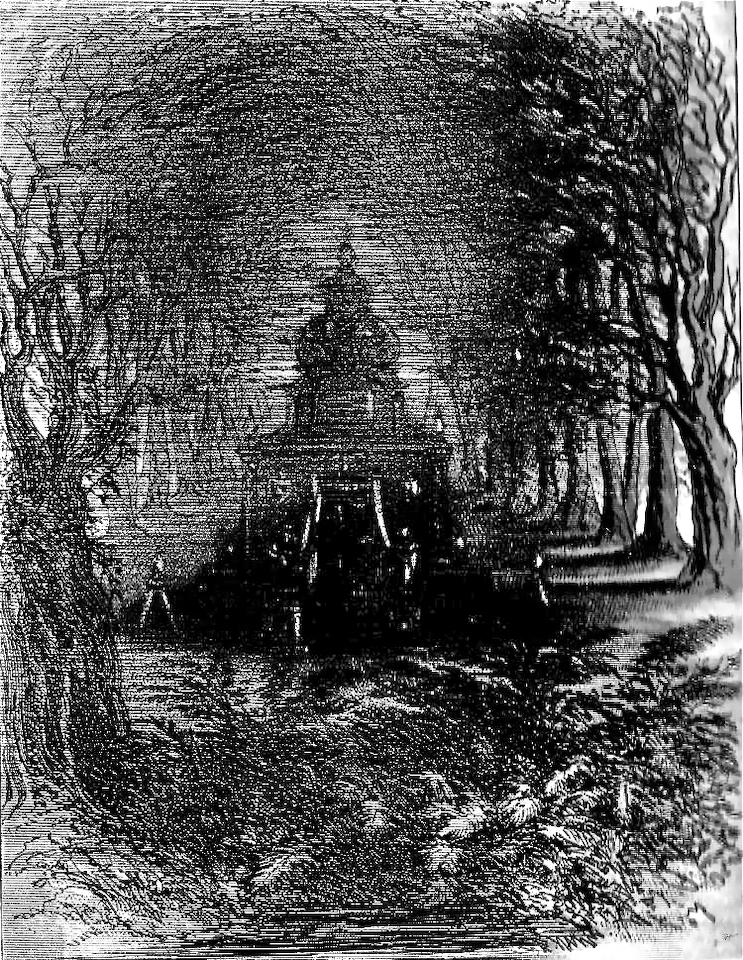 Right: Phiz's majestic concluding dark plate in the final double-number maintains the novel's sombre mood: The Mausoleum at Chesney Wold (September 1853).
The sycophantal Volumnia Dedlock, a poor relation and hanger-on of the great Sir Leicester throughout the story, is not merely the housekeeper; after the death of Lady Dedlock she becomes his only companion and connection to the world outside the Lincolnshire estate. Barnard has employed the dark plate to comment not merely on the darkness of the house, but on Sir Leicester's social isolation. All that he has left to cling to are memories of Lady Dedlock, whose magnificent resting-place on the estate he often visits on horseback.
Related Material, including Other Illustrated Editions of
Bleak House
Scanned image, colour correction, sizing, caption, and commentary by Philip V. Allingham. [You may use this image without prior permission for any scholarly or educational purpose, as long as you (1) credit the person who scanned the image, and (2) link your document to this URL in a web document or cite the Victorian Web in a print one.]
Bibliography
"Bleak House — Sixty-one Illustrations by Fred Barnard." Scenes and Characters from the Works of Charles Dickens, Being Eight Hundred and Sixty-six Drawings by Fred Barnard, Gordon Thomson, Hablot Knight Browne (Phiz), J. McL. Ralston, J. Mahoney, H. French, Charles Green, E. G. Dalziel, A. B. Frost, F. A. Fraser, and Sir Luke Fildes. London: Chapman and Hall, 1907.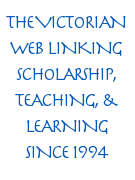 Collins, Philip. Dickens and Crime. London: Macmillan, 1964.
Davis, Paul. Charles Dickens A to Z: The Essential Reference to His Life and Work. New York: Facts On File, 1998.
Dickens, Charles. Bleak House. Illustrated by F. O. C. Darley and John Gilbert. The Works of Charles Dickens. The Household Edition. New York: Sheldon and Company, 1863. Vols. 1-4.
_______. Bleak House. Illustrated by Sol Eytinge, Jr, and engraved by A. V. S. Anthony. 14 vols. Boston: Ticknor & Fields, 1867. VI.
_______. Bleak House, with 61 illustrations by Fred Barnard. Household Edition. London: Chapman and Hall, 1873. IV.
_______. Bleak House. Illustrated by Harry Furniss [28 original lithographs]. The Charles Dickens Library Edition. Vol. 11.​ London: Educational Book, 1910.
_______. Bleak House, ed. Norman Page. Harmondsworth: Penguin, 1971.
Hammerton, J. A. "Chapter 18: Bleak House." The Dickens Picture-Book. The Charles Dickens Library Edition. London: Educational Book, 1910. XVII, 366-97.
Vann, J. Don. "Bleak House, twenty parts in nineteen monthly instalments, October 1846—April 1848." Victorian Novels in Serial. New York: The Modern Language Association, 1985. 69-70.
---
Created 8 March 2021