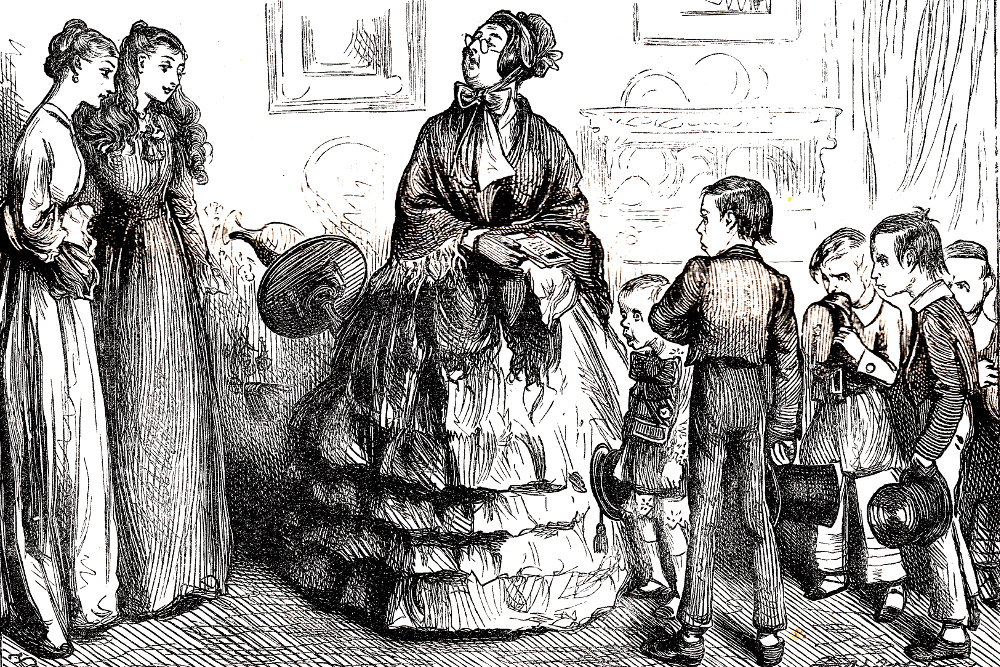 "Alfred, my youngest (five), has voluntarily enrolled himself in the Infant Bands of Joy, and is pledged never, through life, to use tobacco in any form." Ninth illustration by Fred Barnard in the Household Edition (1873). 9.4 x 13.7 cm (3 ¾ by 5 ⅜ inches), framed, p. 45. Chapter 8. Running head: "Company to see the House." [Click on the images to enlarge them.]
Passage Illustrated: Another Philanthropic Mother
We were therefore curious to see Mrs. Pardiggle, suspecting her to be a type of the former class, and were glad when she called one day with her five young sons.
She was a formidable style of lady with spectacles, a prominent nose, and a loud voice, who had the effect of wanting a great deal of room. And she really did, for she knocked down little chairs with her skirts that were quite a great way off. As only Ada and I were at home, we received her timidly, for she seemed to come in like cold weather and to make the little Pardiggles blue as they followed.
"They attend matins with me (very prettily done) at half-past six o'clock in the morning all the year round, including of course the depth of winter," said Mrs. Pardiggle rapidly, "and they are with me during the revolving duties of the day. I am a School lady, I am a Visiting lady, I am a Reading lady, I am a Distributing lady; I am on the local Linen Box Committee and many general committees; and my canvassing alone is very extensive — perhaps no one's more so. But they are my companions everywhere; and by these means they acquire that knowledge of the poor, and that capacity of doing charitable business in general — in short, that taste for the sort of thing — which will render them in after life a service to their neighbours and a satisfaction to themselves. My young family are not frivolous; they expend the entire amount of their allowance in subscriptions, under my direction; and they have attended as many public meetings and listened to as many lectures, orations, and discussions as generally fall to the lot of few grown people. Alfred (five), who, as I mentioned, has of his own election joined the Infant Bonds of Joy, was one of the very few children who manifested consciousness on that occasion after a fervid address of two hours from the chairman of the evening."
Alfred glowered at us as if he never could, or would, forgive the injury of that night. [Chapter VIII, "Covering a Multitude of Sins," 51]
Commentary: Evangelical Philanthropy
Barnard has elected to offer a second illustration for the eighth chapter, depicting a minor character that Phiz in the original serial illustrations never touched upon: the evangelical Mrs. Pardiggle, another philanthropist of the Mrs. Jellyby ilk. She remains at best a minor character, and Dickens's introducing her seems to serve no purpose other than to satirize the Oxford Movement. She is the self-important spouse of O. A. Pardiggle, Fellow of the Royal Society, and mother of five joyless children. As an exponent of the High Church, the substantial matron compels these depressed offspring (aptly named after early English saints) to attend frequent church services, and thereby robs them of play time and the opportunity to socialize with other children. She takes Esther and Richard with her to visit the family of an unemployed brickmaker who is the object of her good works.
Related Material, including Other Illustrated Editions of
Bleak House
Scanned image, colour correction, sizing, caption, and commentary by Philip V. Allingham. [You may use this image without prior permission for any scholarly or educational purpose, as long as you (1) credit the person who scanned the image, and (2) link your document to this URL in a web document or cite the Victorian Web in a print one.]
Bibliography
"Bleak House — Sixty-one Illustrations by Fred Barnard." Scenes and Characters from the Works of Charles Dickens, Being Eight Hundred and Sixty-six Drawings by Fred Barnard, Gordon Thomson, Hablot Knight Browne (Phiz), J. McL. Ralston, J. Mahoney, H. French, Charles Green, E. G. Dalziel, A. B. Frost, F. A. Fraser, and Sir Luke Fildes. London: Chapman and Hall, 1907.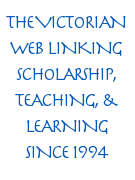 Davis, Paul. Charles Dickens A to Z: The Essential Reference to His Life and Work. New York: Facts On File, 1998.
Dickens, Charles. Bleak House. Illustrated by F. O. C. Darley and John Gilbert. The Works of Charles Dickens. The Household Edition. New York: Sheldon and Company, 1863. Vols. 1-4.
_______. Bleak House. Illustrated by Sol Eytinge, Jr, and engraved by A. V. S. Anthony. 14 vols. Boston: Ticknor & Fields, 1867. VI.
_______. Bleak House, with 61 illustrations by Fred Barnard. Household Edition. London: Chapman and Hall, 1873. IV.
_______. Bleak House. Illustrated by Harry Furniss [28 original lithographs]. The Charles Dickens Library Edition. Vol. 11.​ London: Educational Book, 1910.
_______. Bleak House, ed. Norman Page. Harmondsworth: Penguin, 1971.
Hammerton, J. A. "Chapter 18: Bleak House." The Dickens Picture-Book. The Charles Dickens Library Edition. London: Educational Book, 1910. XVII, 366-97.
Vann, J. Don. "Bleak House, twenty parts in nineteen monthly instalments, October 1846—April 1848." Victorian Novels in Serial. New York: The Modern Language Association, 1985. 69-70.
---
Created 27 February 2021