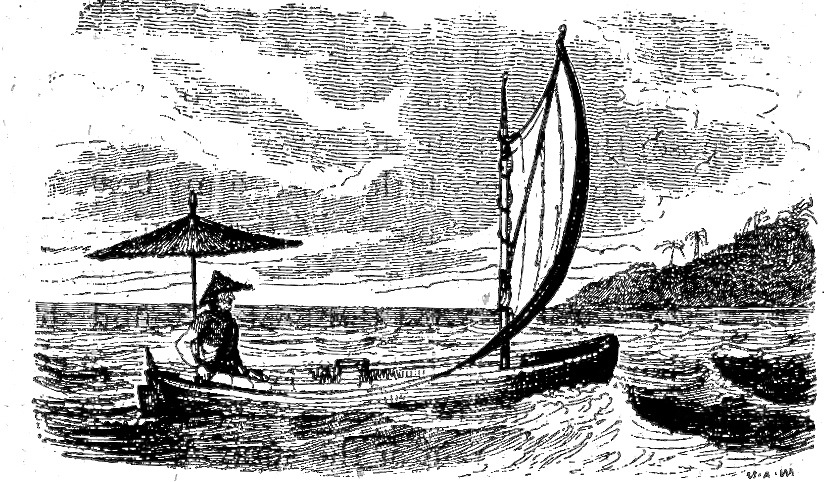 Crusoe circumnavigating the island by George Cruikshank as the realisation in vignette of the culmination of protagonist's attempts to get himself off the island in John Major's edition of The Life and Surprising Adventures of Robinson Crusoe (1831). Vignette: 4 cm high by 6.5 cm wide, p. 130. [Click on the image to enlarge it.]
Scanned image and text by Philip V. Allingham. [You may use this image without prior permission for any scholarly or educational purpose as long as you (1) credit the person who scanned the image and (2) link your document to this URL in a web document or cite the Victorian Web in a print one.]
The Passage Illustrated: Circumnavigating the Island
However, though my little periagua was finished, yet the size of it was not at all answerable to the design which I had in view when I made the first; I mean of venturing over to the terra firma, where it was above forty miles broad; accordingly, the smallness of my boat assisted to put an end to that design, and now I thought no more of it. As I had a boat, my next design was to make a cruise round the island; for as I had been on the other side in one place, crossing, as I have already described it, over the land, so the discoveries I made in that little journey made me very eager to see other parts of the coast; and now I had a boat, I thought of nothing but sailing round the island.
For this purpose, that I might do everything with discretion and consideration, I fitted up a little mast in my boat, and made a sail too out of some of the pieces of the ship's sails which lay in store, and of which I had a great stock by me. Having fitted my mast and sail, and tried the boat, I found she would sail very well; then I made little lockers or boxes at each end of my boat, to put provisions, necessaries, ammunition, &c., into, to be kept dry, either from rain or the spray of the sea; and a little, long, hollow place I cut in the inside of the boat, where I could lay my gun, making a flap to hang down over it to keep it dry.
I fixed my umbrella also in the step at the stern, like a mast, to stand over my head, and keep the heat of the sun off me, like an awning; and thus I every now and then took a little voyage upon the sea, but never went far out, nor far from the little creek. At last, being eager to view the circumference of my little kingdom, I resolved upon my cruise; and accordingly I victualled my ship for the voyage, putting in two dozen of loaves (cakes I should call them) of barley-bread, an earthen pot full of parched rice (a food I ate a good deal of), a little bottle of rum, half a goat, and powder and shot for killing more, and two large watch-coats, of those which, as I mentioned before, I had saved out of the seamen's chests; these I took, one to lie upon, and the other to cover me in the night.
It was the 6th of November, in the sixth year of my reign, or my captivity, which you please, that I set out on this voyage, and I found it much longer than I expected; for though the island itself was not very large, yet when I came to the east side of it, I found a great ledge of rocks lie out about two leagues into the sea, some above water, some under it; and beyond that a shoal of sand, lying dry half a league more, so that I was obliged to go a great way out to sea to double the point.​ [Chapter X, "Tames Goats," p. 119-121]
Commentary: Working towards a Solution to a Practical Problem
Unlike Stothard, Cruikshank has chosen to illustrate Crusoe's initial attempt at boat-building, which proved a failure simply because he had chosen entirely the wrong place to construct the vessel. Only after it was ready to launch does he discover that he cannot move so great a weight through the jungle and down to the waterline. His third major attempt, illustrated by Stothard, proves far more successful because he addresses the problem of location and, with Friday's advice, chooses a more suitable species of tree with which to construct the hollowed-out canoe. Jean-Jacques Rousseau held up the novel and its resilient protagonist as examples of practical knowledge; however, determined though he may be to find a solution, Crusoe remains a complete amateur at every practical problem he attempts to solve through ingenuity, common sense, and trial-and-error. His motto might well be "If it works, it's good." The present illustration therefore also references the following passage:
I had one labour, to make a canoe, which at last I finished: so that, by digging a canal to it of six feet wide and four feet deep, I brought it into the creek, almost half a mile. As for the first, which was so vastly big, for I made it without considering beforehand, as I ought to have done, how I should be able to launch it, so, never being able to bring it into the water, or bring the water to it, I was obliged to let it lie where it was as a memorandum to teach me to be wiser the next time: indeed, the next time, though I could not get a tree proper for it, and was in a place where I could not get the water to it at any less distance than, as I have said, near half a mile, yet, as I saw it was practicable at last, I never gave it over; and though I was near two years about it, yet I never grudged my labour, in hopes of having a boat to go off to sea at last. [pp. 128-29]
Related Materials
Relevant Scenes from Stothard (1790), Cruikshank (1831), and Cassell (1863-64)
Left: Stothard's 1790 realisation of the formerly solitary protagonist now working alongside the ultimate "practical human being," the Noble Savage, Friday: Robinson Crusoe and Friday making a boat. (Chapter XVI, "Rescue of the Prisoners from the Cannibals," copper-engraving). Centre: Cruikshank's study of Crusoe's failed attempt at boat-construction, Crusoe builds a large dugout canoe. Right: The parallel scene from the Cassell's Illustrated edition, Crusoe makes a Boat (1863) [Click on the images to enlarge them.]
Bibliography
Defoe, Daniel. The Life and Surprising Adventures of Robinson Crusoe, of York, Mariner, with introductory verses by Bernard Barton, and illustrated with numerous engravings from drawings by George Cruikshank expressly designed for this edition. 2 vols. London: Printed at the Shakespeare Press, by W. Nichol, for John Major, Fleet Street, 1831.
De Foe, Daniel. The Life and Adventures of Robinson Crusoe, Written by Himself. Illustrated by Gilbert, Cruikshank, and Brown. London: Darton and Hodge, 1867?].
Defoe, Daniel. The Life and Surprising Adventures of Robinson Crusoe of York, Mariner. (1831). Illustrated by George Cruikshank. Major's Edition. London: Chatto & Windus, 1890.
Patten, Robert L. "Phase 2: "'The Finest Things, Next to Rembrandt's,' 1720–1835." Chapter 20, "Thumbnail Designs." George Cruikshank's Life, Times, and Art, vol. 1: 1792-1835. Rutgers, NJ: Rutgers U. P., 1992; London: The Lutterworth Press, 1992. Pp. 325-339.
---
Last modified 22 February 2018