The Portrait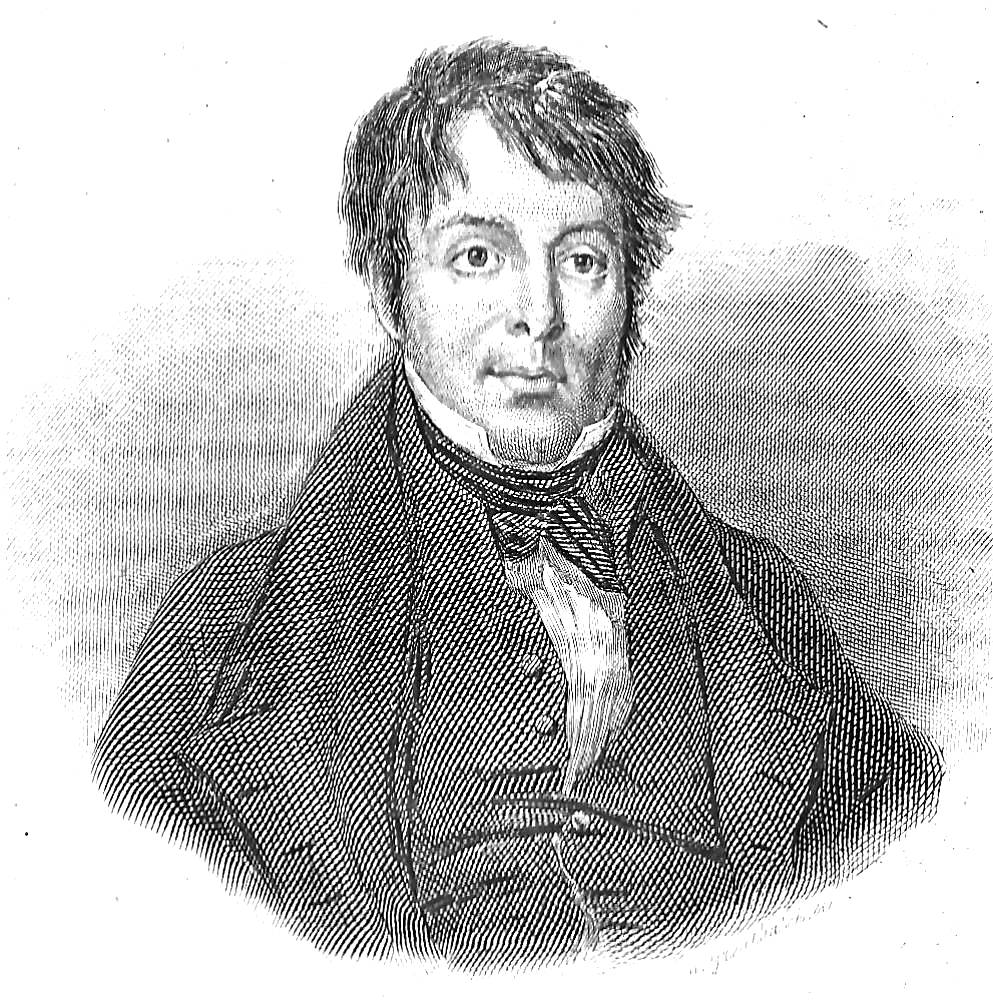 This etched portrait of Joseph ('Joey') Grimaldi (1779-1837), which appears as the frontispiece of the famous entertainers's memoirs (1838), went though several visual mediums: Granger photographed an engraved portrait by William Greatbatch, which is based on a painting by Samuel Raven, a Birmingham portrait-painter (1775–1847), who was also responsible for the portrait of William Harrison Ainsworth in the first volume of Jack Sheppard (1839).
William Greatbach (1792-1878), Engraver and Illustrator
The artist is associated with some forty portraits of the early and mid-nineteenth century. William Greatbatch or Greatbach had a long career as a portrait and figure engraver, providing, in particular, lavish illustrations for the gift annuals that became popular from the 1820s onwards. He was first published in James's Naval History (1822) and went on to contribute to The Amulet (1828, 1831), The Anniversary (1829), S. C. Hall's Book of Gems (1836), Finden's Royal Gallery of British Art (1841), and Hall's Gems of European Art (1846). From 1849, he engraved regularly for The Art Journal, mostly rendering genre subjects by contemporary painters. He is best known for his engraving of William Salter's The Waterloo Banquet at Aspley House (1839). Greatbach was made an honorary member of the Academy of St. Petersburg, and joined the Artists' Annuity Fund in 1827.
Bentley, Dickens, and the
Memoirs
Bentley, whose Miscellany Dickens was editing at the time . . .​ , purchased the manuscript autobiography from T. Egerton Wilk, who had made an unsuccessful attempt to edit it for publication, and commissioned Dickens to re-edit it. Mere hack work, the Memoirs were poorly received.
According to Paul Schlicke,
Joey Grimaldi, the greatest of pantomime clowns, was almost single-handedly responsible for developing the satirical potential of pantomime in its heyday, 1800-30, at a time when it was 'the only effective means of satire to hold the stage' (Mayer 1969). Dickens had fond memories of seeing Grimaldi perform. . . . He 'set great store' by the 'Introductory Chapter', containing reminiscences of his youthful love of clowns, and the concluding chapter, which described Grimaldi's death and assessed his character (to Bentley, 21 February 1838). [374]
Grimaldi is now considered England's greatest clown — indeed, so effective was his impersonation of the embodiment of misrule throughout the United Kingdom that his name became synonymous with the character: "Joey." At his death, the job of editing his Memoirs or anecdotal autobiography fell to the up-and-coming novelist Charles Dickens, who had been one of his most devoted admirers. The two-volume Memoirs of Joseph Grimaldi appeared under the imprint of Dickens's second publisher, Richard Bentley, in two volumes, in 1838. Grimaldi initially sketched it out and gave it to T. Egerton Wilk, who worked it up before selling it to the London publisher Richard Bentley, proprietor of Bentley's Miscellany, edited initially by Charles Dickens. It is not surprising, then, that Bentley contracted Charles Dickens in his editorial "Boz" persona to prepare the manuscript for publication, polishing and refining it. Besides doing some editing, Dickens wrote the introductory and at least some of the final chapter. The two-volume set was first published in 1838 with ten Cruikshank copper-engravings by Richard Bentley, in octavo, with an engraved portrait of the great clown by William Greatbatch that is based on a painting Samuel Raven, a Birmingham portrait-painter (1775–1847).
Relevant passage in the Introduction by Charles Dickens (late 1837 or early 1838)
We feel again all the pride of standing in a body on the platform, the observed of all observers in the crowd below, while the junior usher pays away twenty-four ninepences to a stout gentleman under a Gothic arch, with a hoop of variegated lamps swinging over his head. Again we catch a glimpse (too brief, alas!) of the lady with a green parasol in her hand, on the outside stage of the next show but one, who supports herself on one foot, on the back of a majestic horse, blotting-paper coloured and white; and once again our eyes open wide with wonder, and our hearts throb with emotion, as we deliver our card-board check into the very hands of the Harlequin himself, who, all glittering with spangles, and dazzling with many colours, deigns to give us a word of encouragement and commendation as we pass into the booth!
But what was this​— even this — to the glories of the inside, where, amid the smell of saw-dust, and orange-peel, sweeter far than violets to youthful noses, the first play being over, the lovers united, the ghost appeased, the baron killed, and everything made comfortable and pleasant, — the pantomime itself began! What words can describe the deep gloom of the opening scene, where a crafty magician holding a young lady in bondage was discovered, studying an enchanted book to the soft music of a gong! —​or in what terms can we express the thrill of ecstasy with which, his magic power opposed by superior art, we beheld the monster himself converted into Clown! What mattered it that the stage was three yards wide, and four deep? we never saw it. We had no eyes, ears, or corporeal senses, but for the pantomime. And when its short career was run, and the baron previously slaughtered, coming forward with his hand upon his heart, announced that for that favour Mr. Richardson returned his most sincere thanks, and the performances would commence again in a quarter of an hour, what jest could equal the effects of the Baron's indignation and surprise, when the Clown, unexpectedly peeping from behind the curtain, requested the audience "not to believe it, for it was all gammon!" Who but a Clown could have called forth the roar of laughter that succeeded; and what witchery but a Clown's could have caused the junior usher himself to declare aloud, as he shook his sides and smote his knee in a moment of irrepressible joy, that that was the very best thing he had ever heard said!
We have lost that clown now; —​he is still alive, though, for we saw him only the day before last Bartholomew Fair, eating a real saveloy, and we are sorry to say he had deserted to the illegitimate drama, for he was seated on one of "Clark's Circus" waggons: —​we have lost that Clown and that pantomime, but our relish for the entertainment still remains unimpaired. — Charles Dickens, "Introductory Chapter," vi-vii.
Related Materials
Scanned image and text by Philip V. Allingham. [You may use these images without prior permission for any scholarly or educational purpose as long as you (1) credit the photographer and (2) link your document to this URL in a web document or cite the Victorian Web in a print one.]
Bibliography
Ackroyd, Peter. Dickens: A Biography. London: Sinclair-Stevenson, 1990.
Ainsworth, William Harrison. Jack Sheppard. A Romance. With 28 illustrations by George Cruikshank. In three volumes. London: Richard Bentley, 1839.
Bentley, Nicholas, Michael Slater, and Nina Burgis. The Dickens: Index. Oxfiord: Oxford U. P., 1990.
Cohen, Jane Rabb. Part One, "Dickens and His Early Illustrators: 1. George Cruikshank. Charles Dickens and His Original Illustrators. Columbus: Ohio University Press, 1980. Pp. 15-38.
Grimaldi, Joseph, and Charles Dickens. Memoirs of Joseph Grimaldi, Edited By 'Boz'. With ten illustrations by George Cruikshank. London: George Routledge and Sons. The Broadway, Ludgate. New York: 416, Broome Street, 1869.
Kitton, Frederic G. "George Cruikshank." Dickens and His Illustrators. London: Chapman & Hall, 1899. Pp. 1-28.
Kitton, Frederic G. The Minor Writings of Charles Dickens: A Bibliography and a Sketch. London: Elliot Stock, 1900.
Schlicke, Paul. "Memoirs of Joseph Grimaldi. Oxford Reader's Companion to Dickens. Oxford: Oxford U. P., 1999. P. 374.
Slater, Michael. Charles Dickens: A Life Defined by Writing. New Haven and London: Yale U. P., 2009.
---
Last modified 3 July 2017