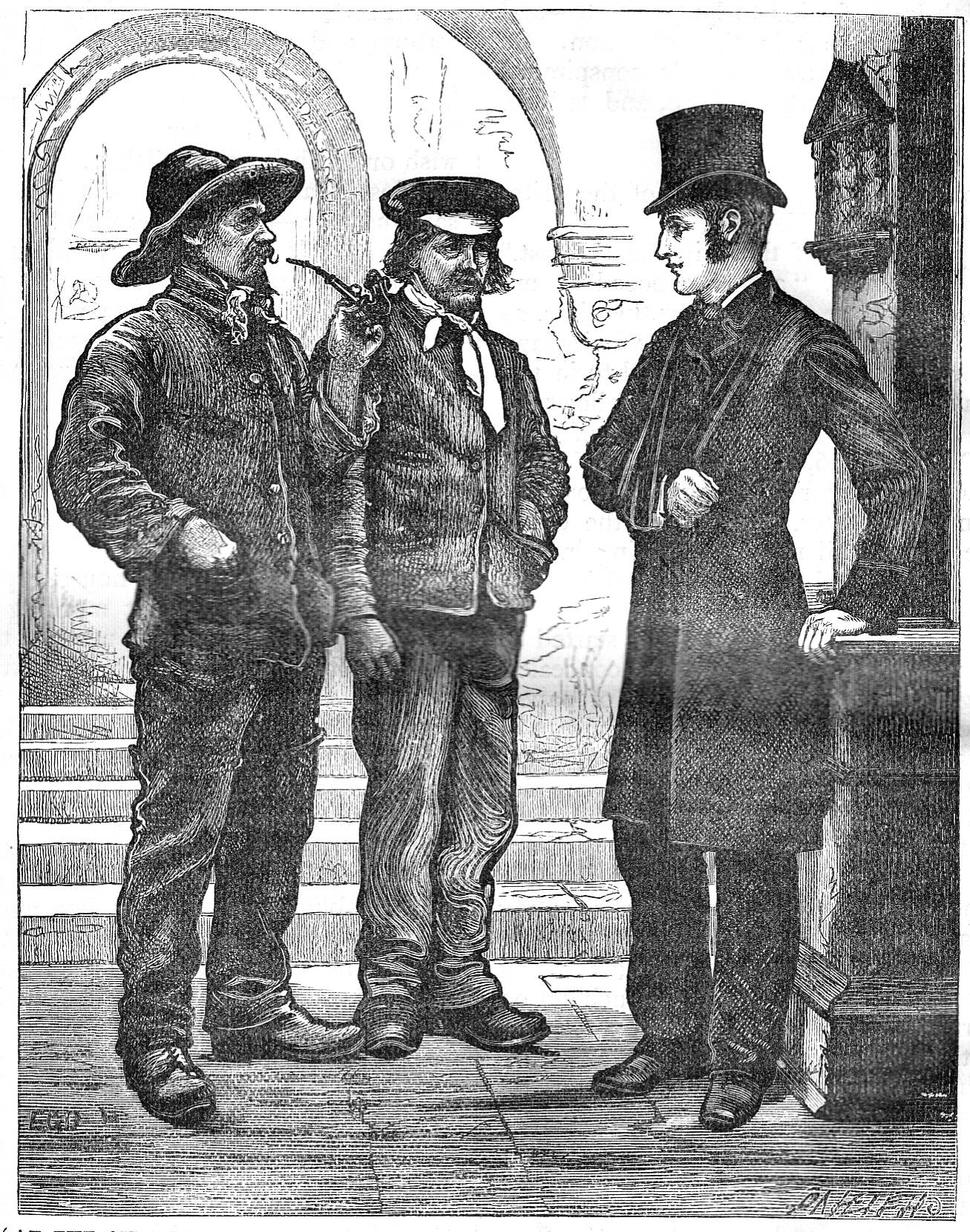 "At the side door of the church, are the same two men from the hospice."
Edward G. Dalziel
Wood engraving
13.7 cm high by 10.7 cm wide, framed.
Dickens's "No Thoroughfare," in Christmas Stories (1877), p. 276.
Scanned image and text by Philip V. Allingham
[You may use this image without prior permission for any scholarly or educational purpose as long as you (1) credit the person who scanned the image and (2) link your document to this URL in a web document or cite the Victorian Web in a print one.]
Passage Illustrated
"I, too!" says Bintrey. "And now, Monsieur Voigt, let you and me be two men of Marseilles, and allons, marchons, arm-in-arm!"
They go down to the door, where others are waiting for them, and they go quietly to the church, and the happy marriage takes place. While the ceremony is yet in progress, the notary is called out. When it is finished, he has returned, is standing behind Vendale, and touches him on the shoulder.
"Go to the side door, one moment, Monsieur Vendale. Alone. Leave Madame to me."
At the side door of the church, are the same two men from the Hospice. They are snow-stained and travel-worn. They wish him joy, and then each lays his broad hand upon Vendale's breast, and one says in a low voice, while the other steadfastly regards him:
"It is here, Monsieur. Your litter. The very same."
"My litter is here? Why?"
"Hush! For the sake of Madame. Your companion of that day —"
"What of him?"
The man looks at his comrade, and his comrade takes him up. Each keeps his hand laid earnestly on Vendale's breast.
"He had been living at the first Refuge, monsieur, for some days. The weather was now good, now bad."
"Yes?"
"He arrived at our Hospice the day before yesterday, and, having refreshed himself with sleep on the floor before the fire, wrapped in his cloak, was resolute to go on, before dark, to the next Hospice. He had a great fear of that part of the way, and thought it would be worse to-morrow."
"Yes?"
"He went on alone. He had passed the gallery when an avalanche — like that which fell behind you near the Bridge of the Ganther —
"Killed him?"
"We dug him out, suffocated and broken all to pieces! But, monsieur, as to Madame. We have brought him here on the litter, to be buried. We must ascend the street outside. Madame must not see. It would be an accursed thing to bring the litter through the arch across the street, until Madame has passed through. As you descend, we who accompany the litter will set it down on the stones of the street the second to the right, and will stand before it. But do not let Madame turn her head towards the street the second to the right. There is no time to lose. Madame will be alarmed by your absence. Adieu!" [Act III, "The Curtain Falls," page 277]
Relevant Illustrated Library Edition (1868) and Charles Dickens Library Edition (1910) Illustrations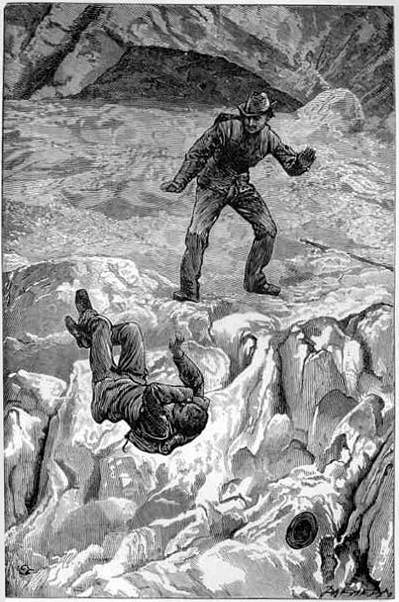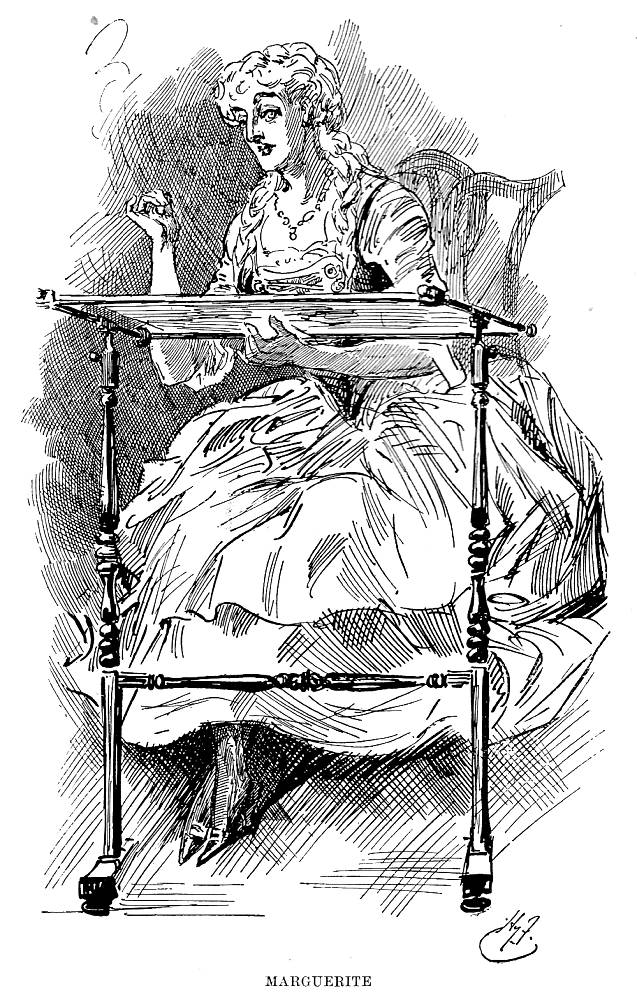 Left: Charles Green's dramatic illustration of the struggle in the Alpine vastness, "No Thoroughfare" (1868). Right: Harry Furniss's "Marguerite" (1910). [Click on images to enlarge them.]
Commentary
The 1876 Harper and Brothers edition of Christmas Books, illustrated by E. A. Abbey, does not contain the 1867 novella. However, Edward Dalziel's series of illustrations for the Chapman and Hall volume, issued the year following, does contain a full-page illustration and four three-quarter-page wood-engravings for No Thoroughfare, all of which focus on the characters and use the settings as mere backdrops to the action. In Dalziel's sequence, Obenreizer appears twice, but Vendale in each of the four embedded wood-engravings, a ratio indicating clearly whom Dalziel regarded as the story's most important characters, although he quite naturally begins with representations of attorney Bintrey and his client, Wilding. Oddly enough, however, Dalziel never once depicts the story's heroine, even though she is instrumental in rescuing Vendale after his fall from the Simplon Pass. Like Harry Furniss, British Household Edition illustrator E. G. Dalziel (1817-1905) has devoted a number of illustrations to the novella, but in his visual sequence introduces neither the heroic Marguerite nor her crusty chaperon, Madame Dor, Obenreizer's Swiss housekeeper. These omissions are significant as they downplay the active roles which these significant female characters play in the story. Admittedly, Furniss characterizes Marguerite in a domestic context, working at embroidery in Marguerite earlier in the story, but at least her presence among the four illustrations in the narrative-pictorial program for the 1910 Charles Dickens Library volume signals her importance in the plot. If one were not aware of her role in Vendale's rescue, one might judge that the sturdy mountaineers (looking more like mariners) in Dalziel's final illustration were the agents of Vendale's rescue, and that, arm in a sling, he is now thanking them. Reading the accompanying text results in the apprehension of a very different scenario in this fifth and final illustration for the miniature Sensation Novel:
In act 4, Dickens transforms the female mountaineer into a submissive bride, dependent on her husband. While Dickens's "Overture" and his portions of act I are marked by the absence or incapacity of father figures, his final chapter endows a maimed Vendale with new strength. Called out from the church in Brieg soon after his wedding ceremony, Vendale learns from the Swiss guides that Obenreizer has been killed by an avalanche and protects his bride from the sight of the mangled corpse. Although Marguerite exhibits the bravery and skill of a mountaineer before her marriage and takes action at a time when her squeamish male companions do not, she is now the delicate bride who "must not see" (232) what the men around her observe. "Do not look round, my darling, for a reason that I have," her husband tells her when they leave the church, "turn[ing] his head" to view what she cannot (233). Accepting Vendaie's protection, Marguerite asks no awkward questions but simply does what her husband says, going where he leads her, although "unconscious why" (230).
Having lost one male partner and been betrayed by another, Vendale forms a different kind of union at the conclusion of "No Thoroughfare," one generally relegated to the margins of the collaborative stories and represented as second best. Nonetheless, Vendale's marriage to Marguerite selves its purpose, defusing the threat of female autonomy and devaluing the relation between mother and child. "I don't wish to deprive Madame Dor of her share in the embraces that are going on" (231), Mr. Bintrey asserts as the wedding party prepares to go to church, yet it is clear that Vendale's marriage will do just that. With her hands "clasped round the neck of the bride" (231), the maternal surrogate is forced to relinquish her daughter and recognize the claims of "true love" over the "natural claim" (135) of a mother to her children. With the defeat of the mother — a surrogate at best — Dickens brings his narrative to an end. [Nayder, 156]
The final Dalziel illustration, then, may be taken as an expression of gender solidarity, as the married Vendale recognizes the legitimacy of the mountaineers' concerns about middle-class female sensibility, despite the fact that his own experience of Marguerite ought to suggest to him that she is made of sterner stuff. By marrying him, Marguerite has entered the English upper-middle class, and must therefore subscribe to its principles of appropriate womanly conduct and attitudes. Dalziel depicts Vendale in conventional upper-middle class garb once again, as when first introduced — tailcoat and top-hat — to mark his departure from his previously seen persona of amateur outdoorsman and alpine adventurer as signified by his clothing in He became roused to the knowledge that Obenreizer had set upon him, and that they were struggling desperately in the snow. The final illustration represents, then, a return to gender-based and class-based conceptions of identity as the wood-engraving complements the inset tale involving the poetic justice of Jules Obenreizer's death on the mountains — a death very similar to that he had attempted to inflict upon his gentlemanly fellow-traveller.
Bibliography
Bentley, Nicolas, Michael Slater, and Nina Burgis. The Dickens Index. Oxford and New York: Oxford U. P., 1988.
Davis, Paul. Charles Dickens A to Z: The Essential Reference to His Life and Work. New York: Facts On File, 1998.
Dickens, Charles. Christmas Books and The Uncommercial Traveller. Illustrated by Harry Furniss. Charles Dickens Library Edition. 18 vols. London: Educational Book Company, 1910. Vol. 10.
Dickens, Charles. Christmas Stories from "Household Words" and "All The Year Round". Illustrated by Townley Green, Charles Green, Fred Walker, F. A. Fraser, Harry French, E. G. Dalziel, and J. Mahony. The Illustrated Library Edition. London: Chapman and Hall, 1868, rpt. in the Centenary Edition of Chapman & Hall and Charles Scribner's Sons (1911). 2 vols.
Dickens, Charles. Christmas Stories. Illustrated by E. A. Abbey. The Household Edition. New York: Harper and Brothers, 1876.
Dickens, Charles. Christmas Stories from "Household Words" and "All the Year Round". Illustrated by E. G. Dalziel. The Household Edition. London: Chapman and Hall, 1877.
Dickens, Charles. No Thoroughfare. Being the Extra Christmas Number of "All the Year Round," 1867. Illustrated by Arthur J. Goodman. London: Chapman and Hall, 1898.
Nayder, Lillian. Chapter 5, "'No Thoroughfare': The Problem of Illegitimacy."Unequal Partners: Charles Dickens, Wilkie Collins, & Victorian Authorship. Ithaca and London: Cornell U. P., 2002. Pp. 129-162.
Scenes and characters from the works of Charles Dickens; being eight hundred and sixty-six drawings, by Fred Barnard, Hablot Knight Browne (Phiz); J. Mahoney; Charles Green; A. B. Frost; Gordon Thomson; J. McL. Ralston; H. French; E. G. Dalziel; F. A. Fraser, and Sir Luke Fildes; printed from the original woodblocks engraved for "The Household Edition.". New York: Chapman and Hall, 1908. Copy in the Robarts Library, University of Toronto.
Thomas, Deborah A. Dickens and The Short Story. Philadelphia: U. Pennsylvania Press, 1982.
---

Victorian
Web

Charles
Dickens

Visual
Arts

Illustration

The Dalziel
Brothers

Next
Last modified 28 May 2014