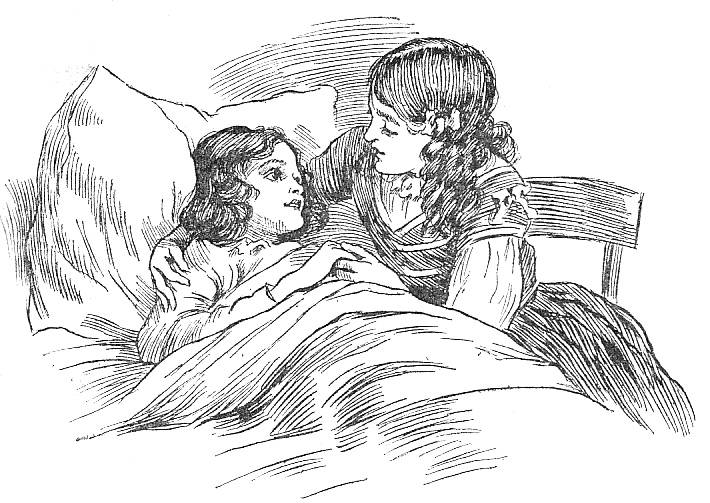 Paul and Flo Dombey by Harold Copping. 1926. Photographic reproduction of line drawing, approximately 3.5 inches wide x 2.5 inches high. Illustration for Mary Angela Dickens's Dickens' Dream Children Source: Raphael Tuck's Golden Treasury series (1926). Image scan and text by Philip V. Allingham. [You may use this image without prior permission for any scholarly or educational purpose as long as you (1) credit the person who scanned the image and (2) link your document to this URL in a web document or cite it in one in a print medium.]
Commentary
The seventh chapter is based on the Dickens seasonal story "The Holly-Tree Inn" from the Extra-Christmas Number of Household Words for 1855. Thus, this precocious couple from Dickens's periodical writing would not have been nearly as well known as the other children (drawn from novels and novellas) in Mary Angela Dickens's little 1926 volume for child-readers. They are described as "the runaway couple" because, as Harry tells his father's former gardener (now the boots at the Holly-Tree Inn), Cobbs, they have run away to be married at Gretna Green. The genial narrator finds them upstairs at the inn:
there I finds Master Harry on an e-normous sofa a-drying the eyes of Miss Norah with his pocket handkercher. Their little legs was entirely off the ground, of course, and it really is not possible to express how small them children looked. [159]
The costumes and appearances of the two upper-middle-class children on the sofa are perfectly consistent with Copping's colour lithograph "The Runaway Couple" or, as in his volume Characters from Dickens (1924) "Mr. and Mrs. Harry Walmers and Cobbs," except that here the illustrator has added a miniature parasol to emphasize Norah's diminutive stature.
Bibliography
Dickens, Mary Angela [Charles Dickens' grand-daughter]. Dickens' Dream Children. Illustrated by Harold Copping, E. M. Taylor, and M. F. Taylor. London, Paris New, York: Raphael Tuck & Sons, Ltd., 1926.
---
Last modified 18 September 2010