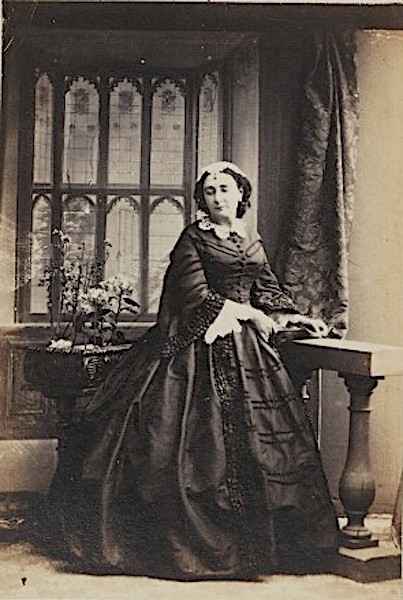 Helen Dufferin, previously Blackwood (née Sheridan), photographed in 1860 by Camille Silvy (1834-1910). © National Portrait Gallery, London, NPG Ax50542; reproduced here by kind permission of the gallery.
Helen Sheridan was a granddaughter of the playwright, Sheridan, and the younger sister of Caroline Sheridan, later Norton. An "abundantly beautiful and clever" young woman (Dufferin 25), she was not a good match financially, and her first marriage to Commander Price Blackwood was for some time opposed by his parents. The couple spent their first two years together in Italy, where their son (destined to be the first Viceroy of India) was born. On return, and now having won over her in-laws, she passed easily into the very highest echelons of London society. But in 1847 her husband died tragically, of an accidental overdoe, and from then on she devoted herself to their son. "A trip up the Nile in his company led to the publication, in 1863, of Lispings from Low Latitudes, or, Extracts from the Journal of the Hon. Impulsia Gushington, in which she made fun of the genre of travel writing" (Rae and Reynolds). She also had considerable success with her play, Finesse, or, A Busy Day in Messina, which opened at the Haymarket in 1863. Like her ballads and verses, it was presented anonymously.
In 1862, Helen Dufferin remarried, though this marriage was a very brief one. Her second husband was George Hay, earl of Gifford (1822–1862) a long-time suitor whose health had just been shattered as he struggled to prevent a rock crushing some of his workmen. She looked after him till his death a couple of months later. She herself suffered greatly in her last years, enduring breast cancer with "fortitude and patience" (see Lyall 139). Her son remembered her as "one of the sweetest, most beautiful, most accomplished, wittiest, most loving, and lovable human beings that ever walked upon the earth. There was no quality wanting to her perfection" (qtd. in Lyall 139). — Jacqueline Banerjee
Discussion
Illustrations
Bibliography
Lyall, Sir Alfred. The Life of the Marquis of Dufferin and Ava. London: Nelson, 1905. Internet Archive. Contributed by the Digital Library of India. Web. 7 May 2020.
Rae, W. F., and K. D. Reynolds. "Hay [née Sheridan], Helen Selina, countess of Gifford [other married name Helen Selina Blackwood, Lady Dufferin and Claneboye] (1807–1867), author and song writer." Oxford Dictionary of National Biography. Online ed. Web. 7 May 2020.
---
Created 7 May 2020