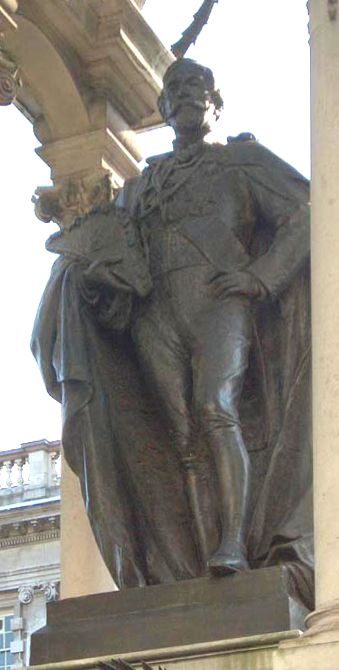 Lord Dufferin Memorial
Frederick W. Pomeroy, RA
Bronze and granite
City Hall, Belfast
Text and photograph by Philip V. Allingham 2006.
This image may be used without prior permission for any scholarly or educational purpose.
According to Brett, Pomeroy pays tribute to "local baron-made-good" (55) with a monument that represents him "enshrined in a miniature version of City Hall, his guardian figures represent[ing] his posts at either end of the Empire": the turbaned and sabred Indian sits on a cannon. while the Canadian voyageur sits on a dead moose. Brett feels that the magnificently self-confident statue of the Marquis "typifies the imperial pretensions of Edwardian Belfast" (commentary for Plate 72, opposite p. 63).
Other Views
Turbaned Warrior (India)
Canadian Voyageuer (Canada)
[See additional commentary below]