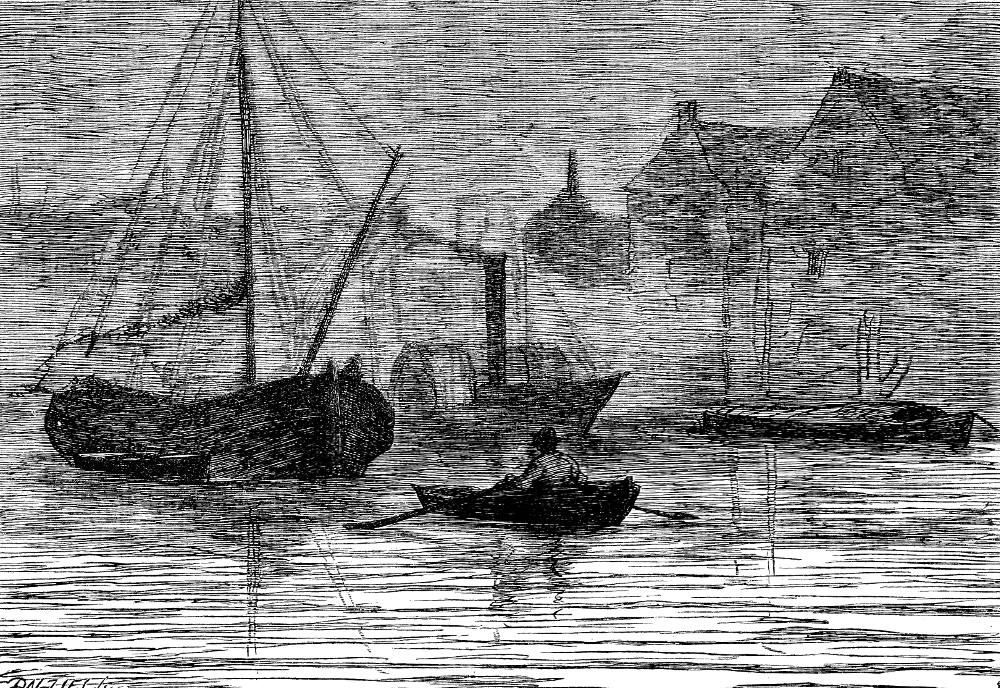 I had had to feel my way back among the shipping by F. A. Fraser (1844-1896). 9.7 cm high by 13.7 cm wide (3 ¾ by 5 ⅜ inches), framed (half-page, horizontally mounted), on page 180. Twenty-fourth illustration; for Chapter Forty-seven in Charles Dickens's Great Expectations, which appeared as Volume 11 in the Household Edition in 1876. Running head: "I Begin to get a Boat Ready" (177). [Click on the images to enlarge them.]
Passage Illustrated: Making Ready Magwitch's Escape to the Continent
Left: Another noteworthy river scene, this from the original American serial by John McLenan: He was taken on board, and instantly manacled at the wrists and ankles in Harper's Weekly 5 (13 July 1861).
There were states of the tide when, having been down the river, I could not get back through the eddy-chafed arches and starlings of old London Bridge; then, I left my boat at a wharf near the Custom House, to be brought up afterwards to the Temple stairs. I was not averse to doing this, as it served to make me and my boat a commoner incident among the water-side people there. From this slight occasion sprang two meetings that I have now to tell of.
One afternoon, late in the month of February, I came ashore at the wharf at dusk. I had pulled down as far as Greenwich with the ebb tide, and had turned with the tide. It had been a fine bright day, but had become foggy as the sun dropped, and I had had to feel my way back among the shipping, pretty carefully. Both in going and returning, I had seen the signal in his window, All well. [Chapter XLVII, 178]
Commentary: An Atmospheric Composition
The setting, clearly established at the opening of Chapter 48, is the commercial wharves below Old London Bridge, rather than Mill Bank Pond, where Pip plans to land and transport Magwitch to a packet steamer in the main shipping channel of the Thames. This wood-engraving dense lining imitates the effect of the dark plate, pioneered by such earlier illustrators as Hablot Knight Browne. And, in terms of creating a suitable atmosphere, this is one of the most effective illustrations in Fraser's sequence  as it admirably suggests the growing darkness and fog of a February afternoon; and it serves, moreover, to underscore the central role that the Thames and its shipping will play in the next stage of the plot as Pip and Herbert lay the groundwork for Magwitch's escape to the European port of Antwerp. The small boat that Pip rows through the rain and fog skirts a small steam-powered paddle-wheeler with a black funnel, and a Thames lighter (a sailing barge common in the early 19th c.), suggesting the tidal basin of Old London Bridge which Dickens specifically mentions. Through these references Dickens establishes the chronological setting of the last phase of the story as somewhat before 1831. The riverside warehouses form a dismal enough backdrop, establishing Pip's profound distress about the turn his fortunes have taken since Magwitch's return: "My worldly affairs began to wear a gloomy appearance, and I was pressed for money by more than one creditor." The gloomy picture sets up Wopsle's story about Compeyson's sitting behind Pip at the theatre "like a ghost."
Related Material
Other Artists' Illustrations for Dickens's
Great Expectations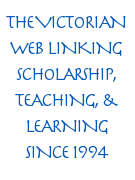 Scanned images and text by Philip V. Allingham. [You may use these images without prior permission for any scholarly or educational purpose as long as you (1) credit the photographer and (2) link your document to this URL in a web document or cite the Victorian Web in a print one.]
Bibliography
Allingham, Philip V. "The Illustrations for Great Expectations in Harper's Weekly (1860-61) and in the Illustrated Library Edition (1862) — 'Reading by the Light of Illustration'." Dickens Studies Annual, Vol. 40 (2009): 113-169.
Dickens, Charles. Great Expectations. Illustrated by John McLenan. [The First American Edition]. Harper's Weekly: A Journal of Civilization, Vols. IV: 740 through V: 495 (24 November 1860-3 August 1861).
______. ("Boz."). Great Expectations. With thirty-four illustrations from original designs by John McLenan. Philadelphia: T. B. Peterson (by agreement with Harper & Bros., New York), 1861.
______. Great Expectations. Illustrated by Marcus Stone. The Illustrated Library Edition. London: Chapman and Hall, 1862. Rpt. in The Nonesuch Dickens, Great Expectations and Hard Times. London: Nonesuch, 1937; Overlook and Worth Presses, 2005.
______. A Tale of Two Cities and Great Expectations. Illustrated by Sol Eytinge, Jr. The Diamond Edition. 16 vols. Boston: Ticknor and Fields, 1867.
______. Great Expectations. Volume 6 of the Household Edition. Illustrated by F. A. Fraser. London: Chapman and Hall, 1876.
______. Great Expectations. Illustrated by Frederic W. Pailthorpe. 16 unnumbered pages of plates: color illustrations. London: Robson and Kerslake, 1885.
______. Great Expectations. The Gadshill Edition. Illustrated by Charles Green. London: Chapman and Hall, 1898.
______. Great Expectations. The Grande Luxe Edition, ed. Richard Garnett. Illustrated by Clayton J. Clarke ('Kyd'). London: Merrill and Baker, 1900.
______. Great Expectations. "With 28 Original Plates by Harry Furniss." Volume 14 of the Charles Dickens Library Edition. London: Educational Book Co., 1910.
______. Great Expectations. Illustrated by Henry Matthew Brock. London: Hodder and Stoughton, n. d. [1916].
---
Created 19 March 2004 Last modified 11 September 2021